Have you ever just spent most of your working day procrastinating and looking at random videos on YouTube? We Cilisos writers have never done that, but we accidentally clicked on YouTube recently and found an interesting video by RCGusto in our recommendations. If you have an interest in both food and the military, you might have seen it too:
In case you can't play the video because you're hard at work (as we are) and you've left your earphones at home, it's a video of an angmoh reviewing the food ration given to our soldiers, called an MRE (Meals – Ready to Eat) or Rangsum Tempur in Malay. We say angmoh because although we didn't see the face, but the way he pronounced 'beef rendang' was unmistakable. Despite that, he seems to enjoy our local military cuisine, judging by his comments on it:
"The curry is not very spicy, but it does have a decent curry flavor… the chicken's very pleasing in texture… very good." – on the chicken curry.

"That's actually spicier than the curry. It's quite spicy but it sort of have a sweet kind of flavor, which is actually really good… Surprisingly good." – on the sweet and sour fish.

"Very savory, mildly spicy flavor. Very very good." – on the beef rendang.
These comments might be surprising, considering that…
The food had been expired for… a whole year?!
Well, maybe not 'expired' technically, but well past its 'best by' date lah. At the beginning of the video, Steve1989, which we assume is the guy speaking, showed us the ration package, and the 'best by' date on it is May 2015. The video was uploaded on October 2016.
But after he poured it all on plates, they don't look that bad actually. The one Steve's reviewing is actually Menu A, and we've found mentions of up to Menu D, so there's probably like four different combinations of dishes available. Normally, one pack of rations contain 10 pouches of food, plus extras like biscuits, jam, coffee, tea, sugar, matches, vitamin supplements, and even napkins. Rice and the fuel to cook it with are issued separately, but it would seem that Steve didn't get that. Another video that reviews the Malaysian MRE as well (Menu B), however, has rice.
Regardless of that, even without them the meal already looks pretty generous for a day or two. The ten pouches weigh about 120 grams each, and they usually include
2 pouches of a vegetable dish,
2 of a meat-based dish (beef and chicken),
2 seafood-based dishes (usually fish),
2 kinds of porridge, and
2 fruit-based dishes.
Looking at Menu A more closely, we have…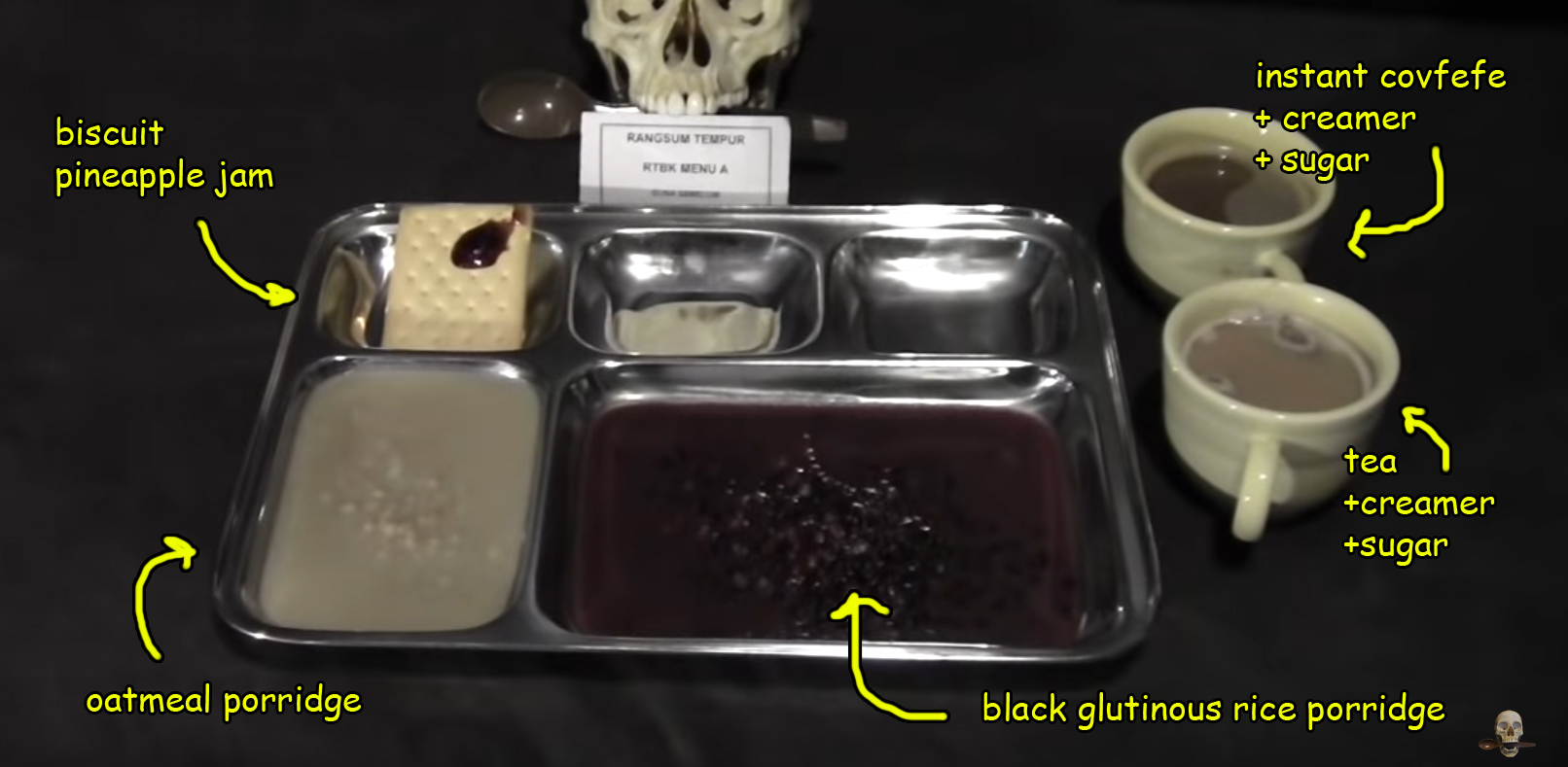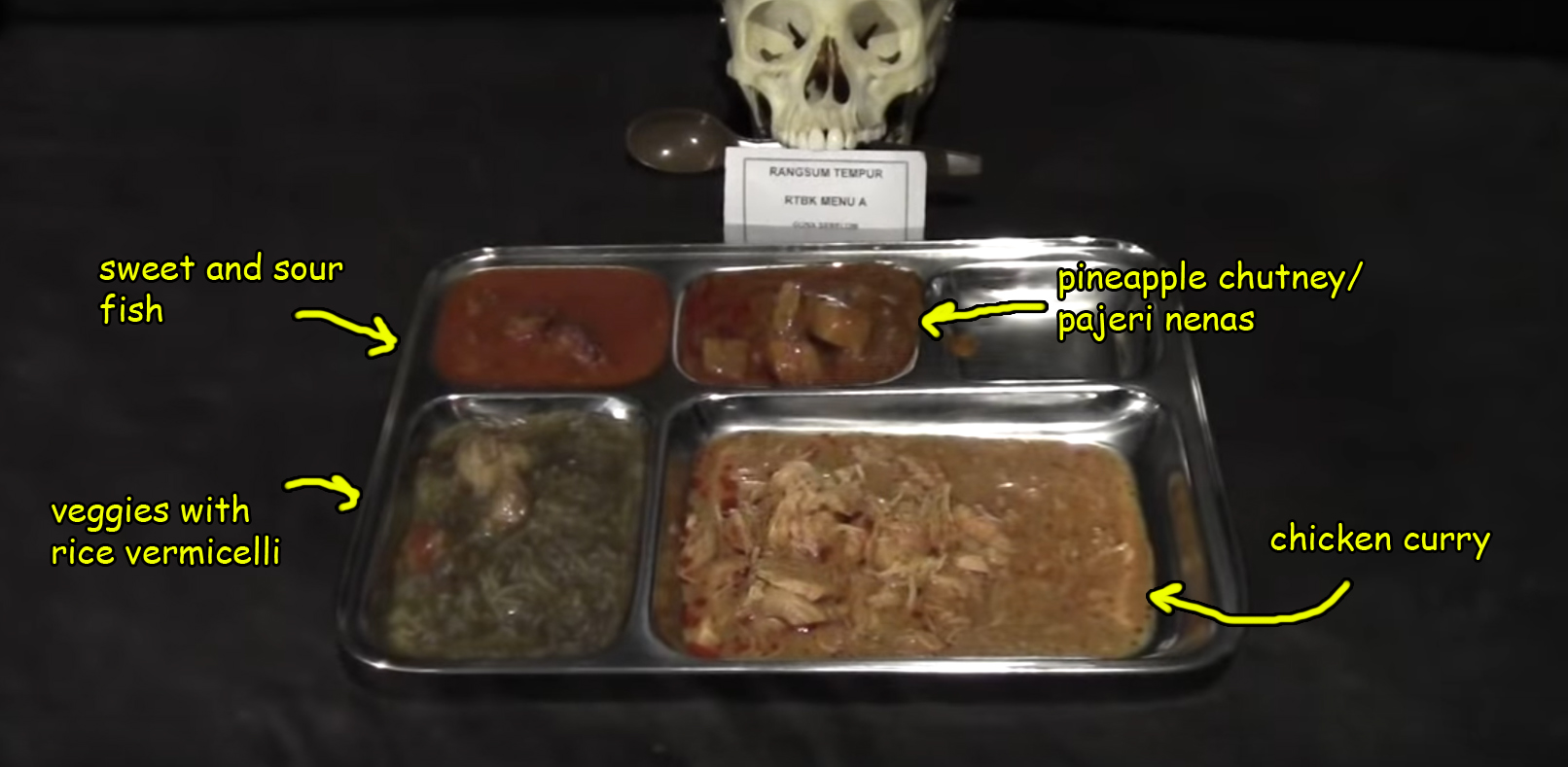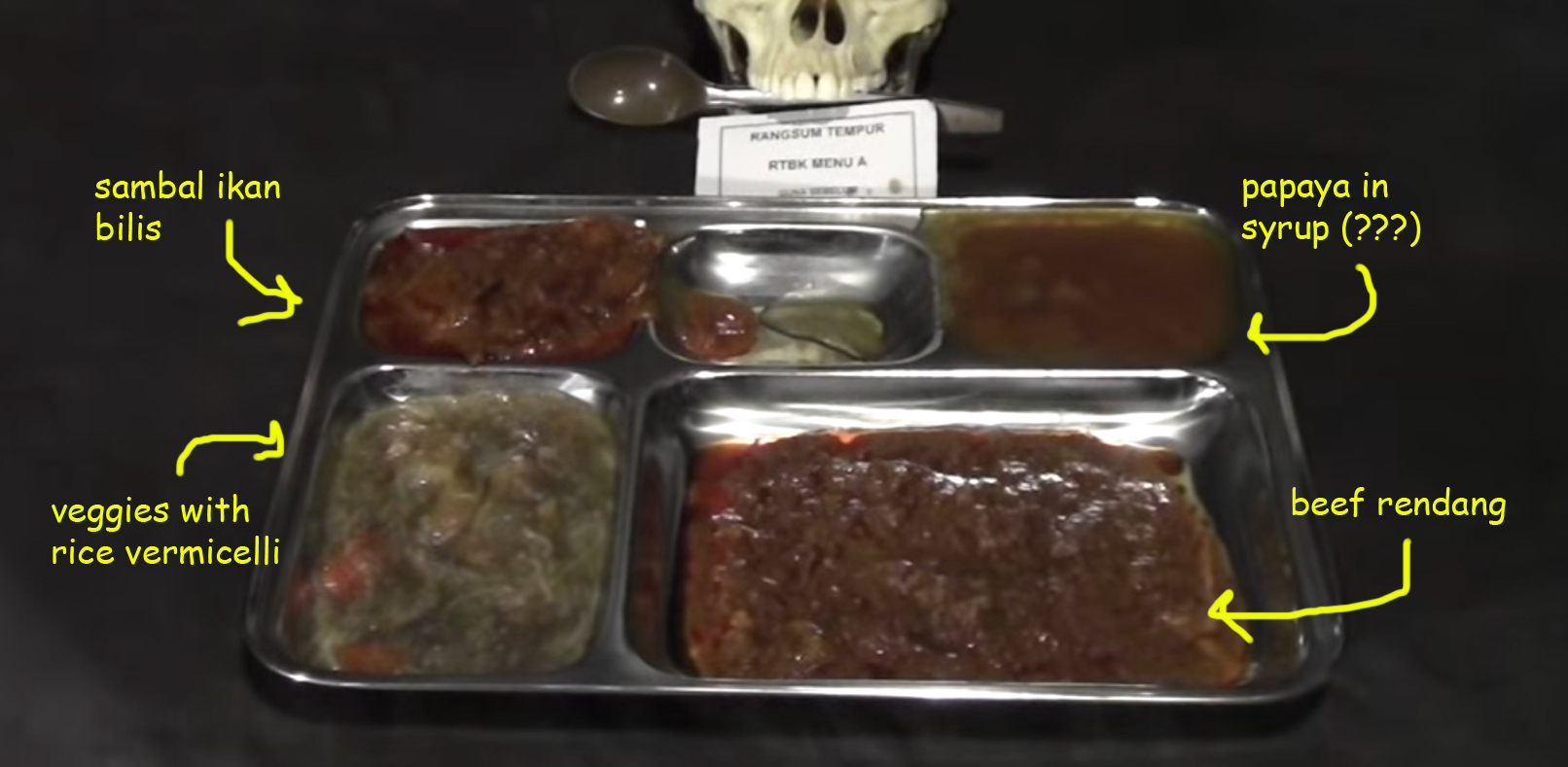 So Steve kinda tried to get three meals with this, but as we've said before, there's no rice, so you can probably make the meal last longer with it. If you haven't watched the video already, you might want to for his comments on the food. But as a tl;dr, with the exception of the sambal bilis (weird texture and too spicy), everything seemed to be to his liking, even the instant coffee.
Regardless, the food does look kinda better than some chap fan shops, despite the unattractive packaging and its age. So what kind of sorcery allows these food to last that long? Well…
The magic is probably in the packaging
Can you guess the company behind our military rations? This may come as a surprise to some, but they're somewhat the same company that made these products:
Yep, based on news reports, it seems that the one making these is Brahim's. No, this isn't a sponsored content, although it may sound like one. Brahim's had several companies under them, and one of them is Dewina Holdings. That company entered a joint venture with the Koperasi Angkatan Tentera Malaysia to form a company called Desatera Sdn Bhd, which in turn was awarded a contract to operate military cookhouses until 2026. There's also a company called Dewina Food Industries Sdn Bhd under Dewina Holdings, and this company is the one responsible for the military rations for at least the past three decades. So this Dewina is practically the one making food the military, both on base and in the field.
Anyways, on their site they divulged that the technology they used in the military ration packaging is retort pouches, which are  made with several layers of different material, although we don't know what kind exactly for our military rations. Some of the more common layers may include nylon (provides puncture resistance), aluminium (as a lightweight gas barrier) and polypropylene (as a sealing layer), but the layers may differ according to what kind of food is inside it.
Basically, from what we understand, both the food and the packaging is sterile, and after the food is inserted into the pouches and sealed, they are heated together to kill the remaining bacteria. It's basically like canning, except with a lighter and easier-to-carry container. The layers used in Brahim's retort packaging is said to protect the products from harmful UV rays and light oxidation, which allows the products to be stored for 24 months (two years) at room temperature, even without using preservatives.
As for the biscuits and jam… besides tiny food fairies, we don't really have a scientific explanation for why they're still not a moldy mess. Anyhoo…
It would seem that our military rations serve their purpose well
Judging by this angmoh's review plus the view of Malaysians on the net, it would seem that our rations aren't that shabby after all. However, there might be some questions to address. Why is so much sugar (2 × 110g pouches) given out? Why sambal and kari?
For the sugar question, we can't find the exact explanation for it, but it seems that the practice of including sweet things like sugar and candy in MREs had been around since World War 2. Some had theorized that besides being a quick source of energy, sweet and sugary things are also act as a morale booster and help in staving off hunger and thirst. Also, just because you get 220 grams of sugar for a day's ration, it doesn't mean you have to use it all.
As for the variety of local dishes, it seems to be common practice to include meals familiar to the local force: French MREs have cassoulet with duck confit, Italian MREs have pasta and bean soup and biscotti, German MREs have potato goulash and liverwurst spread, and Australia, of course, has Vegemite included.
This variety is also part of the standard recommended by NATO for MREs, as it helps to prevent meal fatigue, which is the problem of getting bored of eating the same thing everyday. While it sounds like a frivolous problem, it may eventually affect a personnel's caloric intake, which may in turn interfere with his or her duties.
With everything said and done, while people often view tactical, military-like food to be efficient with no frills, we guess there's no harm in them being tasty as well.