As you would've already known, 11th November is just round the corner… and if you've been shopping online for a while now, you'll know that 11.11 (a.k.a. Single's Day) is the ULTIMATE, BIGGEST and MOST KANCHEONG sale in the entire e-commerce world!
How big? Within the first few minutes of last year's 11.11 sale, China-based giant Alibaba had already brought in USD$5 billion sales… and by end of day, made a whopping USD$25.3billion worth of sales (that's RM105,817,250,000.00 and HOLEY SALES THAT'S A LOTTA ZEROES).
It was just as dramatic in Malaysia, where our friends at Lazada smashed their records by selling over RM111 million worth of products. This year, they've promised us that it's gonna be even bigger and badder. Even their CEO adorably ran out of words:
"It's gonna be big. It's gonna be huge. It's gonna be SO big. […]

It will be the biggest for Lazada in Malaysia. It will be the day for everyone to remember. You will tell your children about it." – Christophe Lejune, CEO of Lazada Malaysia
Actually right, Cilisos team has been shopping the 11.11 sale for YEARS, so we're quite pro la. And that's why we wanna take this chance to show off teach you how to reeeaaally milk the app dry before 11.11 arrives. 
1. Other shoppers are fast. Don't wait for 11.11… add to cart NOW
Speed is key when shopping the 11.11 sale, especially when it comes to Flash Deals. They're basically deals that are ridiculously cheap, but appears for a limited time only. For 11.11, the deals will run from midnight onwards. But like its name, Flash Deals come and go like lightni-KAPAOOWww!! Oh habis gone edy.
(True story. Once, this writer was a second too slow and lost out on a Samsung phone that Lazada sold for RM1.90… so sad.)
So how? Very simple – just MINIMISE all the work you gotta do. Don't wait till the sale starts – just use the 'Add to Cart' function and put in all your products. It'll be stored in your cart indefinitely, or until you purchase or remove them on your own.
BTW, a Lazada insider told us that these are some key Flash Deals to look out for this year…
Milo at 99 sen (!!!)
Maggi at 99 sen
Midea vacuum cleaner at RM58.90
Tefal Provencal 7pc set at RM199
Branded headphones from RM9.90
Of course, you should also use this function on any other item, not just the ones on Flash Deals. The item you've been eyeing for weeks can easily run out of stock on 11.11!
2. Take advantage of the collectable vouchers. ALL OF THEM.
If there's one way online shopping has spoiled us, is that we just CANNOT pay full price for anything anymore. No promo code, no talk! But sellers aren't stupid, they won't give everyone unlimited vouchers or not rugi habis lor.
That's why Lazada has come up with the idea of releasing vouchers a few times a day, from now till 11.11. And this time round it's pretty mad la… there are collectable vouchers worth up to RM11 million up for grabs OMGWTFBBQPTPTN. 
There are SO many ways to collect vouchers on the Lazada app, but one easy way is to go to the 'voucher channel' (app homepage > voucher logo) and click on as many vouchers as you'd like for use on 11.11.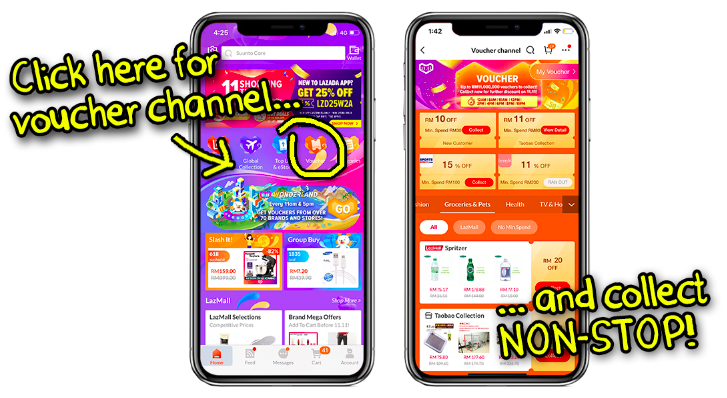 BTW, the vouchers are automatically stored and applied at checkout so you won't need to copy-paste them manually.
3. Want more freebies and vouchers? Catch the live, star-studded TV show on the app
OMG you guys. This has NEVER been done on any e-commerce site in Malaysia before… until NOW.
For the past few 11.11 sales, Alibaba has been running real-life gala concerts with celebs doing all sorts of stuff on stage. It's not just singing and dancing… they even do skits and challenges and interact with CUSTOMERS, whether or not they're physically in the audience or watching the show from their phone.
This year, Lazada is gonna do the same! They've booked out the entire Axiata Arena in Bukit Jalil for a one-night-only event called the Lazada 11.11 Super Show. Happening on the eve of the sale (10th November), there will be variety-show styled skits and performances by SO many celebs, including K-pop band KARD, Ella, Ziana Zain, Bunkface, Ayda Jebat… and honestly the list just goes on and on…
If singing and dancing isn't your kinda thing (cos mostly BM celebs), just take part in the many challenges. There is so much stuff to win… INCLUDING TWO VOLKSWAGEN BEETLES! 
If you wanna physically attend the event, just click here for more info and stand a chance to win tickets. Otherwise, you can still join in though the app. Just look for the banner on the app's homepage.
4. Want even MORE freebies? Play ALL THE GAMES. Seriously.
There are gonna be a few games on the Lazada app for you to win big deals, but since this article is dem 7 long already, we'll just focus on two important ones. 
First off is the all-new 'Wonderland' that kinda looks like a less-blinding version of Candy Crush. From now till 11.11, you can access big-time stores (e.g. Senheng, Tesco, Watsons, Benefit…) in the game to open something called 'treasure boxes'. Treasure boxes are basically HUGE vouchers that you cannot find anywhere else on the app. It takes place at 11am and 5pm, so set your reminders and don't be late to Wonderland cos vouchers can run out fast!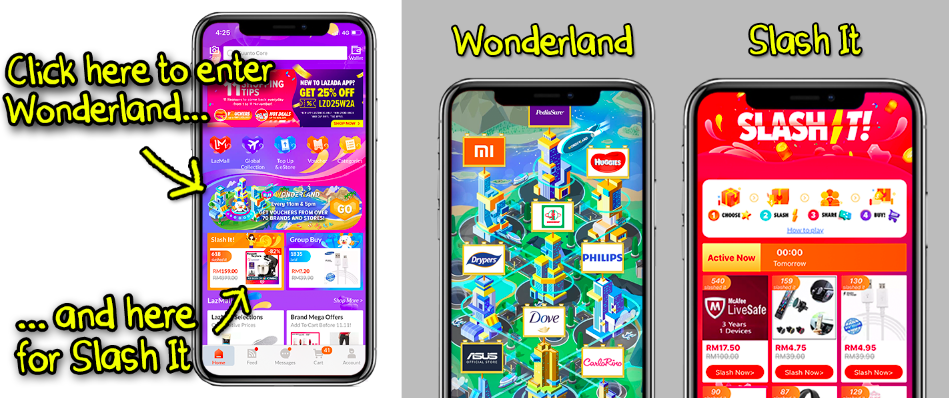 Then there's also the super kancheong game called 'Slash It'. From now till 11.11, at midnight, there will be a selection of products with totally ridiculous prices on Slash It. How ridiculous? An insider shared these deals with us…
ASUS Zenfone 4 Selfie smartphone as low as RM1.99 (!!!!!) 
Nike Dri-Fit 2.0 Short Sleeve T-Shirt for RM9.90
SUUNTO Core Regular Black watch for RM99  
And that's just a fraction of it k! Got branded bags where you pay LESS than 1% of the original price too. 
But in order for you to enjoy the deal, you gotta get your friends to help you 'slash' the price. To do that, just click on the 'Slash It' deals on the app's homepage. You will then see a selection of products available to be 'slashed'. Just click on what you want, and click on 'Slash It'. 
Forward the given link to your friends and ask them to help you 'slash' the price. Once you hit the number of 'slashes' needed, the deal will be yours! (Provided the item doesn't get sold out… so ask your friends to hurry up lo)
5. Look for the 11.11 logo
Yes, 11.11 is gonna be havoc af with prices dropping faster than Singaporeans dropping claims that Henry Golding is theirs.
But guys, not everything will be on sale on that day. So how to find la?? Thankfully Lazada has made it really easy for us. Just look for the 11.11 logo on a product (or filter products by selecting on the 'Show 11.11 products only' button). Products with the logo will be cheaper when the clock strikes 12am on 11.11.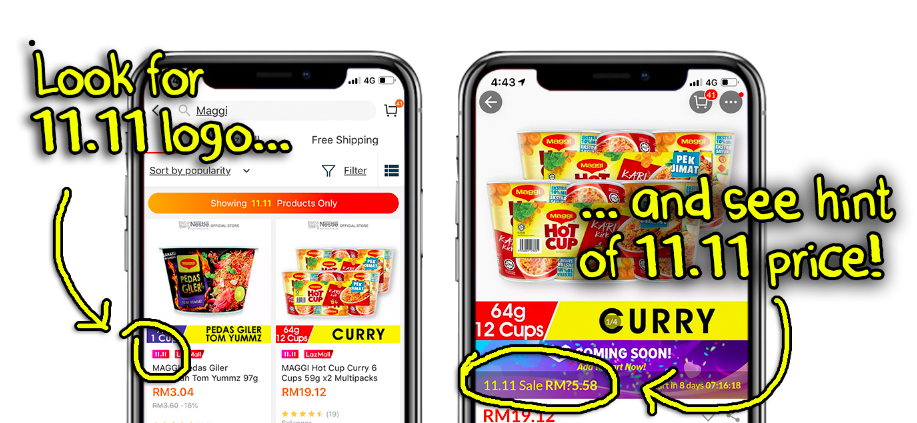 If you wanna know how much cheaper it will get, just click into the product page and you'll get to see hints! 
6. Load up your Lazada wallet
If shopping on 11.11 was like competing in Wipeout, then the payment stage would be this surprise headshot:
6-digit TAC code taking forever to reach your phone la, suddenly cannot decide whether pay by credit or debit la, suddenly not sure whether product can do COD or not la… weh habis la like that, you can say bye bye to your RM39 XiaoMi powerbank.
With that said, it wouldn't be a bad idea to reload your Lazada 'wallet' before the 11.11 sale starts. Payment will be easy, seamless and fast. Besides that, you'll also get up to 10% cashback.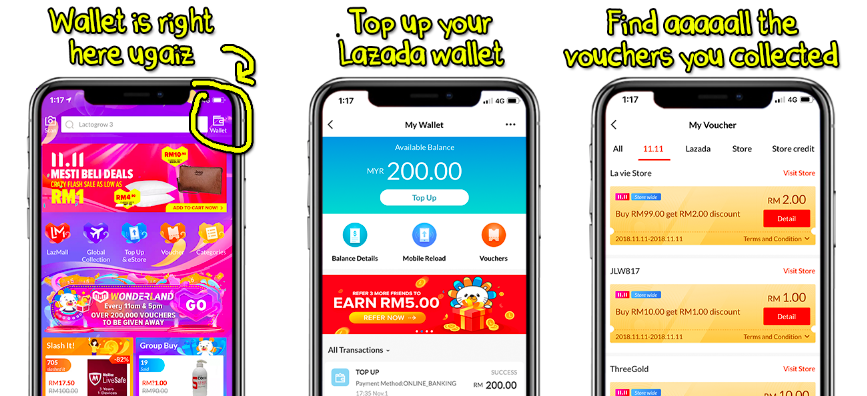 You can also do mobile reloads if you don't bank online. BTW, just go to your wallet and you'll also get to find all the vouchers you've collected. Now that we've covered some of the main highlights for 11.11, here are some app tips you'd find useful too…
7. Buy from one shop to get the most outta your vouchers!
Wherever you go, there's always a familiar catch when it comes to using vouchers: the DREADED 'minimum purchase'! Nehmind don't frust, let Cilisos kautim for you.
One function a lot of people overlook on Lazada is… the 'Store'. Ok technically it's not a FUNCTION function, but you get what we mean.
Here's how to game the system on Lazada. Let's say you wanna buy Christmas presents for Ali, Abu and Ah Chong, all three very different personalities and will require different presents… instead of randomly buying from the selection of items in the app, try going to a store and browsing through their offerings.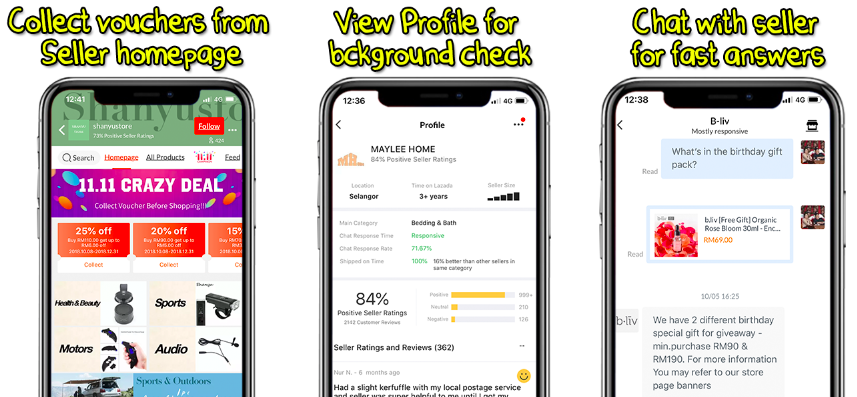 Within the store, there are several super useful functions too:
on 'Profile', you can check where they're based, how long they've been on Lazada, what other customers have said about buying from them…
on 'Chat Now', you can basically PM them and kepoh as much as you want…
on 'Follow', you can basically get updates straight into your Lazada news feed…
and most importantly, on the seller's 

'Homepage'

, you can see what kinda vouchers they're offering.
It's real easy to stumble onto a store that sells a variety of stuff, so you'll surely be able to find something different for your three friends. And before you know it, you've met your minimum purchase!
8. Look for the LazMall logo
If you didn't know, Lazada has this thing called LazMall, which is essentially a selection of popular, top-rated and AUTHORIZED international and local brands. This is especially useful if you wanna have peace of mind that a product is 100% genuine.
If you find a LazMall product to be fake, Lazada will return back to you twice what you paid for. LazMall products will also be delivered the very next day*! (*Within Klang Valley only, and not applicable for sales on 11.11 cos WEH GILA BANYAK PACKAGES DOWH) 
Here's an example. Let's say you wanna buy Milo. If you looked for it on Lazada, you'll get many sellers selling Milo… But if you buy your Milo from a seller with the LazMall logo, you're essentially buying it from an authorised brand distributor (Nestle, Tesco etc.) lor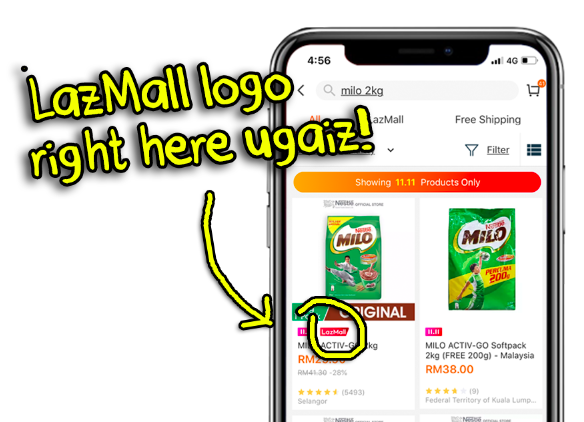 But this doesn't mean that those without the logo are selling fake Milo la. Just think about it as you buying Milo from Nestle HQ vs Milo that you can find in your shoplot kedai runcit.
And this time round, there's gonna be a cartload of LazMall deals on 11.11 wei. A Lazada insider told us that there's gonna be XiaoMi powerbanks at RM39 (Ed's note: best powerbank I've ever used, totally PLC*), a FREE lipstick for every M.A.C. makeup purchase, and even… Milo at only 99 sen…?!?!?!
*PLC = Peng Leng Cheng = Cantonese for cheap+beautiful+good
9. Use their AI function to find a product you can't identify
Guys guys guys THE FUTURE IS HERE. Since Lazada teamed up with Alibaba 2 years ago, they've been taking cues from the global giant and implementing some of their features onto the app. One of them being: artificial intelligence.
If you have a specific product in mind but maybe dunno how to describe it in a search bar, just click on 'Scan' on the top left corner at the Lazada app and take a photo of the item. You can even choose a photo that is already in your gallery. With its AI function, it'll comb through millions of products and give you some product suggestions.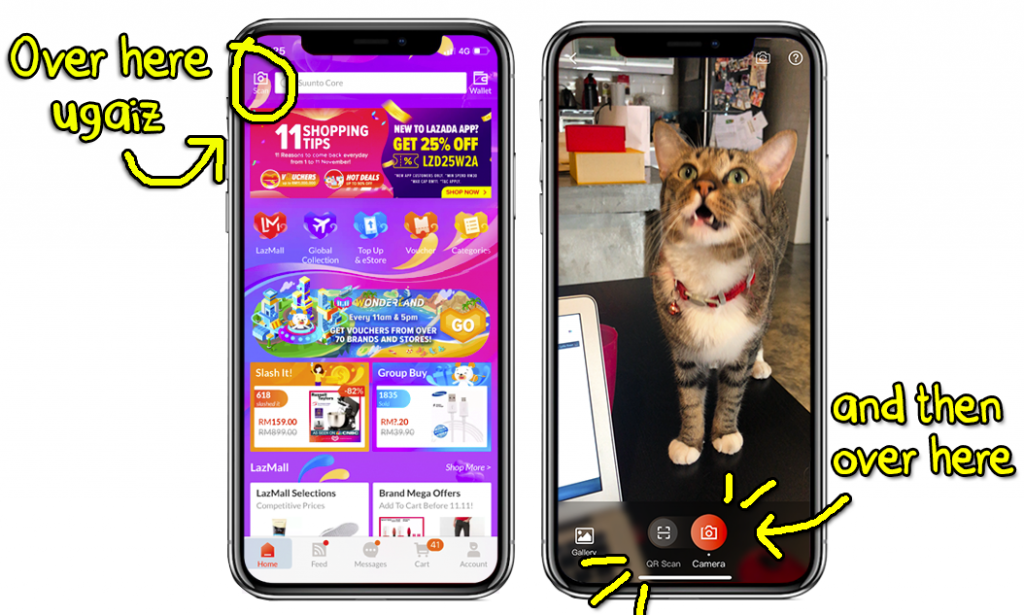 Granted it's not the most perfect system, but because it uses AI technology, the system becomes smarter and learns to recognize stuff better as more and more people use it. And it's actually already pretty good so far… we tried the function with the random stuff and here's what we got: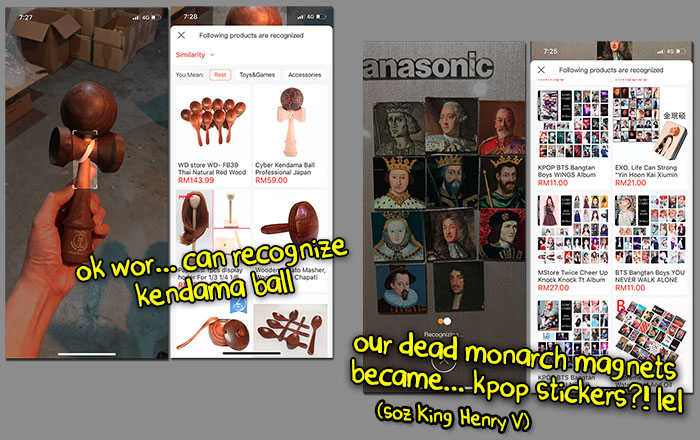 10. There's a built-in QR code scanner too
We know, we know, not everyone uses QR… but you may wanna make an exception this time. Lazada and some of their sellers have planted special QR codes all around town, even in MRTs! Scan it and you'll get instantly directed to a certain page for special vouchers, freebies and promotions.
To use the function, just click on the 'scan' button (like in point #1). Then, just choose 'QR scan' at the bottom of page.
With all the excitement, don't forget to be safe when you shop…

Consider this a PSA from Cilisos. It's easy to get swept up in all the excitement, but the most important thing is you GOTTA stay safe. Be very careful of phishing sites, or copycat sites that PRETEND to look like Lazada. Sometimes they may have similar-looking URLs!
Before you click on a link, check first. It should begin with https, NOT http. No 's', no 'safe', ok? All links to Lazada should begin with https://www.lazada.com.my or https://www.pages.lazada.com.my. And when making payment, DON'T give anyone your 6-digit pin (a.k.a. OTP). And remember, Lazada will never contact you through WhatsApp! So careful la if someone suddenly messages you asking for such sensitive details.
The best way to be safe is to shop directly on the Lazada mobile app. If you haven't downloaded it, get it here (iOS) or here (Android). It will also allow you to fully access all the functions we highlighted in this article, and more.
There are actually more stuff happening on 11.11 apart from what we've mentioned, so don't forget to follow them on Facebook for updates or check the app daily for surprises here and there.
Brb, gonna stock up on next year's groceries… and Christmas presents… and birthday gifts… and office supplies…