If you guys have passed by the Pasar Seni LRT/bus station recently, you would notice a huge crowd gathered there. No, Rajinikanth is not in town again. So what is going on??
Prasarana (the company in charge of public transport) has required ALL MyRapid card holders to switch over to MyRapid Touch N Go cards. They started from the 15th of June and the last day will be the 15th of July, after which you won't be able to use the original MyRapid Card any more.
And people are reported queuing for like TWO HOURS. When one of our CILISOS writers went yesterday (8 July), she took her number at 10.44am, and her turn arrived at 5.30pm!!!
Now for those of y'all who don't know what this whole card situation is about, there's basically a card that's used specifically for a few types of public transports, like LRT and some Rapid buses, and it was called the MyRapid card.
Sounds like you can just use any Touch N Go (TnG) for that right? AND YOU CAN! Which is basically why they're switching over to the new MyRapid TnG card, to combine both functions, so that you can also use it to ride on other public transport systems like the BRT, MRT, KTM, as well as pay tolls, parking, and other TnG stuff.
So if like that, then why all the mumbo jumbo with the whole switch? Well, we're here to help you answer that and sort things straight.
The card switch is for you to transfer your MyRapid card balance to the new TnG
Whew, thank God it's not burned ehehe!
The balance transfer is free of charge but you will have to round up your balance to a multiple of RM5 (however, our writer had to pay RM1.30 to renew an expired card). So let's say your MyRapid card has RM16.20 in it – when you transfer your balance to the new MyRapid TnG, you'll have to add an extra RM3.80 to round it up to RM20. Likewise, if you have RM2.70 left, you must tambah RM2.30 to get RM5! Weird math, but yeah…
Seems simple enough, so then what exactly is the difference between MyRapid TnG and any other TnG? Well actually, there's nothing. It's THE SAME. The only reason why they're introducing this new TnG is for the balance transfer. That means you can't migrate your remaining MyRapid card balance to the regular TnG that you might already have. If you want to save your money, you'll have to get that specific MyRapid TnG card.
So if you already have an existing TnG card which you use often for tolls and parking, it would probably make more sense just to finish your remaining balance in your MyRapid card and continue using your regular TnG for public transport. And that's if your MyRapid card balance isn't too much la because you have up till the 15th of July to use the rest of it.
Unfortunately, if you very sayang whatever is left in your MyRapid card and if you're the kind of person who reloads like RM200 in one go, then you can just go ahead and transfer it to the new MyRapid TnG at all Rapid KL Customer Service Offices at all LRT, monorail and BRT stations except Abdullah Hukum, Subang Alam, Taipan, Taman Perindustrian Puchong, Cahaya, SS18, USJ21, Miharja, Jelatek and Damai.
OMG but some people give up halfway while queuing. How to switch by 15 July?
Actually the switch for regular MyRapid Card holders is really quick and can be done in under 5 minutes. The main hold-up with this situation is the switch for concession cards, meaning discount cards for students, OKU, and senior citizens because of TWO reasons:
Migration for concession card holders can only be done at 4 stations (as of 4 July): Pasar Seni bus hub, Subang Jaya LRT station, Awan Besar LRT station, and Sri Rampai LRT station.
The process is slightly longer because concession card holders have to fill in some forms and have their photo taken for identification.
Back when the migration period first started, the only place you could get the new concession card was at Pasar Seni but after there were some news reports of students waiting for OVER 2 HOURS, Prasarana decided to set up concession card migration services at three new locations. OMG then why waste two hours of our lives getting this card?? Why not just use a regular ol' Touch n Go? Because the MyRapid one has 50% DISCOUNT! T.T
According to 24-year-old Mohd Akmal Rosli in an interview with New Straits Times, he had waited nearly 2 hours to change his old MyRapid concession card to the new version at Pasar Seni. After that, he decided to go to the Subang Jaya station once it opened, and it only took him 10 minutes to get his new card.
A Prasarana representative spoke to The Star in a recent article where he touched on the workforce at the concession card migration locations:
"We have 10 staff at each station to expedite the migration process." – Lim Jin Aun, Prasarana rep, in an interview with The Star
Since there are more locations open for the concession card migration services, hopefully all concession card holders can get the new card before the 15th.
To be safe it's better to hurry and migrate your cards soon!
We called the customer service hotline and asked them if the MyRapid card could still be switched over to the new TnG card AFTER 15 July, but the representative said that he wasn't sure because they had not received any new information yet, so it would be best if everyone migrated their cards by the 15th!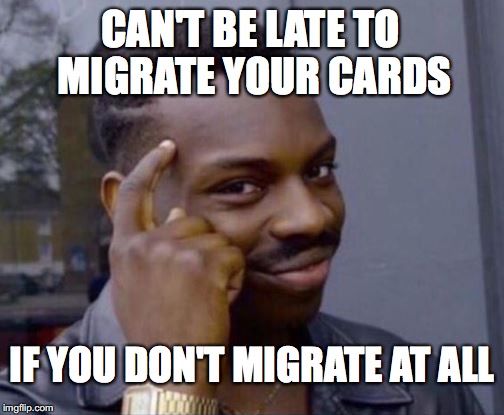 After getting a bit more information about the new MyRapid TnG cards, it should be easier to make a decision about whether to transfer the remaining balance (plus a top up if needed) to the new card, or to just use up whatever's left in the old card and then use a regular TnG after the 15th. Of course, this goes to regular card holders, not concession card holders.
The customer service representative also did say that the MyRapid TnG concession card can be used for parking and tolls, but the concession discount of 50% only applies to MyRapid public transport services. Bummer.
But at the end of the day, despite this rush to get everyone switched over, the idea of getting everyone use a standardized card to pay for all public transport is a pretty good step in the progress and development of another Malaysian public sector.