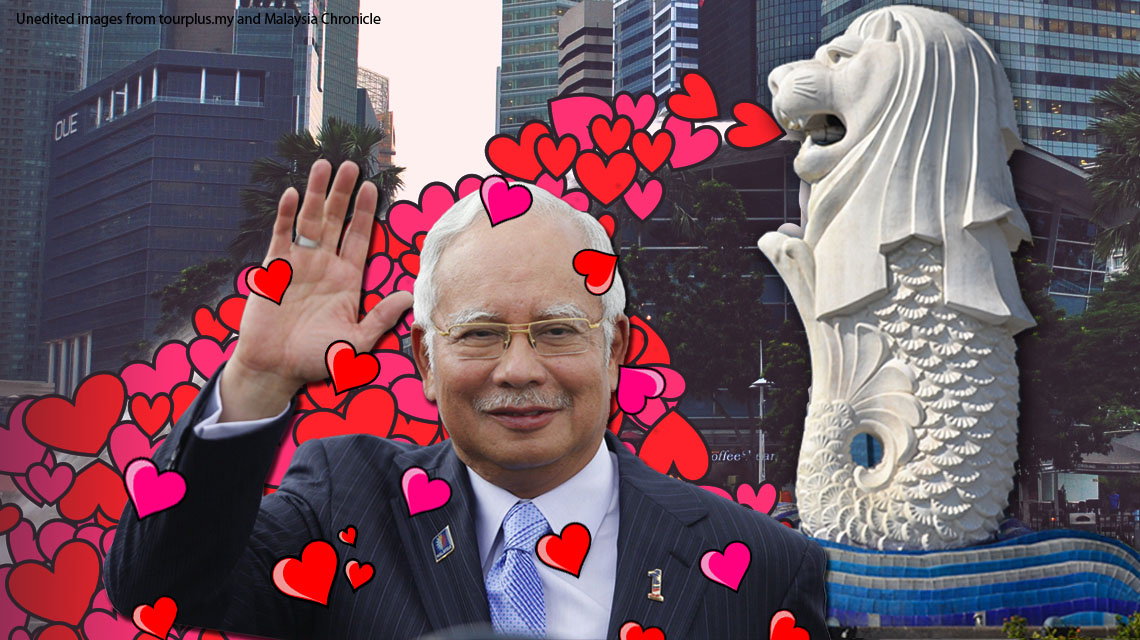 So, has anyone noticed that trends like #najibletakjawatan and #undurnajib are slowly dwindling? That must be a relief for the PM, but something else has recently surfaced on social media. And it's NOT criticising him, but supporting him. More interestingly, it's NOT by Malaysians, but by Singaporeans!
We're talking about what happened after Najib's surgery on 9 Jan to remove a small growth on his right hand at Kuala Lumpur Hospital (HKL). Singaporean PM Lee Hsien Loong sent him well-wishes on Facebook, then BOOM, in came a flood of well-wishes from Singaporeans as well. At this time of writing, the post has had 4,894 likes, 226 shares, and 214 comments. Here are some of the nicest ones we found:
To be fair, we must mention that there were some not nice comments too la. Although the ratio was more nice comments to bad ones:
So how come Singaporeans like Najib so much? We try to find out.
"Tsk, of course they like him. They're not living in Malaysia!"
The immediate thought anyone would have of why Singaporeans are fine with Najib, is because they don't live here and therefore they don't feel our pain – poor economy, ringgit drop and the 1MDB scandal to boot. Whatever policies implemented by the PM, they don't kena. With all this bad stuff happening to the country, who took the blame? The PM.
Then again, that doesn't explain why they bothered commenting on LHL's post, right? The fact that some of them felt motivated enough to type a message shows more than indifference. They actually like him! To the point where some commenters called him "our best friend" and "the friendliest person in Malaysia to Singapore".
It's nice to see Singaporeans sending Najib heartwarming messages and all, but what are the possible reason they like him so much?
Najib is building a choo-choo train which benefits Singapore big time
In the late 1990s, a high-speed railway project between KL and Singapore was proposed. But for more than 20 years, the Kuala Lumpur-Singapore High Speed Rail was caught in a deadlock because of disputes over the agreement, until Najib revived it in 2010 at a leaders' retreat. Now, the plans are underway for the project to be completed by 2022. With this awesome new train service Singaporeans could reach KL in just one and a half hour!
"If you talk about 90 minutes between Singapore and KL, you are really talking about being able to wake up in Singapore, go to KL for business or pleasure, and come back in the evening; or spend a weekend." – K. Shanmugam, Singapore Law and Foreign Affairs Minister, The Straits Times

"Our (Singapore's) relationship with Malaysia has been particularly good for the last few years, and we have Najib to thank for that because he cleared that one big roadblock." Ong Keng Yong, Singapore High Commissioner, Star BizWeek
And Najib scrapped a bridge project that Singapore didn't want
The project is the crooked bridge, which was Mahathir's baby, proposed in 2001. It was to replace the existing link from Johor Baru to Singapore with a six-lane, S-shaped highway, that ships can pass under across the Johor Strait (it would majorly boost Johor's two ports). That bridge would have greatly benefited Malaysia, improving our import-export, while taking away business from Singapore. Obviously, Singapore didn't want it.
When Abdullah became PM and didn't proceed with the crooked bridge, Mahathir criticised him heavily. Then when it was Najib's turn, he also scrapped the project. Instead, the PM and LHL agreed to build a third link between Johor and Singapore. Naturally, this caused Singapore to like Najib even more.
Basically, Singapore often compares him favourably to Mahathir. To Singaporeans, Mahathir was always a fierce Singapore critic and under his administration relations were strained. Even the Sultan of Johor noted that:
"I find it hard to understand the rationale or irrationality of any Malaysian leader who wants Malaysia to quarrel with Singapore. It's what I called crooked thinking." – Sultan Ibrahim Iskandar of Johor, Malaysiakini
Ohhh no wonder Singaporeans like Najib!
Under him, Malaysia has been starting a series of initiatives to improve ties with its neighbour. Like the relocation of Customs and Immigration Complex, land reclamation, and even water, as well as Singapore's support for the Iskandar project in Johor. Yep, it's not just the choo-choo train and crooked bridge thing which won Najib his popularity among Singaporeans.
"Malaysia's relationship with Singapore became better under Pak Lah (Tun Abdullah Ahmad Badawi), but moved one step higher when Najib came to power." – James Chin, senior visiting fellow, Institute of Southeast Asian Studies in Singapore, The Star
But the major turning point, according to Singapore High Commissioner Ong Keng Yong, has to be the choo-choo train incident. To add to that, Lee Hsien Loong himself is very happy to be friend friend with Najib, saying, "Malaysia will always be an important partner for Singapore. When Malaysia does well, Singapore also prospers."
This is just a side note, but interestingly, both Najib and LHL's fathers – Tun Abdul Razak and Lee Kuan Yew – were also PMs together at the same time. Something that no other current leaders of two countries had gone through.
Wow, we Malaysians are learning new stuff about Singaporeans all the time. It'd be nice to look up to our PM too, the way that Singaporeans do, but it's kinda hard with everything that's going on in Malaysia now.
Hopefully one day, we can also pour out so much encouragement and love for him like the Singaporeans did.