[Kalau korang nak baca artikel ni dalam BM, klik sini. And if you want to read our argument for the other side, click here! Happy April Fool's ugaiz!]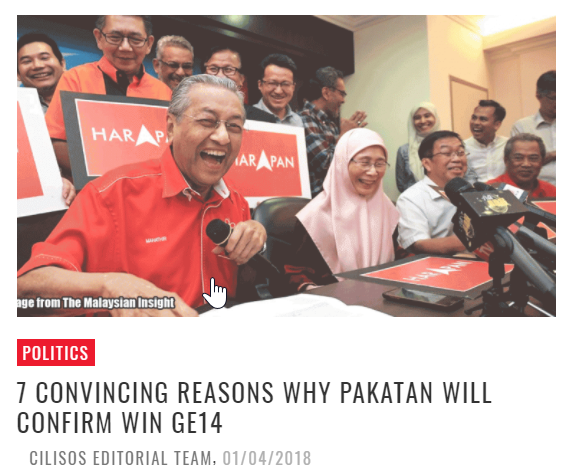 April is full of things we can look forward to, but all eyes will be on Avengers: Infinity wars the 14th General Election (GE14). Before the parliament has even dissolved, analysts, politicians and other speculators from both side of the political divide are already offering their predictions and evidence as to which party will capture Putrajaya in GE14 – Barisan Nasional or Pakatan Harapan?
The question is obviously of interest to many Malaysians. After all, it determines the fate of the entire country, and its exciting to see who is going to lead us for the next 5 years. But this time around, all evidence seems like it's Barisan Nasional that will win the elections, and here's why:
1. When Pakatan split up with PAS, it also split its Malay votes
If you've been following the saga, you'd know that Pakatan Rakyat split up with PAS, and rather reluctantly for some in the opposition. In the previous general election, Pakatan Rakyat (made up of PKR, DAP, PAS and SNAP) won a total of 89 out of 222 parliamentary seats, with PAS winning 21 of those.
For a political party to form a government in Malaysia, it would need to win a simple majority of 112 seats. Using simple mathematics, you could expect the current opposition coalition (Pakatan Harapan) to lose a certain number of votes (and perhaps seats) now that they don't have PAS and its supporters. But to BN on the other hand, it would be an advantage.
"130 Parliament seats are Malay majority seats and PAS will split the Opposition votes to ensure that UMNO wins hands down," – Prof Hoo Ke Ping, political analyst told Malaysian Digest
Of course, PAS isn't able to field candidates for every seat, but in those that they do, it would mean less votes to the opposition, and that means a higher chance for BN to win a majority.
2. The opposition's "Chinese Tsunami" is receding away from them
In GE13, the Chinese vote for BN was only at 13.4%, prompting what was known as a "Chinese Tsunami" in favour of the opposition. But several by-elections held after the elections tell a different story.
In a 2014 by-election held in Teluk Intan, the seat previously held by the opposition was taken over by BN when Parti Gerakan's leader went to contest. Oh and by the way, Teluk Intan is a constituency with 42% Chinese voters. In another by-election in Sungai Besar, BN won by majority of more than 9000, which was attributed to a swing of Chinese voters as well (Sungai Besar has 31% Chinese voters).
Over the years leading up to GE14, the opposition has had their own share of scandals like the Ijok and undersesa tunnel scandal, and infighting such as the numerous PKR feuds. Some analyst believe that these problems won't turn 10 to 15% of Chinese voters away from the party that they once believed in.
"He (Najib) reminded us that if we had received 25% of the Chinese votes in the last general election, Barisan would have won two-thirds of the seats in Parliament." – An UMNO delegate told The Star
But the most convincing shift can be seen in hand with another reason for BN's victory:
3. Pakatan is weak in East Malaysia, where about a quarter of the seats are located
In GE 13, the opposition managed to gain the most seats they've ever had. But even so, it was only 40% of the total parliamentary seats. Their results in Sabah and Sarawak were even less encouraging. Sabah and Sarawak consist of about 56 parliament seats out of 222, and the opposition won only 9.
"Without a serious breakthrough there, PH would need to win about two-thirds of peninsula seats to control parliament, which is a difficult task." – Financial Times Confidential Research (FTCR) report, quoted from Free Malaysia Today
In the 2016 Sarawak state elections, the opposition lost not only a lot the support from the Chinese voters, but most probably also from voters in general. BN won 17 more seats than the previous election before, while the opposition lost 5 seats. In 16 constituencies that were majority Chinese, the opposition won 8 seats (they previously had 12), while the other 8 went to BN.
The unquestionable win was much owed to Sarawak BN Chairman Adenan Satem's all inclusive policies, and also certain policies favouring the Chinese community, such as recognition of UEC certificate and more financial allocations to Chinese schools.
"If they want to win the support of Chinese voters in the next general election, they will have to be as moderate, liberal and fair as Adenan Satem. " – excerpt from The Straits Times
4. Malaysia's economy and currency are performing well under the gomen
In terms of the country's economic performance, the BN government seems to be doing a good job, based on some common economic indicators. In 2017, The World Bank reported that Malaysia's economy grew by 5.8%, which was the fastest since 2014. You can read a short summary here.
"Malaysia's progress over the last 20 years owes much to the sound policies being adopted during and since the Asian Financial Crisis," says Ulrich Zachau, World Bank Director for Malaysia, Thailand, and Regional Partnerships, quoted from World Bank
Economists say that the strengthening of the economy is a reflection of the National Transformation Programme (NTP) launched nearly 8 years ago. The Prime Minister has also revealed that the NTP has created 2.26 million new jobs (which is 69% of the 3.3 million new jobs they promised), and has even seen a 2 fold increase of female participation in high corporate positions.
"The country is generally on track to realise the objective moving towards a high-income nation by 2020," – Malaysian Industrial Development Finance Berhad Research chief economist Dr Kamarudin Mohd Nor, quoted from New Straits Times
Not only that, even Malaysia's currency has been growing at a steady pace, and was even ranked as the top performing and most undervalued currency in ASEAN. The World Bank expects Malaysia's growth pace to continue next year, so whatever the government has done is clearly working.
5. Budget 2018 was a big hit with Malaysians
The announcement of the 2018 government budget coincided just before GE14, and has swayed the public's opinion in PM Najib's favour. According to a survey, only 25% of Malaysians were not satisfied with the 2018 Budget. It even pushed the satisfaction of Najib's performance up by 12%! Almost 50% of respondents also believe that it could ease the public's cost of living.
"Interesting to note that among all the ethnicity surveyed, the Indian community recorded the highest with 56 per cent stating that they were satisfied with Datuk Seri Najib Razak's performance as the prime minister," – Prof Datuk Syed Arabi Idid, Survey Leader, quoted from Malay Mail Online
So it's not only the Chinese, even Indian voters like how PM Najib is handling things.
6. The latest change in the redelineation seems to be in BN's favor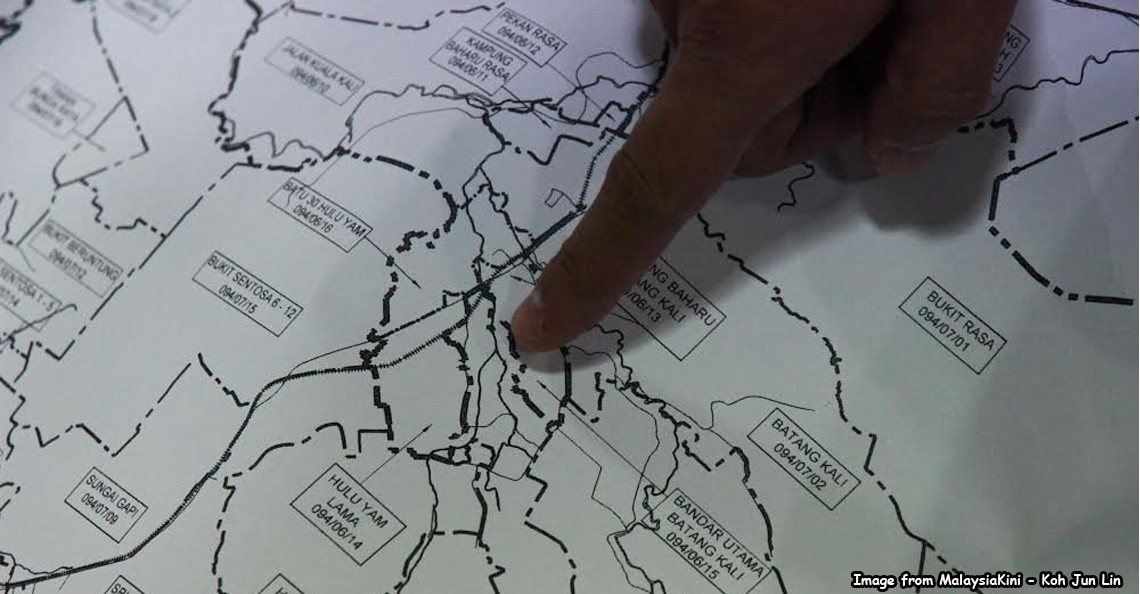 As many of you might know, the redelineation proposal by the Election Committee (EC) has passed the Parliament and has been granted royal consent. As many critics have pointed out, the redelineation is expected to favor BN heavily, and that's most likely true according to both the history and numbers.
Out of the 98 seats that had its lines redrawn, a bulk of them will be in Selangor, so we'll use Selangor as an example. BN is expected to wrestle 7 seats back from the opposition, while most of BN's opponent (except DAP) is expected to lose from the exercise. This is due to the shifts of pro-BN districts into areas that the opposition won by a small majority.
"This is owing to the clustering of pro-opposition polling districts into DAP-held constituencies and the transfer of pro-BN polling districts to marginal seats, most of which are held by PKR, DAP and Amanah." – Malaysiakini report quoted from Malay Mail Online
It also should be noted that the last time the EC redrew the electoral map in 2003, BN won 90% of the seats with only 64% of the popular vote in subsequent election.
We know there's still one issue that we haven't addressed, but that's only because we saved it for last.
7. 1MDB is waaayyy at the bottom in the list of Malaysian's concerns
A major black spot on PM Najib's image is often thought to be the 1MDB scandal, an issue that is periodically brought up by international news, and subsequently the opposition. However, the results of a survey was released not long ago might prove that PM Najib does not have to worry about 1MDB.
Among the questions asked in the survey was the top 3 concerns that respondent had for Malaysia, 1MDB was rated as the least of their concerns (2%), while the most concerning issue was inflation (68%).
"The 1MBD corruption allegations are by and large considered 'old news' by the all-important rural Malay electorate." – James Chin, Political Analyst from University of Tasmania's Asia Institute, quoted from New Straits Times
The lack of evidence, and possibly the fatigue has probably convinced most people that the issue is not worth holding on to, or rather that there are more relevant issues than 1MDB. On the other hand, the perception of Pakatan Harapan might be a bigger concern for voters, because only 13 – 21% of respondents were "happy" with the party in the same survey.
BN is not just going to win, they're going to win BIG
Saying BN will win the election is an understatement, because not only is their victory certain, but it is also expected to be a landslide victory, with BN regaining the 2/3 majority (that's needed to pass certain laws). Don't just take it from us, because a couple of other analysts agree:
"My forecast is simple, BN will win hands down with an overwhelming majority where they will win a minimum of 160 parliament seats because PAS will split the Opposition and that more than 30 per cent of Chinese votes will return to BN." – Prof Hoo Ke Ping told Malaysian Digest

"Najib is so confident of this strategy that he has told his inner circles that Umno is aiming to take 140–160 seats in the 222-seat parliament." – James Chin of the University of Tasmania's Asia Institute told New Straits Times
The only consolation that opposition supporters can hope for is for Pakatan Harapan to not lose too badly in the coming election. After all, while it is true that BN has done much for Malaysia, it is perhaps motivated by the scrutiny and watchful eye of the opposition.