A few weeks back, CILISOS writer UiHua, went jalan-jalan to Perpustakaan Negara Malaysia. In the midst of his research he stumbled upon a very, very, dinosaur-like digital copy of The Malay Mail from the year 1897. Some of the things that were written in there were actually quite humorous(-ly offensive) by today's standards.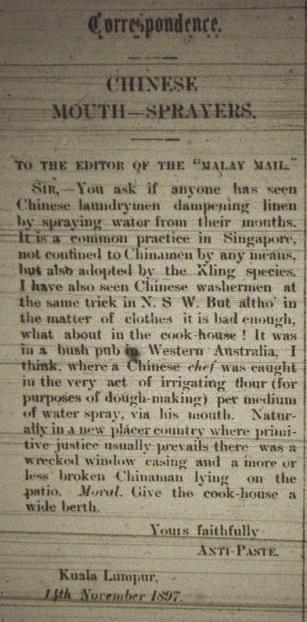 TL;DR – This guy was telling The Malay Mail that it was common for Chinese people to spit water from their mouth to wet clothes during ironing. But he also complain about how they do the same with flour….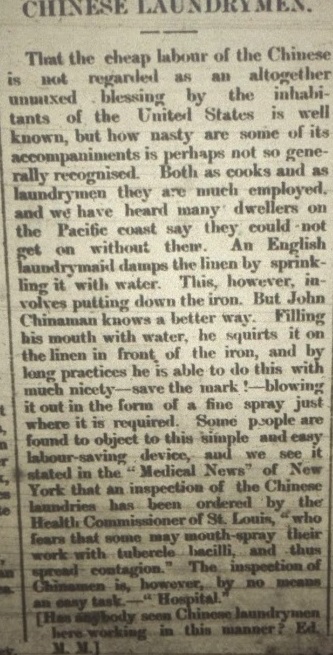 TL;DR – This news article says that many people in the Pacific coast knew that the Chinese were useful, but not many knew of their water-spitting practices. Though it saved time, could also spread diseases.
Context: Back in the day, Chinese and Indian foreign workers used to work as laundry people for the British in Malaysia. The newspaper clipping even goes as far to say that the people who hired them cannot tahan without them as cooks and laundry people when they were in the Pacific Coast. Further reading online brought to our attention that in America, Chinese laundry services were very common.
"A laundry was an ideal business for Chinese immigrants, since it required no special skills or venture capital, and Euro-American men considered it undesirable work." – Columnist Alice Myers, in an article for immigrationtounitedstates.org
And based on the 2 news clippings above, it would seem that the Brits hired foreign workers to do their "undesirable" work.
But yea, that's all the news clippings we have. And some of you would probably be going like "Wut? 2 only?" Yes, only 2 copies. Sorry did we forget to mention that this story isn't actually about old newspaper cuttings? #clickbaitsuccess #ihatecilisos
Surprise! This story is about 1.5 million foreign workers coming to Malaysia!
Bangladeshi workers to be exact. If you haven't heard, our gomen announced that they would be bringing in 1.5 million of them over the next 3 years. This was actually mentioned back in July 2015, but the news resurfaced again when the Bangladeshi gomen recently confirmed that it would be a gomen-to-gomen (G2G) deal.
And with that massive amount, people are already starting to voice out the numerous concerns they have about the issue.
From jobs,

to crime,

to population,
to money,

And some are a bit hard to categorise.

*Comments taken from various foreign worker related posts across FB*
In fact, this group recently appeared in the news saying that the rise of foreign workers would then lead to a rise in terror activities, rape, and loss of business opportunities. It's such a big thing that Namewee did a film about it (which was banned in Malaysia). Don't get us wrong, these are valid concerns of many people. But consider this. It isn't the first time there has been a mass exodus of foreign workers la. If you remember your Sejarah, something similar happened not too long ago as well.
Actually no la, it was quite long ago.
The British brought in many foreigners during their time too
The Brits first came to our crib in 1771 when they gained Pulau Pinang from Kedah. But it wasn't until the late 19th century that the British had a huge hold on many parts of Malaya and Borneo. And that's when many of our ancestors started to come over la.
This academic paper by Meyjuhee Umey discusses the factors behind so many Chinese and Indian foreign workers coming into Malaysia during the time of the Brits. We've tried summarising it down to 2 points.
Chinese and Indians wanting to leave their countries because of oppression.
Not enough people to work in Malaya.
"They willingly came to Malaya because the British at the time promised full job opportunities to the Chinese.

The need for labourers in the Malayan agricultural sectors such as rubber, sugarcane, coffee, and so on, are the main factors for Indians coming to Malaya." – Translated from an academic paper by Rochelle Rut
So they came by the droves la. This excerpt says that 100,000 Chinese, and 100,000 Indian migrants were coming into Malaya every year by 1911. And from the newspaper clips above, all the British saw them as were people to do…stuff for them.
Sound familiar?
Will we solve problems by stopping them from coming?
In response to the backlash of him announcing the arrival of the 1.5 million Bangladeshi workers, DPM Zahid Hamidi said this.
"These workers will be involved in various fields, especially in the plantation sector and will meet the demands of the job market in Peninsular Malaysia, Sabah and Sarawak." – DPM Zahid Hamidi, as quoted by The Malaysian Insider
Of course this raises the question of why would the job market demand workers when we still have so many unemployed young people. Well, we discussed youth unemployment in a previous article of ours, and one of the reasons was that Malaysian youths just don't want the jobs that foreign workers do, even if it pays relatively well!
And if that's the case, it's possible that the solution lies beyond just stemming the flow of foreign workers no?
Some people may still point out the issue of safety, which is a fair point, considering you do hear about their crimes occasionally. (Examples here, here, and here.)
There is no justification whatsoever for the crimes they did. But consider that when our ancestors came here, not all of them were exactly Mary Poppins. Some of the migrant workers were involved in some pretty terrible things themselves.
"During the first forty years or so of the existence of Singapore (back then part of the British Straits Settlement), it was afflicted by a constant series of Chinese gang-robberies. Bands of from twenty to one hundred made frequent attacks at night on native and sometimes isolated European houses." – Quote from page 67 of Triad Societies: Western Accounts of the History, Sociology and Linguistics of Chinese Secret Societies, Volume 5
We'll admit that there have been divided opinions on whether or not our large intake of foreign workers is bad for the country. Like articles like this and this argue that it will affect our country negatively, while articles like this and this either disagree or point out that the problem lies beyond just stopping them from coming here.
And fair la, it's hard to say that these 1.5 million Bangladeshi workers won't negatively affect the country in any way at all, but check out what this writer had to say.
"I personally had the opportunity to encounter situations involving Bangladeshis. First was during a robbery. Nope, not a Malaysian who was robbed, but a Bangladeshi who has just received his salary, was robbed by a couple of Malaysians while he was cycling. He had no money to send back to his family in Bangladesh, he sobbed his way home." – Omar Kutty on The Malaysian Insider
So yea, they are victims of the system too.
Perhaps there is one legit concern about these foreign workers
Some of you may have noticed that we left out one other concern that people are having about these foreign workers.
Yes, the possibility that these foreigners will be used as voters in GE14, GE15, or whichever la. These are mere allegations that have not been proven in any way, but these allegations have been around for a while, even as far back as 2011! And ever since the news about the new workers, the issue has been brought up again (like here, here, and here). Heck, even the kipidap fella, Abdul Rani Kulup Abdullah talked about it! 
And these allegations only seem to make other news seem more concerning. Like how our DPM (back when he was Home Minister) said the 1.5 million workers were coming from Bangladesh only because they were more loyal, or that foreign workers actually have a special IC (that was introduced in 2013). (Called the i-Kad, the colour depends on the sector they're working in. We tried to find out the IC allows them to do but to no avail.)
Which goes on to show that there may be many people out there who aren't against foreign workers but are against them being used to achieve political goals.
So do we let all these foreign workers in because the British did it?
Understandably, many of us may still have our qualms of the massive number of foreign workers, which is fine. These are genuine concerns that need to be addressed. But maybe we should consider the way we are voicing these concerns. Because at the moment, things like this are happening.
Consider this alternative instead.
"If we disagree with the influx of migrants, let's discuss about it with facts and relevant issues. This is an issue-oriented discussion whether to agree or disagree with the influx, it was never a racial one." – Omar Kutty on The Malaysian Insider
An example may be like what Kluang MP, Liew Chin Tong did, when he presented his points on why he felt it was a bad idea for the gomen to bring so many foreign workers to Malaysia.
"Reducing the number of foreign unskilled labour is the cornerstone of building a nation that is founded upon skill, innovation and superb technology, not cheap labour." – One of Kluang MP, Liew Chin Tong's points on why we should reduce our intake of foreign workers, as quoted by Free Malaysia Today
And isn't that a better alternative to just making these 1.5 million Bangladeshi workers the villains of this story?  😉
————————–
P.S. If you're interested to read more about how the British viewed their foreign workers, you could always head on over to the Perpustakaan Negara. They keep records on equally retro computers like the one below!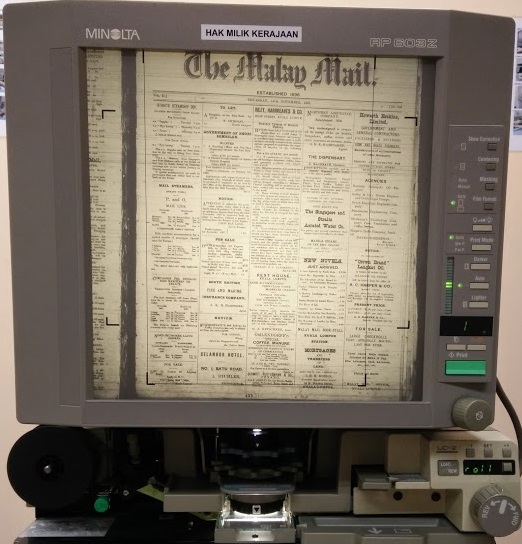 [Update] : Justtttt as we were about to hit the "publish button" on this article. We hear that our gomen has decided to suspend the recruitment of all foreign workers. There isn't much information about it yet, but we'll keep ugaiz updated.