Alright, ugaiz. Get ready for a dose of tabahkan-hati kinda inspiration.
When we found out that our friends (and regular advertisers) at Maxis had just hired a blind intern, we were blown away. We wanted to meet this guy and hear his story, so we popped by for a quick chat with the guy himself. And just for the record, this article is 100% editorial and not paid for by anyone k?
Soft-spoken, patient, and yet incredibly confident, 22-year-old Razlan Ibrahim Mukhtar was so kind to give CILISOS a peek into how he works with his computer. Here's a short video of him teaching us how he uses MS Excel to calculate the angles of weirdly-shaped tables at the Maxis offices:
And to show you what he was calculating:
Wait. How the heck did a visually-impaired guy learn MS Excel!? 
"The way I learned Excel is based on self-exploration. I've been taught basic navigation, but I learned the rest myself." – Razlan to CILISOS
Born in Butterworth, Razlan lost his eyesight due to glaucoma when he was 11 years old. He's had visual problems since birth, and told CILISOS that he was taught how to manage being blind since he was in Standard 1. He also went to the St Nicholas Home in Penang where he was provided with basic computer knowledge. The rest, in his own words, were up to him.
"Last week, I didn't know how to use the ranking function, so I Googled it. And now I know how to do it."
Pretty darn impressive considering MS Excel is one of the most technical office programs we know!
But wait… how does he know what he's doing?! Well he uses JAWS (Job Access With Speech), a screen-reading software that helps the blind navigate by telling them exactly what they're selecting, from desktop to whichever program they're using. That's also the sound which you heard towards the end of the video above.
He also told us that his first task was to work on a spreadsheet on customer experience. He was provided data where he had to study and rank customer experiences. When we met him, he was also monitoring social media where he rated public opinion on products. Razlan did give us a quick preview on what that's like, but of course la CILISOS can't show how he did that. 🙂
So… why is he doing this? 
"I do not allow myself or others to cut me any slack just because I am blind. There are quite some things that are not within my control. So when there is something I can influence, I take the opportunity to prove that I can do it." – Razlan in his blog post
The disabled community has always been victim to myths and stereotypes, such as being unable to live on their own or succeed in life. Most times, they're seem as helpless and should be pitied. While these aren't necessarily negative (as compared to racial stereotypes), they're mostly unwarranted.
"It's time we treated everyone with the same treatment. Yes, we have our weaknesses but we try to emphasise on our remaining strength to continue our lives… especially to gain success. Give us opportunities instead of sympathy."
He even adds that the disabled can be spoilt and dependent. "Disabled people also pandai take advantage. Just give what's enough, don't be too over," he adds. "Most of my friends in the disabled community have jobs as masseuses, but there are others that are lazy because of the special treatment they receive."
And his CGPA is higher than CILISOS staff ಠ_ಠ
It was his remarkable determination which also made him excel in his studies. Having received a Diploma in Business Studies from UiTM, he was accepted into a Business Innovation and Entrepreneurship course from the University of South Adelaide (UniSA) in Australia. Razlan was then offered the Maxis Scholarship for Excellence Award worth RM330,000, all on his own merit. He applied and went through the interviews just like everyone else.
And just so you know, he's totally acing his studies too. Razlan is only halfway through, but his current CGPA stands at… 6.33/7.00! (That pretty much tops everyone in the CILISOS office, including our smartypants intern Raymond.) He adds that he attends normal classes and is educated the same way as other students. "Normally, people think that lecturers modify the questions for me," he says. "But no, the only difference is that they are printed in Braille."
It's also Razlan's goal to have a Masters or a PHD, and operate his own business in the future. 
"I want to start a business with a product to assist the living of the disabled in Malaysia, especially the blind because we face many types of challenges in our lives. I want to see how we can make it easier and simpler, and to make our lives the same as how others are living."
The next time you're demotivated, know you CAN do better
That morning, we learned so many incredible things about Razlan's inspirational journey that left goosebumps on our arms. It was incredible to witness his extraordinary determination to make the best out of his disabilities. In fact, Razlan recently went for a hiking trip to Bukit Gasing with some of his colleagues! Didn't even matter that the ground was wet from rain the night before.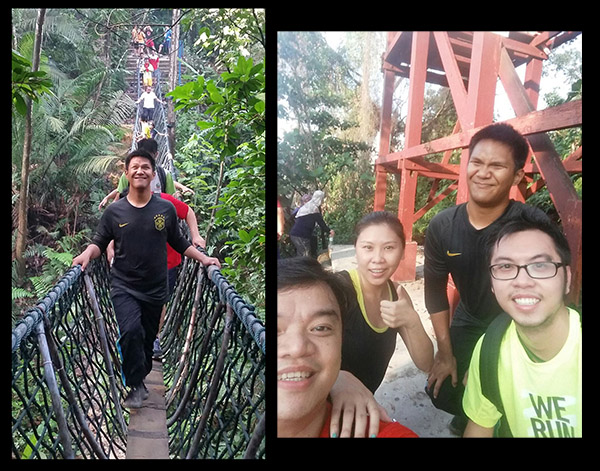 "For me, being visually impaired does not mean my life has ended. Disability is not a barrier or a reason to distract me from trying.

I have to be creative to explore the world and I am proud to have an opportunity of discovering the same world as other people in my own way.

There are always alternatives of feeling the beauty of nature without me seeing the nature."
So the next time you feel demotivated over something, remind yourself that there's a young Malaysian's breaking boundaries all his life, even with a situation that puts him at a major disadvantage. And what this means for us is that we should give the blind a fair chance wherever we can, and that we're all much more capable than we think we are. 🙂 
—
[PSA] Want to help the visually-impaired cross the road? Please don't grab their arm out of nowhere! 
"Sometimes we're very confident with our own way as we follow landmarks and footpaths. If we miss one of them, we'll get lost," Razlan tells us. "Ask what's the best way to guide them, and which arm they'd prefer you to hold. Some are left-handed."