Earlier this month, some of you may have had car boots like this…
…because the govt implemented the sugar tax on the 1st of July, and yes just like the petrol equivalent, people started lining up to stock up on sugar. So the sugar tax of RM0.40 per litre is now imposed on ready-to-drink canned sugary drinks like Pepsi, Coca-Cola and even Redbull.
If you're not aware of a sugar tax, here's one reason why. We decided to check the prices of sugary drinks at a kedai runcit near our office earlier this month but we found out that the prices haven't increased. The cashier at the shop actually told us:
"Kakak datang minggu depan baru harga naik." – Kedai Runcit cashier guy
A month later, we visited the same shop and the cashier told us that there's a price increase on SOME soft drinks, but not others.  Strangely, one of the categories that has gone up consistently is soy milk drinks. Apparently, this is also happening in other shops and supermarkets like KK Mart and Tesco too!
Woah, what in the world is happening? Is sugar tax cancelled??
Manufacturers are being given 2 months to find out how much sugar is in their stuff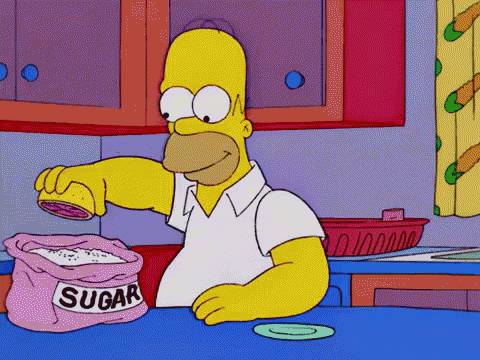 The cashier also told us that he wasn't quite sure why the prices haven't increase as he was only following instructions from his boss. This might be because the sugar tax isn't implemented at storefront, but to the people actually importing and manufacturing these sugar drinks. Vida Lim from Tesco (who, yes, has advertised their awesome diapers with us before) told us that while the sugar tax is supposed to be in effect July 1st,  the Buying Manager is still in negotiation with all the suppliers.
Also, turns out the Customs Department is giving a two-month transition period, from July 1st to August 31st, for them to register their products with a RM200 fee and declare the amount of sugar in their products. Typically, importers may need to declare their products by filling in an import form called the K1 form. This time around, an additional document is required by the Customs Department: a lab report! In order to do that, importers may need to send samples of their products to any labs listed here and get a lab report on the content of sugar in their products.
These lab reports would determine if importers may need to pay the excise duty based on certain criteria like:
Although the lab test may only take at most 4 days, according to Union Laboratories Sdn Bhd, the Customs Department is still giving importers 30 days to submit their lab reports after their import forms have been cleared. And this process is one-off unless importers suddenly choose to reformulate their products.
And, yes, when we talk about sugary drinks, we're not only talking about soft drinks and juices that are sizably sweetened but also milk-based drinks.
Actually, a check just before publishing today on 31st July reveals that SOME PRICES have gone up!
But why are some still unchanged?
Actually… some companies will be subsidising the tax for you 😉
The Deputy Health Minister, Dr Lee Boon Chye mentioned that although the manufacturers have to bear the cost of the tax, it is really up to them if they wanna pass the cost to consumers by increasing the price of sugary drinks. From what we've observed, it comes up to a price hike between 10 sens to 30 sens (max).
However, just like with SST before, Domestic Trade and Consumer Affairs Minister, Datuk Seri Saifuddin Nasution Ahmad mentioned that the ministry has been receiving complaints from consumers on price hike at restaurants.
"When the govt implemented the tax on the July 1st, drink vendors at stalls also raised the price although they're not involved (in this implementation of sugar tax)… And because customers are not aware of the information (on sugar tax), they're fine when restaurants overcharged them by using sugar tax as an excuse." – Saifuddin told Utusan. Translated from BM.
Saifuddin also suggested that the govt should give a clearer explanation on sugar tax to the rakyat to prevent any misunderstanding like this. So, by right, the price of your favourite teh tarik at the mamak shouldn't increase.
Despite the price hike, some manufacturers and companies of sugary drinks are coming up with solutions to maintain the prices of their sugary drinks. Nestle, for instance, is absorbing the tax so that the prices of Milo and Nescafe won't increase.
"The product price would be the same at this point and we will absorb it. As of today and for the next few months, we are not seeing any significant price increase (due to the sugar tax)." – Juan Aranols, CEO of Nestle told The Star.
According to 7-Eleven's CEO, Colin Harvey, products like Pepsi and Coca Cola are pushing their sugar free products like Coke Zero and Pepsi Black. He also added that the 7-Elevens in Malaysia aren't gonna increase the price of sugary drinks.
Other companies like F&N are actually taking a different route. F&N's CEO, Lim Yew Hoe, said the company would reformulate 70% of its products which are impacted by the tax!
"We have carried out sufficient research to ensure that the reformulated products continue to deliver the same great taste. Despite our efforts, there may be some variants of our products which are challenging to be reformulated. So, some of these products may incur a sugar tax." – Lim told The Star.
Lim added that reformulating drinks can be a bit costly but he assured consumers that it won't be as expensive as sugar tax. He said that you're probably gonna see an increase of 10 sens to 60 sens depending on the existing retail prices.
Some are arguing that it may be a burden to poor people especially the B40s. But there's actually a reason for that…
Obesity has been poverty's new illness
"In the current context, the most disadvantaged groups are often left with few alternatives as unhealthy food and drinks are usually cheaper than healthier options." – World Health Organisation (WHO) & UNICEF to FMT.
And this problem is not just happening in Malaysia but other parts of the world too. A recent study in England, for instance, found a link between obesity and poverty. Apparently, most school kids who are obese in England came from areas known for poverty. In fact, the United Nations had recently pointed out that more than two billion people lack the access to healthy food, causing the number of obese people to be even higher than hungry ones! What's worrying tho is how the United Nations had also pointed out how obesity is a problem which is much harder to tackle compared to hunger.
But this wasn't always the case in Malaysia. A researcher from Universiti Putra Malaysia pointed out that the consumption of sugar had only rapidly increased starting the first half of the 1990s with 800,000 tonnes annually as compared to 500,000 tonnes during the first half of the 1980s. And although most of the consumption occurs at home, the rapid increase in sugar consumption is caused by the food processing industry. So because this has somewhat created a demand for sugar, Malaysia has since increased the production of sugar.
So, imposing sugar tax on sugary drinks might be a good start in encouraging Malaysians to find healthier alternatives after all.
"Poorer households, in particular, are more responsive to price increases and more likely to limit their sugar consumption, thus reducing healthcare expenditure and improving their well-being in the long run." – Unicef and WHO's joint statement to FMT.
In fact, Tony Pua mentioned that sugar tax may not be a burden to the B40s because, according to him, "they don't need to drink Coca-Cola".
Whether it's a more expensive can of Coke, or a more innovative one, the sugar tax is bound to have an effect on Malaysian food habits. Now if we could only get cheaper alternatives to sugar…. hmmm..