There's this saying, "Throw a stone and you're bound to hit a Datuk". Basically the saying is trying to say that there are too many Datuks in Malaysia, if you didn't already get it the first time. You've probably heard the news about Jackie Chan…sorry, Datuk Jackie Chan being awarded the Panglima Mahkota Wilayah award which carries the Datuk title. The Star reported that the kung fu sifu was among 71 others who were awarded on Federal Territories Day.
Huhh, Jackie Chan also can get Datuk-ship??! But we want the title too! How? Well, there are 3 things one can do:
Outstanding contribution to the community and country.
Be great in your area of expertise and profession.
Au natural i.e. wait for your kids to have kids.
Errr, so Jackie Chan got his title doing….no. 2?
Here are some of the Datuks, who, for the life of us, we didn't know how came to be entitled to Datuk-ships.
1. Datuk Jackie Chan
Yes, it's true! Datuk Jackie Chan received his award because of his excellence in his area of expertise – namely kung fu and movies. And combining the two. Minister of the Federal Territories Datuk Seri Tengku Adnan Mansor explained why the Hong Kong-born celebrity was given the award in his tweet:
Jacky Chan pelakon yg banyak peminat di Malaysia dan boleh promosi Malaysia khususnya Kuala Lumpur dan memang layak pic.twitter.com/cNm8PIYJSn

— Tengku Adnan (@TengkuAdnanReal) February 1, 2015
So which movie was it that promotes Malaysia, khususnya KL? That would be Police Story 3: Supercop (original title, 'Ging chat goo si 3: Chiu kup ging chat'). The movie was set and filmed in Shangai, Hong Kong and KL, with the second half focused on the Malaysian capital. All eyes on Malaysia, we got the scenes where the bad guy's wife was jailed in KL and faced the death penalty for some crime. And the climactic action scene where the druglord's helicopter crashed and killed him. Plus, there was Michelle Yeoh in a tudung!
But we think Datuk Jackie is no stranger to a ceremony such as this. Remember in Shanghai Knights, his character Chon Wang was knighted by Queen Victoria? How serendipitous!
So back to Jackie Chan's Malaysian fan base that Tengku Adnan was referring to, how big is it? We were surprised to find out that Malaysia is the 10th most fangirl country of his Facebook page – a total of 1,698,435 fans (2.6%). Fuyoh! This really useful tool called Social Bakers shows you how big a certain social media page is based on its numbers. And you can find statistics based on countries, which is what we did.
But not everyone happily celebrated Datuk Jackie's award. Some netizens were frustrated that the title was awarded to a foreigner, rather than a local, reported The Malay Mail Online. One of them was our own funnyman, Afdlin Shauki.
Dont get me wrong, I love Jackie Chan too, but a datukship means jack shit to him, apalah sangat datukship on the… http://t.co/A5cnjkFqGI — afdlin shauki (@afdlinshauki) February 1, 2015
That's kinda true coz many Malaysians would bend over backwards to get such recognition (though, yes, Jackie Chan can prolly flip backwards a few times himself), while for foreigners the Datuk significance may be lost on them.
How he got the title:…because of his Hong Kong drama and Hollywood kung fu movie fans in Malaysia….?
2. Datuk Shah Rukh Khan
Yet another movie star! This time it's Bollywood actor Datuk Shah Rukh Khan. He was awarded the title back in 2008 in conjunction with the Malacca Governor's 70th birthday title award ceremony, looking swag in a black baju Melayu and gold songket kain samping. The Governor, Tun Mohd Khalil Yaakob conferred the Darjah Mulia Seri Melaka (DMSM) award.
After the ceremony, he seemed grateful, saying at a press conference:
"I want to thank the people of Malaysia and Malacca. Every time I'm making a film, when I meet some international people, the first thing they tell me is, 'your biggest market is in Malaysia'. Of course it's very nice to wear the clothes also…samping." – Datuk Shah Rukh Khan, The Star
Here's the video of him during the ceremony from The Star:
So based on his Facebook statistics Malaysia is his 6th largest fanbase, according to Social Bakers. OK la, not his biggest as he thought it was, but still within Top 10. However, just like Jackie Chan's case, not everyone was thrilled with him becoming a Datuk…
The Star reported people's reaction to the news as half-half. Some said he didn't deserve it coz 'he hardly knows where Malacca is', while others said he 'promoted Malacca in his songs and movies', according to the report by Martin Carvalho.
But that was the reason given for his Datuk-ship. Chief Minister Datuk Seri Mohd Ali Rustam explained they wanted to promote Malacca further after Shah Rukh Khan filmed One 2 ka 4 at the A Famosa Resort, Alor Gajah in 2001. "This resulted in many people visiting Malacca since then. The award is given in recognition of this." He added that awarding international artistes was also a good way to promote the state and country as a location for movies.
How he got the title:…for boosting tourism in Malacca…and making Bollywood fans here happy….?
3. Datuk Jean Todt
On 20 July 2006, Jean Todt became Datuk Jean Todt. In conjunction with Sultan Mizan Zainal Abidin of Terengganu's 44th birthday, he received the Darjah Dato' Paduka Mahkota Terengganu (DPMT), which carries the Datuk title, The Star reported. This state-conferred title allows for only 50 holders at one time. Check out the Sultan of Terenganu's site to see what his badge looks like.
But why was he given the title? What's he done? Besides his being General Manager of Scuderia Ferrari and CEO of Ferrari? And dating Michelle Yeoh…?
The Star's report did not give the reason. Neither did other media sites when we Google searched. However, it hasn't stopped people from guessing… On the zerotohundred.com forum, people claimed that it was probably because of an investment he made in Pulau Duyung, Terengganu, or his contribution towards the Monsoon Cup.
Basically, he and Michelle Yeoh were building a new home on the island according to another article from The Star. The construction started late 2005 at Terengganu Heritage Bay. But then that's more of a personal investment la…
As for the Monsoon Cup sailing competition, he had done a promotional video for TV and had been its supporter since its inception in 2005. Sultan Mizan himself has participated in the race too. The report stated that his support for the Monsoon Cup made Pulau Duyung and Malaysia well known internationally.
At the end of the day, since the Sultan didn't say why he awarded Jean Todt the Datuk-ship, all the above can only be counted as speculation.
There's also the matter of Point 2 – excelling in one's area of expertise – namely being CEO of Ferrari (which he was at the time) and General Manager of Scuderia Ferrari (which he also was at the time). So in a way he's helped to improve tourism in Malaysia for Formula One seasons. And apparently the race is a big draw for tourists from Europe, America, Australia and Singapore. The Star quoted Forbes' report that Malaysia experienced a 351% increase in the number of international tourists since first hosting the race in 1999.
How he got the title:…for drawing in lotssandlotssof Formula One fans as tourists….?
4. Any 'Datuk' who got their titles from the 'Sultan' of Malacca
Eh, we thought Malacca has no Sultan?? EXACTLY! Malacca was once one of the oldest Malay sultanates but today the state has no Sultan. The head of state is the Yang di-Pertua Negeri or Governor.
So who is this pretend 'Sultan' of Malacca? His name is Raja Noor Jan Shah Raja Tuah Shah and his 'Sultan' certificate was verified as FAKE by the International Court of Justice (ICJ).
But that hasn't stopped the self-styled royal from granting Datuk-ships. He's gets feted at events hosted by businessmen and in a Putrajaya event once, he showed up at the Government HQ all decked out in royal-yellow with his entourage of 'Datuks'. Media reports suggest that he has sold hundred of investitures, according to The Malaysian Insider. Well, he admits taking 'donations' but denies selling titles…
"We could easily take hundreds of thousands of ringgit. But you see, we are still driving an old car (referring to his vintage Porsche sports car)." – Raja Noor Jan Shah Raja Tuah Shah, The Malaysian Insider
How they got the title:…err, being best buds with Noor Jan….?
So many Datuks! So not special any more!
The issue here is that there's a glut of title-holders in Malaysia. Even our former PM Tun Mahathir Mohamad had warned of the glut way back in 2004. That caused some Datuks to feel that that their titles are not special any more.
But how many is too many? Well, according to Dr. Lim Teck Ghee, Director of the Centre for Policy Initiatives: "If we could do a count of how many Datuks there are in the country, it may be in several tens of thousands, or more. We may be a country that on a per capita basis, has the most number of titled people in the world. If so, we should be in the Guinness Book of Records!"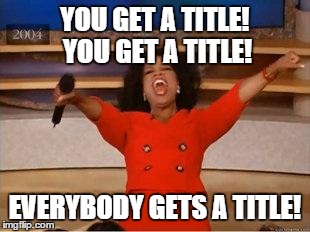 OMG several tens of thousands?! But The Malaysian Insider reported that somehow 700-1,200 new Datuks are being anointed annually, so it could be true! Compared to the UK (because 'Datuk' is Malaysia's equivalent of their 'Sir'), less than 100 candidates were knighted by Queen Elizabeth II in 2013. And our population of 30 million is like, what, less than half the UK's 64.1 million? Aw man, if we were Datuks, we wouldn't feel like one in a million either. 🙁
But that's not the only issue…well, it's a bit sensitive to talk about royal figures (the people who can award Datuk-ships), but according to Ipoh Timur MP Thomas Su: "It is an open secret that Datukships are for sale by cheats and those who claim to have the ear of the royalty, and there are individuals who abuse their titles." Former President of the Council of Datuk-Datuk Penang Datuk Seri Nazir Ariff shared his story of having been approached by people offering to 'sell' him a title before.
But if can be bought, what's the price tag? In 2009, Raja Petra Kamarudin who has royal lineage himself, had claimed that Datukships can be bought for RM250,000. Needless to say, his claim really peeved the royals and the Negeri Sembilan palace lodged a report against him.
Additionally the glut of Datukships that has given rise to title-holders behaving badly. There was one case of a Datuk Koay Khay Chye's who was caught with 300kg of nimetazepam pills!! When the case was publicised what really shocked people was that he managed to retain his Datuk title despite having 5 earlier convictions for theft, firearms offences and corruption!
All this bad press is totally unfair to the real Datuks isn't it? Datuk Danny Ooi, President of the Council of Federal Datuks and founder of the Malaysian Book of Records argued that people like pretend Sultan Noor Jan need to be stopped! Datuk Danny even came up with a practical solution to settle this problem once and for all: set up searchable databases of Datuks to tangkap imposters!
But why does everyone want to be a Datuk?
But even with the tarnished image and all, why is the quest for Datukship still popular? To Political Scientist Prof. Dr. Mohd Agus Yusoff of Universiti Kebangsaan Malaysia, he believes that titles are still prestigious anyway and people still show respect yo! "It shows that the person is held in high regard, has exemplary behaviour and has contributed significantly to the country and society."
Also, could it be that we Malaysians are a status obsessed bunch? Well, the trend shows that we are pretty crazy over image and brands to the point that we stretch our wallets thin. And maybe it's because we have a thirst for over-achievement too, like cracking coconuts with a finger or living in a glass box with 6,000 scorpions just to achieve World Records?
Malay Cultural Expert Eddin Khoo concurs that it's definitely a status thing. "Datukships have become crucial status symbols in a culture of ingratiation," he said. The official crest for a Datuk's car shows "money is rolling by." True that since we're also obsessed with buying the most expensive car number plates!
What about you guys? If people offered you the title, you take or not?