So recently, based on a tipoff from a CILISOS reader, we bought last Tuesday's edition of the News Straits Times (yea, like a real newspaper, not online). In it, we found this little gem (with possibly the world's most unattractive headline)….
TLDR? Let us sum up the newspaper report by journalist Aliza Shah for you:
– The Health Ministry of Malaysia (MOH) issued a memo to hospitals and its district offices.
– According to the report, the memo stated that staff are required to donate money to flood relief, specifically to help MOH staff in flood-affected areas. 
– How much you need to donate is determined by your Jusa/grade (rank).
– Failure to comply with the requirement may affect your appraisals and transfer requests.
Meaning if you don't pay, your KPI may suffer and if you wanna move to other branch to work also maybe they won't layan. So you won't get into trouble with the law but you mightttt possibly end up with some occupational hazards la. This was apparently confirmed by the Health director general himself.
"If you guys are calculative, we too, can be calculative." – Health director general Datuk Seri Dr Noor Hisham Abudullah
But its for a good cause right?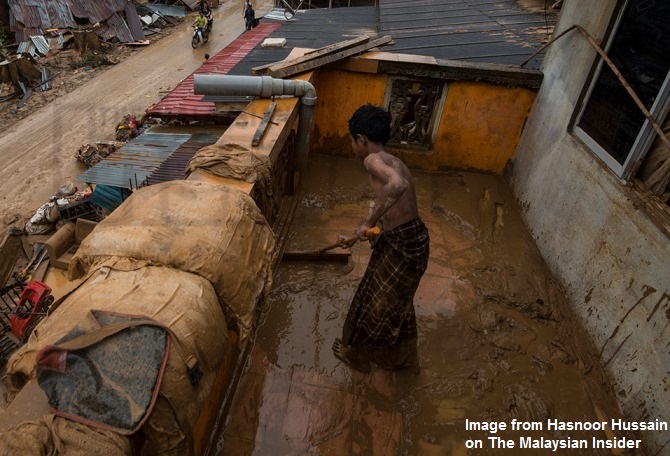 Honestly, we do believe it's a GREAT cause. The floods have spurred Malaysians into uniting and helping other parts of the nation more than any incident in recent memory, and it's even more important that they continue doing so, because it's a pretty painful process to rebuild all that water-logged infrastructure. However, this doesn't change the fact that a donation is something done willingly, not out of pressure, especially not from your employer.
After the NST report went public, the MOH was heavily criticised and issued out a clarification. The Sun Daily journalist Adrian Phung reported on 6th Feb that the ministry clarified that they 'never forced or issued any instruction to their staff that they were required to make a donation for the flood victims according to their ranks and pay grades in the ministry'.
The report also added that the 'letter' signed by the ministry's secretary general Datuk Farida Mohd Ali on Feb 6, stated that 'all the health ministry staff were welcome to make sincere monetary donations to ease the burden of some 6,200 MOH staff who lost their homes, vehicles and property due to the recent floods'.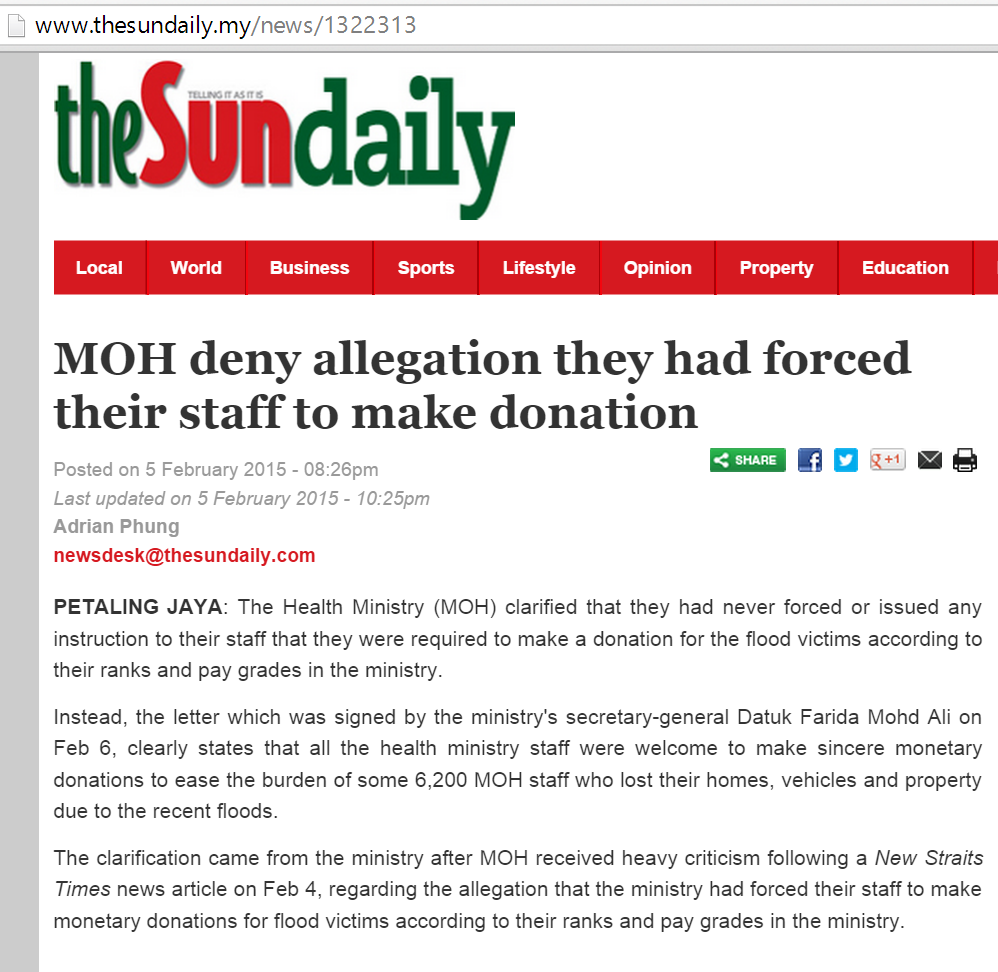 Although… We're a little confused by the fact that the article was published on 5th Feb, whereas the letter referred to in the article was reportedly signed on 6th Feb.
(Think about that for a sec.)
If anyone has any idea, please let us know cos we're megablur now.
And another intriguing piece of evidence we received from a reader who chooses to remain anonymous.
To add to the story, here's a photo of the alleged memo sent in by a CILISOS reader, received via a group chat amongst government-employed doctors, dated 27th Jan. This one seems to have been sent to a doctor in Johor. Keep in mind that this isn't a verified source by ANY measure.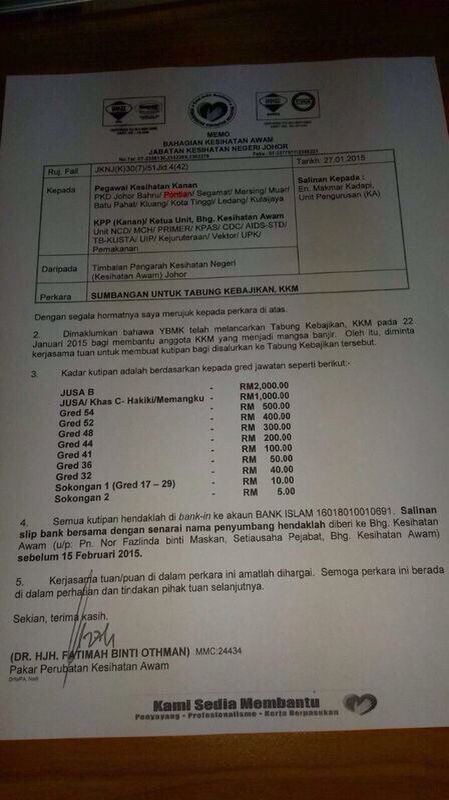 But it looks pretty real right? Like seeing as how this isn't even big news, why would someone go to the trouble of forging something like this? Plus, another reader who works in a governmental pharmacy told us that she received this too. However, other sources from Selangor and Penang have told us that they have not received any such memo, so it might be only in Johor as far as we can tell.
According to this alleged memo, we see the word 'Jusa' here appearing, together with various grades and the amount of collections that will be done for each grade. This link talks about what the grades mean for government servants but our friend mentioned that those above Grade 41 in the MOH are usually doctors.
Why all anonymous sources? How to trust?
For this memo, we actually got word of this memo in late Jan. But we couldn't publish anything at the time because no one from Johor was willing to come forward or provide a screen shot of the memo.
So here's the thing that worries us most. Whenever we write an article that somehow links politically, people are always afraid to be quoted. Even for this article, one of our writers pointed out the recent case of blogger, Milosuam, getting arrested, just for putting forth another alleged government document.
First Milosuam then CILISOS, gomen must think us food blogs are really getting out of hand.
But all these scared government employees scares us for the prospects of a country that has one of the highest civil-servants-to-population ratio in the world.
CILISOS tried contacting a number of other people, including staff from a government hospital, clinic and university, but they had either no information or weren't reachable. Also as you can see, we really did not have much to write about this because of the limited information that we have. Thus, if any of you reading this know of what this memo actually is, or what it means for our country, do let us know at [email protected] or in the comments below.