[This article was originally written in BM. Click here to read it.]
For those who have studied in universities, you would've agreed that those years were the most enjoyable moments in our lives as your schedules weren't that packed and… didn't you just love it when classes got cancelled? When you guys start working, you won't hear a thing such as work got cancelled because the office is closed, dontcha?
However, if we mention how local students have done out of the norm things like demonstration, taking over a university, or wanting an important somebody in the gomen to be arrested, you might have 1001 questions in mind, right? Today, we will share four demonstrations that was organised by our local students.
1. UiTM Demonstration of 1974: Hijacking a TRAIN to take over the university
When we talk about University Teknologi Mara (UiTM) and demonstration, you may think of students protesting about bumiputera rights…. but not for this protest in the 1970s.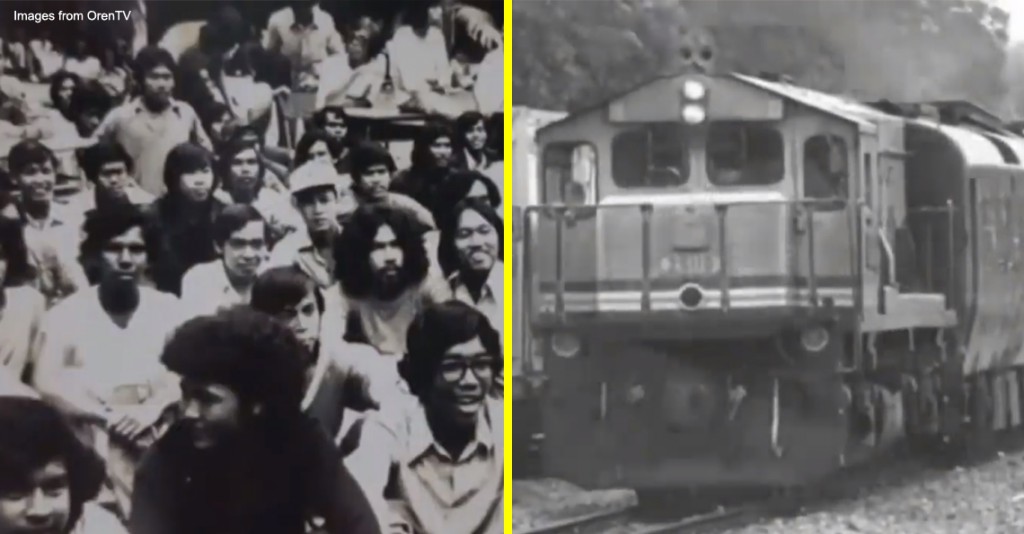 Back in thoooose days, tertiary education was considered a privilege especially to the Malays. The only places you could further your studies was the Dewan Latehan RIDA which was later upgraded and became known as Institut Teknologi MARA (ITM) for commoners who couldn't get into University Malaya or a chance to go overseas through the Commonwealth scholarship. However, even with the upgrades and more courses added, there was still so much desired by the student community. Why? Because ITM graduates were only paid as much as STPM as their certificates weren't acknowledged by the gomen.
"We were very upset. Our kings were Malay, most of our ministers were Malay, our officers were Malay, and while ITM diplomas were made for the Malays, its not recognised by our own government." – Nik Rosli Mahmud, Ketua Keselamatan dan Kebajikan Pelajar KSITM 1974, quoted Oren TV.
ITM students formed Kesatuan Siswazah Institut Teknologi (KSITM), and frequently raised the issue to the relevant authorities and even sent a memorandum to many leaders and departments, including the Education Ministry. Their only goal in mind was to ensure ITM graduates could graduate with degrees instead of diplomas. Unfortunately, their requests had fallen to deaf ears.
So, the students decided to take things in their own hands. On the night of 22nd April 1974, about 6,000 ITM students marched 60km from the Shah Alam campus to the Parliament. What's more interesting was the fact that a few hundred students even hijacked a train and set off to KL.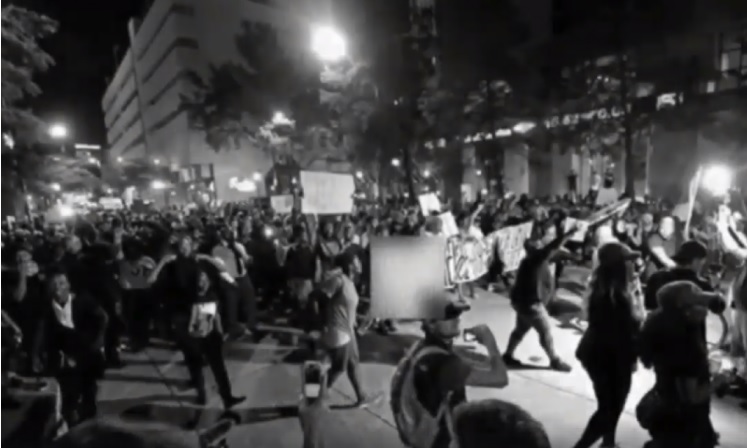 "Some of the engineering students, hijacked a train and they took themselves to KL. It was full of students from ITM, I was told the number was around 600." – Ibrahim Ali, quoted from OrenTV
However, they were blocked at Batu Tiga, Shah Alam. Ibrahim Ali, current President of PERKASA and former student leader of KSITM said that smoke bombs were hurled towards the students after they refused to disband. Although some of these students were sons of police officers, they still clashed with the FRU but in the end, only 300 people managed to reach their real destination. Some 1,500 people were arrested while 300 were brought to the hospital.
"It was like watching a fireworks display. I ran and hid in the marshes beside the train station at Batu Tiga." – Ibrahim Ali, Presiden KSITM 1972-1974. Petikan dari Oren TV.
If you think KSITM would back off just because their marching attempt failed, then you're wrong because the students decided to take over and occupy ITM's campus in Shah Alam and Jalan Othman. However, the authorities cut off electricity and water supply to the campus in an attempt to disband them and even brought in the parents of the students to persuade them to go home, but to no avail.
When this happened, nobody had the time to look down on other people and the course they took as they were busy helping each other survive in the school. The hotel catering students cooked food for everyone while the mass communication students designed their media battle plan for their cause. The occupation lasted for 10 days and only came to an end when the gomen agreed to negotiate with the students. Some changes made from the negotiation are;
A few ITM diplomas were given the same status as degrees, and its holder is entitled to an equivalent pay.
Graduates who were already working would receive compensation equal to the amount they should have received
ITM eventually got upgraded to "University" status in 1999, thanks to Ibrahim Ali.
2. Tasek Utara Demo of 1974: The demolishment of rakyat's houses (feat. a young Hishamuddin Rais!)
The story of Tasek Utara's Demonstration was written by our friends at SOSCILI based on a post by Hishamuddin Rais, former secretary of Persatuan Mahasiswa Universiti Malaya (PMUM). He was hanging out with his fellow student activists on September 14, 1974, at PMUM's Vice President's office when they received a telegram with the message;
"Our village in Tasek Utara will be demolished. Help us. Villagers of Kampung Tasek Utara Johor Bahru."
The first telegram they received was without a sender's name, but the second telegram came in with a message from Syed Hamid Ali who was in Tasek Utara, Johor Bahru. Since important members of PMUM weren't around when they received those telegrams, they couldn't make any decisions. But, Hishamuddin Rais hitchhiked a news van with a friend to Johor.
Though they were only given RM 10 to travel to Johor, according to Hishamuddin Rais, PMUM was considered one of the richest student union in Southeast Asia . He described what he saw upon arriving Tasek Utara with his friend as;
"I will never forget the first image I saw when I entered Tasek Utara. A lady in a white baju kurung and a shabby brown batik stood by the door, calling me into her house. The walls of her house were still red, signifying how she has just bought the wooden planks. Her child was soundly asleep in a batik swing. Her husband was working. The lady explained how she sold off everything to get RM 600 to build a 15 square feet house. Her kitchen was demolished two days ago." – Hishamuddin Rais
Then, students from Singapore came to discussed on how to help these villagers. As they were in the midst of discussion, the Majlis Perbandaran Johor Bahru suddenly came to demolish the houses, causing havoc to the village. They even brought the Federal Reserve Unit (FRU) along. Sadly, Hishamuddin Rais had to go back to campus as he didn't have the authority from PMUM to do anything.
When he told the incident to PMUM, they decided to donate as much as RM 250, and organised a Speaker's Corner to explain what happened in Tasek Utara. The Speaker's Corner gained attention, and when it ended, about 50 students went to Tasek Utara.
On 18th September 1974, the students and villagers finally marched to meet Datuk Othman Saat, Johor's MB at that time. Unfortunately, he wasn't in his office on that day, so they decided to camp in front of his office. Their actions sparked curiosity in other people and when they figured out the reason behind the demonstrator's actions, more came in to help.
That night, the police raided the students and villagers' tents while they were sleeping. Hishamuddin Rais, some of the student activists and the villagers were arrested by the police.
As a result, Universiti Malaya's student activists took over the university for a day. Wah, we can only imagine taking over a university's administration but these guys actually do it cos they weren't satisfied with the arrest! Persatuan Mahasiswa Universiti Malaya was, then banned on 21st September 1974 due to this 'courageous' act of theirs.
"Persatuan Mahasiswa Universiti Malaya took over the administration and campus of Universiti Malaya. That action was taken to request the government to release two students who were arrested in Johor Bahru yesterday for demonstrating for the squatters in Tasek Utara."– An excerpt from Pusat Sejarah Rakyat.
3. Baling Demonstration of 1975: Fighting for the rights of those in hunger
Baling Demonstration was said to have the most number of students involved, about 10, 000 of them. FYI, around 2, 000 students were arrested because of this demonstration. After this demonstration, Anwar Ibrahim was arrested for the first time under ISA for two years while Dr Syed Husin Ali who was a lecturer in UM was detained for 6 years.
"The students ran to Masjid Negara but the FRU continued to chase after them. The FRU surrounded 8, 000 students who were seeking shelter in the mosque and shot them with tear gas. While they were in the mosque, the students were screaming 'Allahuakbar' a few times after reciting the calling of prayer."– An excerpt from Makalah Ar-Risalah 1975.
The demonstration was at its peak on the 1st of December 1974, when 30, 000 villagers gathered in front of Baling's State Office. The purpose of this demonstration was to protest against the deflation in the price of rubber at that time. The price of rubber back then really dropped! Normally, a rubber would cost between 25 to 60 cents per catty (about 500 grams), but the price dropped to 15 cents per catty.
As a consequence to this, the people of Baling lived in poverty as rubber was their main source of income. The villagers were shocked when there was a story on how some villagers who couldn't afford to buy food died after eating a poisonous yam called ubi gadung. This story became one of the reasons why the students went on a hunger strike.
How would you feel if you guys were involved in this demonstration? Idris Mat Piah, a villager in Baling who was 16 when this happened said;
"I was a teenager back then and I didn't know anything about the demonstration organised. All I know was seeing every corner of the streets to Baling flooded with villagers who were marching. They went out at dawn, some went out earlier than that to march."– Utusan Malaysia.
If you are unfamiliar with Akta Universiti Kolej Dan Universiti (AUKU), it is actually a law to regulate the administration of public universities, and university students' welfare and discipline. This Act was introduced in 1971. Thanks to the students who organised Baling demonstration, AUKU was amended in 1975.
"In order to "ease the administration and create an efficient university administration", AUKU 1971 started to limit student's movement. However, the real impact can only be seen in 1975 when the Minister of Education at that time decided to make drastic amendments by including a few new sections that minimizes the role of students in university especially Section 15 that limits students from getting involved in politics." – Ganeshwaran Kana, an excerpt from Projek MMO.
*BONUS!*
4. Tangkap #MO1 Demonstration: Arresting the most untouchable person in Malaysia
If you guys start to wonder why lah we only tell you stories from the olden days, well, here's a demonstration held in 2016; Tangkap Malaysian Official One Demonstration. Our friends at SOSCILI covered a story about Malaysia Official One (MO1), which to date, we aso dunno who MO1 is. The students who organised this demonstration urged MO1 to be arrested probably because it seemed like nobody (is and) would be taking action against him/her.
This demonstration was led by Anis Syafiqah, a student from University Malaya (UM again?). It's not easy to lead a student demonstration since we haven't had one in such a long time.
"I was motivated to take part in #TangkapMO1 demonstration when no actions were taken or response given after the United States' Department of Justice's (DOJ) revelation for a week. I did all this to make Malaysians realize, regardless who they are, on what is going on. Women have an important role in creating this awareness."– Ceritalah Asean, Astro Awani
The police estimated 2, 000 demonstrators in this Tangkap Mo1 demonstration. However, according to Jamal Yunos, only 35 students were involved. Yall agree with his statement?
"Based on the information we have, only 35 students were involved while the rest were Bersih itself. We all know who Bersih's followers are, right? LGBT, those with no guidance and principle, future and religion who became strong supporters of Bersih. So it's safe to say Bersih is a sissy!"- MalaysianDigest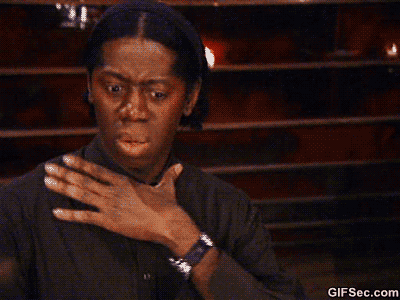 Consequently, Anis and another three students from UM were held for trial by UM's board of discipline and were found guilty. Three of the students were suspended from their studies and fined, while the other one was fined.
"Anis Syafiqah Md Yusof and another two student activists were suspended from their studies for a semester, warned and fined up to RM 400 after they were found guilty for causing embarrassment to the university due to their involvement in the #TangkapMO1 rally in Kuala Lumpur. Another activist, however, was only fined with RM 400."- MalaysiaKini
But, aren't students supposed to study??
Have you ever heard of the famous quote by Sukarno (something about giving him 10 youngsters?);
"Beri aku 1000 orang tua, niscaya akan aku cabut Semeru dari akarnya. Beri aku 10 pemuda, niscaya akan kuguncangkan dunia.

(Give me 1, 000 men, and I will pull a mountain from it's roots. Give me 10 youngsters, and I will change the world)."– Sukarno
Look at how much faith Sukarno has in youngsters! While he needed 1, 000 men to pull a mountain, he only needed 10 youngsters to change the world!
Demonstrations led by students aren't something new in most developed countries. Unfortunately, they are quite unusual to us in Malaysia since we're not living in the 70's where our ancestors were actively demonstrating because AUKU hasn't been amended yet. Furthermore, students nowadays are heavily burdened with a lot of pressure coming from debts and job opportunities, so maybe that is why they're afraid to get involved with any demonstrations.