[This article was originally published on 5 Feb 2018. The article was translated from BM on Soscili.]
Who would have thought Tun Dr Siti Hasmah Mohd Ali, the wife of Tun Mahathir, would one day become the First Lady of Malaysia again!
Some time in February, social media caught wind Siti Hasmah being taken in by the police for "interrogation" over a speech she had given during the Women against Toxic Politics rally last year. Knowing how taking a nonagenarian into custody must have looked to some, especially after her husband was elected as the leader against the government, PDRM made it clear that they only brought her in to record her statement.
"PDRM regards these seditious remarks seriously." – Chief of Criminal Investigations Department, Datuk Seri Wan Ahmad Najmuddin Mohd, quoted from Astro Awani
Indeed, some comments from significant figures have been publicised by the media. Former lead editor of the New Straits Times (NST), Mustapha Kamil Mohd Janor joked that he thought the police were recording the statement of Jho Low (of 1MDB fame), but it turned out to be only Siti Hasmah instead. Tengku Razaleigh, UMNO veteran and former political rival of Tun M said that police's action only made the government look bad.
Most of you must at least heard about Tun Dr Siti Hasmah, but beyond the fact that she is the wife of Malaysia's new PM and her super adorbs photos with her hubby, what else do we actually know about the 7th and returning FLOM? SOSCILI shares 4 lesser known facts about her.
1. Siti Hasmah was the first second one of the first Malay woman doctors
Back in the day, doctors were rare and few, and female doctors even more so. Tun Siti Hasmah found herself to be the only Malay female student when she enrolled in King Edward VII College of Medicine in Singapore. It was there she met Tun Mahathir and started to beroman.
Tun M graduated in 1953, then Siti Hasmah followed suit 2 years later. Tun Dr Siti Hasmah is the second Malay woman ever to become a doctor, after Tan Sri Dr Salma Ismail who graduated in 1947.
Even so, Tun Siti Hasmah is a pioneer in many aspects by her own right. She was the first woman Medical Officer in North Kedah, and also the first woman to be appointed Maternal and Child Health Officer of Kedah. She advocated for family planning on behalf of rural Malay mothers that often had their health overlooked due to repeated child bearing, and was later appointed the State Maternal and Child Health Officer.
Aside from that, she also campaigned for many public health causes, including awareness for mental health and drug abuse, often attending international conferences on behalf of Malaysia. Plus, she's held so many public positions it'd put that one overachieving classmate we all had in Form 5 to shame. Siti Hasmah was also elected as the Patron of Badminton Association of Malaysia when Tun Mahathir was PM. Coincidentally in that time, our badminton players brought back the Thomas Cup in 1992, a feat not achieved since 1970!
2. She has many high profile siblings, one of them the longest serving Bank Negara governor
Tun Siti Hasmah was born the 6th child in a family with 10 children, but she was far from the only one that had achieved great heights in Malaysia.
Her older brother was actually the first Governor of Bank Negara Malaysia (BNM), the late Tun Ismail Mohd Ali, also the longest serving governor in Malaysian history. He was also involved the Dawn Raid project, which was a sneaky market-y attack during Tun Mahathir's time to wrestle control of a British company. He was also the first President of Permodalan Nasional Berhad (PNB), a government linked investment fund especially for bumiputeras.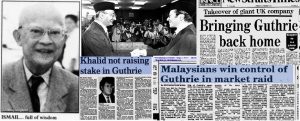 Her prominent younger brother is Tan Sri Hashim Mohd Ali, a former Chief of the Defence Forces in the Armed Forces, who served from 1987 to 1992. He was among those who were involved in the 1989 peace negotiations between Malaysia and the Malaya Communist Party in Haadyai (No, Chin Peng wasn't there because he surrendered later). Tan Sri Hashim Mohd Ali later became the Chairman of Ajinomoto (Malaysia) and National Aerospace & Defence Industries Sdn.Bhd.
Several other siblings are prominent in politics instead. Tan Sri Ahmad Razali Mohd. Ali was the 10th Chief Minister of Selangor, while her sister Datuk Paduka Dr Hajah Saleha, was one of the central figures in the founding of UMNO. She was a vocal opponent towards Malayan Union, and the only female speaker in the 3rd National Congress, which is the one that lead to the birth of UMNO. Interestingly, she was also the one that united Anwar Ibrahim and Dr Wan Azizah, and she even went with Anwar to Dr Wan Azizah's house to ask for her parent's blessings.
3. She went to personally deliver humanitarian aid to Iraq
Ever since the fall of Saddam Hussein in Iraq, the country and its people have been caught in violent unrest, with news about bombings or terrorist attacks every other day. In 2000 (before Saddam's fall), Tun Siti Hasmah, some doctors and several NGOs made a trip to the country to deliver humanitarian aid. The Iraq that she saw was no longer one of the most modern cities in West Asia. Compared to the Iraq she knew, this was a land of poverty and suffering.
Her visit to the Amiriyah shelter bombing site, where at least 408 civilians were killed by 2 US "smart bombs" was particularly unsettling.
"Tun Siti Hasmah's visit was absolutely heartbreaking. She saw for herself the human shadows and skin that were imprinted on the walls by the heat radiation of the bombs." – quoted from Utusan Online
Even in that condition, a trade and economic sanction was imposed on the country (which Malaysia didn't agree with), making food and even medicine inaccessible. She was even taken to see Saddam alone.
Although the visit was humanitarian in nature, the US condemned Siti Hasmah's visit, accusing Malaysia of intending to assist Saddam Hussein. Siti Hasmah need not say a thing, because it was Tun Mahathir that came to her defense, and proudly proclaimed that Malaysia was free to defend the basic rights and welfare of any country in the world.
4. She was just as surprised as everyone when Tun Mahathir announced his retirement
On 22nd Jun 2002, Tun Mahathir made a bombshell announcement during the UMNO general assembly where he unexpectedly announced his resignation from all political positions. The announcement was an emotionally charged, especially for Tun Mahathir, who still wanted to finish his speech despite being mobbed by party members on stage. His son (Mokhzani Mahathir) had to insist that Tun Mahathir be escorted into the backroom for him to calm down and compose himself.
The announcement came as a surprise to many, and you can even hear calls for Tun Mahathir to retract his resignation later in the video. You would expect at least Siti Hasmah, being his wife and also present at the assembly, to know about his intentions. But it turns out, she was just as surprised as everyone else who heard the announcement, as you can see when she went on stage to his side.
"My daughter Marina ask me the same question when she returned from Thailand that night. She asked me if I really had no idea about the resignation. I told her I really didn't know anything." – Tun Dr Siti Hasmah told Utusan Malaysia
When asked about how she felt about being kept out of the loop about Tun Mahathir's resignation, she said that she wasn't upset at all because she felt that it was fully within Tun Mahathir's rights as Prime Minister to keep his plans secret. Although, she said it would have been nice to know so she could start planning earlier for his retirement.
"I hope he will continue to champion for the fate of the country. But at the same time, I really wished he could enjoy his rest while doing what he loves." – Tun Dr Siti Hasmah told Utusan Malaysia
Siti Hasmah – A low key wife of a Malaysian Prime Minister
A Perlis mufti, Dr Asri Zainul Abidin, wrote about how Siti Hasmah's modesty, reservedness, humility and general unwillingness to be involved in politics made it difficult to hate her. You can't help but agree when you think about the lack of slanders or defamation against Tun Siti Hasmah, while the exact opposite can be said for Tun Mahathir.
"Throughout Tun Mahathir's reign of power, Tun Siti has remained humble. No stories of her lavish spending overseas, or complaints of her meddling in government projects, or hostility towards anyone… Leaders need a wife like Tun Dr Siti Hasmah." – Dr Asri Zainul Abidin, Perlis Mufti
With Tun Mahathir's comeback into the elections, it seems that Tun Siti Hasmah will be taken along for the ride as well. Not long after PDRM recorded her statement, the Wheelchair Tennis Association dropped her as their patron, a move Marina Mahathir described as "petty". But come what may, Tun Siti Hasmah will be there to support her husband till the end.
"I have not done much to contribute to my husband's success today, except to support him in everything that he wishes to do. So I pray that in all his plans, they will be for the good of himself, of religion, and of the country." – Tun Dr Siti Hasmah Mohd Ali told Utusan Malaysia