[Updated 27/6/17, 2:24 pm: Australian model Miranda Kerr has handed over the implicated jewellery to the DOJ.]
Just when we thought the whole 1MDB drama might have some resolution, the US' Department of Justice (DOJ) recently threw an unexpected punch. A few months ago, we covered how the DOJ had already named Jho Low and Riza Aziz in a suit that aimed to claim back their alleged illegal assets, a move which granted massive legitimacy to the claims of the growing 1MDB scandal.
The last we heard of Jho Low, Hollywood party-man, and Malaysia's most generous gift-giver, was that the DOJ was alleging that he spent a whopping USD703 million in 6 years. Later, his family won a court battle that allowed them to fight the U.S. for control of the seize assets.
But then on June 15th 2017, the DOJ filed a new complaint with the court, announcing that they are looking to seize an additional USD540 million worth of assets linked to misused funds from 1MDB. This brings the total assets sought to USD1.8 billion (RM7.7 bil). Keep in mind, that this stuff isn't just being seized from Jho Low tho. Other people named in this new document include Riza Aziz, Leonardo Dicaprio, and Miranda Kerr. But this time, there's something strange going on in particular, with the wife of Malaysian Official 1…but we'll talk more about that later.
First, let's take a look at some of the new items the DOJ wants to seize from 1MDB proceeds.
Along with the announcement, the DOJ published the longest press release we've ever seen (251 pages!) containing both the new and old items they want to seize. Also alleged in the document, is the detailed tracing of the 1MDB funds. Each transaction made is provided with information including where and when the money was transferred, who was involved, and how much. So let's see what new things were allegedly bought this time.
According to the document, the new items DOJ wants to seize are:
A

 

luxury yacht

 

named Equanimity

, fitted with a helicopter pad, a movie theater and capable of fitting 50 people (more than $250 million)
Shares and Assets: Palantir stocks ($2 million), Flywheel shares ($3 million) and assets of Electrum ($150 million)

Movie rights

of Dumb and Dumber To ($58,400,000) and Daddy's Home ($30,000,000)

A condominium

in Madison Park ($4,531,212)

Photographs, paintings and posters

: "Redman One" by Jean-Michel Basquiat ($9,191,040), "Boy with the Toy Hand Grenade" by Diane Arbus ($750,000), "Nature Morte au Crane de Taureau" by Pablo Picasso ($3,200,000), Metropolis Poster by theHeinz Schulz-Neudamm ($1,200,000)
An assortment of jewelry too many and complicated to list out one by one (total of around $10.82 million), bought as gifts for Jho Low's mother and Miranda Kerr
But while we were looking over the jewelry and their details, we noticed something strange…
There are two things being investigated, but not being seized.
Just to clarify, there are a few major parts of the new DOJ document.
Page 2-10 – A detailed LIST 

of the items they intend to seize 

Page 11-134

–

The MONEY TRAIL

 of how the money was allegedly misappropriated

Page 134-246

–

 An INVESTIGATION 

into how the money led to these assets and who the assets ended up with
For example, Page 2 lists the Equanimity yacht as a seizable asset, and Page 191 shows HOW the yacht was acquired from misappropriated funds.
So in the INVESTIGATION part of the document on page 224 and 228, two jewelry items are described totaling $28.6 mil (RM122.31 million),
A 22-carat pink diamond necklace ($27,300,000) and
27 assorted gold necklaces (totaling $1,300,000).
But strangely, they were not mentioned anywhere on the LIST of items to be seized.
And it gets even stranger.
If you haven't noticed already, both the items not in the list were tied to the wife of Malaysian Official 1. After double triple quadruple checking the document many times, it gets even STRANGER because these were the only "2" items missing from the new list.
We thought that the items might be part of a separate investigation, but if that were true, why did the DOJ file it in the same complaint? And a few news sources have already reported it as part of the same complaint. Another possibility thrown out was because the jewelry is not in the U.S. or a cooperative country, but that can't be true either because Malaysia has said they would always cooperate with the investigations. Also, a tracker app shows that the Equanimity yacht is currently in Thai waters, but it's still listed nonetheless.
While writing this article, we found out Malaysiakini noticed the strange discrepancy too, and they beat us to it in pointing it out. Free Malaysia Today published an article about the 27 gold necklaces when the news broke, but that article is somehow no longer available.
So what's going on here? Why are they going after aunty Low and Miranda's bling-bling, and not the ones bought on behalf of the wife of Malaysian Official 1?
There was another discrepancy too, so we sent ANOTHER email to the DOJ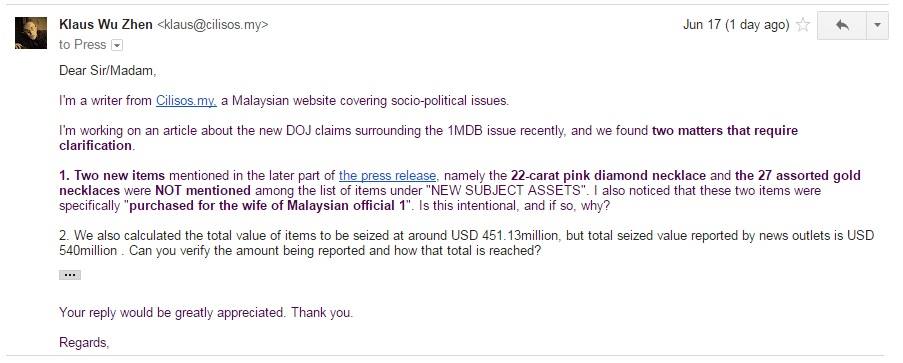 Maybe it's the problem with our MAT-MATIK skill, but we couldn't get to USD540 million as reported by the news when we tried to sum up the value of the new items. We only got around  USD451.43 million, and that's including the jewelry of MO1's wife.
Because they responded to us when we reached out to them the last time, we sent another email to the DOJ for clarification on the MO1 wife's jewelry and the total value of the assets.
Sadly for the last 48 hours, they have not managed to get back to us yet.
So what's going to happen to the RM122.31 million jewelry?
Before anyone gets too excited, The DOJ themselves would like to remind you that this civil forfeiture complaint is only an allegation of a crime. So for now, the people accused by the DOJ are innocent until proven guilty.
"These allegations are not proven until a court awards judgment in favor of the U.S." – U.S. Department of Justice press release
Malaysia has laws that support asset seizure in criminal offenses, and the DOJ did their homework on it. But the Malaysian gomen representatives did not hesitate to hit back at the allegations, calling it lacking of firm evidence, a distraction from the larger agenda, and even an opposition plot to defame the PM's wife.
"This suggests a motivation that goes beyond the objective of seizing assets." – Prime Minister's press secretary Tengku Sariffuddin Tengku Ahmad said in a press statement
But outside of Malaysia, it seems like some of these allegations might hold true, at least Hollywood actor Leonardo Dicaprio seems to think so. He has already surrendered the Marlon Brando Oscar's award to the DOJ, and is in the process of handing over both the Picasso painting and Basquiat collage gifted to him.
In Singapore, 2 bankers have already been jailed for money laundering and forgery in the 1MDB scandal. Abu Dhabi has even done the same. Even more recently, Switzerland has fined Coutts & Co. Ltd. 6.5 million francs (RM28.56 mil) for money-laundering and illegal profits linked to 1MDB, and they said they are making more progress.
So if we want to know what's going to happen to MO1's wife's jewelry, it's best if we follow the trail of Miranda Kerr's diamonds. As of 27th June 2017, Miranda Kerr has handed over USD8.1 million worth of jewellery to government agents from her safe-deposit box in Los Angeles. Her spokesman added that "Ms.Kerr will continue to assist with the inquiry in any way she can."
It's ironic, how the jewelry mentioned allegedly came from bond proceeds. Cos at least in the case of ONE of these two women, diamonds might not be forever after all.
We'll let ugaiz know once the DOJ clarifies.
Co-written by Chak and Klaus