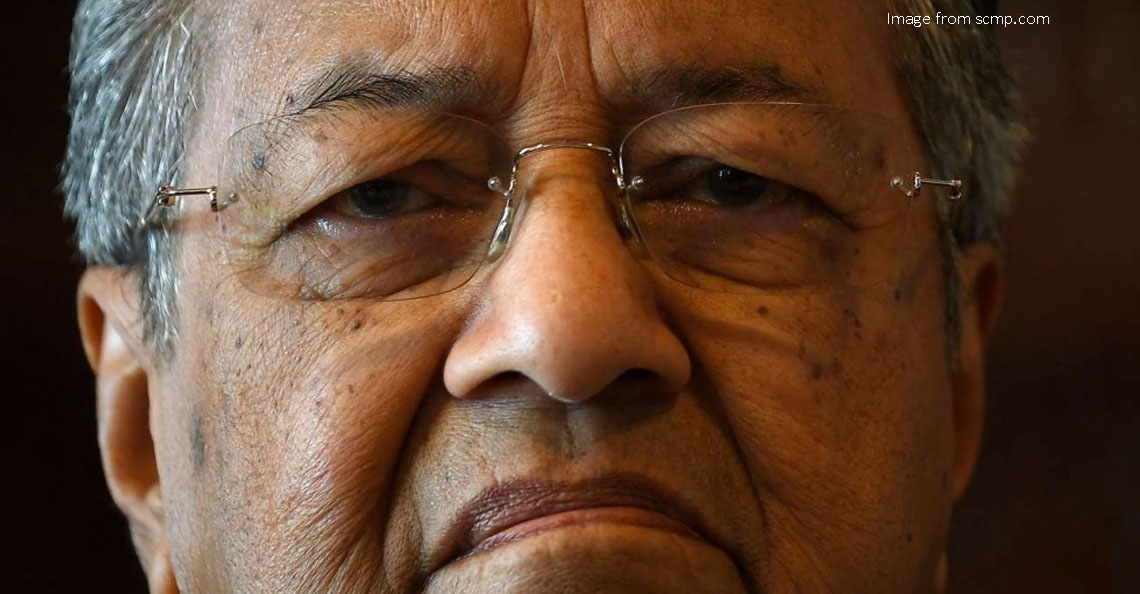 [This article was originally written in BM. You can read it here.]
By now, most of us would have already known that Pakatan Harapan has officially picked Tun Mahathir as their Prime Minister candidate (after much delay and teasing). Now that Tun Mahathir is the new poster child of the opposition, the next immediate question on people's mind is where would Tun Mahathir be fighting for his seat in parliament?
In a show of party unity, Selangor Chief Minister Azmin Ali has recently offered his own parliament seat in Gombak to Mahathir. Although Mahathir declined his offer, he has not revealed where he will be contesting as of now. However… he has named 3 possible areas where he is currently considering: Kubang Pasu in Kedah, Langkawi, and Putrajaya.
If Mahathir succeeds in becoming Prime Minister again, he will also have the honor of becoming the world's oldest leader. So, our cousins at SOSCILI went and did some light background checks, to see if they could figure out the odds of Tun Mahathir winning in each of those seats.
1. Kubang Pasu – Mahathir's fortress when he was Prime Minister
Competitor: Datuk Johari Baharum, Deputy Minister of Defense.
If you didn't already know, practically Tun Mahathir's whole life was in politics. He entered the arena even before Merdeka, and is probably one of the oldest and longest serving politicians still alive in Malaysia, if not the world. He won his first parliamentary seat election in 1964, when he defeated a PAS candidate with a majority of 4,210 votes in Kota Setar Selatan.
"Throughout his term as representative there, he seared himself into the minds of the Malay community as a fearless leader who did not hesitate to voice out on behalf of the poor." – quoted from Surat dari Dr Mahathir, p16.
However, he failed to defend his seat in the following election, and lost to the first spiritual leader of PAS, Tuan Guru Yusuf Rawa. Another major reason that he lost the seat was because he taunted the Chinese, by boasting that he didn't need their votes to win the election. In response, the Chinese voters gave their support to the PAS candidate instead.

Although he lost his seat, Mahathir continued to openly voice out his opinions, and among those that he berated was first and former Prime Minister Tunku Abdul Rahman. For all his outspokenness against the PM, he was kicked out of UMNO, but was later received back into the party under the leadership of former PM Tun Razak.
In the 1974 elections, he was allowed to contest again, this time in the district of Kubang Pasu, Kedah. He won the seat without contest, and Kubang Pasu became his stronghold from then until his last days as Prime Minister. That's seven terms as Kubang Pasu MP from 1974 to 2003.
While Tun Mahathir was representing Kubang Pasu, he brought much development to the area, even turning Sintok (an area ni Kubang Pasu) into an education hub. His former Political Secretary Datuk Johari Baharum, is currently representating of Kubang Pasu, and if Tun Mahathir contests there, it's likely that both of them will go head to head.
"The research shows that PH's popularity has increase with the presence of Tun Mahathir. I think he has a good choice if he decides to run in Kubang Pasu, even if there's a 3 way fight." – political analyst Prof Awang Azman Awang Pawi, quoted from Malaysia Insight
2. Langkawi – The cursed Mahsuri island he helped transform into a famous tourist attraction
Competitor:  Daruk Ir Nawawi Ahmad. The MP that accused Yang di-Pertuan Agong of crime.
You might be familiar with Langkawi's legendary tale of Mahsuri, a lady who bleed white blood after she was wrongfully accused and killed, and she cursed Langkawi, turning it into a wasteland. Historians may not be able to tell for certain whether that's true, but the curse was surely ended during the reigns of Tun Mahathir's leadership. Tun Mahathir (also an actual doctor) was stationed in Langkawi in 1955. It was there that he got to know the island.
So during his premiership, Tun Mahathir tasked Tun Daim Zainuddin (his finance minister) to develop the island. Today, it is not only a famous Malaysian tourist destination, but also quite an economic center well known for its luxury hotels and tax free status.
"Tun Mahathir himself visited Langkawi almost every month, to survey the development of projects such as the Gunung Mat Chincang cable cars, the rehabilitation of Pantai Kok, and the beautification of Kuala Sungai Melaka." – quoted from Utusan Malaysia
The current MP of Langkawi is Daruk Ir Nawawi Ahmad, who is someone that had raised a couple of controversies in his time. Nawawi once tried to suggest that Yang di-Pertuan Agong was "Malaysian Official 1" in the 1MDB suit, but he later retracted his statement and apologised for it. Even before that, he once claimed that his salary was not paid for with the rakyat's money, because it was the government who pays his salary, and that money isn't rakyat money either.
"Money that is given away no longer belongs to us… If the government's money was the rakyat's money, then everyone would be attacking all the state departments and asking our money back." – Daruk Ir Nawawi Ahmad, quoted from Astro Awani
Although he insisted on the validity of his statement, many have spoken against it, and the bizarre statement was even criticised by the king of frogs, Ibrahim Ali himself.
"Where was he schooled? Ask him where the government gets his money from? Of course the money comes from the taxes paid the rakyat, which means that everything is the rakyat's money." – Ibrahim Ali told Astro Awani
So if Tun Mahathir contests in Langkawi, might his controversial statements be his downfall? USM political analyst Prof Dr. Sivamurugan Pandian and Ibrahim Suffian, founder of the Merdeka Centre for Opinion Research, seems to think that Mahathir would shine in Langkawi, and UMNO should not underestimate a Tun Mahathir Langkawi candidacy.
"Generally, voters there have a soft spot for him over his past contributions towards the long-term improvements in their standard of living,"- Ibrahim Suffian told The Star
3. Putrajaya – The city born from Mahathir's vision
Competitor: Tengku Adnan Tengku Mansor. Minister of Federal Territories
There was a time when Putrajaya was just a vast field of rubber and palm oil trees. But when Mahathir decided that Kuala Lumpur should no longer be Malaysia's administration center, he went and completely transformed the plantation. One of the main reasons given for the construction of Putrajaya was to avoid the jam in Kuala Lumpur. Tun Mahathir also once said that the establishment of KL as the administration center was not our own sovereign decision, as it was the work of our past British masters.
"Putrajaya would be an administrative center for an independent Malaysia. Free from the history of the old days of oppression and colonisation. Putrajaya will be our right. It will be an achievement that we can take pride in. That is our wish." – Tun Mahathir, quoted from Utusan Malaysia
The idea of Putrajaya was conceived in 1993, and its construction started in 1995, and was ready for occupation in 1999. It's current representative is non other than Tengku Adnan Tengku Mansor (Ku Nan), who established the Putrajaya division of UMNO when the area only had about 800 voters. By 2004, that number had increased to 5,986, and Ku Nan defeated PKR's representative to become the MP of Putrajaya, a seat he held firmly even in the 2008 and 2013 election.
But how would Tun Mahathir fair against Ku Nan in Putrajaya? Prof Dr Awang Azman Awang Pawi thinks that Putrajaya might not be such a great choice for Tun Mahathir to run in.
"The votes of civil servants are always influenced by the incumbent government, and at this point in time, there is no sign that Tun Mahathir will have an effect on Putrajaya in the coming elections. The voters will most likely stick with BN, seeing that they're worried with the opposition's referendum of cutting the government's expenditure." – Prof Dr Awang Azman Awang Pawi told Malaysia Insight
Whichever seat Tun Mahathir might choose, the coming election is going to be exciting
Between Langkawi and Kubang Pasu, experts and analysts still seem quite divided currently. Prof Dr Khoo Kay Peng seems to think Kubang Pasu would be best, while geostrategist Azmi Hassan finds Langkawi to be most suitable. But the general consensus seems to be that Putrajaya would be the least ideal place for Tun Mahathir to run.
"The voters of Putrajaya (made up of civil servants) perceive that Tun Mahathir is trying to overthrow the UMNO lead government through PH, where DAP is also perceived to have the most control over. So Putrajaya's view of Mahathir is negatively affected, and that's why Putrajaya is not suitable for Tun Mahathir." –  Geostrategist Azmi Hassan, told SOSCILI.
Whatever outcome may unfold in the coming election, with Tun Mahathir's return to the field, it's safe to say that this is going to be an event for the history books. Can Pakatan Harapan really achieve their goal this time? We'll just have to wait and see.