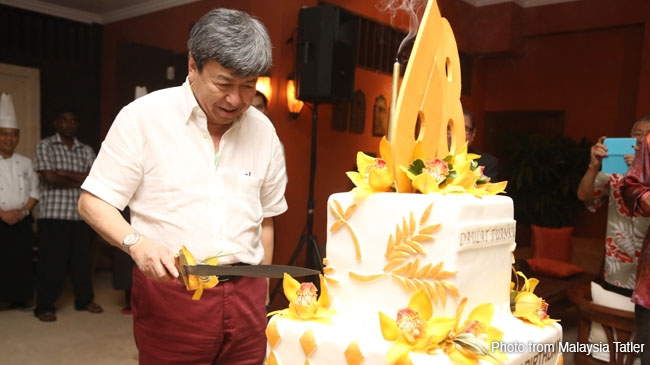 [This article was originally written in December 2014, and has since been updated.]
Hey ugaiz, do you know what day it is? If you're reading this on the 11th of December… then FIST PUMP! It's Sultan of Selangor's birthday! *squeeze party horn* Well not exactly… His Royal Highness (HRH) was born on the 24th of December 1945, but if they wanna push forward the holiday, we ain't got complaints. (And yes, that's the "1/2 fact" for you.)
HRH celebrates his 74th birthday this year, and this post is done in honour of a Sultan who has ruled Selangor for 18 years since ascending the throne in Nov 2001, in kiss-up hopes that he'll be reading this on his royal mobile phone. So here are 4 other pretty cool things about Duli Yang Maha Mulia Sultan Sharafuddin Idris Shah Alhaj ibni Almarhum Sultan Salahuddin Abdul Aziz Shah Alhaj, Sultan of the State of Selangor and All Its Dependencies.
1. HRH sailed around the world in 22 months…
Sultan Sharafuddin is an adventurer. With all the cool, air-conditioned rooms to can lounge in, he instead competes in rallies and long distance car races and climbed Mount Kinabalu. A couple of times, he's ridden across the US on a Harley Davidson. In 1986, he drove cross-country in a Proton Saga from Kota Kinabalu to Kuching.
Before he was crowned Sultan back in 1995, he sailed around the world on his yacht the S.Y. Jugra in 22 months – the first Malay from the Royal Family to do so! Now with his Sultan duties as first priority, he has to put sailing on the back burner.
"I miss the sea. I love the sea. The sea gives me freedom, it makes me think, it inspires me. I love the sound of waves and winds, the fresh air and I feel at peace." – Sultan Sharafuddin Idris Shah, New Straits Times
2. … and holds a national record in motorsports!
Once, HRH won the Silver Medal in the 1997 Vintage Car 'Peking to Paris ' motor challenge. Say what? Well, with his 1932 Ford Model B, HRH covered a whopping 16,000km driving through China, Mongolia, Tibet, Nepal, *inhale* India, Pakistan, Iran, Turkey, Greece, Italy, Austria, Switzerland, Germany and France.
It was no bed of roses – an endurance rally is called as such for a reason. The Sultan went through the course with grit and boldness, exploring new things whether physically or intellectually. Travelling with Datuk Richard Curtis and Syed Haizam Jamalullail, the Sultan's nephew, one of their toughest challenges was the sandstorm in Mongolia. Also because they were unable to pitch a tent, they then slept in the car for rest and shelter. 
The feat was also recorded in 'The Malaysia Book of Records'. Cool beans!
3. The Sultan shares your childhood hobby – collecting STAMPS!
Sultan Sharafuddin likes to collect. Now before we start talking about this, some of you might be thinking "The Sultan has time for hobbies? Isn't his time mostly taken up by Sultan-ey responsibilities?" Well, the Selangor Government's website gives us an up-close-and-personal look into his hobbies and they're the kind that you would expect from any regular person.
OK, HRH likes photography, reading and sailing (yeah especially the sailing)… all quite normal so far. He also likes collecting stamps, sampul surat Hari Pertama's, vintage cars, local art pieces, traditional Malay weapons…..orait, maybe not all of these are things we'd expect regular people (who have the budget to) collect but you get the idea. Vintage be not cheap!
The point is he has interests and an interesting life beyond the throne room and that makes him pretty cool.
3. HRH also saved our… weekends?
Sometime in 2013, there were talks about moving our weekends so they'll start on Friday. Sultan Sharafuddin however seemed to have saved Selangor A LOT of headache when he decided to stick with Saturday and Sunday as our weekends, he told The Star. The reasons being:
It was bad for business, especially international business, and
Selangor Muslim employees have not complained about problems in performing Friday prayers.
"Every time I go to a mosque in Selangor on Friday, it is always full. The employers have always been accommodating and allowed their staff to perform their religious duties. There is no reason for us to change it (the weekend) to Friday (and Saturday)." – Sultan Sharafuddin Idris Shah, The Star
In Johor, Kedah, Kelantan and Terengganu, Fridays and Saturdays are their off days so that it's more convenient for Muslims to perform their prayers.
But being understanding doesn't mean he's a pushover, 'cause…
4. The Sultan means business with all the fancy titles
You don't wanna play around with HRH when it comes to honorific titles… Sultan Sharafuddin is known to be stringent with awarding and stripping awards. As it is difficult to get 'Datuk' or a 'Tan Sri' from HRH, do something undeserving of it and it's bye-bye titles.
Perhaps most famously, he revoked Datuk Seri Anwar Ibrahim's 'Datuk Seri' title back in 2014! Over the years, several other people have been stripped of their titles because of abuse, activities that tarnish the title and crime.  He removed Datuk titles from 6 people who were facing criminal charges in court. One of them was a Kenneth Chow who was charged with submitting false information to the Securities Commission.
In 2002, Sultan Sharafuddin stripped the datukships of Tan Hock Low and Robert Chan Wai Ing after people started complaining and police started investigating on their 'improper conduct'. Tan pointed a pistol at a motorcyclist, was involved in illegal gambling and snuck around doing secret society activities. Patutlah demoted!
– ———– –
We always see the Sultan as a royal figure, decked in made-to-measure royal garments and awards that we never really see him as… Well… One of us. Sure he's got authority, and definitely a lot more opportunities in his lifetime than a regular commonfolk, but that doesn't mean the Sultan ain't got a human side.
So, in honour of his birthday today, we hope this quick read gave you a little peek into the man that maketh, HRH Sultan Sharafuddin, the reigning Sultan of Selangor.
Co-written with Johannan Sim.