If you've ever watched a Studio Ghibli movie, you'll know those feelings of syok-ness and wonder each of those films tend to evoke. Whether it's the excitement from watching their characters evolve, or the frustration from seeing animated food you won't actually get to makan (?), Studio Ghibli animes tend to make you feel like you're actually IN the adventure on screen rather than just watching it.
…which is why when my wife and I discovered that there was a REAL-LIFE village in Taiwan that served as inspiration for the spirit world in the 2001 Academy Award winning hit, Spirited Away, we knew EXACTLY where we had to go to celebrate the New Year in January 2019.
In case you missed it, you can now fly with AirAsia into Taiwan via Taipei or Kaohsiung from Kuala Lumpur and Kota Kinabalu for as low as RM279 if you're a BIG MEMBER, or RM284 for non-members! That's already about the same price as driving from KL-Penang and back with toll summore weihhh.
And honestly, as a Muslim couple who don't speak a word of Mandarin ("xiè xie" and "Xīn Nián Kuài Lè" excluded), we found that there was A LOT for us to do in Taiwan, for example…
… when we indulged in an authentic tea experience in the Spirited Away bathhouse
Just to give ugaiz a bit of background, about an hour and a half bus ride from Taipei is an old kampung in the mountains called… Jiufen. Back during the Japanese occupation of Taiwan in the 1890s (ayyy history in common), local residents discovered gold in the area which quickly led to a gold rush that developed the town and its buildings into its current form today.
After the gold rush ended and mining activities declined in the 1970s, the small town went quiet again until the 1990s when it became the setting for the 1989 Venice Film Festival Golden Lion winner, City of Sadness. Thereafter, Jiufen had its second boom, only this time as a tourist destination, and when Spirited Away was released in 2001, Japanese travel magazines started introducing Jiufen as the inspiration for the film to Japanese tourists who are now among the biggest visitors there.
It's actually quite funny cos the filmmaker himself denied that Jiufen inspired the setting for his movie, but if you've been there and walked the alleyways and cobblestone steps yourself… you would probably think it was too!
While we were here, we couldn't miss our chance to have a session of afternoon tea at the Amei Teahouse right smek in the center of town. This iconic teahouse was originally built during the gold rush as a blacksmith shop, before later being converted during the tourist boom. Owing to its birth during the Japanese occupation, the building carries heavy Japanese architectural influences, which is probably why a lot of people say it looks like the bathhouse from Spirited Away.
Today, the tea house is home to a wide selection of different types of tea sourced from local tea farms across Taiwan. Imagine that we were there in winter, hecking cold because we were still adjusting coming from the Malaysian heat, then being welcomed into this warm teahouse and sat next to a fire, before being served all sorts of pastries and snacks while overlooking the mountain view.
Wahlao… damn atas experience for RM50+ including makan summore. Can say it was definitely worth it la.
Of course, being a historical town that dates back to the Qing Dynasty in China, there were quite a number of museums and historical attractions to visit as well. One that we managed to pay a visit to was the Jiufen Goldore Museum where we got to learn about the history of the town and how miners used to hunt for gold back in the old days.
Of course, this wasn't the only thing we did for our New Year's celebration that ROCKED. In fact, we spent New Year's Eve just the day before doing something sliiiiightly treasonous…
… when we climbed the tower that beat the Petronas Twin Towers to become TALLEST in the world
For those of you who aren't still hung up about it, you'll remember back in 2004 when Taipei 101 took the title of "tallest building in the world" from the Petronas Twin Towers, which had previously held the title from when it was first finished in 1998. At 508 meters/1,667 feet, Taipei 101 stands 56 meters/184 feet taller than our own iconic building and managed to hold on to the title for as long as the Twin Towers did before being overtaken by Dubai's Burj Khalifa six years later in 2010.
Today, the building consistently makes it into lists such as CNN Travel and W Travel Magazines' top destinations for New Year's Eve fireworks and celebrations. And so the morning before all the excitement, we decided to explore the tower itself as well the area around there. Surprisingly, it was quite a Muslim friendly destination, with a good number of halal eateries providing options for us to grab lunch at. There was even a little sign in the tower pointing out the prayer direction of Mecca to visitors!
Speaking of eating, one thing every foodie should about Taiwan is their culture of… MASSIVELY EPIC STREET FOOD PASAR MALAMS. And so on that note, one of the highlights of our trip we DEFINITELY need to mention was…
… when we had boba tea RIGHT in the place where it was born
Before we get to that, ugaiz should probably know that Taiwan makes some lists of the BEST street food destinations around the world (along with our very own Penang ?). In Taipei alone, there are well over TEN street food markets offering a whole bunch of different cuisines, snacks, and dishes for hungry travellers with any kind of tastes or dietary restrictions.
Again, my wife and I could only eat halal, and as an island in the western Pacific Ocean, we had absolutely no problems doing so due to the abundant choices of seafood available in each of the street market locations we visited. From grilled shellfish to fried squid to cheesy oysters, the only thing stopping us from eating everything we saw every night we hit the street food markets was our own sense of decency and self-respect.
LOL JK.
We only stopped eating when we felt like we needed to save space in our tummies for dessert. And honestly… Taiwanese street food dessert is a whole other level of mind fudging. Just to give ugaiz a few examples, one popular dessert at street food markets involves ice cream wrapped in flour crepes, topped with shaved kacang and…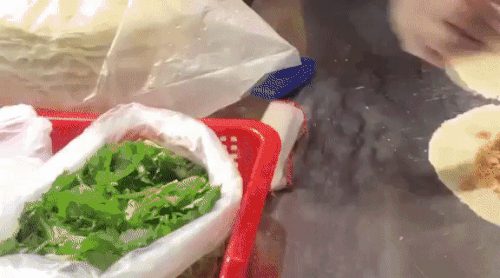 CILANTRO. ಠ_ಠ
Then there were also entire trays of what appeared to be skewered candied cherry…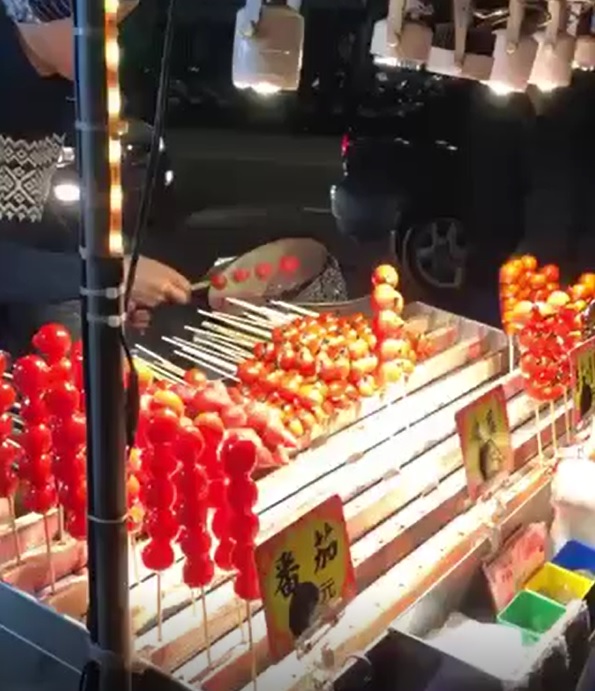 TOMATOES.
And just when you thought it couldn't get any weirder, we even found deep fried…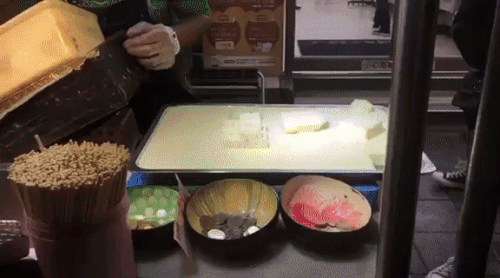 MILK.
But putting aside the weird (yet still good) options for dessert… if you're someone with a sweet tooth who just happened to find themselves in Taiwan, what better way to indulge your sugary tastebuds than by enjoying a cup of boba tea in the very place where it originated? In fact, not ONLY is Taiwan the very epicentre of the global boba tea madness – some of the biggest boba chains in the WORLD started in Taiwan, not least of which have been Gong Cha, Chatime, The Alley, Xing Fu Tang and MORE.
Of course, all of this meant we were pretty much having street food at pasar malams for dinner every night we were in Taiwan just cause it tended to be relatively cheap, quick, and a heck load of fun seeing our food getting prepared right in front of our eyes. Most of them stay open right up until midnight, which made them a good way to occupy our time until we were ready to head back to Taipei 101 for the main event…
All in all, we spent 5 amazing days/4 incredible nights in Taiwan, 4 days/3 nights of which were in Taipei, and the rest in Jiufen. Unfortunately, we had to cut the trip short as we had applied for leave for this trip towards the end of the year, which meant most of my Cilisos leave allowance had been used up by then ?.
In turn, this meant that if we could go back in time and change anything about the trip, it would probably be…
… when we wished we had more time to see the rest of Taiwan, including the port city of Kaohsiung ?
While our trip to Taipei and Jiufen meant we were only in the northern part of Taiwan for all of it, there remained a WHOLE BUNCH of other regions we missed out on.
Probably the top of things to see on our list from here would be Taiwan's second-largest city, Kaohsiung. About a four and a half hour flight from KL with AirAsia, the port city at the southern tip of Taiwan is slightly closer (and cheaper) than Taipei with just as many things to do, if not more!
For one, Kaohsiung had been the site of the 2009 World Games where Malaysia's Nicol David won the gold medal in squash. Besides that, the city has also been evolving to become the cultural and culinary hub of Taiwan, where warehouses and shipyards have been turned into galleries and theatres… basically making it a hip mesh of Port Klang and Sentul, lumped into one!
If these seem like your cup of tea and ugaiz feel like spiriting away to your next holiday destination, you can check out flights to Taipei from Kuala Lumpur and Kota Kinabalu or to Kaohsiung from Kuala Lumpur from as Totoro-ly low as RM279 with your BIG membership, or RM284 for non-members.
ICYMI, here are the promotional prices again for all direct flights with AirAsia (all-in fare, one way): 
KL to Taipei – RM299 (BIG MEMBERS), RM304 (Non-member)
KL to Kaohsiung – RM279 (BIG MEMBERS), RM284 (Non-member) 
Kota Kinabalu to Taipei – RM279 (BIG MEMBERS), RM284 (Non-member)
Booking period: now till 22 Dec 2019 | Travel period: now till 31 July 2020 | Book on AirAsia.com.
Itu je! Xiè xie for reading and I hope Taiwan will make you kuài lè!