Politics
Weirdness
6 weird things from the PKR Congress that seem like they came from a TV3 drama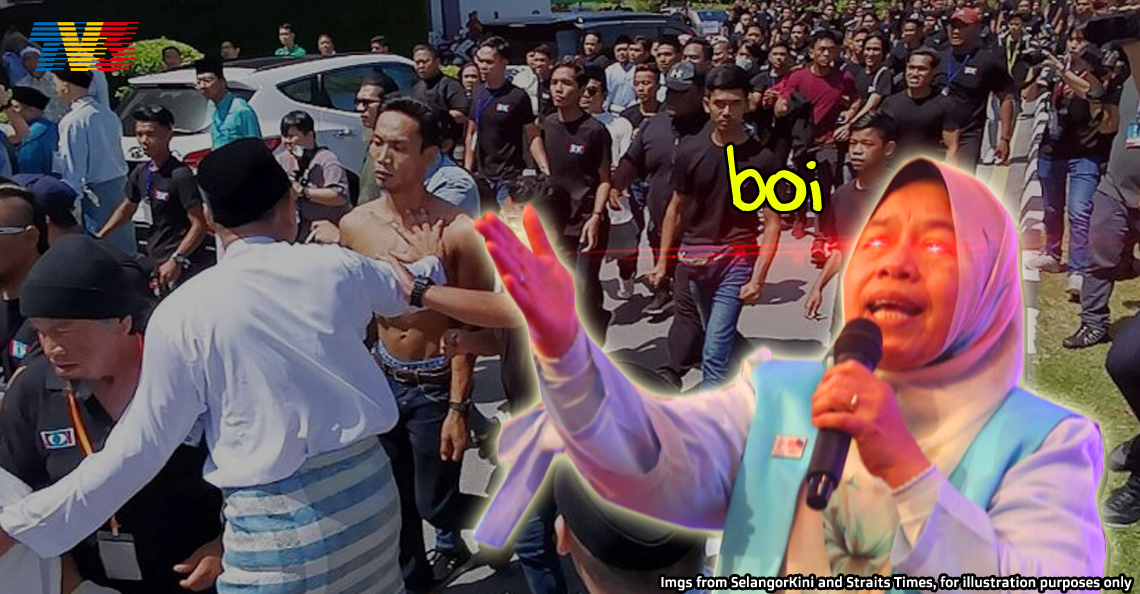 Did y'all have a nice weekend? We sure hope you did, because it had been a disastrous one for some politicians from PKR.
We're talking about the PKR Congress that was held in Malacca, and much to the media's delight, it was far better than anything TV3 drama writers could have came up with. Shade and actual rocks were thrown in every direction, there were layers of intricate ploys and backstabbings, character development was at an all time high, and it ended with a cliffhanger that though predictable, makes you hungry for more.
We won't be covering all of it, but here are some highlights from last weekend's PKR Congress, starting with…
1. Traitors were called out right off the bat
Right at the start, Anwar Ibrahim as the party president gave a speech in which he thanked several members for keeping the party alive when he was in jail. Nothing strange about that… until he continued with a short historical tale set in old Malacca, regarding a traitor known as Si Kitul.
"Si Kitul was jealous and began planning evil schemes with Diogo Lopes de Sequeira. As a result, Si Kitul and Raja Mendeliar slandered Datuk Bendahara, who was smart and contributed much to Melaka. Without a thorough investigation, the Sultan instructed that the Bendahara and his family be executed, including his son in law, Tun Ali," – Anwar Ibrahim, quoted from New Straits Times.
While it may sound made up, reference to Si Kitul can actually be found in the 'historical' text Sejarah Melayu (Malay Annals), final chapter.
The TL;DR version of the story was that Si Kitul owed Raja Mendeliar a catty of gold, so to get out of his debt he made up a story saying that the Datuk Bendahara is plotting to kill Raja Mendeliar. Being grateful for the warning, Raja Mendeliar tore up Si Kitul's debt, and sort of bribed the Laksamana (kinda like the IGP for old Malacca) to warn the Sultan that the Bendahara is planning to overthrow him. Internal chaos ensued, heads rolled, and Malacca got weak enough to fall to the Portuguese.
Huh… who could Anwar be referring to when he brought up Si Kitul and warned the delegates of the 'traitors within'? Well, maybe no one in particular, but apparently some PKR members put two and two together and guessed that Anwar was referring to Azmin. Or so it seemed.
"If you want to quote history, we have 1,001 other tales, why would you quote one that can break up the party's unity? … I'm not angry, I'm annoyed." – Azmin Ali, translated from MalaysiaKini.
That's a great start to the congress, so it shouldn't be surprising that…
2. Around a hundred PKR members staged a walkout
It didn't get better from there. Other PKR delegates who spoke after Anwar also brought up historical tales of their own about traitors, but some were more direct, saying that Azmin is an 'escort minister' since he's always escorting Mahathir or the Agong to events. By 3 pm on Saturday, nerves were wearing thin and people allied with Azmin had enough.
About 100 of them staged a walkout, during which they congregated in the lobby and shouted 'balik' (go home) several times before dispersing. While some, like Tian Chua, a PKR vice president, had denied that him walking out was an act of boycotting the event, others have been more clear in their intention.
"We came all the way from Perlis and we wanted to listen to the president's policy speech, not just outright Azmin-bashing. The choice of debaters was clearly one-sided. I'm disappointed." – an unnamed delegate, as reported by The Star.
Besides the provocative speeches, another reason some 23 central leadership council members left the congress was the party's awards being given to those undeserving of them. Regardless of the awards, the provocation was said to be against what he and Anwar had agreed on in a meeting before the congress; that is, to only discuss issues relating to the party's grassroots and to avoid hurting or making fun of others.
"We love the party and the question of us leaving the party doesn't arrive, we just left after hearing the provocative statements. Unfortunately in a short period of time after I extended the olive branch to resolve (the difference) with president Datuk Seri Anwar Ibrahim, this kind of situation emerged in the congress on Saturday," – Azmin Ali, as reported by The Star.
Despite the walkout by some 100 delegates, the congress hall would remain filled, as…
3. There were mysterious men in black supposedly hired to be there
Although the congress was meant for PKR delegates and the people they invite, based on reports, some 200 young people showed up to the congress as well, all dressed in black T-shirts with the PKR logo on them. The weird thing about them was that no one seems to know who they are, or what they were doing there. At least, the PKR Youth Chief Akmal Nasrullah Mohd Nasir didn't.
"I don't know who they are. I have been sitting there (on the stage) since the beginning of the congress. (But) only legitimate delegates are allowed in the hall." – Akmal Nasrullah Mohd Nasir, as reported by New Straits Times.
These 200-ish people were seated at a special, cordoned-off area at the back of the hall where the congress took place, and based on interviews with New Straits Times, they were neither Youth member delegates nor invited guests. While some may actually be PKR members, MalaysiaKini found that others weren't even sure what they were doing there, although they seem to have arrived from Perak by bus on the morning of the congress.
One of them mentioned that the trip was organized by Kuala Langat PKR Youth chief Mohd Shah Rezza Mohd Tuniman, but the other two interviewed were less informed, saying that they were recruited by an unnamed friend or a guy known as 'Abang Merul'. There's a possibility that they might get paid just to be there, but the circumstances were shady, to say the least.
"We came to see reformasi. He (Abang Merul) said there would be reformasi and we have a job to do at the congress," – Danial Iskandar, one of the black shirts, in an interview with MalaysiaKini.
The interviews also revealed that they were provided with food, and their entry passes were said to be taken care of by the trip organizers. While it wasn't explicitly stated what their job was, they seem to be a part of the next point, which is…
4. A brawl happened because certain people were denied entry
Even if you don't read the news that often, you've probably heard of a pretty serious brawl that happened during the congress. Or seen the video.
Based on news reports, there were two major brawls, both happening on Friday (Dec 6), the first day of the congress. The first one happened early in the morning, when a guy named Mizan Adli Mohd Noor was barred from entering the hall. Mizan Adli was formerly PKR National Youth's chairman, and he as well as his former deputy Mohd Ramly Ahmad were controversially sacked from their positions less than two weeks ago. Basically, the reason for their sacking was that they're too old for it, and they had more votes than there were people present at the last convention.
Mizan was under the impression that he was the one to chair the congress that morning, so that might have been a rude shock. Anyway, him and at least 50 other delegates tried to force their way in but another group inside the hall tried to keep them out. Then push comes to shove and journalists were treated to the scene in the video. It was implied that the reason they weren't let in was because they didn't have tags (and not wearing a baju melayu), which brings us to the afternoon brawl.
Remember the black shirts from earlier? Well, it appears that they don't have tags as well, yet they were planted inside the congress hall regardless. So during the break for Friday prayers, it was said that the delegates confronted the black shirts, accusing them of being 'fake' members paid to attend the convention. Then, well, another fight, this time with a guy from both sides having a bleeding head, allegedly from thrown rocks.
So it ended with two people hurt, two people arrested, and eight people wanted by the police to help with investigations for rioting using weapons. Anwar thought that he could have stopped it from happening had he been firmer with things, but… well.
"I've been very conciliatory and forgiving, just like yesterday (Dec 6). So, people think it's okay, they just attach themselves to their tai kor (leaders). If I had been tougher, I think I should have sacked most of them," – Anwar Ibrahim, as reported by The Star.
Hey, speaking of sacking most of them…
5. Zuraida and Azmin are apparently ready to be sacked from the party
For those of you who actually read this far and have no idea who Zuraida Kamaruddin is (must have been some serious procrastinating, huh?), she's famously the Housing Minister and maybe not-so-famously one of PKR's vice presidents and an ally of Azmin. Anyways, on Sunday night, Zuraida said this:
"If we get fired, Azmin and I are ready," – Zuraida Kamaruddin, as reported by The Star.
Well, she said a lot of other stuff as well, a snippet of which you can find here:
Ini antara petikan ucapan @zuraida_my semalam yang menjadi perbualan hangat sehingga ke hari ini. pic.twitter.com/5TrRJYB7dy

— ??Astro AWANI?? (@501Awani) December 9, 2019
In case you didn't bother to play the video, she basically ranted about how they're making a big deal of her not going to party meetings, and calling several people such as Akmal, Lih Kang, and another we couldn't catch 'budak hingus' (snotty brats) who have no right to call her out on her absences. One of PKR people later posted a tweet, which may or may not be related to her speech.
#OkBoomer — Fahmi Fadzil (@fahmi_fadzil) December 9, 2019
However, the name calling probably wasn't as serious as their other transgression. A few weeks back, there were rumors of a separate congress by Azmin's faction in that KL hotel, but a last minute truce between Anwar and Azmin put a stop to that. With the truce in place, Anwar had warned that those attending the separate congress will be sacked, saying that he would not tolerate those who attempt to sabotage the PKR Congress.
However, with the provocative anti-Azmin speeches made by the delegates and arguably Anwar himself, the truce failed to hold, and Azmin as well as several other leaders aligned to him signed a letter saying that they won't be participating in the rest of the congress Saturday (and they didn't show up on Sunday, either). This was followed by an announcement of a dinner party at the Renaissance Hotel in KL on Sunday night, of which Anwar was said to be invited.
Judging by Zuraida's speech from earlier, we guess Anwar never came, and judging by reports on the number of people who showed up to Azmin's dinner party, it was pretty lit. No word yet though on whether Zuraida and Anwar will actually get sacked, but things do look pretty serious. Which is perhaps why it's a bit ironic that…
6. The main congress ended with everybody singing a song about friendship
After the walkout on Saturday, no one returned on Sunday except for Tian Chua. But the party had been clearly split in two. Tian Chua tried to settle things down with his speech and steer things back to the right direction, cautioning the remaining party members against obsession with the Anwar-Azmin rift and criticizing the resulting quality of debates at the congress.
"I don't want to see our party being so worked up over the eighth, ninth, or tenth prime minister. The party will then be fanatics and that is dangerous for PKR as a ruling party. This issue is not about Anwar but to prevent the party from being a party without direction. This party is in your hands," – Tian Chua, as reported by The Star.
However, his speech was met with consistent booing from the pro-Anwar crowd. It seems that reconciliation is unlikely, and some political analysts have pointed out the similarities of what's happening to PKR now to what has already happened with Umno during its crisis back in 1987.
"There is indeed a resemblance to the Umno crisis where there were two captains. I can see that during the congress, there have been efforts to unite the party but the reality is that, when there are two captains, PKR will continue to be split, with supporters on either side.

"When there is a Team A and Team B, PKR will repeat Umno's history, and the party will be divided unless one of them either leaves the party or submits to the leader," – Dr Mazlan Ali, of UTM's politics and governance research group, to The Star.
It would seem that the PKR Congress failed to unite the party, and no amount of singing about true friends can hide that. Still, for now both leaders have expressed that it's still possible to fix the rift in PKR, so… we guess the approach here is if at first it doesn't work, just try and try again.