Politics
Translation
5 things about UMNO's new acting president you probably didn't know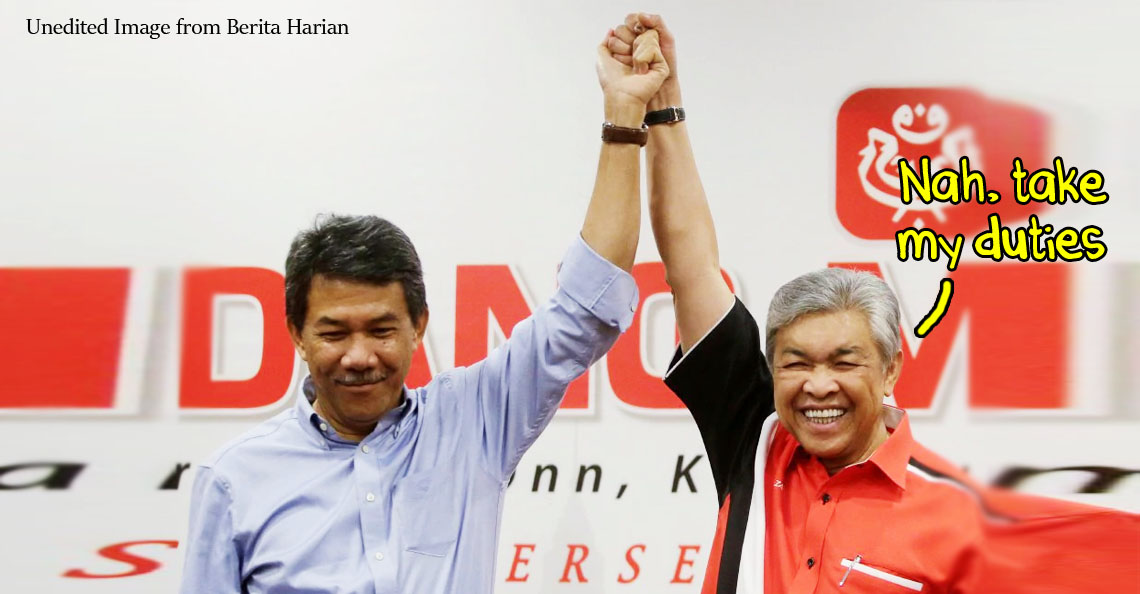 [This article is a translation from our BM sister site Soscili. Click here to read]
As most of us would've heard, Zahid Hamidi is facing 46 total charges of criminal breach of trust (CBT), graft and money laundering. This included the Yayasan Akal Budi case, where he misused its RM 10million by sneakily giving a loan to Armada Holdings (we've written about the weird stuff we found out about Yayasan Akal Budi's data).
Because of all these allegations, Zahid had to cave in to the pressure to resign. So, taking over his spot will be deputy president Datuk Seri Mohamad Hasan, or more famously known as Tok Mat.
"Based on the struggle faced by the party today, I have decided to entrust the deputy president (Tok Mat Hasan) the tasks of the president." – Zahid said.
Hailing from Rantau, Tok Mat used to serve as the Negeri Sembilan Menteri Besar from 2004 to 2018 before becoming the deputy president of UMNO earlier this year. For someone who is part of UMNO, his Wikipedia page seems to be one of the smallest we've seen compared to other prominent UMNO guys like Zahid, Khairy, Hishammuddin and Maslan.
But don't worry. We found more info about Tok Mat than Wikipedia could offer.
1. He recently met up with Mahathir for a nice meal
Recently, a photo of Tok Mat and several other UMNO members having a meal with Mahathir has been making rounds in many smartphones.
The photo, which Tok Mat claimed was taken in September, sparked rumours that Tok Mat will join PPBM just like the other UMNO defectors. It was later confirmed by Mahathir himself, who said that Tok Mat met him to express his desire to leave the party and asked for advice.
But it seems that Tok Mat denied what Mahathir claimed, and insisted that he would not party-hop. Instead, the UMNO guys were trying to stop Mahathir from declaring UMNO illegal.
2. A very long time before UMNO, he used to be a state football player… but then got banned forever
Local football fans probably know that Tok Mat was the President of the Negeri Sembilan Football Association (PBNS) before being replaced by the Tunku Besar of Tampin, Tunku Syed Razman last September. But did y'all know that the former Negeri Sembilan Menteri Besar once played for NS Malays?
Sadly, there was one incident in 1977 that not only stopped him from playing for his team, but also banned him from playing for life! On the day of the incident, Tok Mat was assigned as the defender, in which he had to defend his team's possession of the ball from NS Indians player, G. Torairaju.
But he was so aggressive towards Torairaju, that he received a yellow card. He reacted very angrily about the yellow card by kicking the ball so hard that it hurt the referee, who then gave him a red card. It got even worse when he tried to snatch the red card from the referee's hand and threw the card away (the card got stuck in a tree).
When asked about this, Tok Mat replied:
"Although I became the president (of PBNS,), I'm still banned (from playing). There have been attempts, 7 or 8 years ago, under the Council of PBNS to end my suspension, but I said no need. I was indeed wrong. Of course, I should be kicked off the field and banned for life." – Tok Mat said.
3. Turns out the world of politics is not the only sector he ever worked in
Initially, Tok Mat was in the banking field, in which he worked as an Assistant Manager at Maybank, Manager at Public Bank, Corporate Banking Manager at Ambank, and General Manager at Bank Bumiputra London until 1992.
He also held other corporate positions at companies like Khazanah, Sepang F1 Malaysia International Circuit, FIMA Malaysia, and Mercedes Benz Asia.
Then, Tok Mat joined politics when he was contesting in the 2004 General Elections in the DUN Rantau, replacing his younger brother Abdul Ghani. His work led to his appointment as Menteri Besar of Negeri Sembilan.
4. Shortly before GE14, he won the Rantau seat… because his opponent didn't bring his pass?
Tok Mat won unopposed for the Rantau seat in GE14 when PKR candidate, Dr Streram, failed to submit his nomination papers at the Sri Rembau Hall. Streram, his proposer and seconder were denied entry into the nomination centre for not bringing their EC passes.
So, Streram then filed a petition in court on May 23 against Tok Mat, who was named as the first respondent. EC returning officer Amino Agos Suyub and the EC itself were named respectively as the second and third respondents. In response, Tok Mat filed a motion to strike out Streram's petition on June 25.
The judge said Tok Mat had not been rightly elected since there was enough evidence to show that Streram, his proposer and seconder were unfairly denied entry and explained that no election regulation states that a pass or name tag is needed to enter.
So, in the end, the court declared Tok Mat's victory as null and void and, decided that by-elections for the Rantau seat be held again. But Tok Mat denied being involved in any plans to stop Streram and his peeps from entering.
"I arrived at the nomination centre like any other election candidate and waited till the nomination period closed. I had absolutely nothing to do with Dr Streram not being allowed to enter the centre and yet I was named as the first defendant." –  Tok Mat.
5. But strangely, peeps consider him an UMNO darling
Despite some of the funny things about Tok Mat that we mentioned earlier, Tok Mat has a reputation for being trustworthy. His trustworthiness was probably one of the reasons Zahid Hamidi finally gave the opportunity to lead UMNO to Tok Mat.
"If I'm really the main cause (to party-hop), then the decision I made was the best way to display my trust in Mohamad (Hasan) to carry out presidential duties." – Zahid Hamidi
In fact, political analysts said that it's not easy to overthrow Tok Mat and believed that UMNO made the right move in renominating Tok Mat to contest in the Rantau by-election as he was known for his personality and seemed popular among his Rantau peeps.
The political analysts also said that fielding Tok Mat would ensure a tough fight for his opponents although victory was not guaranteed since Negeri Sembilan is under PH rule and Anwar was elected as the Port Dickson MP last October.
"He is the former menteri besar, UMNO deputy president and incumbent. Most of all, he has no known issues." – one of the analysts told FMT.
If you haven't heard of Tok Mat, then that might be good for UMNO
Most of us Cilisos writers didn't know who Tok Mat was until news about Zahid's resignation popped up. The main reason for this was probably the fact that he kept things on the low while the other UMNO guys took the spotlight.
The Star described him as an objective and moderate politician and pointed out that there's an uncertainty in whether he can handle the drama kings or not. Even Tok Mat himself was shocked when Zahid told him about the handover because members usually spent too much money and engaged in political wars to step up in UMNO. But Tok Mat, on the other hand, didn't do that.
"I was shocked – it felt like a huge load had suddenly landed on my shoulders. He (Zahid) told me that his priority was the party and if people think he is standing in the way of Umno's recovery, then he will make the sacrifice." – Tok Mat said.
But Tok Mat seemed to have made a good first impression as acting president when he recently announced that plans are being made to reform UMNO by restructuring UMNO's operations and increasing the members' sense of belonging, among several strategies to win GE15.
He also emphasised that UMNO can only survive if its leaders hold true to UMNO's ideology of serving the Bumiputeras without ignoring the importance of other Malaysians. He blamed power politics for UMNO's downfall and added that, without principles, UMNO's motivation to move forward is weak. Maybe his words on upholding values could determine what comes next for the opposition party.
"In this post-modern UMNO era, principles lack appeal. What makes a politician successful and influential is who he associates with. The degree of success in UMNO is measured through a person's influence, authority and wealth.

However, I believe we can heal this disease within the party… We need to return to our original purpose, a leadership that is trusted and followed because of its honesty and not because of power." – Tok Mat.
With regards to UMNO being part of the opposition coalition, the term 'checks and balances' may have been thrown around a lot this year, but it's seriously needed in a healthy political environment, so that the govt is not too content with decisions that sometimes seem to ignore the needs of some groups.