Whew! 2018 is almost over, and it has been one heck of a roller-coaster ride. Nationally speaking, it may seem like we won't have many decent memories of the year, especially with all the disenchanting events. There's the child marriage fiasco, we've lost a total of seven firemen, the endless political drama, the ICERD fiasco, the public caning of lesbians, and the recent temple protest turned sour, to name a few.
In fact, if you pore through the news as much as we do, good news rarely appears. And it's for a reason. People are drawn to bad news, despite what they might say. Bad news sells. But just like a roller-coaster, it's not all downhill, and here at Cilisos, we'd like you, our readers, to have some good news before the year is out. So we've looked through the year's news and found 13 pieces of good news you might have missed among all the bad ones. Starting with…
1. HIV positive mothers can now have babies without the virus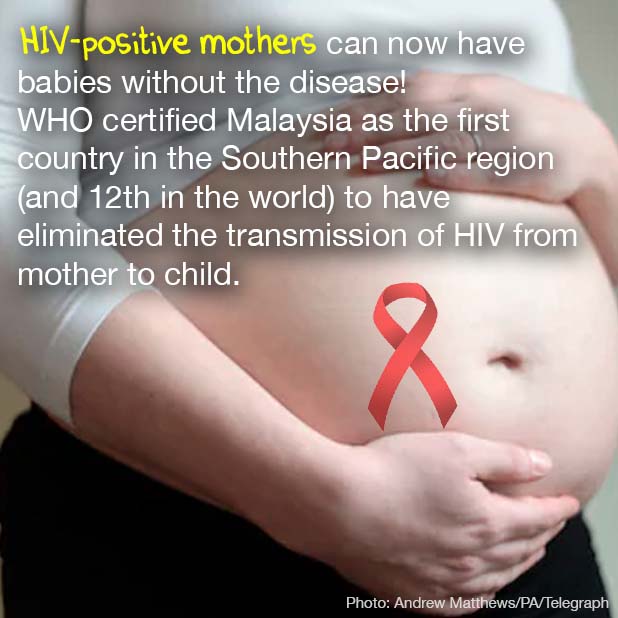 In October, Malaysia got certified by the World Health Organization to be the first country in the Southern Pacific region (12th in the world) to have eliminated the transmission of HIV from mother to child. Before, around 30 to 45% of babies born to mothers with HIV will be infected either in the womb or through breastfeeding. As of 2016, the rates have dropped to 0.004%. How did we do it? Pregnant mothers and their babies are continuously tested and treated for HIV, and baby formula is given for up to two years to stop transmission through breastfeeding. And it's all for free! Good job, Malaysia!
2. Malaysia competed in the Winter Olympics figure skating event for the first time ever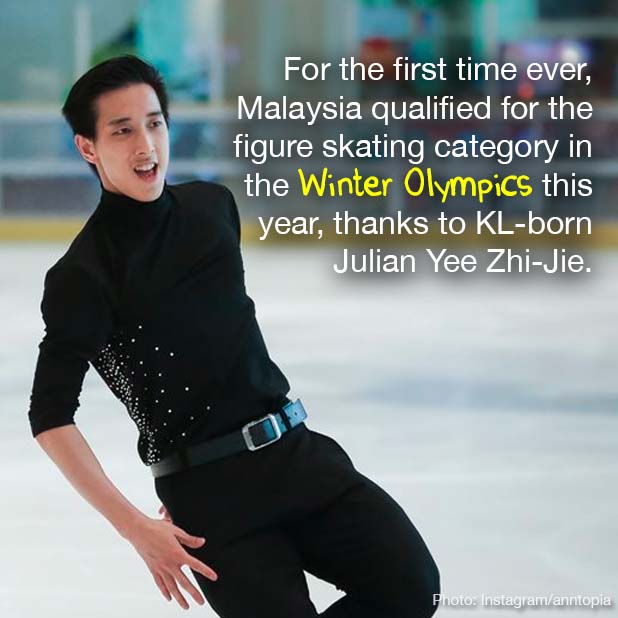 For the first time ever, Malaysia qualified for the figure skating category in the Winter Olympics in South Korea this year, thanks to KL-born Julian Yee Zhi-Jie. Julian first started ice-skating at the rink in Sunway Pyramid since he was 4 years old, and he had since competed in various international tournaments before qualifying for the Winter Olympics. Although he didn't make it to the second half of the program, for a tropical man to have come that far in ice-skating is nothing short of impressive. Good job, Julian.
3. We've got a second panda cub in less than four years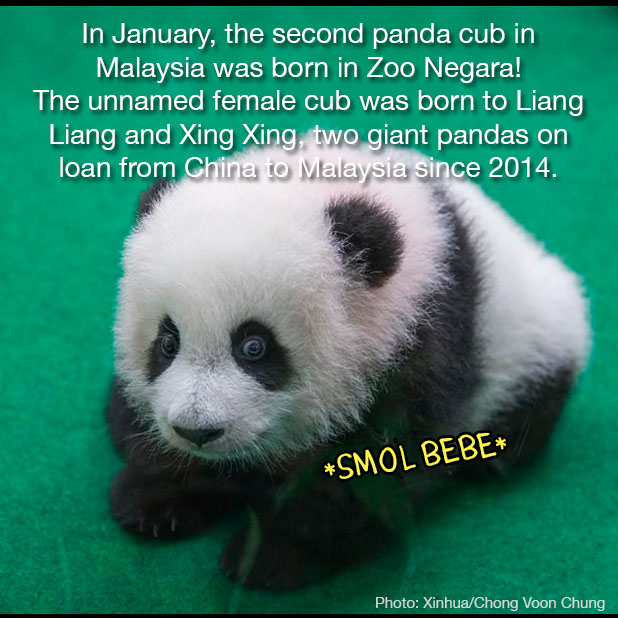 In January, the second panda cub in Malaysia was born at Zoo Negara, which is a rare success considering how hard it is for pandas to have babies. The still unnamed female cub was born to Liang Liang and Xing Xing, two giant pandas on loan from China to Malaysia since 2014. It was reported to be very friendly, and makes sounds when touched. Cute as that is, we may only have another year with her due to the policy of sending cubs born in captivity back to China after two years. Still… good job Liang Liang and Xing Xing!
4. A new language was discovered in a small village in Kelantan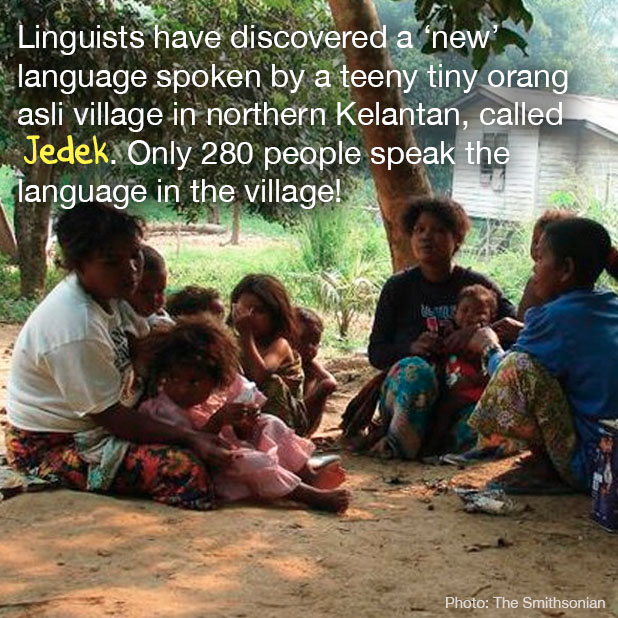 We wrote about this here! The new language, Jedek, was discovered by linguists as they were studying a group of Orang Asli known as the Semang in northern Kelantan. The language is spoken by only 280 people from a small village! Apparently there's no words for things in the language, but there are many words for sharing and exchanging! As a result, the Semang people have a very egalitarian or equal society. Instead of jobs, the community helps one another as hunter gatherers. Unfortunately, Malaysia has yet to recognize the language, grouping the village together with the surrounding Jahai speakers.
5. Our internet got cheaper and is getting faster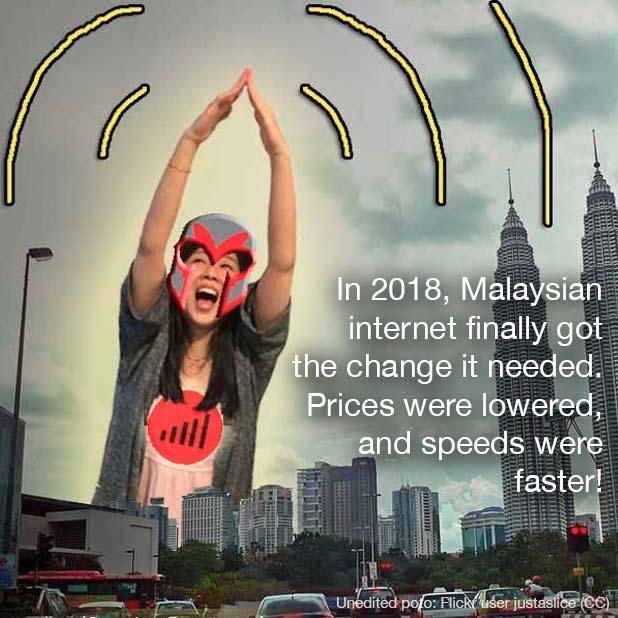 We complain a lot about our internet connection here at the office, but the truth is that this year, Malaysian users saw a huge reduction in internet prices and some lucky few even saw an increase in their internet speeds! This was because of the introduction of the Mandatory Standard on Access Pricing (MSAP) which was implemented in June. That said, the speed upgrades are taking awhile, which can't be helped considering the scale of the rollout. With that, Malaysia's average internet speed went up by quite a bit, from 23 Mbps in January to 62 Mbps in November, rising 10 spots to become the 26th fastest country by internet speed!
6. A Penang man took a risk and rescued a woman from drowning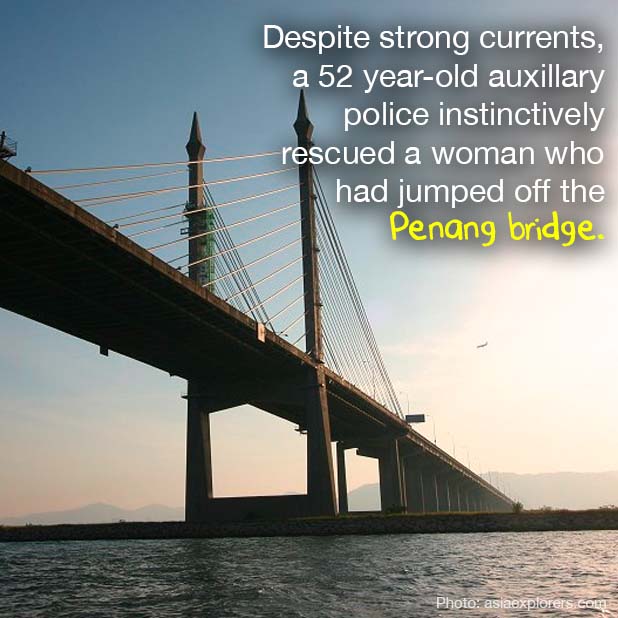 When his colleagues told him about a woman who jumped off the Penang Bridge, Zaidi Salleh, a 52 year-old auxiliary police, instinctively went in after her. He managed to keep her afloat for almost 45 minutes, consoling the distraught woman despite being swept out to sea and almost drowning.They were later rescued by fishermen from a nearby jetty, who were alerted about the incident by the authorities. A life was saved that day, and for his bravery, Zaidi was conferred the Pingat Gagah Perwira in July, the first one given out after 10 years. Good job, Zaidi.
7. Sabah is trying to permanently ban timber exports to save its forests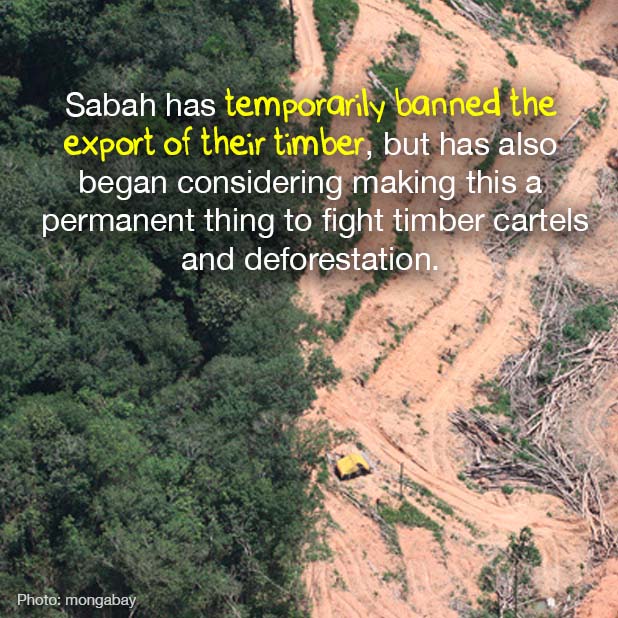 Sabah temporarily banned timber exports in July due to bad weather lowering timber production, but also because the state gomen wanted to be more eco-friendly when it comes to forest management. They had since considered making this a permanent thing in order to fight a timber cartel and protect our forests. We've covered Malaysia's deforestation pains before here and this is definitely a step in the right direction. Good job, Sabah!
8. For the first time ever, a woman now leads the Portuguese settlement in Malacca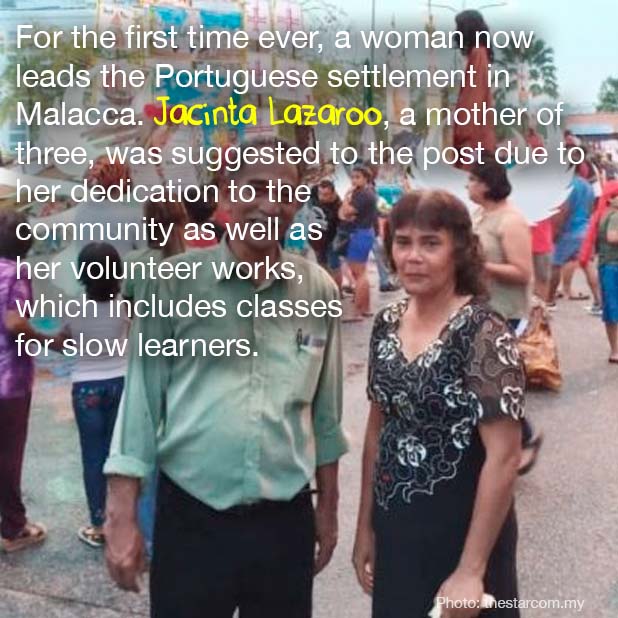 Jacinta Lazaroo, 55, made history as the first woman to be the head of Malacca's Portuguese settlement at Ujong Pasir. Her full title is the head of the settlement's Village Security and Welfare Committee (JKKK), which used to be known as 'Regedor' before the title was repealed a few years ago. Jacinta, a mother of three boys, was suggested to the post due to her dedication to the community as well as her volunteer works, which includes classes for slow learners among other things. While some had protested her appointment, she had led the community in a peaceful protest against a massive development and land reclamation project that affects the community's fishing lifestyle, a mere month after being appointed. Good job, Jacinta!
9. Many stateless Malaysians will be stateless no more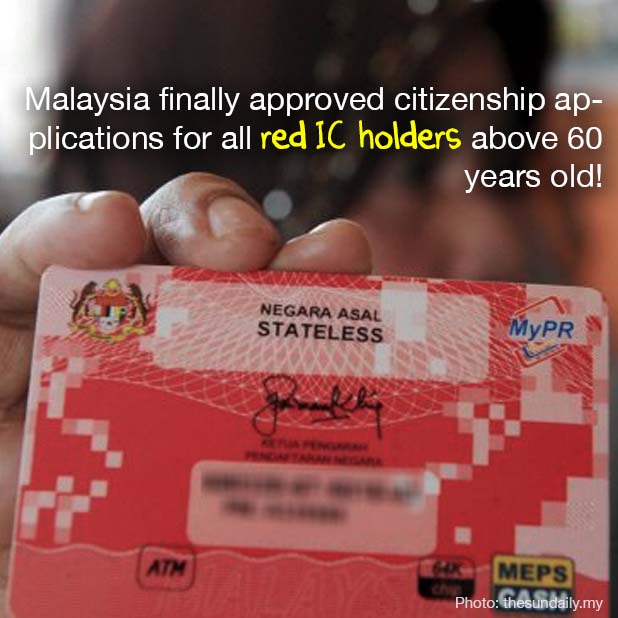 Even if you're born in Malaysia, without proper documentation you can still be classified as 'stateless' and be given a red IC, causing you to miss out on many basic rights that Malaysian citizens enjoy like education and healthcare. People are stateless for many reasons, but recently, the government had allowed red IC holders older than 60 to get their citizenships just by going to the National Registration Department and passing a simple Bahasa test. Those below 60 can also get a citizenship, provided at least one of their parents are Malaysian.  While it might be a bit late, we wholeheartedly welcome all our fellow Malaysians who can finally profess their citizenship!
10. Logging permits for a forest twice the size of Singapore had been revoked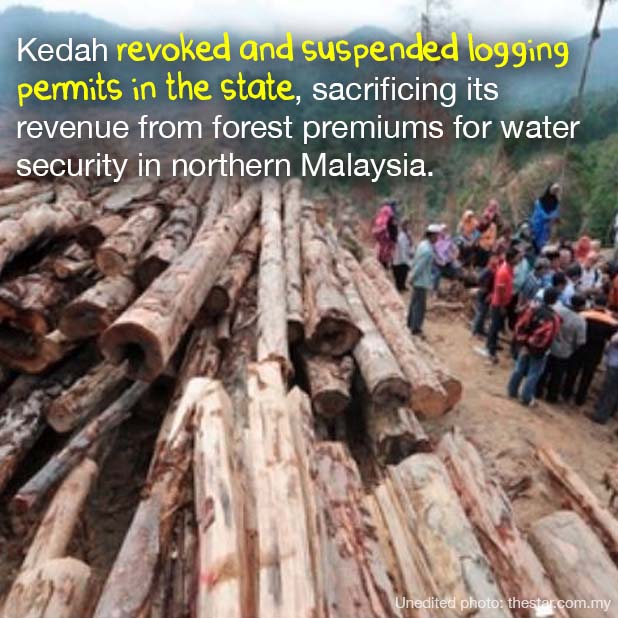 In a surprisingly pleasant move, the Kedah government had revoked all existing logging permits in its Ulu Muda Forest Reserve (UMFR), as well as stopping new ones from being issued. The UMFR is a forest twice the size of Singapore, and is an important water catchment area. Although it will affect the state government's revenue, preserving it will ensure water supply for more than 4 million people from Perlis, Kedah and Penang as well as enabling paddy to continue being planted twice a year. Now, the next step is to officially change its status from 'timber production' to 'water catchment'. Good job, Kedah government.
11. Malaysia has permanently banned the import of low-quality plastic trash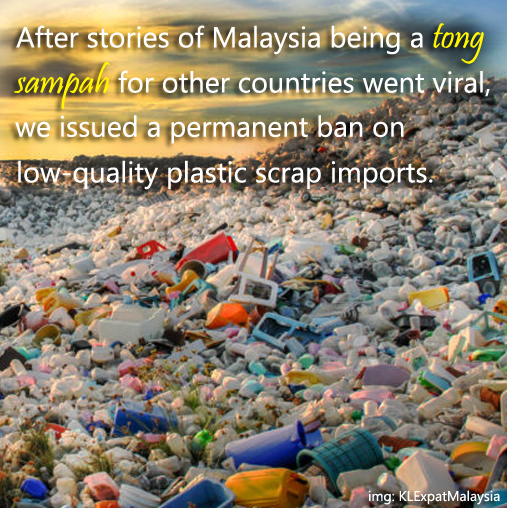 Following problems of other countries sending their plastic scrap to Malaysia to be recycled and causing pollution, Malaysia has permanently banned the import of low-quality plastic scrap, and the import of other types of plastic will also be phased out within three years. In the meantime, the regulations surrounding the import of plastic to be recycled had been considerably tightened, with applicants required to only import good, clean plastic from developed countries, having their own factories (so that they can't just import and sell to illegal processing factories) and to submit their list of end product buyers.
12. Terengganu is providing shelters for unmarried pregnant teenagers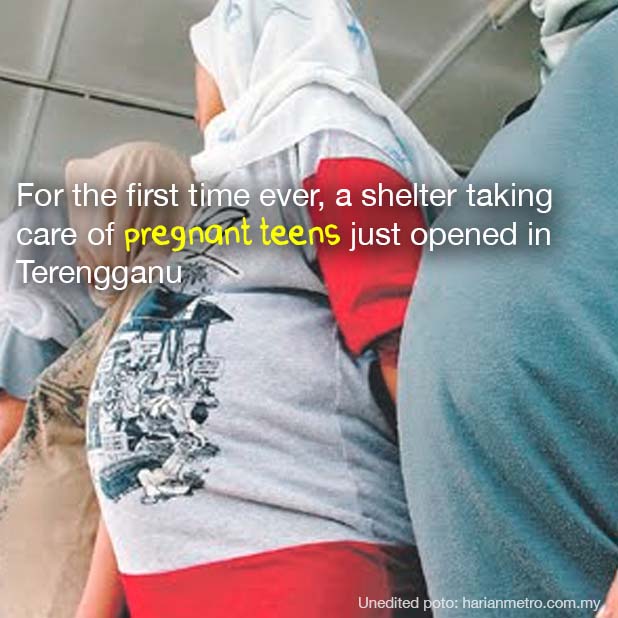 The Terengganu Health Department (JKNT) opened the first 'Rumah Generasiku Sayang' (RGKS) in October to provide shelter for teens who got pregnant out of wedlock. The house has a capacity for 8 and will be managed by JKNT staff and volunteers. The main purpose of the house is to provide prenatal, postnatal and psychological care as well as to provide 'spiritual guidance' and prevent illegal abortions. Regardless of your stance on extramarital sex, having a safe environment for these girls to get the care they need and give birth is a step in the right direction. While it's not the first one in Malaysia… good job Terengganu!
13. Tioman's coral reefs are slowly healing, thanks to concerned people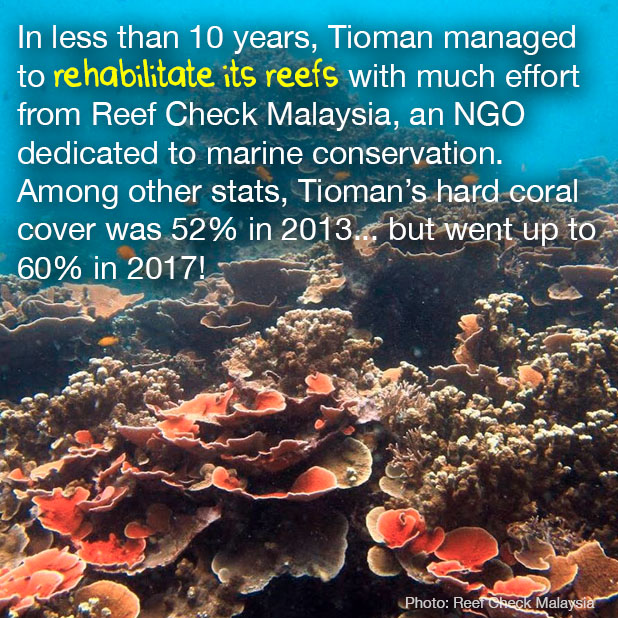 Despite coral reefs around the world dying, the ones we have in Pulau Tioman are actually improving. In 2013, Tioman's hard coral cover (basically the backbone of a reef) was only 52%, but in a recent 2017 survey by Reef Check Malaysia, the cover had increased to 60%! How did they do it? Well, basically they've engaged the whole Tioman community, particularly the younger generation, to take care of the environment and taught them how caring for nature can be good for business, among other things. You can read about their efforts here, but overall… good job Tioman!
Good things still happen, however bad the news may be
So there you have it. 13 pieces of good news, among many others, that you can carry over with you to the next year. We know, it may be hard to stay positive in such challenging times, but as many Malaysians have realized ever since GE14 (judging by all the petitions and protests), we as a people have the power to change things, and who knows? Maybe the next good news can come from your own actions.
With 2019 looming around the corner, we'd like to take this moment and wish you a happy new year ahead. Here's to a great and exciting 2019!
[This article is co-written by Daryl, Badd and Lydia.]