WOOHOO! Urbanscapes is coming up again this weekend (and Jack Black is in town tonight OMG), and if there's one thing we know… ugaiz sure know how to dress up. But here in Malaysia, work conditions are difficult, with Malaysia ranking as one of the 24 worst countries in the world to work.
Thankfully, the flipside of that is that you guys REALLY know how to let loose after 6pm (or 1145pm if you're in advertising. On a chill day). So we thought we'd dig a bit deeper to find out how different your WORK and PLAY personas are. Seeing as how they were sponsoring one of the funnest events of the year with Urbanscapes, the lovely blokes at Tiger Beer decided what-the-hey, let's also sponsor a contest to to ask regular Malaysians to highlight the difference between their 9-to-5…and their 6-to-whatever-time-the-24-hour-mamak-closes.
Why Tiger so nice one?
In case you didn't hear, Tiger Beer is one of the main sponsors of Urbanscapes (for a few years now). Just so happens that their current theme is UNCAGE YOUR PASSION, with examples of how a few truly inspiring peeps have found their passions and pursued their dreams.
So our slightly insane readers submitted their entries, and we picked the best ones for you below.
1. Kevin Wong, Sales Manager/DJ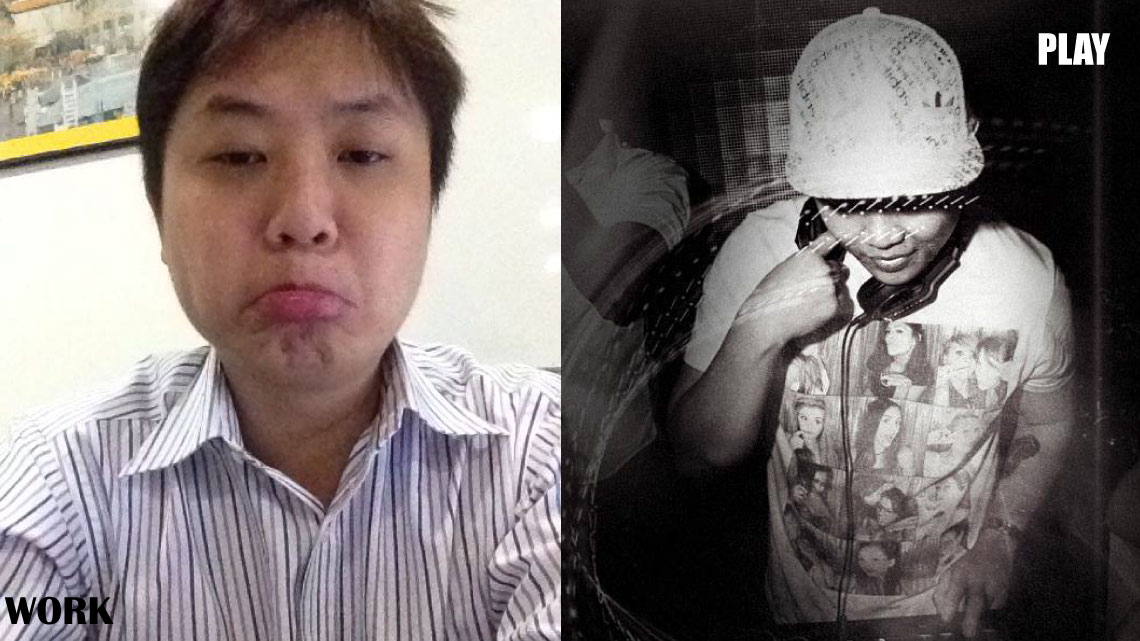 "As a guy selling elevators, well, there's not much value in what I'm working in. Being me is like being a sponge under the seabed – I absorb whatever that comes. I'm myself when I do what I like, like DJ-ing, 'cause I get to share awesome music with others."
2. Jolin Kwok, Editor/Self-painter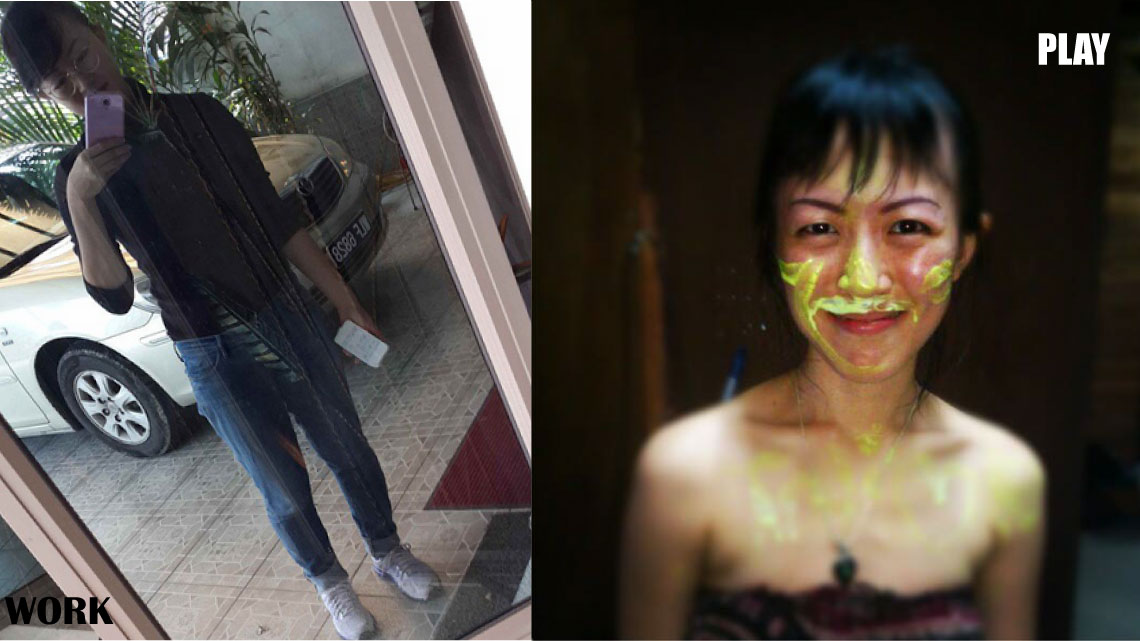 "The web publishing industry is fickle so I have to try to capture the audience's attention all the time, looking perfect without sweat. Yet, make-up just suffocates my skin. So, imagine the pain I endure everyday just smoothing thick layers of foundation across my facial problem to look Korean- or Japanese-Hot (I hear that's all the rage these days), and then having to squeeze myself into pants that look barely there just to distract my kulis at work from looking at my barely-there breasts. You know the TV series "Ugly Betty"? That is me with face paint on when I party, when I'm at my most natural, with just a simple dress without heels. Totally hippie and NSFW."
3. Yee Mun, Finance Business Analyst / Belly Dancer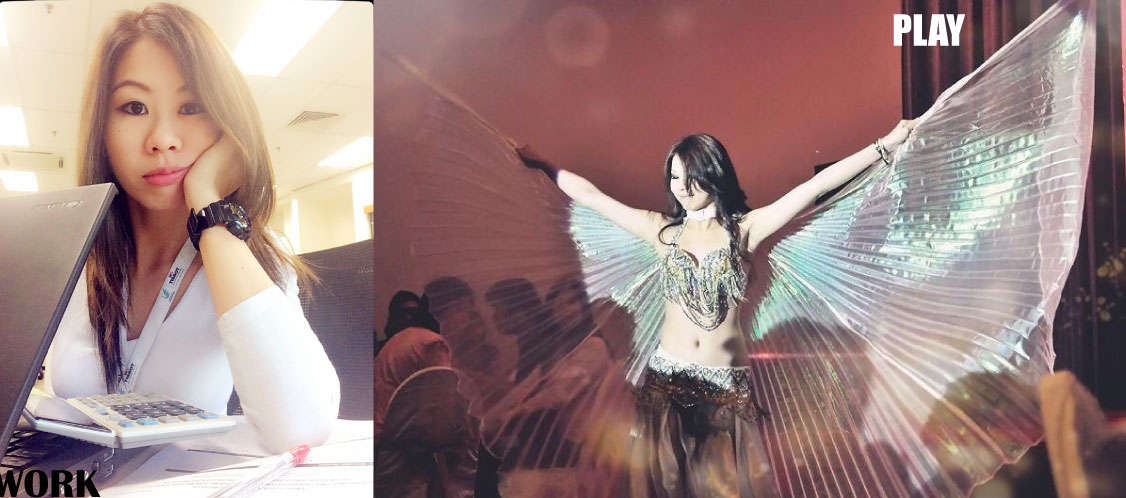 "As a finance/business analyst you are expected to be a boring mundane individual who works on numbers, calculator and excel sheets.Probably add on a pair of geeky glasses to look more professional and credible.Times when I ain't working I practice my pole dancing and have been performing belly dance for years at most corporate events. You could tell how surprised and amazed my colleagues are when they find out about my passion out of working hrs. It's priceless."
4. Tony Leo Manager/ Spartan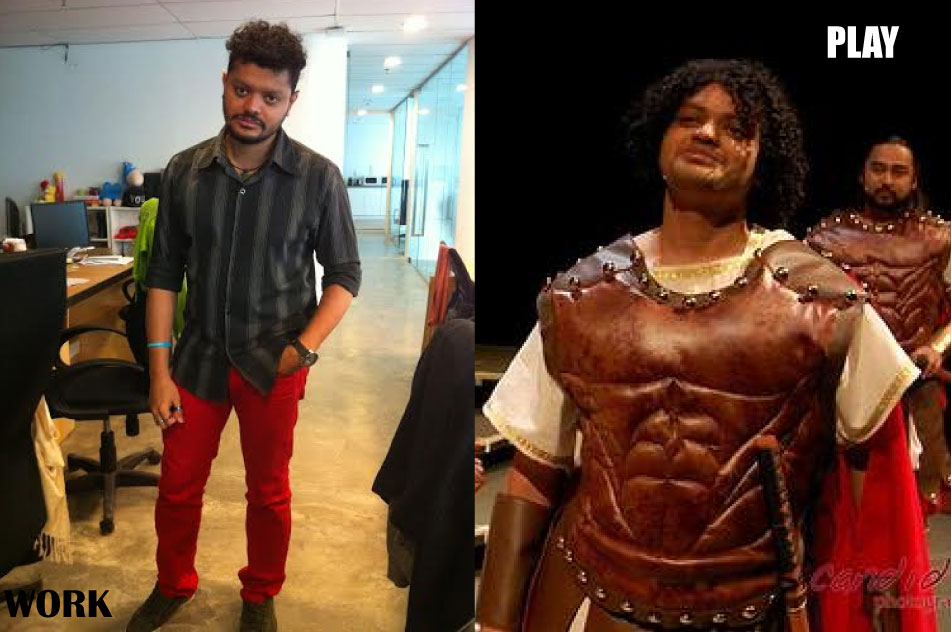 "The first pic is me in my office and the 2nd pic is me in one of my many characters that I have in theatre. I've been a full time singer-songwriter, musician and theatre practitioner for 7 years and going back full time in corporate has its drawbacks. One big change is the lingo in which I have to use now; For instance instead of saying "Dude, chill la", it's now "I hear you and I can see your point but we need to agree to disagree". Instead of saying "Let's do this the next time" it's "Moving forward, we shall commence in this manner". 
5. Jasmine Lee, Pharmacist/Superhero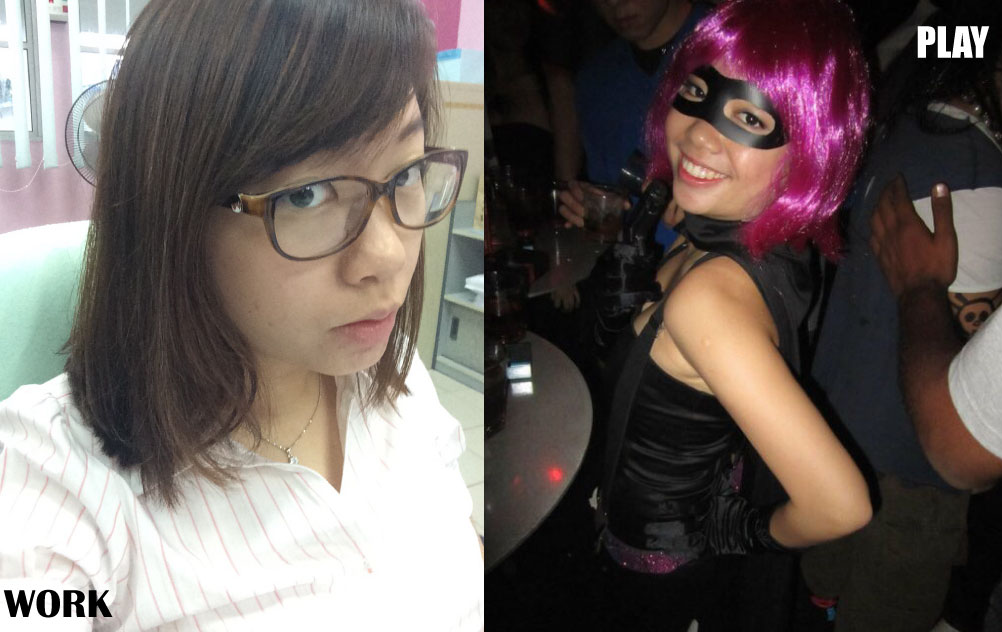 "Ok let's face it. Pharmacy isn't really the super-glamour kind of job. So of course it's the perfect cover to go and fight crime! Actually the second picture is of me during Halloween, one of the few days where everyone gets to put on a mask and be someone else… and you know what… it's really liberating! (PS: notice the glasses during work to conceal my real identity even more!)"
6.Wei Wen, Banker/Part-time Model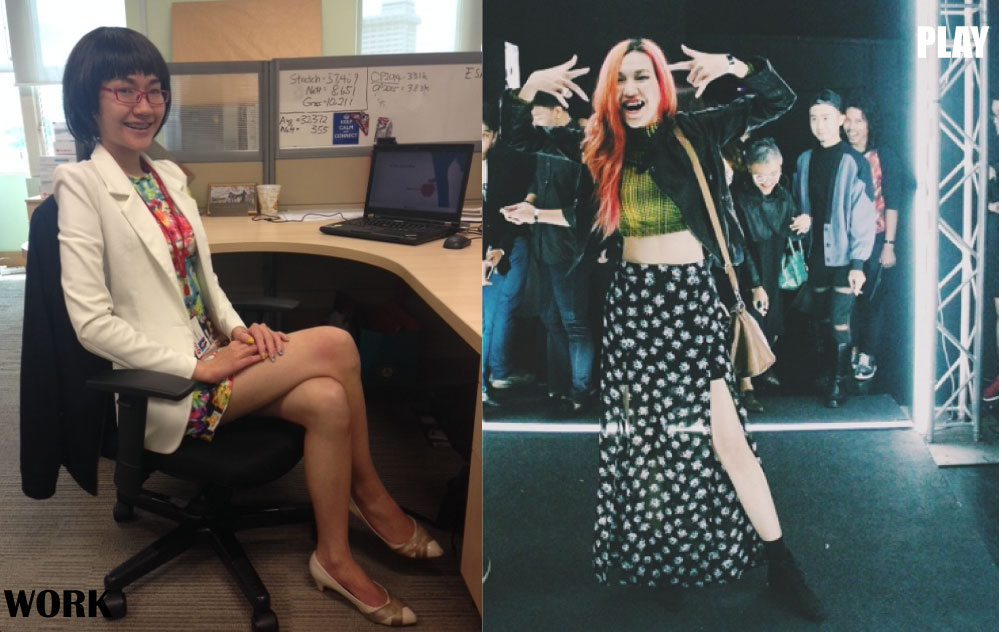 "As a banker, you are expecting to have the "stick to business professional" looks. You are required to dress according to corporate dress code. Staffs are advise not to have coloured hair at work. It is unprofessional they said. I'm a self-proclaimed part-time model with a very colourful neon pink hair. I have to hide it by wearing a wig to work every day. My work life might sound boring and dull; however, I am actually a very fun and crazy girl to hang out with. When it comes to party, I can dance like nobody business! Work hard, party harder! "
7. Karen Wong, Social Media Executive, Fashion Misfit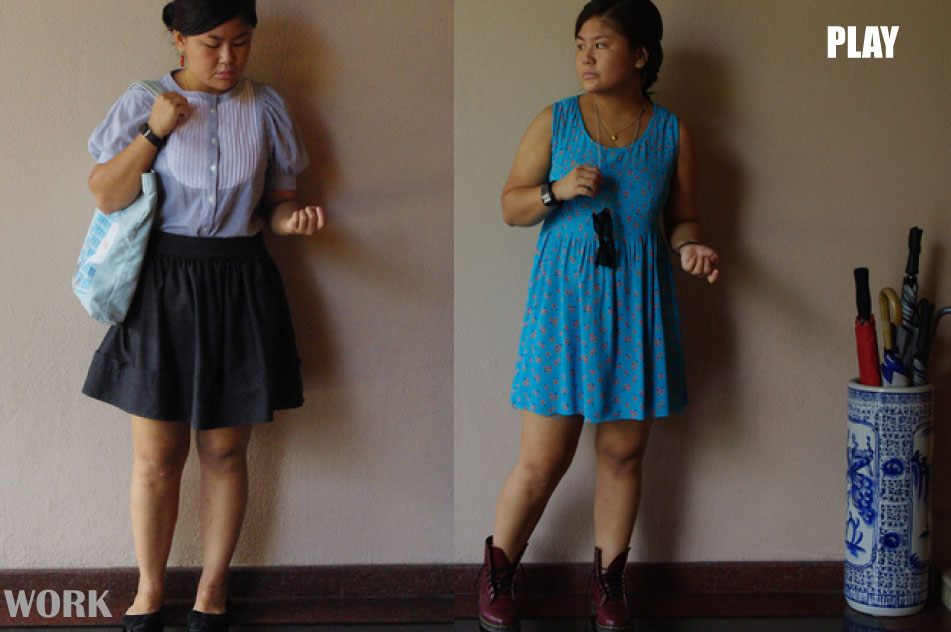 "Since I work in the creative industry, I'm lucky enough that I don't have to live by the typical corporate attire. However, my bosses would raise their eyebrows if I were to stroll in looking like the bastard child of Kurt Cobain and Courtney Love, with my favourite 90s combo – Doc Martens and a sundress. Hence, while during the weekday, I abide by flats and buttonups, over the weekend, I revel in my 8-eye lace up action!"
Catch these awesome weirdos at Urbanscapes!
Awesome entries, ugaiz! DAMN. Seems like we need to do another series on after-work Superheroes. If you want to meet these guys, come to Urbanscapes at the Horse Ranch at Resorts World Genting this Saturday, cos they'll all have free tickets courtesy of Tiger Beer!
And if you're going to have a good time, of course don't forget to occasionally quench your thirst with a nice bottle of Tiger (only if you're above 18 and non-Muslim, of course). Once again, a big thanks to Tiger Beer for sponsoring this contest, and to our most sporting participants as well for uncaging and letting our readers see a very very different side to them 🙂
Tiger will also be having some announcements and maybe even some special surprises at Urbanscapes, so if you want to keep tabs on what's going on, check Tiger Beer's Facebook page here!
See you guys at Urbanscapes this weekend!