Yep you read that right. A new beer has been launched that uses a leaf that you've probably eaten (or put aside) sometimes in the last few days. Like maybe here…
or here…
or here.
And the magical herb is CHINESE PARSLEY! OMG… and it's appearing in Tiger's latest beer.
Chinese parsley in a beer? What's that taste like!?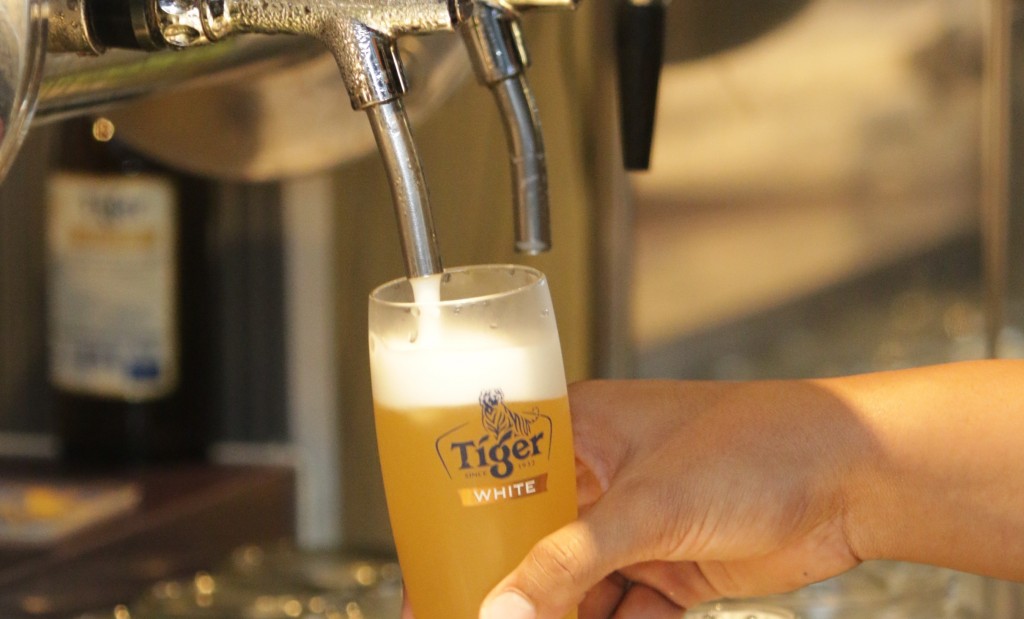 Tiger White is the latest 5%ABV innovation in the Tiger family after their world famous signature Tiger Beer lager, and Tiger Radler, which adds natural lemon juice to the mix. According to Tiger, it's crafted specifically with notes of clove, coriander (nama glamor for Chinese parsley) and orange peel.
So what do regular people say it tastes like?
"Nice fresh smooth beginning. The body is fresh and smooth, yeast and fresh lemon. Round and soft with lemon zest and hints of Coriander on a smooth yeasty body. Great refreshing in the tropical sun." – Erzengel, a reviewer on Ratebeer.com
We've tried it as well, at a few of the Tiger events we've been invited to, and our editor is also a fan 🙂
How's it different from regular Tiger Beer?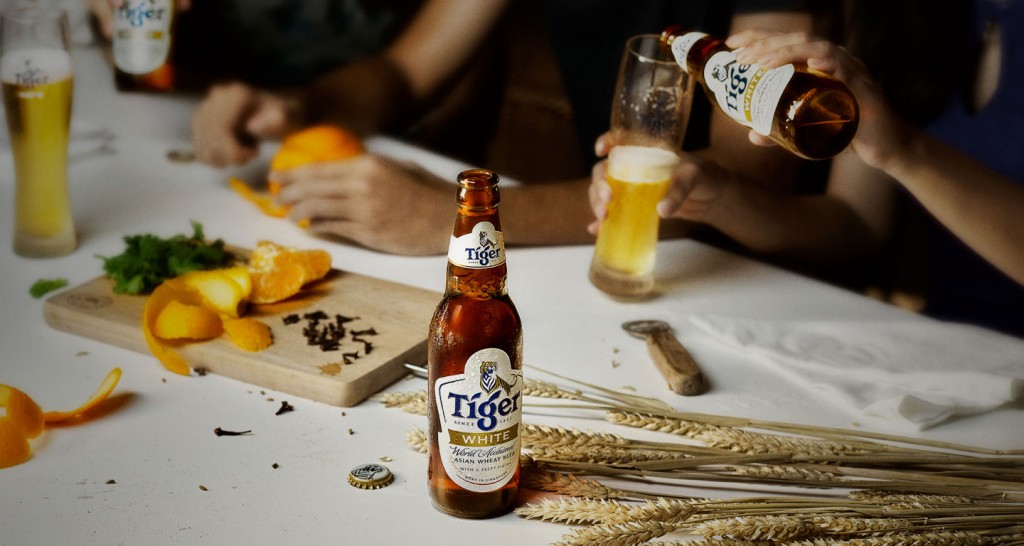 Aside from coriander, clove and orange peel… one of the main things about the Tiger White is that it's a WitBier or Weissbeer. This roughly translates from German into White beer or Wheat beer, which are both kinda accurate since it is White, and it's made primarily from uh… wheat. Most other beers use malted barley as their main ingredient, but wheat beers replace most of the malted barley with malted wheat instead.
The tradition of wheat beer dates back 2,800 years old (!), the age of an earthenware amphora that was discovered in 1934 with traces of wheat beer in it. It was found in a tribal grave near the small village of Kasendorf, not far from Kulmbach in northern Bavaria (where wheat beer is the most popular today).
Fermentation happens at angmoh room temperature (around 20°C), unlike lagers, which ferment much colder (around 10°C). This process was actually pretty normal back in the 16th and 17th century – cos there were no fridges back then. In fact, chilling beer was one of the main reasons German inventor Carl Von Linde created the modern refridgerator in the first place, although as a result, lagers and pilsners, which could previously only be brewed in winter, became the fad in the 18th century.
Because of the warmer temperatures of brewing wheat beer, the fermentation happens on TOP rather than at the bottom (like lagers), and results in less gas being trapped in the liquid. This process also results in high lactic or acetic acid content, which gives it a mildly sour taste. Long story short, this results in a much smoother, more refreshing and fruitier taste, compared to other types of beer.
Also, it usually appears cloudy when it's chilled, due to suspended yeast and wheat proteins, which makes it look even colder than it actually is 🙂
But there's one other thing that makes Tiger White special
The coriander/orange peel combo isn't just cos Chinese flers are gonna drink it… it's actually a common combination in most Belgian wheat beers (unlike the Germans, who lean more to banana/vanilla-like notes). So in other words, it might be a familiar taste to you, if you've ever tried any white beers around town.
But Tiger White has another thing that sets it apart – its price point.
""With the launch of Tiger White, we demonstrated that we have the tenacity to expand our portfolio, and to make this premium wheat beer more accessible to all consumers." – Jessie Chuah, Marketing Manager for Tiger Beer
Since it's manufactured and distributed locally, it's quite affordable compared to other white beers, which are all imported – a smooth, aromatic and flavourful wheat beer at a great value! You can currently get cans at less than RM10, and a half-pint of draught at less than RM20.
For more information on Tiger White, and to check out what promos are going on, visit their Facebook page at facebook.com/TigerBeerMY.