Hey ugaiz! It's been a lil over a week since our long Labour Day weekend… and we just can't wait for the next one. While some of us spent the weekend in colder places to get away from the heat and haze, the rest of us were pretty much tidur mati je. But if you didn't manage to catch a flight to a foreign land, don't fret – there are 6 more long weekends to go in 2016 for you to be consumed by wanderlust! And the best part is…
Flights are on promo! Wheeeee!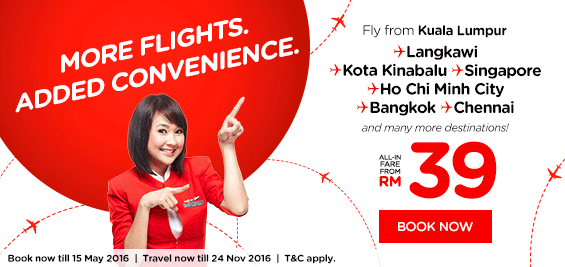 Yea dat's right! Y'all can happily fly away for the coming long weekends cos our new sponsor, AirAsia, is running a promotion right now. Fares start from RM39, and FYI, it's valid for travels from now till 24th Nov 2016. And hurry, cos promo ends 15th May! (Click here to see all promo prices) 
But… when *are* the long weekends in 2016? And what's there to do anyway? Well CILISOS has got you covered with this list of unique, exciting events in neighbouring countries that coincide with our long weekends. 🙂
1. Hari Raya Puasa, 6th – 10th July: Get cultured in Bali
Getaway #1: Bali Arts Festival
Where: Bali, Indonesia
Perfect for: Culture-lovers, people who love the beach cos…. Bali mah
Fare: From RM139
Bali isn't all about the sun and sand – it's a place bursting with culture and tradition! On regular days, you'll be able to visit the art centre in a small tour where you can check out sculptures and Balinese architecture… but from the second Saturday of June through July, you'll get to witness Bali's performing arts with cultural highlights in its FULL GLORY. Like tahap 9000 type.
There'll be plenty of stuff to look at: traditional and contemporary dances, shadow puppetry, music compositions, competitions… you get the picture. Running for the 38th year now, the 2016 Bali Arts Festival will carry the theme "Pasuk Wetuning Bhuwana: Maintaining Universal Balance and Synergy". Check schedules here 🙂
And once you're done with culturing, just head down to the beach and chillax before the workweek begins in Malaysia 😀
2. Malaysia Day, 16th – 18th Sept: Ber-hipster with arts, or join angmohs to partaayyy
Getaway #1: Singapore International Festival of the Arts (SIFA) 
Where: Singapore
Perfect for: Hipsters, artsy-fartsies and anyone who understood the art at Urbanscapes
Fare: From RM49
Ha ha, celebrating Malaysia Day in Singapore. Hee hee. Anyway.
You can't argue that KL has become pretty hipster over the years. Well if you wonder how more hipster you can be, why not take a trip down south to Singapore for SIFA? For the whole of September, you'll get to check out the best of Singaporean and international artists and their work in theatre, dance and music.
Ok la honestly, CILISOS is not a super cultured/well-travelled bunch, but we've been told that these artists are pretty established. Robert Wilson, Michael Nyman, London Sinfonietta, and the Berliner Ensemble are some of the big names that will be among the few featured in the festival. Hmm.. seems like maybe we should go for this event actually. Anyway, for more info, click here.
Getaway #2: Full Moon Party 
Where: Koh Phangan, Thailand
Perfect for: Ravers, people who love to party but no money for Ibiza
Fare: From RM99 (to Surat Thani, from there take a ferry to Koh Phangan)
Like to party, especially with energetic angmohs who wear RM10 Bangkok singlets and neon accessories? (Don't worry we won't judge.) Then you may wanna check out the super happening Full Moon parties on the beaches of Koh Phangan Thailand.
What started out as a small party for 20-30 people in 1985 had quickly gained fame, growing into a party that draws up to 30,000 people every evening. The parties happen monthly when the moon is full (duh), and usually carries on till the sunrise. Bars around the beach would blast all sorts of cool music and have fiery stunts, and you'll confirm make friends with cool people who addresses everyone as 'Bro'.
But whatever you do, just remember to party responsibly k? 😉 Click here for schedules.
3. Awal Muharram, 1st – 3rd Oct: See humans do non-human stuff o_O
Getaway: Phuket Vegetarian Festival
Where: Phuket, Thailand
Perfect for: Culture-lovers, vegetarians who can stomach gore, people who like gore
Fare: From RM99
What the flying fajitas (with vegan meat of course), who would've thought there would actually be a vegan festival somewhere in this world, and sumore so close to home! If you're thinking that it'll be something like this, you're wrong:
Instead, the Phuket Vegetarian (Nine Emperor Gods) Festival is a nine-day long event during the Chinese ninth-lunar month. The festival celebrates the Chinese Community's belief that if they avoid eating meat (and other things) during this time, it will help them obtain good health and peace of mind. Sound boring right because how fun can a festival be if everyone is just eating vege?
Don't be fooled, because this festival is actually like Thailand's (more extreme) version of Thaipusam!
All in all, you could call this the cheekiest festival in Southeast Asia. 😉
4. Deepavali, 29th – 31st Oct: Where everyone celebrates EVERYTHING
Getaway: Fiestang Kuliat 
Where: Angeles, Philippines
Perfect for: Just about anyone looking for new cultures without having to drink Yakult
Fare: From RM299 (to Manila, then a bus to Angeles; non-promo)
Some of you may know of the Mount Pinatubo volcanic eruption in 1991. In what was the 2nd largest volcanic eruption of the 20th century, it not only killed many people, but made the once lively city of Angeles, Philippines a sad, sad place. And although some mention that the Fiestang Kuliat was established honour patron saints, others say it was to actually lift the spirits of the people (and their economy) during this troubled time! 
The Fiestang Kuliat is celebrated throughout the month of October (so you can even go during Awal Muharram!), but the thing about this celebration is that it isn't just a month-long festival, but a combination of multiple festivals throughout the month of October! We count at least 80 different celebrations listed on the Philippines gomen tourism website! Heck, one of them is even a coffee festival!
5. Prop. Muhd. Birthday, 10th – 12th Dec: Go take artsy pictures
Getaway: Angkor Photo Festival & Workshop 
Where: Siem Reap, Cambodia
Perfect for: Shutterbugs, people who feel inspired by 'Taken with iPhone 6' billboards
Fare: From RM182 (non-promo)
Calling all photographers! If you've not heard of the Angkor Photo Festival & Worshop, you're gonna wanna hear about it. What is it? Well, only the longest-running photography event in Southeast Asia!
In what will be their 12th edition this time round, the festival aims to nurture and promote Asian talent, and develop photography in the region. So aside from just walking around and admiring pictures, you also get to join workshops where you can glean new ideas and perspectives from various photographers, many of them alumni of the festival itself!
6. Christmas Day, 24th – 26th Dec: Pretend you're in a Mat Salleh Christmas movie
Getaway #1: Christmas Fairyland 
Where: Orchard Rd, Singapore
Perfect for: Shutterbugs, selfie-addicts, shopaholics, people who believe in Christmas magic
Fares: From RM97 (non-promo)
If you love the glitz and glamour of the holiday season, then you'll wanna visit our neighbours for a magical, enchanting, sparkling Christmas fairyland. For six weeks, the famous Orchard Road will be decorated with glittery lights dropping from decorated trees and arches, all along the 2.2km stretch from Tanglin Mall to Plaza Singapura.
Think festive decorations too – massive-sized bows, castles, reindeers, nutcracker soldiers… everything that's perfect for shutterbugs, selfie addicts and travellers who want a bit of magic. There'll be performances and games, and most importantly, crazy promotions for shopaholics 😀 Click here for more info.
Yeahhh so many long weekends! Get out of the office already!
As one employed person to another (assuming you're employed too), we are SO excited over the long weekends! Like seriously, there's actually a report that says 70% of Malaysian workers report more stress-related illnesses leh. o__O
So even if you're not planning to satisfy the itching travel bug in you, just take advantage of these long weekends and go ber-romen by the beach or soak up some oxygen in the mountains. Best part is – you don't need to sacrifice your annual leaves 😀