Education
Politics
8 UM Students Might be Expelled for Attending Anwar's Speech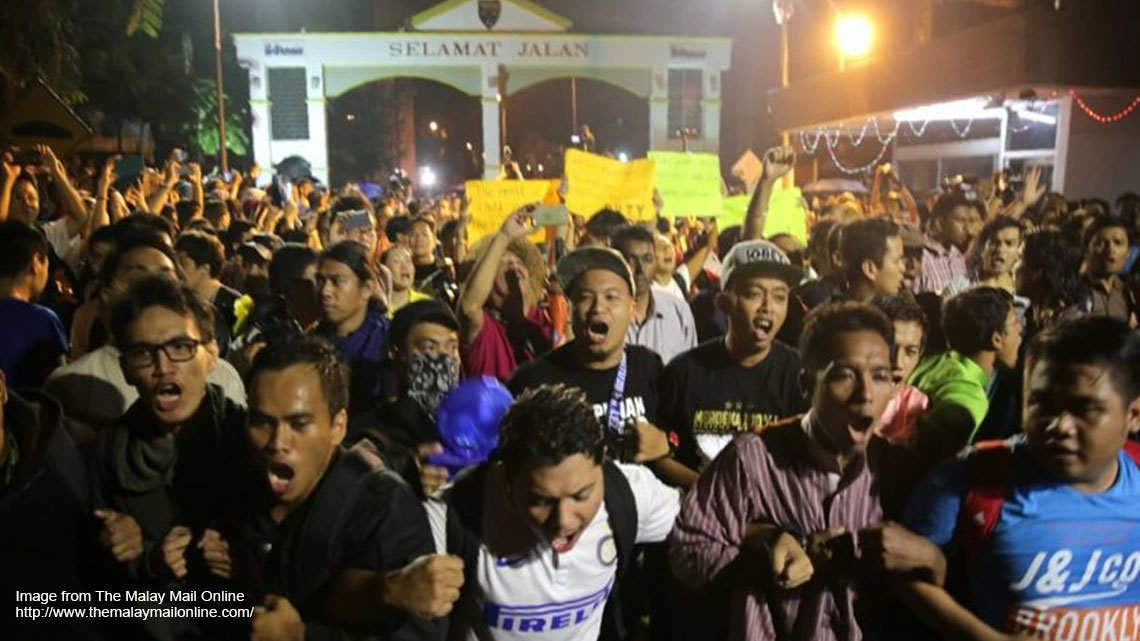 Last week, Universiti Malaya became a hotbed of drama when Anwar was prevented from giving his scheduled speech at UM's Chancellor's Hall. Long story short, the crowd in attendance turned the gate at the KL entrance into an iPhone 6 Plus (#bendgate) by pushing their way through. Anwar delivered his speech, and for all intents and purposes, the focus of the drama should have smoothly slid into his court case.
However, we got a message from our Marcus Lee, our friend at UM telling us about the "UM8," a nickname used to describe the 8 Universiti Malaya students who are currently facing disciplinary action for their participation in last week's speech. We arranged for a interview with one of them, prepared a scope of questions, and drove off to UM. It seems as if the drama at UM isn't confined to their performing arts faculty.
It's like a court case!
Before we move on to the deets of this issue, we feel it's important to explain disciplinary hearing for the 8 students is very much like a court hearing, with the exception that the decisions of the court are binding only to UM students. And (we think) the judge doesn't wear a curly wig la.
So if a student is seen to violate a rule, a case is set and a letter of notice is sent to the student. The student then has to show up on the date of the disciplinary inquiry with a legal representative from within the UM community (lecturers or students).
Here's what the letter looks like:
Awright. Now let's move on to the deets.
The deets
The UM8 were notified of their disciplinary hearing on Halloween, October 31st. There…. isn't really too much significance to it being on Halloween. We just wanted to plug our Halloween movie poster article.
Aaaaanyway, back to topic. The UM8 are:
Fahmi Zainol – UM Student President
Adam Fistival Wilfrid – Persatuan Mahasiswa Universiti Malaya International and Corporate Chairman
Safwan Shamsuddin – Pro-Mahasiswa Chairman
Syamimi Munira Mohamed – Student Council Secretary-General
Abraham Au – Student Council Policy and Law Chairman
Khairul Anwar – Persatuan Mahasiswa Universiti Malaya Welfare Exco
Khairol Najib – Muslim Student Association Chairman
Haw Yu Hong (the guy in the letter above) – Student Council Vice-President
If found guilty they face a possible fine, barring from certain sections or activities, suspension, and/or expulsion from UM. Their cases are set to be heard today (November 7th if you're reading this in the future) at Dewan Perdana 2, Block D, Kompleks Perdanasiswa. It's not open to members of the public though. 
An interview with one of the UM8
As you might guess, our interview was with Haw Yu Hong, a 22 year old biomedical engineering student from Petaling Jaya. He calls himself an above average student, but goes on to explain that his grades have dipped ever since he was elected as a student representative overseeing the engineering, medical, dentistry, and architecture faculties.
He's pretty well-liked too it seems, as our interview was continually interrupted by passing students greeting and having small conversations with him. This is probably due to his dedication to the student body, as we were told that he had visited students injured by a falling spotlight at the hospital at 2 in the morning and spending the following month seeking compensation for them. We think this sorta explains the grades too.
He is currently facing two charges – for participating in the event and for refusing to obey the instructions of UM officials – but that's simplifying it. His (student) legal representative Marcus Lee says that the charges are extremely vague, with UM refusing to clarify the charges up till the point of our interview. This was a day before the hearing, BTW. Marcus also tells us that they have not been presented with any evidence nor the identities of those in the hearing panel, leaving them with little to no time to prepare a defense. Hmm… why does this sound so familiar?
In all fairness though, Yu Hong doesn't deny being at the event, and says that he made a speech before Anwar's appearance outside campus grounds. However, he stressed that he was not involved in the breaching of the gate.
"In my whole life in UM, I've never touched the gate. You'll never find my fingerprints there." – Haw Yu Hong
We hated to do it, but we had to ask what Yu Hong would do if he was expelled. "Then it'll be God closing the door to UM for me," he says, adding that it'll prepare him for something he really wants to do. He also mentions that he really likes engineering and music, or maybe even find a job. The one thing he won't do is politics. He explains that unlike some of the other students in the disciplinary hearing, he has no political aspirations and only took the student representative position because he wanted to improve student conditions in UM. In fact, he says that he's "scared of politics".
But the good news is that Yu Hong and company aren't alone.
#SaveUm8

#SaveUM8 is a solidarity movement in support of the UM8. They're organizing an Occupy UM event protesting what seems to be the selective prosecution of students and the oppression of free speech in a gazebo area outside the place of the hearing.
Some of the student group organizers are asking for UM to conduct disciplinary hearings on all the students who attended Anwar's speech in the sake of fairness.
It is also interesting that 7 out of the UM8 are pro-student leaders. While members of the pro-university party were also seen in attendance, none of them have been called up for disciplinary hearings. Student leader Fahmi Zainol has a "record" 9 charges against him, in fact. We thought this scenario sounded vaguely similar too…
Coincidentally, we bumped into Fahmi as Yu Hong was showing us the Perdanasiswa complex – leading to an excellent photo opportunity to end this article with.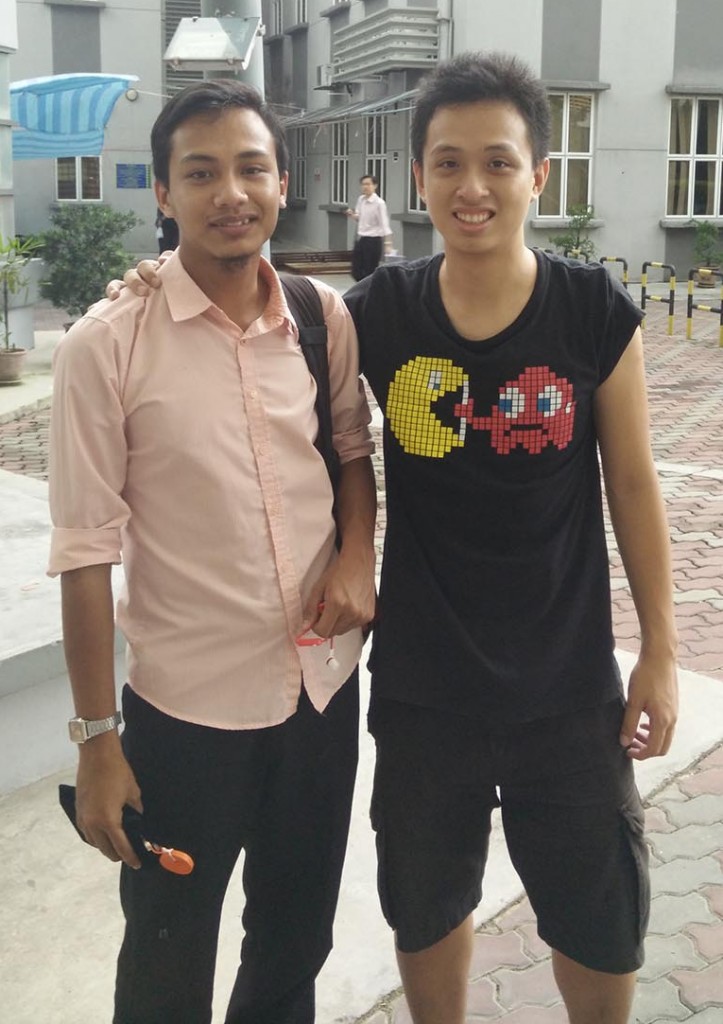 On a side note, you may get the feeling that this story sounds somewhat familiar especially with the hints we put in… we did too, but that's an article for another time.
….like next week.