On the evening of August 11th, Professor Azmi Sharom received a call from a Malay Mail Online reporter asking for his legal opinion on the Khalid Ibrahim drama. He gives his opinion to the reporter and ends the call without too much thought. After all, requests like these are quite common.
On August 14th, the article "Take Perak crisis route for speedy end to Selangor impasse, Pakatan told" is published on the Malay Mail Online's portal.
Two and a half weeks later, Azmi Sharom is at home getting himself ready for a day of classes at Universiti Malaya when he receives a phone call. On the other end is an official telling him he's being charged with sedition over the comments he gave to the reporter. Keeping his cool, he ends the call, prepares himself, and heads to court.
And just like that, Professor Azmi Sharom – popular pony-tailed law lecturer, became the first academician to ever be charged with sedition in Malaysia.
"Sedition" has unfortunately been a popular word the past few weeks and, since the news of his arrest broke, so has "Azmi Sharom." If you've been seeing these words popping up on your Facebook feed and wondering who he is and why the sedition charge is such a big deal, we wondered the same thing. After some quick research, we found that the Malaysian Sedition Act was introduced by the Brits during the colonial era to combat the communist insurgence. It was adopted from colonial India and was (probably) in itself based on British sedition laws which have been around since 1661. As for Azmi Sharom, we attended a small gathering at Universiti Malaya yesterday to ask:
"Who is Azmi Sharom?"
*Note that people in the pictures aren't necessarily the ones who made the statements, and that Azmi Sharom is out on bail. Also, the first three paragraphs are based on feedback from Yap Swee Seng of SUARAM and Zurairi AR, the Malay Mail Online reporter who wrote the article in question.
Azmi Sharom the teacher:
He's most commonly described as a "fun, cool lecturer" – probably one of the most popular lecturers at the Law faculty thanks to his easygoing, approachable nature. But at the core of that, his students appreciate him for his dedication to academics, always encouraging critical and intellectual debates, as well as his dedication to them.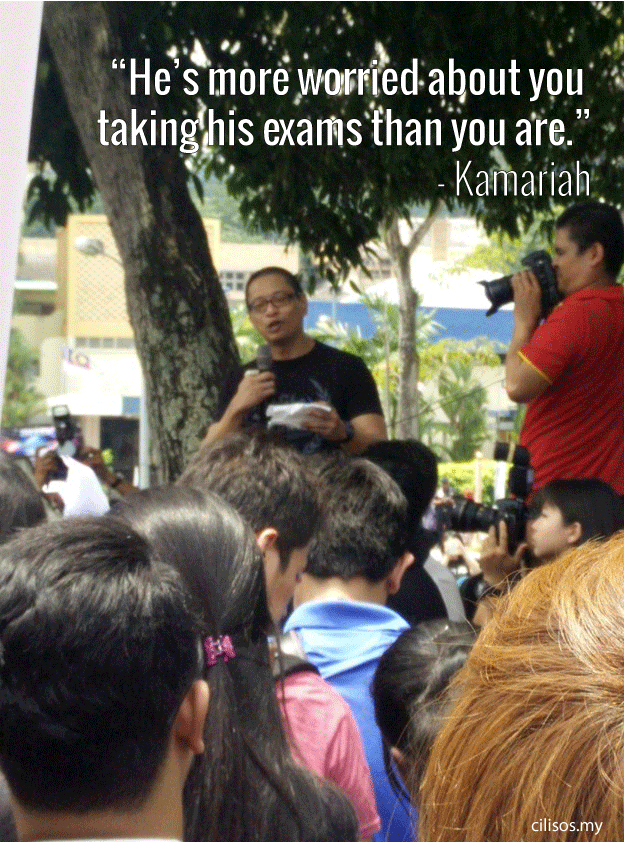 A dedicated teacher, a dedicated practitioner of the law, a man who is true to himself – that's a majority of the responses we got. Azmi is said to be casual in both his appearance and in his interaction with his students. Many have grown used to seeing him showing up for lectures in a T-shirt, jeans, and sandals.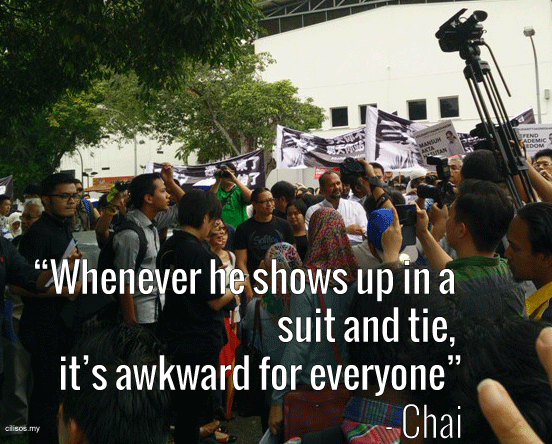 He's also noted to not be particularly political, with many attesting to his principles and dedication to the law as the reason he can always be counted on for a fair and unbiased opinion. Lawyer Michelle Yesudas of Lawyers for Liberty (whom we mistook as a student – sorry!) describes him as one of the most straightforward and honest academicians who will not hesitate to call a spade a spade.
Azmi Sharom the person
He is most fondly remembered for his ponytail (what is it with lawyers and ponytails?) and for jogging around the campus in the evenings. A student recalls an incident when she ran into him at the law faculty, drenched in sweat at 2 in the afternoon. "Did you just go jogging?" she asked. His reply was "No, it's too hot so I went to the gym instead."
Another student remembers him showing up for a lecture with his hair let down, as if he'd just taken a shower.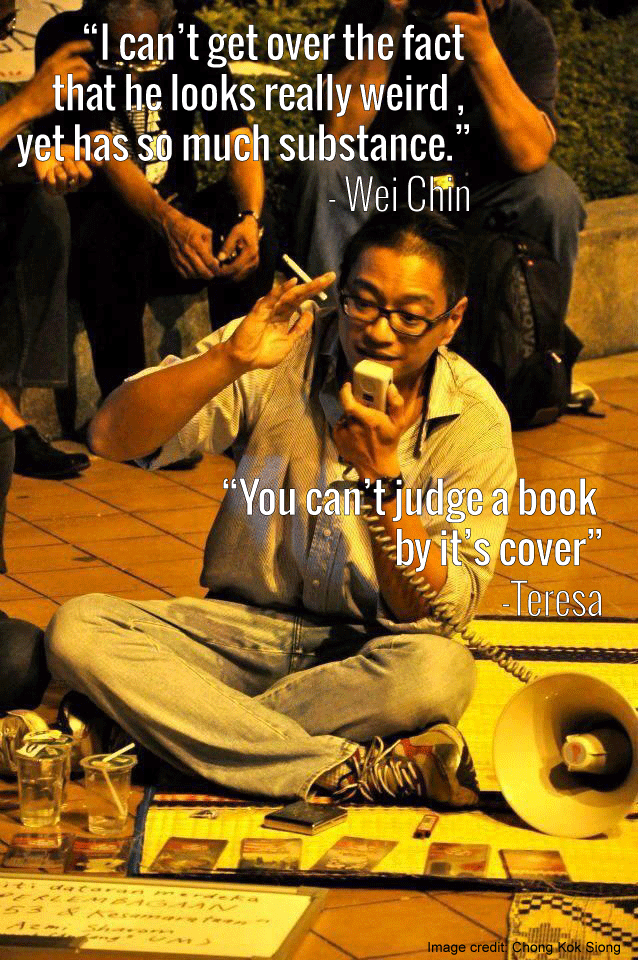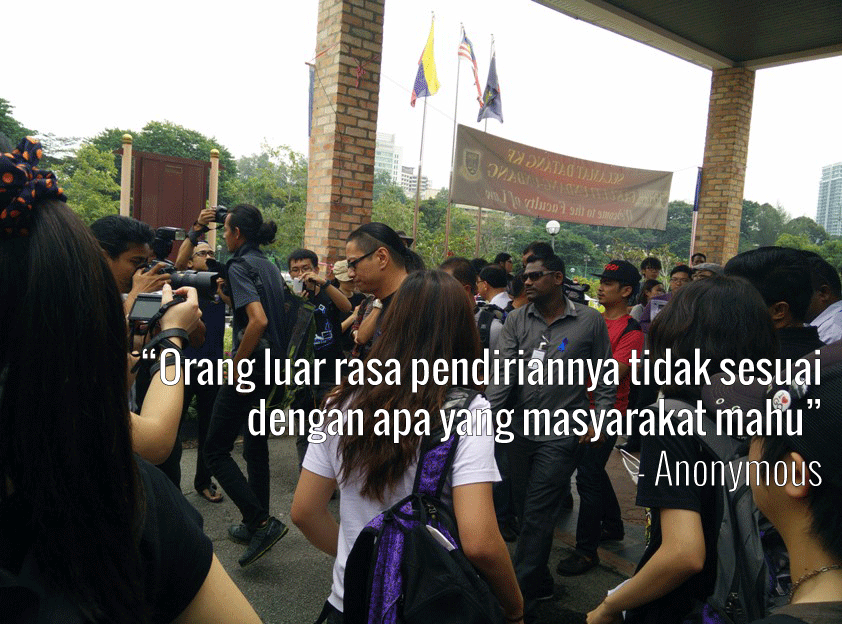 A banner-carrying student (who took some time to come up with a desired nickname for our quote) credits Azmi Sharom as the person who inspired him to take up law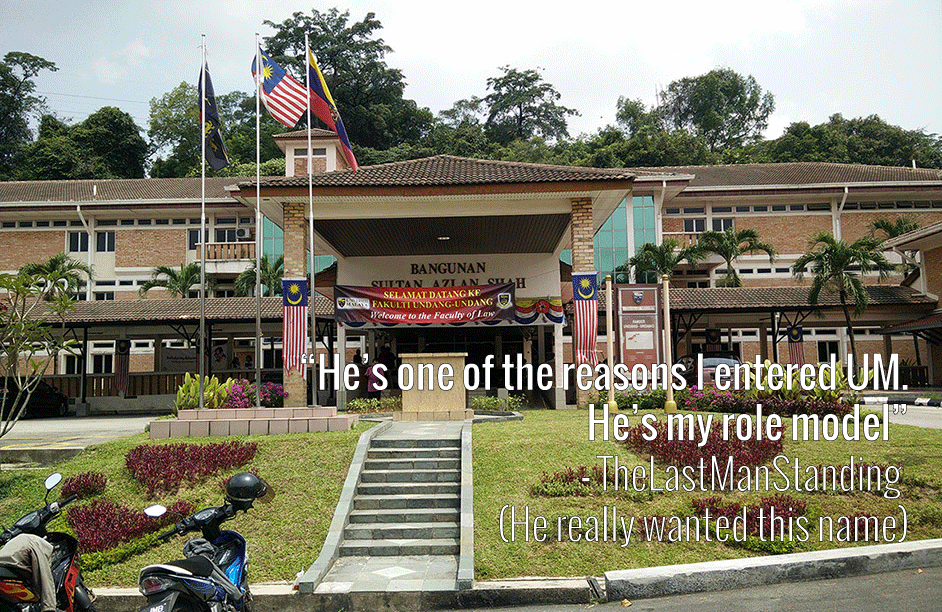 He's also a huge fan of the Tottenham Hotspurs.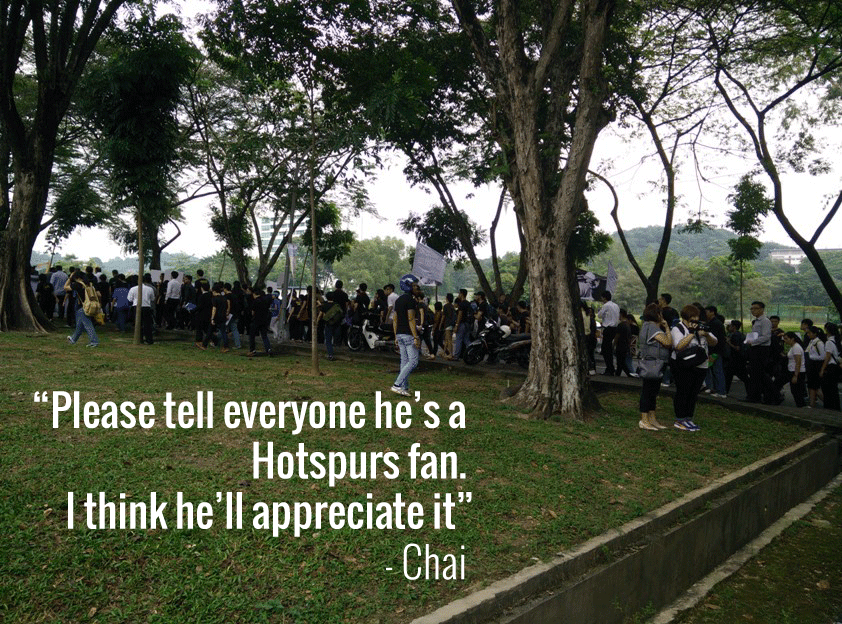 Solidarity for Azmi Sharom

Before we attended the assembly, we got in touch with the admins of the Facebook event page who kept in touch with us, answering questions and giving directions to the venue.
We were quite surprised to find that not all the attendees were students at Universiti Malaya, a few were from private colleges and universities; including one of the admins. While many had shown up in support of Azmi Sharom, there were others who attended to support the right for freedom of expression.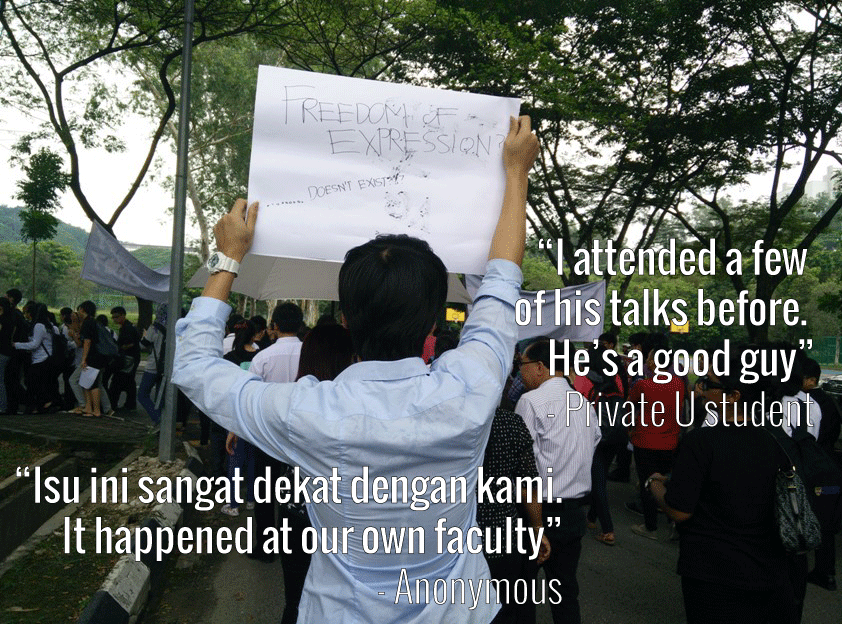 Of course, not everyone knew about Azmi Sharom or wanted to be involved:

So what did Azmi say that was seditious again?
As mentioned in our last article, we couldn't figure out which part of his statement set off the sedition alarm , so we spoke to Yap Swee Seng, the Executive Director of SUARAM for some insights. BTW, here's the news report.
According to Mr. Yap, the statement in question was
"You don't want a repeat of that, where a secret meeting took place."
The "secret meeting" refers to the 2009 Perak Constitutional Crisis, where the Sultan of Perak allegedly (and we repeat, allegedly) made decisions regarding the formation of the state government after a private meeting with some politicians rather than calling for a fresh vote from the Rakyat. This led to some questioning on whether or not the Sultan had the power to make such calls or not. Professor Azmi's statement implied that what happened during that time was "legally wrong."
According to Mr Yap, Prof. Azmi's comment was academic – he stated his legal opinion on the matter. Soooooo…..yep. He was charged for stating an opinion that someone didn't agree with. You know what this means for the rest of us, right?
"We are all Azmi"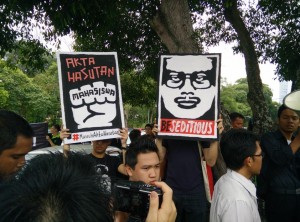 That's both the tagline of the solidarity march as well as a potential reality for all of us if Professor Azmi was to be found guilty. A guilty verdict may dissuade others from giving their professional opinion on issues. This form of indirect censorship would end up killing the academic environment because it will no longer allow for opinions and debates.
If you take into account the charge against news reporter Susan Loone and the student who "liked" the "I Love Israel" Facebook page as well, at what point would we have to start worrying about being punished for practicing our right to freedom of speech or for reporters to report the news?
While we're sure the 1948 act helped in the formation of an independent Malaya, we do wonder what purpose it would serve now. Afterall, the United Kingdom hasn't used the sedition law since 1971 and eventually abolished it altogether in 2009.
At this point, we might be looking at a repeal of the Sedition Act, of the sedition act being replaced with the National Harmony Bill, or just further assurances that the matter is being looked into. Either way, we'd like end this by leaving you with the words of British Justice Minister Claire Ward:
Sedition and seditious and defamatory libel are arcane offences – from a bygone era when freedom of expression wasn't seen as the right it is today.

Freedom of speech is now seen as the touchstone of democracy, and the ability of individuals to criticise the state is crucial to maintaining freedom.

The existence of these obsolete offences in this country had been used by other countries as justification for the retention of similar laws which have been actively used to suppress political dissent and restrict press freedom.

Abolishing these offences will allow the UK to take a lead in challenging similar laws in other countries, where they are used to suppress free speech. – PressGazette, 2010.
Cilisos would like to thank the following people for their time and assistance:
Mr. Yap Swee Seng, Executive Director, SUARAM
Zurairi AR, Journalist and columnist, Malay Mail Online
Fahmi Reza for the illustration used as our featured photo
The administrators of the Solidarity4AzmiSharom Facebook page
Our interviewees, anonymous or named