[UPDATE: 25/03/2020] We've updated the article after getting in touch with president of the Malaysian Association of Sign Language Interpreters, Wan Zuraidah Abu. There are two updates altogether and they can be found in blue.
So there was another special address by the Prime Minister, Tan Sri Muhyiddin Yassin on 23rd March 2020. This time around, the Prime Minister announced several economic injections for the country. You can check out the full video here.
But we're not gonna be focusing on the economy package the govt has recently announced but rather on the people in these tiny boxes on the bottom right of your screen…
Okay, sign language interpreters aren't exactly a new thing in Malaysia, especially if you're used to watching news at RTM. But CILISOS people are so curious, we've always wondered what is it like interpreting the Prime Minister's speeches during important times like this.
Well, lucky for us, when we posted a picture of one of the interpreters on Facebook, some of y'all gave really positive comments and even tagged him on our Facebook post!
So we managed to get in touch with Samuel Chew, the interpreter himself to find out what is it like interpreting Muhyiddin's speech in a critical time like this. But before we get to that, allow us to clarify that…
Samuel is NOT deaf and had never even met a deaf person…
…well, at least, before he joined a sign language course. We talked to Samuel who also added that this somewhat drew him to join a sign language course in in his first year of studying Physics in Universiti Malaya (UM).
"I saw a poster about a sign language course on campus. It aroused my curiosity as I had never met a deaf person in my life, needless to say, I had no clue as to what I was getting myself into." – Samuel Chew to CILISOS.
He also told us that he took up the course because he had plenty of time in uni. Well, to be fair, this was in 2000 and life, according to him, was waaaayyy simpler than today – he didn't have mobile phones or internet connection and had spent most of his time in the library.
And just in case you're wondering (like some of us at CILISOS), Samuel can hear and speak like most of us do. In fact, while he was attending sign language courses, he was also attending another class – opera.
"You may not believe it, but at the same time when I was learning sign language, I studied opera singing with the late Toh Chor Soon whom until today, I regard as one of the best tenors Malaysia has ever heard." – Samuel.
So after he graduated his course in UM, he continued learning the Malaysian Sign Language at YMCA. Just in case you didn't know, there are plenty of versions of sign languages around the world and you can check the full list here. Samuel told us that the ones used here, particularly in RTM, is known as the Malaysian Sign Language aka Bahasa Isyarat Malaysia (BIM).
BIM is the official sign language for the deaf community in Malaysia under the Persons with Disabilities Act 2008. Samuel told us that most them can read in English and Malay.
Despite that, interpreters don't need to worry if the speaker is speaking in different languages because BIM consists of different dialects which differs from state to state. You can watch the video of BIM here:
You see, it's not that easy to master the language itself. Samuel told us that the course at YMCA had three levels and he pretty much screwed up the first level. #yikes
This is why he took almost three years to complete the course at YMCA. But despite failing the course's Level 1 examination, he still managed to become an interpreter for almost 20 years.
"I have been an interpreter for almost 20 years but have only started working as a contract interpreter for RTM (and am paid RM120 for each news session btw) since Dec last year as I am currently doing my PhD on Malaysian Sign Language at the Chinese University of Hong Kong." – Samuel.
This may be why people were complementing him for being good at portraying Muhyiddin's frustration in the 'Stay At Home' speech. But the truth is, it's not like he planned to have such expression anyway because…
Signers interpret high-level govt speeches on the dot! 😮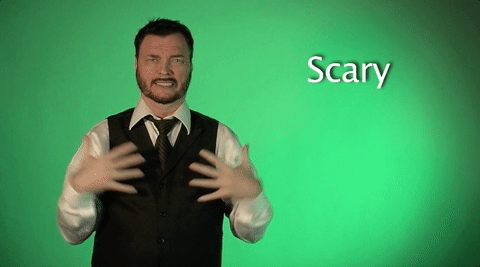 As it turns out, when it comes to high-level govt's speeches like Muhyiddin's speeches in special addresses like the one aired yesterday, interpreters like Samuel would not get the speech beforehand as they don't have the access to the statements.
"We have to interpret as we hear it for the very first time. Hence, I always look so stressed whenever I am assigned for such tasks." – Samuel.
So the expression you may have seen on our Facebook post may just be him feeling all nervous. And this may be true because, as an introvert, he told us that he tend to get nervous regardless of who's giving the speech. And he gets so nervous that there was a time he remembered wishing for the session to end soon.
"Haha! I am so nervous I don't remember I have ever itched while interpreting. I only remember praying for it to be over soon so that I could run to the toilet." – Samuel.
But real talk tho how do interpreters actually keep up with speeches, especially the high-level govt speeches and not interpret speeches wrongly??
Well, Samuel told us that interpreters would have to make reading a daily habit and familiarise with up to date jargons. This way, interpreters can try to anticipate what the speaker would be saying with regards to the current issue that is happening. He also added that reading can help interpreters make informed guesses that actually help them keep up with the pace of the speech.
Besides that, Samuel also told us that being fluent in different languages and BIM can also help interpreters to sign better.
"Being fluent in both the source language (Malay / English / Chinese) and also the target language (BIM) to convey the meaning and also the nuances that are unique to every language." – Samuel.
He added that interpreters would try their very best to get the message across even though it means to give examples or explanation in sign languages. It's really like talking… only in sign language.
However, if the interpreters make any tiny mistakes (or if they need to scratch any parts of their body while interpreting) even though they're equipped with all these skills, Samuel believes that audience would be forgiving la.
"But I will have to make sure it is not misconstrued to be another sign as the Malaysian Sign Language." – Samuel.
And that's because, according to Samuel, the slightest move can bring a whole different meaning. For instance, scratching the nose can also be translated to busybody or even… kukubird. #TIL
Having said that…
It's not easy becoming a sign language interpreter but…
So, as we mentioned earlier, Samuel is an introverted, which means he rather stay at the library instead of being in front of the camera. He thought that by learning sign language he could indulge in quiet moments when he's not at the library, which is his favourite place btw.
But that doesn't mean he doesn't like his job either as he finds being an interpreter pretty life changing.
"It has changed my life for the better as being an interpreter allows me to use my voice not only for myself but for the voiceless whom their needs deserve to be heard." – Samuel.
Samuel said being an interpreter is NOT just a job. According to him, those who want to be an interpreter need to be linguistically inclined to see this as a higher calling by lending their ears and voice so that nobody is left behind in a better pursuit of Malaysia.
This may be why the country is said to have low numbers of sign language interpreters. Not only is the salary quite low (it was about RM900 to RM1,500 back in 2017), the qualification needed to be an interpreter somewhat deter people's interest to be one, according to Penang Deaf Association (PDA) president, Razman Tan Abdullah.
But how many interpreters do we have in the country? We couldn't really find any up-to-date statistics on that but back in 2017, Razman reportedly said that each state had only one or two interpreters. And, according to the World Association of Sign Language Interpreters, there were 80 accredited sign interpreters in Malaysia in 2015.
[UPDATE 1] As of now, Wan Zuraidah informed us that there are 85 of them.
What we were informed tho, at the time of writing, is that there are five to six of them working with RTM.
So if you're interested to be an interpreter like Samuel, he said that nowadays there's a proper diploma course for that in universities and you'd be given a certificate for that. This is an initiative taken with the Malaysian Federation of the Deaf (MFD).
[UPDATE 2] Wan Zuraidah also told us that there is an upcoming sign language training programme organised by MFD at a designated place and even online via a website called OpenLearning. If you're interested to know more you can either email MFD at [email protected] or [email protected], or you can even call them at +60380709308. [END OF UPDATE]
And if you're simply interested to learn sign language, Samuel encourages you to do so by building friendships with the deaf as they would up the key to a very different world.
"Don't be shy and keep signing even when they laugh at you." – Samuel.
But since we're currently under a movement control order, you can probably start by learning them online la.