If you love online shopping, you would have heard of Alibaba or Taobao. If you don't, you would have at least heard about Jack Ma, the rising Chinese celebrity billionaire that people are using as the subject of inspirational videos… and Kung Fu movies, apparently.
Jack Ma's Alibaba has been gaining ground in Malaysia in recent years, especially when they partnered with Malaysia to launch the Digital Free Trade Zone, a project that is hoped to create tens of thousands of jobs and boost small and medium enterprises. But more recently, the Alibaba group has announced a quite unexpected plan to tackle another big Malaysian issue.
The group recently launched the implementation of the City Brain project in KL, which is an artificial intelligence system that they hope will help KL city control and streamline its traffic better.
Eh? I thought Alibaba only sell stuff online, why got this traffic A.I. thing?
If you thought the Alibaba group was just a multi-billion dollar online shopping center, its time to think again. The Alibaba group is made up of 7 smaller components/ companies:
Among them, one company is very unlike the other, and that's Alibaba Cloud Computing (Alibaba Cloud or Alibaba Yun for short). This company provides cloud computing services, which disappointingly have nothing to do with clouds or flying at all. Imagine instead of relying on your own computer(s), you can do a bunch of computer stuff, like store data and run softwares on Alibaba's "cloud" through the internet, much like Google drive or Apple's iCloud.
Currently, Alibaba cloud is the largest provider of public cloud services in China, with 17 data centers all around the world, in countries including Japan, UAE, China, and Hong Kong. There's even one in Malaysia, which was set up in Malaysia last year. Electronics maker Philips and energy company Schneider are even customers to Alibaba. But then, how does all this help combat Malaysia's infamous jams?
 Jams and offences can be lessend, and all we have to do is… NOTHING
The project will be run jointly with Malaysia Digital Economy Corporation (MDEC) and DBKL, and will involve 500 existing city cameras watching the traffic, information from traffic bureaus, public transportation systems and mapping apps. Oh, and this is the first time the City Brain project will be implemented outside of China. Lucky us! The system will process these data, and through some computer magic, it will able to produce important answers to a variety of traffic problems.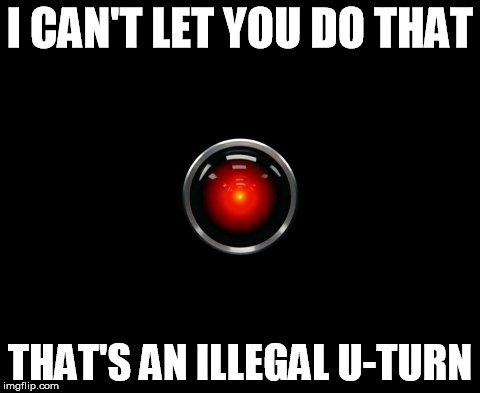 For example, if a traffic accident happened during rush hour in Jalan Tun Razak, not only would the system alert the authorities, it would also be able to suggest the fastest route for the ambulance to get there, while at the same time notifying drivers to avoid the road and ease congestion (that is if people stopped slowing down to look at number plates). So we hear you thinking: Isn't this just like a high tech Waze? There's actually more!
Utilising the traffic cameras, the system can even spot and notify the authorities of traffic offenses too! The system will also be given control of 300 traffic lights, so we can maybe finally do away with the need to stop at 5 traffic lights on 1 dang road. This has actually been implemented (in one form or another) in many cities in China, most famously in the city of Hangzou. It has been reported that traffic offenses went down by 92%, emergency vehicles reach their destination in half the usual time, and overall traffic speed was improved by 15%! So an hour jam will turn into only 51 minute jam ugaiz!!1!
But the Hangzou system actually takes it a step further. The system is also connected to everybody's phone, directly notifying them of things like traffic condition and even weather updates in real time. But when the system connects to your phone, your phone is also connected to the system, so information from you (such as your location) will be used to provide more accurate recommendations… if you choose to allow the system to access it of course.
Sounds fantastic! But… why Alibaba Cloud help us do all this?
Most that have ever been to KL on a regular work day will agree that the traffic there could need some improvement. But it's not just the capital of Malaysia that's looking to solve their urban congestion.
"Key drivers behind the roll-out of smart city projects around the world are increased population growth in urban centres, demand for energy efficiency, intercity competition for investments, municipal cost reductions and efforts to improve citizens' quality of life," – Research firm and consultancy IHS Markit, quoted from South China Morning Post
But what does Alibaba Cloud get out of helping us with traffic? Do we just pay Alibaba a lump sum for this? Is this going to be like when MBPJ outsourced parking machines to a 3rd party company? We actually don't know the questions to any of these questions, but we try to make a pretty great guess to the first question.
Alibaba Cloud said that as the use of City Brain grows, it will eventually invite universities, private enterprises and startups to access the City Brain and come up with their own innovation. In other words, this is only the beginning of a bigger plan to digitise Malaysia's economy.
"Through the program, we aim to empower all Malaysian stakeholders in both the public and private sectors with the tools to enhance efficiency, advance innovation and succeed in the digital age." – Simon Hu, president of Alibaba Cloud, quoted from Alizila
So, when Alibaba does manage to attract local government agencies, schools, and businesses to choose Alibaba Cloud services for their operations, not only will Alibaba Cloud become the very foundation our new digital economy is built on, they will also have access to all sorts of information that their customers bring to them. For the readers who are familiar with it, this is big data 101. Much like how City Brain will solve our traffic jams, the more data and information Alibaba Cloud has, the more accurate the solutions in a larger variety of fields it would be able to generate.
As we've written before, the power of data could not only deduce public opinion, but also influence it through other means. It's also already being used by politicians as an analytical tool to take on elections, even here in Malaysia. In light of some recent news, one can't help but entertain the possibility that all this could be a tool in the Chinese spying suitcase… but naahhh, we're buddies with China, right?
Buddies or not, it's interesting to see modern solutions tackle age old problems
Ask any veteran Kl traffic commuter, and you will know that its not an exaggeration to say KL's traffic problem is decades old. Literally millions of people pour into the city everyday for work, and traffic jams not only waste vehicle fuel (1 billion liters in 2015), but its also reduces productivity greatly.
"During the day, the population [in the city] increases to between five and seven million because workers commute to work," – Federal Territories Minister, Datuk Seri Tengku Adnan Mansor, quoted from Malay Mail Online
Of course, attempts and efforts to ease the problem have been made, with widening of roads, new highways, and not to mention expanded and upgraded public transport systems, but perhaps those alone have not been enough to tackle the traffic tragedy.
Now we have a solution that involves installing an artificial intelligence and hooking it up to the lights and cameras so it can calculate and provide recommendations instantly. Unless there's a better solution, we'll probably go back to deciding between roundabouts or traffic lights.