Culture
fashion
Lifestyle
Everyone's losing it over ZARA's RM359 sarong. But guess which celeb wore it 20 years ago?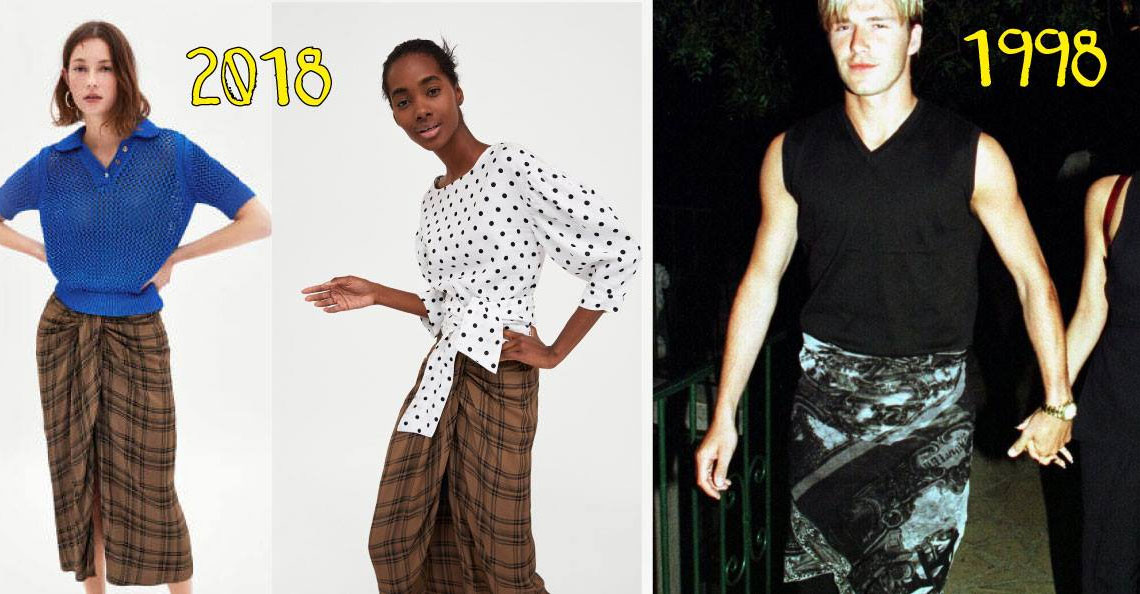 Fashion can be freaking weird. We've seen some runway pieces that look like they belong in outer space than on Earth. Buzz Aldrin would be proud.
Maybe you know the brand Zara. They're a fast fashion clothing and accessories retailer from Spain. Their stuff is pretty nice, if a bit pricey… their women's clothes can go from RM90+ to RM300+, though sometimes it can be cheaper or more expensive, depending on the item (you can visit their site to survey prices).
For that kind of price range, we hope customers will be getting their money's worth la. But this time we think one of their designers raided an Asian grandpa's closet for inspiration!
And funnily enough, this style was worn by a celebrity like 20 years ago…
OMG is Zara selling a sarong?!
When Zara's skirt hit the stores, its resemblance to atuk's sarong was first picked up by UK news sites – The Telegraph, BBC, The Sun and Daily Mail, to name a few. We visited Zara Malaysia's online store for more details and found…
…it masquerading as a 'check mini skirt' for RM359!!! fujkcnfvuyhgzzk  Dunno if lazy, or genius. Shop the look here.
BUT there's ONE BIG DIFFERENCE…
Breaking the rules of a traditional sarong, which has to be wrapped around the waist, this 'zarong' even comes with a ZIP. For those who don't know how the sarong is worn, not it's not zipped. At least you will take less time putting it on compared to the way you were taught by your old folks. 😛 Watch this tutorial to learn how to wrap if, if yours comes without a zip:
The word 'sarung' is from the Malay word for 'covering'. The sarong is a traditional Java and Malay garment, consisting of a length or tube of fabric wrapped and tied around the body at the waist or under the arms. It has woven plaid or checked patterns, or sometimes batik print.
Sarongs are found not just in Malaysia, but in South Asia, Southeast Asia, the Arabian Peninsula, and East Africa. Except they may be known by another name elsewhere, like lungi or mundu in India and izaar in the Arabian Peninsula, for example.
Both men and women can wear the sarong, although women usually wear it in a more formal setting, paired with a kebaya blouse, whereas guys would wear it casually at home when they wanna feel easy breezy, or when attending Friday prayers at the mosque.
However Zara is not the only brand to take inspiration from the sarong. Here's Michael Kors' sarong skirt. Except that they didn't copy bulat-bulat la. They made it cheetah print with gold threads.
Actually the sarong isn't just Asian cultural clothing any more. Even David Beckham wore one!
Most Malaysians would see the sarong as traditional clothing in Asian culture (or just your dad's house baju). But it began to get popular in the Western world as beach wear or a cover-up worn over swimwear. David Beckham even wore one in 1998 over a pair of trousers with then-fiancee Victoria Beckham during the 1998 World Cup in France. Unfortunately when he couldn't make it cool then, coz everyone hated it.
"Twenty years ago when I wore that sarong, people were shocked. It was an outrage; 'why are you wearing that? What were you thinking?' Today no-one bats an eyelid if a guy wears a sarong in the street." – David told The Telegraph
In fact the sarong has been appropriated by Hollywood way back in the 1940s when actress Hedy Lamarr wore one in White Cargo (1942), and then by Dorothy Lamour in Road to Bali (1952). In Road to Bali, actor Bob Hope specifically refers to Dorothy's wrap by the term 'sarong'. Well, duh if its a movie set in Bali.
Since then, a bunch of celebs have been spotted wearing sarongs, usually at the beach. Anne Hathaway.
It wouldn't be the first time an attire from a particular culture became mainstream global fashion. Remember harem pants? They were were introduced to Western fashion by Paul Poiret around 1910, although they were inspired by Middle East styles. Or the kimono which we know to be a traditional Japanese garment, but became the hottest trend in Spring/Summer fashion. Thai fisherman pants and kaftans as well.
Sure people will call out on them for cultural appropriation… aaand we're right
These days, some people would call out on David Beckham and Zara for cultural appropriation, which is when a dominant culture adopts the elements of a minority culture. You know, like when Katy Perry dressed like a geisha and everyone called it disrespectful, or Beyonce wore a sari and the internet bashed her for it. As far as we can tell, it only works that way round, or else people would give non-Westerners crap for wearing tuxes and gowns too.
Zara has gotten flak already for the skirt.
But this wouldn't be the first time the brand got into hot soup for controversial fashion. In 2014, Zara sold a children's striped shirt with a six-pointed yellow star, that looked like the uniforms worn by concentration camp inmates during the Holocaust. In 2017, they sold a denim skirt featuring a symbol that resembled Pepe the Frog, some of you might be familiar with that meme. Problem is, that meme became synonymous with the alt-right movement (white supremacist) and anti-Semitic hate groups.
What do you guys think Zara designing a skirt inspire by the sarong? Whatever it is, we think it's a travesty charging RM359 for a sarong when you can get it for RM20-RM30, or RM10 if you buy at the pasar.