If you haven't already heard, most Malaysians out there are talking about a free RM50 for the taking through the government's ePENJANA program. BUT WAIT. Before anything, how much do you know about PENJANA?
Sorry, trick question… any answer you picked is correct! WOOOHOOO GOODJOB!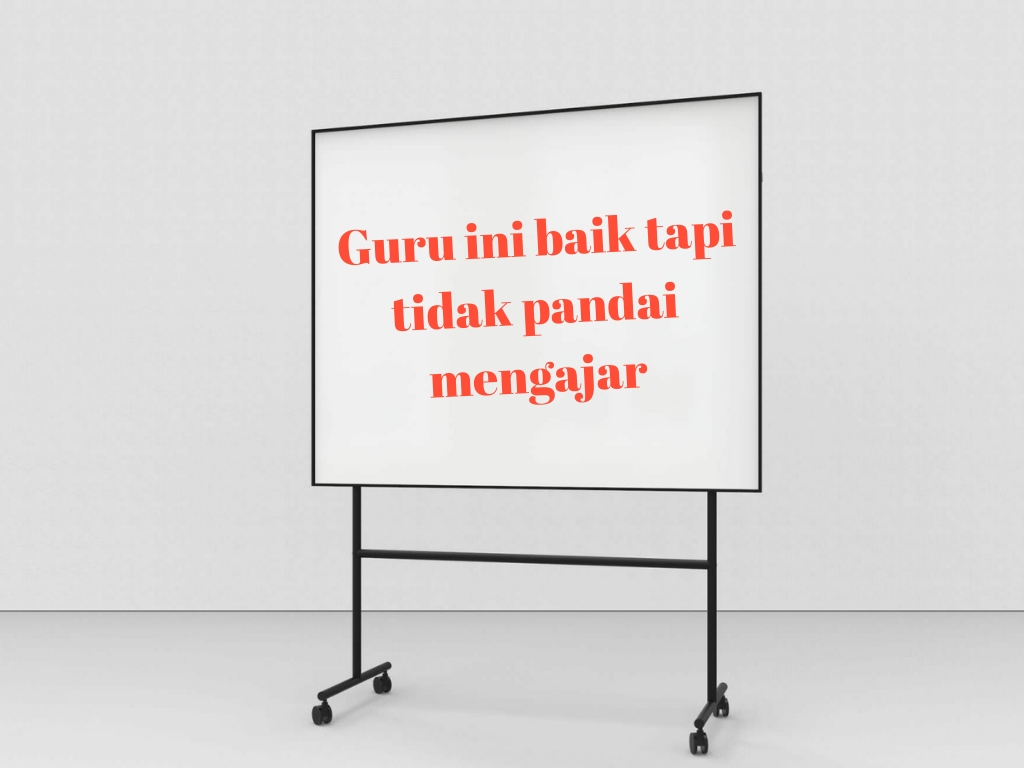 Soooo ….the ePENJANA program that has been running since August, is part of the government's Short-Term National Economic Recovery Plan (PENJANA) to encourage ugaiz to spend more, and specifically in this case for electronic payments. But while the majority of news outlets are stating that you get RM50, there IS a way to get quite a bit more than that (that's why everyone's right!).
Our kawan over at Boost have kindly helped us put together a #KasiTambah guide for you to get more than RM130 worth of value for your ePENJANA. Here's what everyone has been hyping about:
1. Download the Boost and MySejahtera apps on your phone, then SHAKE IT!
Ok before anything, let's start by downloading and registering for the MySejahtera app first. Not only does this unlock your RM50 ePENJANA rebate, but is also a responsible part of making sure we can keep this Covid-19 fella tracked. Please use real info k, because you WON'T get the RM50 if the info in MySejahtera and your e-wallet tak matching-matching. Aaaaaaaand not to mention you might just end up an untracked carrier of Covid-19, which is BAD for everyone.
Done?
Ok next download Boost here (iOS | Android |Huawei). Once there, click on the ePENJANA banner to claim your RM50 ePENJANA – it might take up to 5 days to get it approved. Thankfully, Boost has a little tracker to see your progress.
OKAY, Now you got RM50… and you're gonna notice that it appears in it's own "ePENJANA wallet", found in the "My Rewards" section of the home page. This is so you can keep track of exactly how much of the RM50 you've spent via the spending tracker. Other than that, you just pay for anything as normal and it'll automatically be deducted. Easy peasy!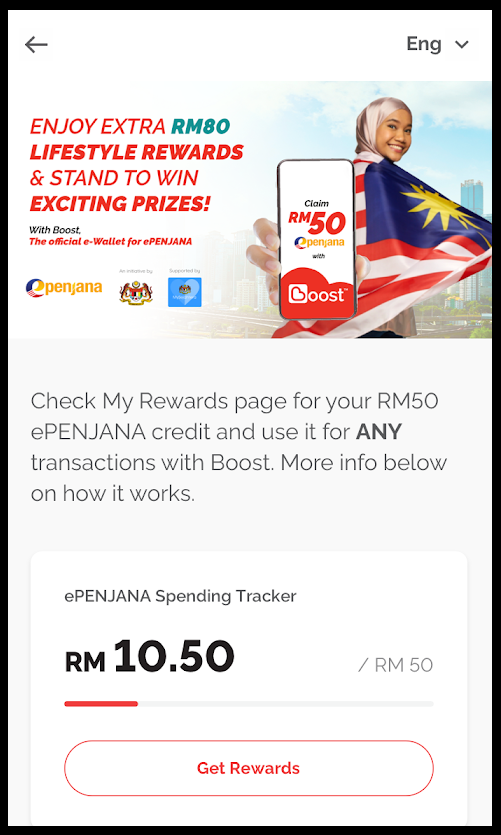 ……but don't stop there just yet cos there's a lot more that you can get!
Go to the SHAKE Rewards section of the Boost app, and you should see a few messages in there that you probably wanna click on.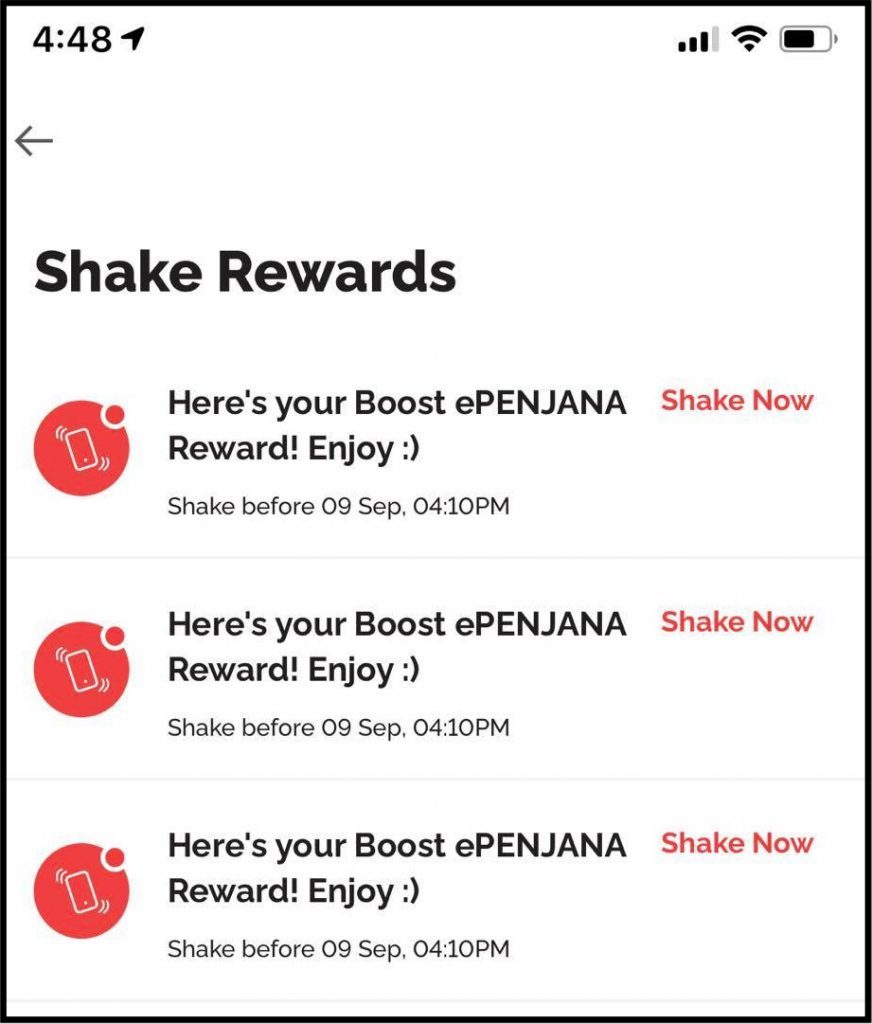 Let's start with the biggest one.
Click on the first message, and SHAKE ITTTTTT! This will trigger a RM60 voucher for Celcom XPAX – Lite Postpaid! You get RM5 off every month for 12 months, which equates to only RM33 a month for 8GB of data, and unlimited calls and YouTube streaming! When you compare that to paying RM30 for a regular prepaid top-up every month, it's a super good deal.
You can pass this on to someone else if you don't plan on using it yourself, but make sure it gets used before October 31st at the Celcom Online Shop, selected Celcom Stores, or any Celcom Bluecube or the Halloween hantus will come for you it'll expire.
2. Hurry and use your rewards with Tealive, Mydin, Secret Recipe, Kenny Rogers, and more!
Ok, now open up the My Rewards section, and there's even MORE loot to be found. If you don't see it, don't worry, it just means you haven't unlocked the rewards yet.
First, you need to spend RM5 of your ePENJANA money, don't care lah whether offline, online, pay bill, buy top-up… pump petrol at a Boosted petrol station also can! Just do this and soon enough, they'll give you additional rewards worth up to RM20.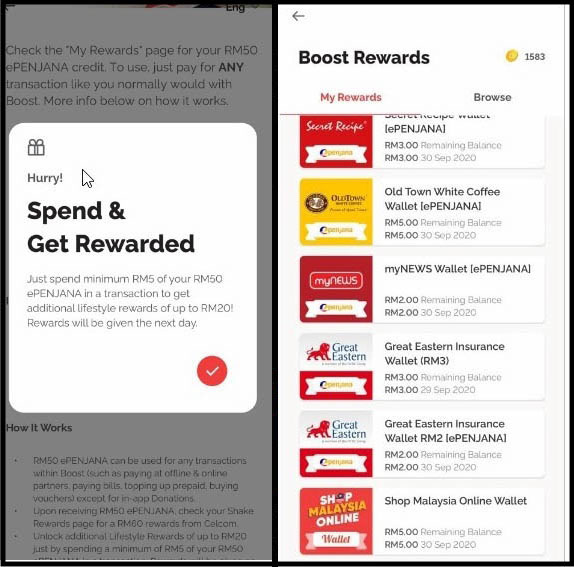 What kinda rewards? Well how about some yummy roast chicken from Kenny Rogers Roasters, fragrant pastas at Secret Recipe, the most sinful bubble teas from Tealive, a kick of kopi from Old Town White Coffee and more savings for Petron, Mydin, Sushi King, Tesco, Bata, Setel Exclusively at Petronas, Great Eastern insurance coverage and much much more!
Once you claimed the reward, all you need to do is to pay as normal, and the amount will be deducted from that brand's wallet – just like the "ePENJANA wallet" we explained earlier. But make sure you check the use-by date and spend the rewards before they expire (October 15th 2020), cause you can't do this…
And in case you're still not satisfied…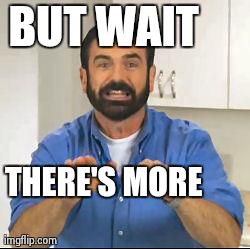 3. Earn 8 Boost Coins and get even more discounts!
OKOK… our fingers are tired edi. But *deep breath*… we're in the homestretch now k? So y'all Boost veterans already know that Boost Coins are something that you can collect to redeem even more vouchers, gifts, and cash; and if you're new to Boost – now you know 🤑
But now, you can earn up to 8 Boost Coins for every RM1 that you spend, at higher levels! All you have to do to level up is to meet the amount and transaction counts…super easy!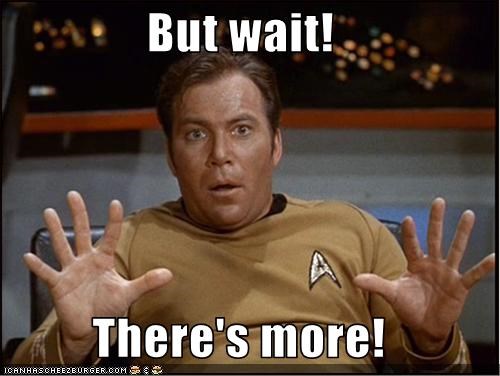 4. And you can even buta-buta win a MyVi or a Samsung S20 Ultra!
Wah serious wei, our hearts and laptop processors can't take the excitement anymore. BOOST GOT TOO MANY REWARDS LEH!
Okay, we think this should be the last one because it involves winning the latest Myvi, a top end Yamaha Y15ZR bike, Samsung S20 Ultra, a 50-Inch Samsung 4k UHD Smart TV and so much more! Serious lor, the only way Boost can top this is to have Taylor Swift write a song about you or something because, to win any of this stuff, you don't even need to click anything.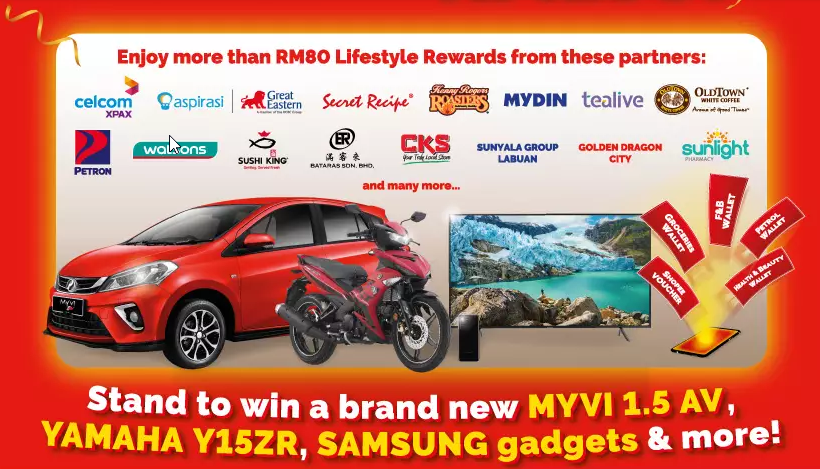 Ya really wan. Successfully claiming your RM50 ePENJANA will automatically give you an entry that could win you any one of these cray cray crazzzzyyyyyy prizesssss: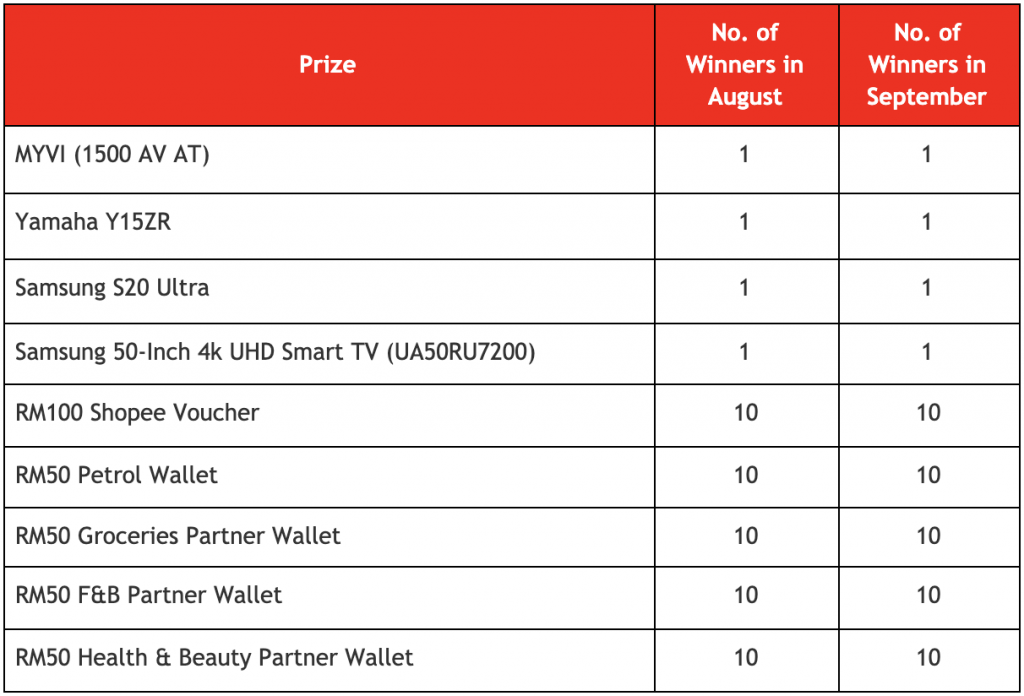 So yea, you could be getting a new car, phone, or TV but, as you can see, prizes are limited so you better get that RM50 ePENJANA from Boost nao!
ALAMAK I already claimed my ePENJANA somewhere else! How liddat?? 😱
Okay chill, your rice hasn't become porridge yet because Boost has something for you too! As a Merdeka and Malaysia Day special, you can still enjoy great Rakyat Cashback deals with the partners we listed above. All you need to do is to reach the minimum spend requirement, and you'll get a Partner Wallet Cashback which you can use the next time you berpongchan that brand. After all, if you need to buy household stuff or makan outside, you might as well get some extra savings from Boost kan?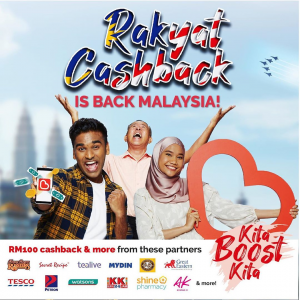 At the end of the day, if you're moving kesana kesini, all Malaysians should be doing their part to register for contact tracing via MySejahtera, so that we can make sure that there are no untraced Covid-19 cases around. If one case escapes, you can potentially say bye-bye to all the freedoms that Malaysians are enjoying more than most countries right now.
At the same time, it isn't just the virus that's the danger. Especially for those with tighter wallets, tough times are ahead. But with a bit of creative saving (like say, a cheaper mobile plan through Celcom), and creative spending (like taking advantage of deals and rewards before they expire); we can be hopeful that even in the darkest of times, Malaysians will come through to a sunnier day 🙂
And some of us might even have a brand new MyVI for shade.