A couple of days ago, The Star published an article which compared our internet speed to other Asian countries and, well, let's just say our connection speed ain't that good:
Being ultrakiasu as we are, we wondered if the speeds we're getting are worth what we're paying – and evidently we weren't the only ones. So yea, looks like it's CHALLENGE ACCEPTED.
Of course, we aren't a tech site, so we're not even gonna try to be technical about this… maybe just think of this as a quick and dirty comparison. But with that said, here be the conditions that we've set:
We're comparing between fiber internet plans for home use only. 
All prices are monthly subscription. We tak kira installation fees, add-on services, etc. etc.

We'll only be comparing download speeds since that's what affects your general browsing experience.

Because not all plans are the same, we'll pick the closest equivalent by speed and not price.
We'll be looking at the major provider in each country, either determined by Google or asking around. For Malaysia it's TM la.
All prices will be converted to Ringgit Malaysia using rates from XE.com.
We don't speak most of the other languages in these countries, and Google Translate can only do so much. Errors may happen!
This is what our comparison chart will look like, with definitions:

We'll also be using data from Ookla, also the basis of The Star article mentioned earlier, to measure how well the actual speed matches up to the advertised speed (called "Promise"). Note that these are from general surveys and not specific to any of the providers mentioned in this article so don't sue us!
We're not gonna pretend that this will be an apples-to-apples comparison, but um… we got these articles from Digital News Asia and Digital Society which explain why an apples-to-apples is really hard. And you know they're legit cause they got the word "Digital" in their names. Yay excuses research!
So let's start off with the country that has the cheapest internet rates, and this may come as a surprise because that country is…
*Note that Unifi has not enforced their quota yet, so it's currently unlimited.
1. Vietnam
We used the rates from Viettel.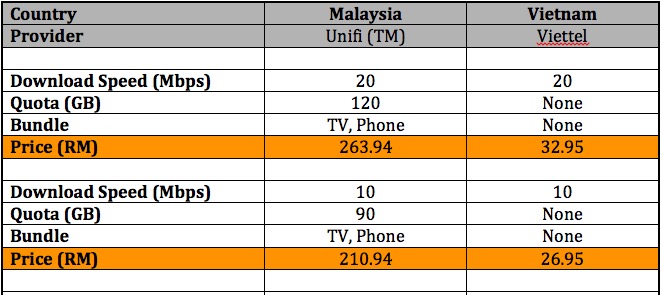 Okay, we really thought we made a mistake on this one so we double checked with Aaron, our freelance writer who's married to a Vietnamese wife to confirm this, and yeah, Vietnam's internet is amazing!
Vietnam's speed is also 96% close to the advertised speed compared to Malaysia's 93%, and unlike Unifi which is Unibye if you happen to live outside of our main cities, Vietnam's hi-speed internet is not just limited to larger cities…
"Yes [Malaysia is] much slower. My mom-in-laws place [in Vietnam] is faster and she's in a village." – Aaron Leong, in Facebook conversation.
Maybe we should find Vietnamese wife also.
2. Singapore
We used rates from Starhub.

Yes, yes… by right Singapore should be number 1 on this list but we put them as number 2 because their internet is too fast for a straight up comparison. The 200Mbps speed in the table isn't a typo… that's the lowest speed package you can get from Starhub. Oh, and it's a dual-broadband connection which uses both fiber AND cable connections to improve wifi connectivity.
And how close is actual connection speed in Singapore compared to advertised speed?
Okay, we get it, Singapore. You're good. We get it.
3. Thailand
We used rates from True Online.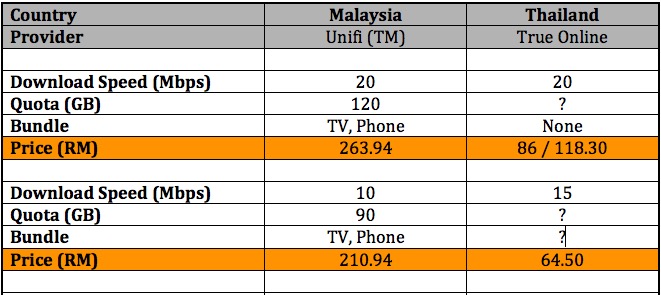 Okay so we ran into a little confusion with this one cause we found two price lists on True's site, one in English (linked above) and the other one in Thai (linked here). The English page lists a 20Mbps package at a promo price of RM86 (original price RM 118.30) while the Thai page lists a 15Mbps package for RM64.50.
Unfortunately, we can't read Thai and Google Translate didn't work since it was a jpeg image so…. we dunno what the differences are. All we know is that it's cheaper regardless and these are the lowest speed packages you can get. 
However, we do have at least one reason to start waving our national pride because Thailand's actual connection is only 89% of the advertised speed compared to our 93%, so… YAY!
4. Cambodia
We used rates from Digi (not our DIGI)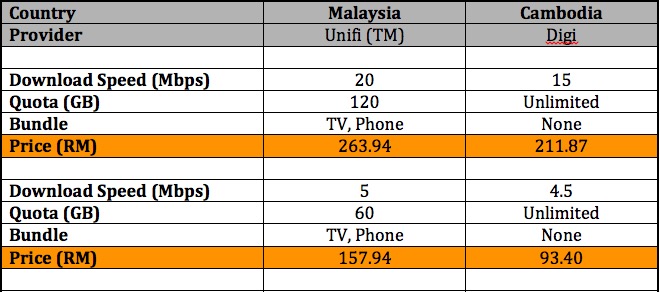 Whelp… looks like even Cambodia beat us in both speed and price. Their connection is so fast, that it's not just super speed, it's supper speed!
Seriously, it's so fast that it needs it's own lunchpad to take off!
It beyond fast… it break fast!
It…it… okay, we stop nao.
But on a serious note, we would point out that fiber broadband is limited to the capital (Phnom Penh), and is even more limited for higher speeds. At least we can say our coverage is better la.
Also, there isn't enough data submitted for Ookla to compare speeds, so we don't know if everything's as advertised.
5. Indonesia
We used rates from IndiHome via Obengplus.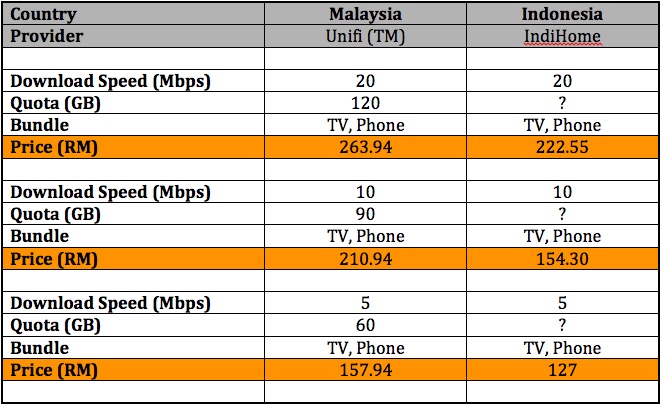 We're pretty sure everyone has heard how Malaysia and Indonesia are quite similar, with roots in the same language, food, and culture; but now you can add internet connectivity to the list! The plans are almost similar, with a phone and TV service bundled into the package AND just a minor difference in price.
Oh, and our actual-to-advertised connection rates? Both 93%! 
BTW, we had to use a third-party source for this one because Indonesian providers seem to have this thing where you have to call or drop by their store to get a price quote (same with Hong Kong and China, which is why we limited our scope to ASEAN countries). So annoys.
6. Philippines
We used rates from PLDT Home Fibr.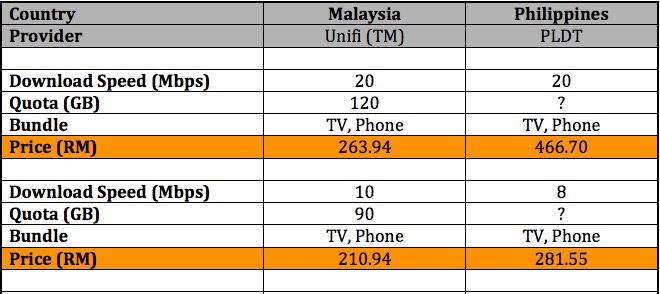 When we asked our friend in the Philippines for the largest fiber broadband provider, it kinda started a conversation about how the connection speed comparison was a huge story over there, and how much the internet connection in the Philippines sucked. Here's a snippet of the conversation: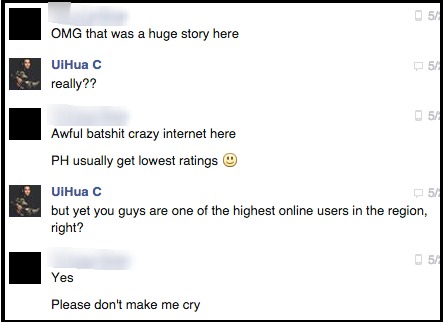 All this comes as a surprise because Filipinos were the largest social media users in the world last year.
Also, the average Filipino user only gets 86.8% of the advertised speed. Sorry Philippines. This is why we didn't do the Philli Fillip Philly PINOY joke that we usually do. Hope it helps.
7. Brunei
We used rates from TelBru.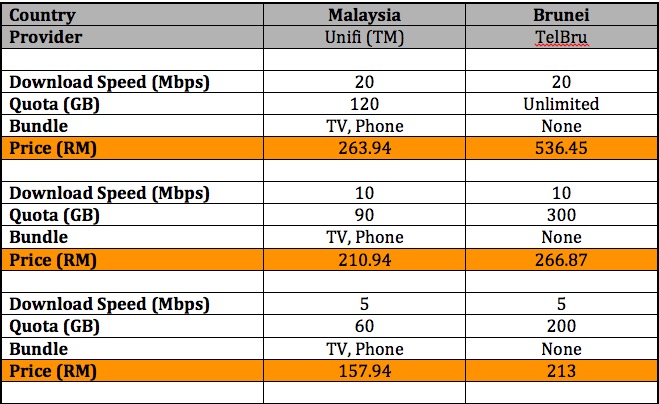 Wow, Brunei's internet users are not happy. The country is known to have one of the most expensive internet rates in Southeast Asia, and Bruneians (?) feel that they aren't getting what they're paying for.
Unfortunately, there wasn't enough data submitted for Ookla to give a actual-to-advertised rating, so we can't tell for sure. But hey, at least they rank above us in terms of internet speed (but only slightly).
8. Laos
We used rates from Unitel.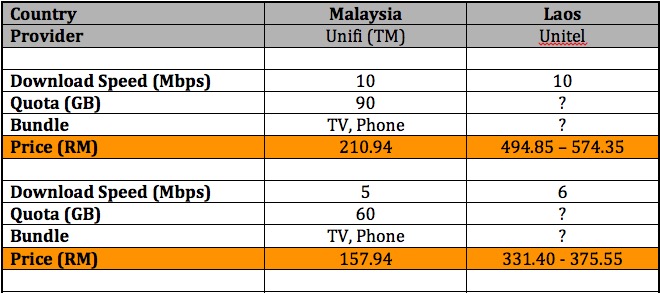 The range in price depends on how much you're willing to pay in advance so, for example, you'd be paying RM 375.55/month on a monthly basis or RM 331.40/month if you pay 12 months in advance for a 6Mbps line. If you consider that Laotian currency (Kip) runs in the thousands, that's way more zeroes than we can handle.
But if you pay 12 months in advance your installation's free, okay? Oh, and no data from Ookla on Laos either.
9. Myanmar
We used rates from Yatanarpon Teleport.

Before we continue,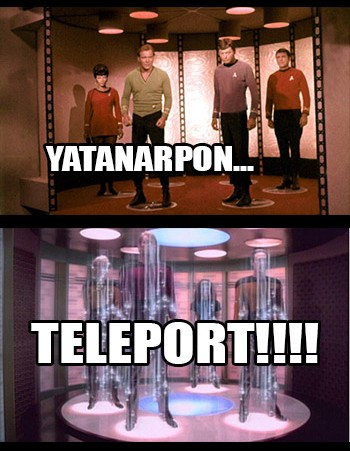 Sorry, couldn't resist.
But yea, Myanmar's fiber internet rate's the highest of the lot, and for a 2Mbps maximum connection. Also, as you might suspect, there's no data from Ookla to see how close the actual connection is to advertised speeds.
At least you get TV channels and a phone line.
Being cheaper/faster isn't the most important thing… for now.
Well, if we were to look at our positioning on Ookla's speed comparison as well as the pricing comparison we just did, we're…. average. For all the rankings and numbers that we can throw at you, we'd say again that this isn't an apples-to-apples comparison solely because there are so many variables such as there being different providers, earning-to-cost (aka do you earn enough to afford it), and different technologies.
But what's true is that reliable high-speed is increasingly seen as being pivotal to improve education, business, and investment in rural communities but the problem here is that they aren't getting it. At risk of generalizing, most of you reading this may be looking at the numbers and thinking "Oh, that isn't too bad," or "I'm paying so much money for slow internet!" but for the folk in Kelantan, Terengganu, or East Malaysia, they're probably still loading the first image.

If they read CILISOS, that is.
So perhaps instead of pushing for faster internet speeds or lower prices, we might need to look providing the best of our current services to the whole country first.
And with that, we're outta here.