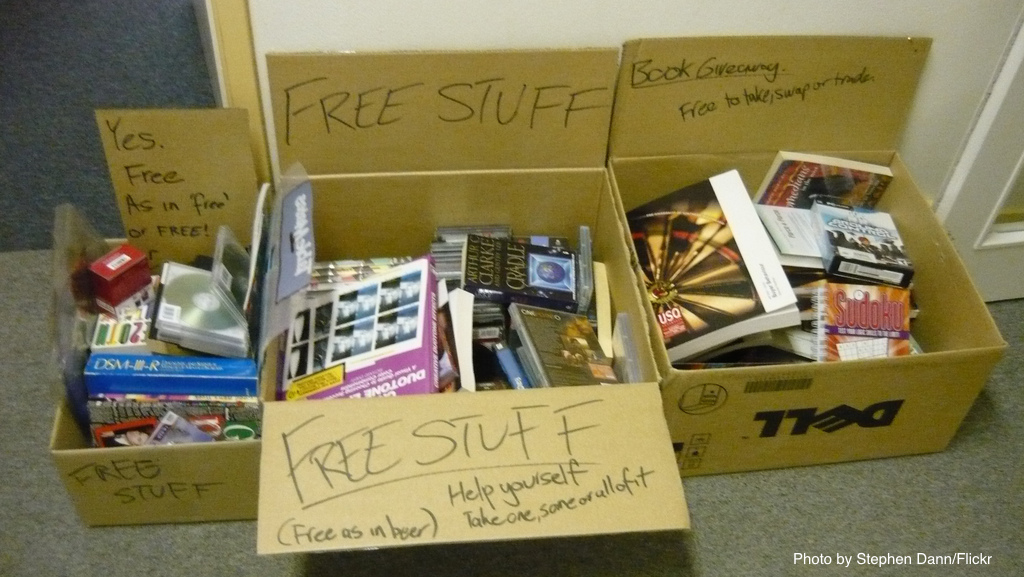 Admit it: you like free stuff. Everybody does. When's the last time you turned down a free scratch-and-win coupon that's scratched right before your eyes to show "TOYOTA ALTIS" besar-besar and you had to follow the scratcher somewhere so you can drive home a brand new car? A brand new car!
Oh wait, that's a scam. Well, you still get a free coupon. But getting free stuff without asking for it is one thing; going that little mile to get it is another. There's intention (you memang want to get it) involved with any-number-above-zero repetition (you keep going back for more!) and usually also shamelessness (you're not really entitled to it!).
Some people "elevate" this pursuit for free stuff (which we'll refer to as freeloading from now on) to a whole new level. Call them what you want: Moocher, Sponger, Schnorrer, Free-Rider, happy-go-lucky Tafelschuimer, they all have one trait that sticks out – a chronic inclination to satisfy their needs without the corresponding investment of work or money. Most of us are not that pathologically dependent, but we do share this with them: the pleasurable thrill of getting maximal gain from minimal cost. (We're still trying to track down the German word for this feeling.)
If you're some form of Isobella Jade, we believe you're already no stranger to the following freebies that're available in our very own city – but if you're new to all these, what can we say but welcome to living "gratuitously" in KL!
1. Rides
Most major malls in KL have started offering free bus service to transport you to them – where they then make you spend! We're pretty sure the bus service did improve business at 1U, IKANO, Tropicana, Paradigm and Mid Valley/The Gardens. Meanwhile, those in the central business district like KLCC, Lot 10, Pavilion and Sogo are spared the trouble thanks to the introduction of GO-KL buses. And for the PJ folks, there's the Free City Bus service debuted in March this year covering 28.2km of the area. (We know PJ strictly isn't part of KL now, but good things are meant to be shared!)
Freeloading's when you're willing to let four near-empty RapidKL buses and some 15 minutes zip by just so you can get a free ride to Bukit Bintang on one packed GO-KL bus.
And then there's UBER. Marketed as Everyone's Private Driver, the mobile app has been connecting riders to drivers since 2009 in over 50 cities across more than 20 countries, one of which is ours. We're including it here because you're getting $30 shaved off your first ride in one of its promotions.
Waiting line factor: For the buses, depends on the time and type of day. This is the kind of crowd you have to contend with during afternoon on weekends.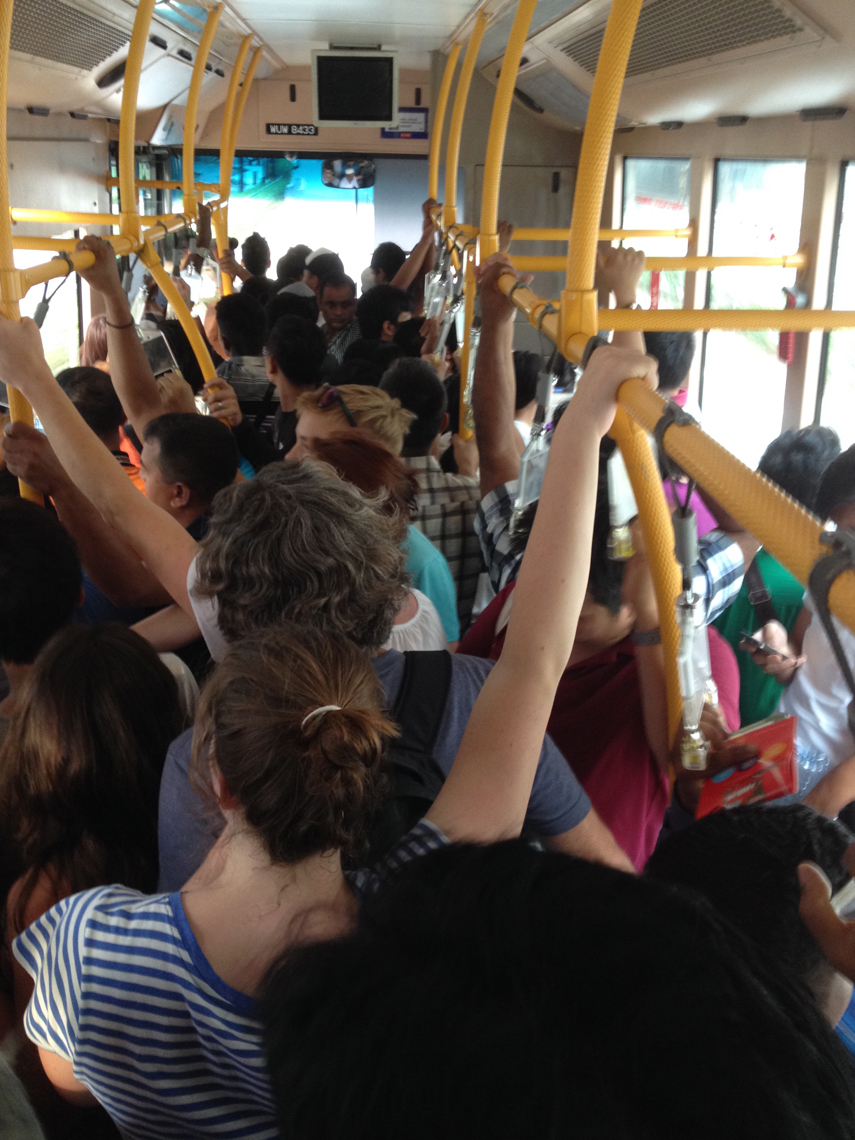 For UBER, depends on how soon your sign-up for the promotional codes is approved. (Obviously, freeloading means you'll try to get hold of multiple codes, which requires multiple sign-ups, which requires multiple legit mobile numbers, credit card numbers and e-mail addresses. Good luck, buddy.)
Muka tebal factor: For the buses, 0/10. They're there for passengers whether we want to take them or not, so why not take them if we can help it? Furthermore, they're part of our public transport too, which lets us save on parking, save on petrol (the PJ folks're expected to recover up to RM6,000 yearly!) – and ironically be "safer" than driving wei. For UBER, um, 4/10 lah. Have fun making your multiple identities!
2. Video games
Did you know that Sony Centres let you play their PS3s/PS4s? So it's just the demo unit, and the circle button of the joystick's a bit whacked, but who cares when you get to play games like Watchdogs, When Vikings Attack and PlayStation All-Stars Battle Royale for free, and on some of the best screens to boot!
For all you Angry Birds/Fruit Ninja/Temple Run fans, indulgence can be found in Machines outlets or Maxis Service Centres. The last time we checked though, it was only the trial version of Angry Birds that's available in the iPads.
Waiting line factor: For a hold of the PS3/PS4 controller/iPad/phone, you should have no problem during weekdays but be prepared to "fight" the kids during weekends and holidays. Everyone's strictly limited to 15 minutes of gameplay on the PlayStations, but we can attest to people hogging it for over two hours because… games are just, like, totally immersive. Try battling a Nightcrawleresque Sly Cooper and always-countering Heihachi and Raiden on the toughest setting and you'll know what we mean.
The demo iPads and phones, though more readily available, will likely not give the same level of enjoyment due to the few stages available in the free versions of the games.
Muka tebal factor: The PlayStation machines are there for play-testing, but the "play-testers" are likely to be adults buying them for their kids instead of for themselves so you may actually be helping the centre by demonstrating the game's playability or the machine's brilliance. (Rarely do 'true' gaming adults get their PS3s/PS4s from official Sony Centres, we feel.) The possibility of you having to rebut controller with kids though, makes us put this at 5/10. For the demo iPads and phones, 3/10, because you've been curtailed – there ain't no full versions of the games to be played.
3. Movies
You feel bad supporting piracy, but you don't want to spend a sen on official DVDs, so what do you do? The answer used to be Speedy, but somehow they've caught on to this freeloading phenomenon so they've introduced a deterrent: now you still get to watch movies there, but with only one scene on repeat. Where got fun like that? Your alternative: Sony Centres, or just about any store that sells TVs/DVD players (AEON Alpha Angle FTW) and pray to your lucky stars they're playing a show you've been wanting to catch.
Waiting line factor: No waiting for sure. Just stand or sit where you like for the best viewing experience.
Muka tebal factor: 2/10. They'll just play the movies anyway, so we see nothing wrong in helping them "justify" the electricity consumed. The store assistants still won't look kindly on you, and it'd be going a wee bit too far if you request them to play a particular movie – from start to finish – for you.
4. Internet
Sigh, when will KL be like our neighbour in terms of free Wi-Fi? But fear not, our options are still aplenty, ranging from F&B outlets like Starbucks, Coffee Bean & Tea Leaf, MBuji Cafe, Zang Toi Cafe (notice the trend there?) – even Baskin Robbins and Tony Roma's. But since you'd most probably order something, the Internet would then be complimentary – unless you also don't pay for what you've ordered, which is a bit overboard lah, we don't advocate that sort of practice.
You can also try your luck at hotels. The Westin for example doesn't require log-in details, but you can probably do it for six days straight before the concierge politely requests for your room number, failing to answer which you will be politely asked to leave the premise. (Serious, we did our fieldwork.)
To save on the embarrassment, consider a membership (it's free!) with the National Library instead, where you even get to borrow books (for free!) and inculcate a habit that can make you a more extraordinary person. Or hop onto a GO-KL or FCB bus – as if the fareless system isn't enticing enough, the buses also come with Wi-Fi connectivity.
In all the options given above, you'd still need a device with wireless connectivity, like your phone or laptop. To get the full extent of the freeloading thrill, we believe only one location qualifies: KL Convention Centre – where freestanding PCs complement the complimentary Internet access, no log-in required.
Waiting line factor: The PCs are obviously for the registered participants of events held at the Convention Centre. But more often than not, the people milling about waiting to occupy them (the PCs, not the participants) are not the participants. Your "competition" consists of the unemployed, the dispossessed and general bums who sometimes smell. (Fieldwork, we tell you!)
Muka tebal factor: 7/10. Because the PCs in the convention centre aren't in some secluded area, you'd have to weather the unwelcoming stares of security guards, cleaners, the registered participants and even the two gwailo bosses who like to have meetings at the café nearby. As of 10 July 2014, 9/10 following the appearance of these reminders, which'll probably give the security guards the mandate to shoo you off: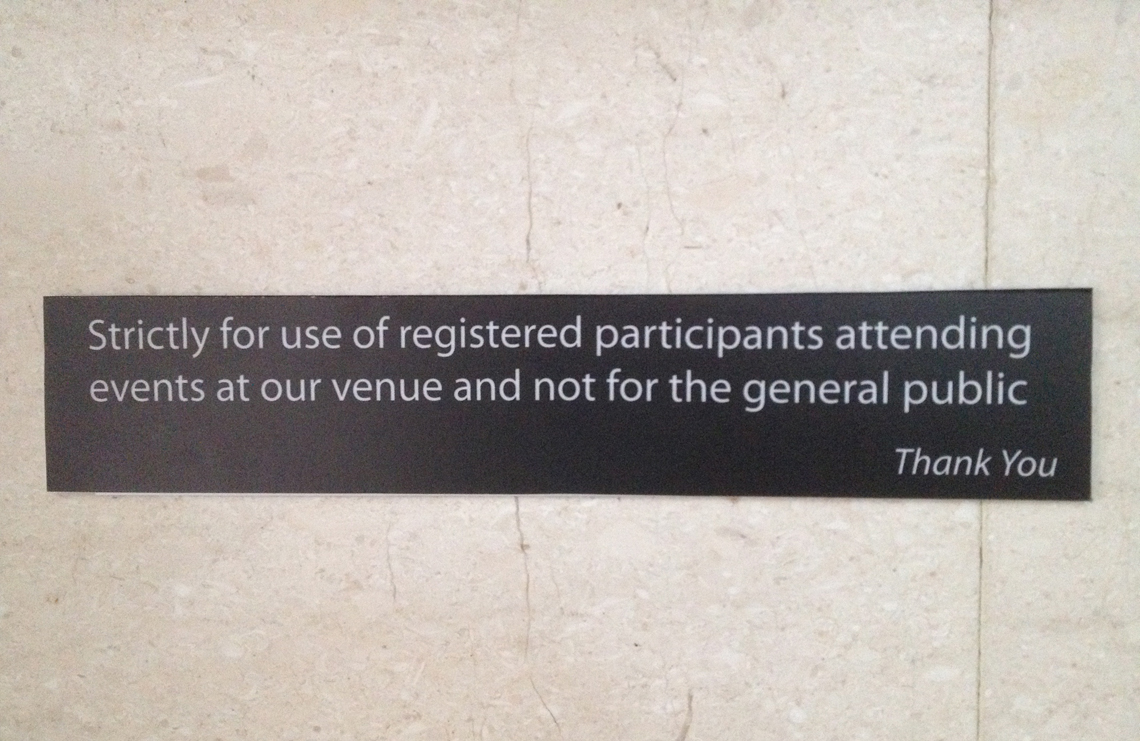 5. Recyclable bags
Now if freeloaders manage to register themselves to be participants of an event in KL Convention Centre, chances are they're not there for the free Internet but for the 'free gifts' that're doled out at the event. (Semantically, a gift is free, so "free" is unnecessary [/Grammar Nazi rant].) Whatever they're after, the common denominator is: the recyclable bag. Whether it's a career fair or a gift & premium expo, all visitors leave the place looking like environmental shopaholics just done with a Big Bad Wolf spree.
Waiting line factor: Not so much a matter of queues as of availability. The bags run out pretty quickly, say within the first two days of a five-day event, so make sure you're there early to do your collecting.
Muka tebal factor: 4/10, considering that you have to go through the trouble of registering yourself, but if you can wheedle your way into getting the bags without having to separate yourself from your name cards, the common bartering currency at these events, then 6/10.
6. RO Water
You may find yourself stranded in a shopping mall without water, your wallet, your purse, your phone and your cards (have they been snitched by the UBER freeloader?) and still you will never pass out from thirst. No silly, we're not suggesting you drink from the restrooms' taps. Most major department stores like Parkson and Isetan have installed water dispensers because they know shopping with a parched throat affects their guests' enjoyment of the experience and thus their guests' decision-making process.
Most of these water dispensers are located at the customer service areas and come with styrofoam cups for your drinking pleasure. But for a freeloader, little 177ml cups tak main lah. We bring our own bottles and tumblers. (Steer clear of Parkson if you're thinking of getting hot water for your Nescafé 3-in-1 mix because kids have ruined it for you.)
Waiting line factor: Occasionally the staff, but never children. Good job parents!
Muka tebal factor: 1/10 if you're filling a 600ml PET bottle, 3/10 if 1500ml, 8/10 if it's one of those 2800ml Felton bottles.
7. Food
Nope, we're not talking about food samples you get in supermarkets.
We're talking substantial food at places where toothpicks are really for picking teeth. Jamuan rumah terbuka only comes once in a Ramadan moon. For all-year-round free handouts of food, you gotta go visit soup kitchens. There was a time when you might have to get at least 2km out of KL before you could even find one (thanks to the ban on soup kitchens cooked up by Datuk Seri Tengku Adnan Tengku Mansor) but suddenly, as usual in flip-flop land, the ban is no longer in effect.
We – and most Malaysians – feel that the ban shouldn't even be proposed in the first place, especially knowing that the issue wasn't mainly about homelessness but rather something as superficial as the city's aesthetics. If the authorities had trouble empathising with the homeless, we'd suggest they consult people like Wong Ee Lynn, a girl who has been volunteering at homeless outreach programmes for years to argue otherwise, and convincingly.
While we're on the topic, perhaps the government should think of best ways to house and help the homeless, such as a "four-star" shelter to keep what is deemed 'unsightly' out of sight. Oh wait, the Prime Minister's PR team already thought of something similar, just… maybe not the four-star bit. But as long as the homeless have a place to sleep in, clean up and keep their stuff, it's all good.
Waiting line factor: About 2,500 homeless as estimated by the Welfare Department in 2010, and today the figure can't be confirmed. But then, not all of them would swarm to the same soup kitchen so just go to the one with the smallest crowd.
Muka tebal factor: Fuiyoh, you really plan to go? You no malu one ah? You've broken the score system leh!
P.S. If you're really homeless, then no choice lor friend, 0/10.
.
OK, so we've given you some ideas on how to freeload in this city, where the living costs ain't probably gonna come down anytime soon. If it's any consolation, the living costs in KL are still 53% cheaper (as of 6 August 2014) than Singapore. As much as we're proud to have made you more savvy in saving some ringgits and shillings, CILISOS is strictly not responsible if you end up like Titus Clarysse. Again, we don't advocate that sort of practice! Get what you can only when:
* We swear, none of the brands mentioned have "bribed" us into name-dropping them. Also, if you know of any other way to freeload in KL, share it with us in the Comments section!