Whew, and suddenly, we're already entering June, and so much has happened that we almost forgot that Malaysia was experiencing a political crisis of its own before the Movement Control Order (MCO). Remember, that one week, when so many things were happening almost every hour that Malaysians were like…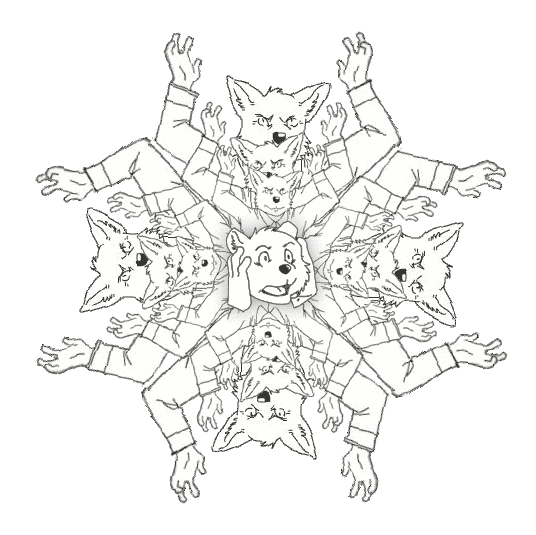 There have been a lot of narratives surfacing to explain that whole week from all sides involved, like former Prime Minister Dr. Mahathir Mohamad, former Prime Minister-in-waiting Anwar Ibrahim, and current Prime Minister Muhyiddin Yassin. Even some aides themselves have come forward to defend their bosses. And we're still so confused over what happened.
Recently though, some audio recordings and photos have been leaked, all of which were allegedly details of what was said during the final PPBM supreme council meeting. So far, there have been four leaks, and they could clear some – if not all – things up, specifically on what could have led to the infamous Sheraton Move.
So we, being our kepoh selves, have decided to summarize all the leaked details for you, just to put things into perspective. So let's begin with…
(Disclaimer: we ask that you take these leaks with a grain of MSG since they're essentially unverified.)
1. Muhyiddin allegedly trusted Mahathir's 'wisdom' to decide Bersatu's future
After months of being confused about who was responsible for the Sheraton Move, the first audio recording was leaked on the 12th of May 2020, on a what seemed to be pro-Mahathir Facebook page called Bersatu.TV. The page purported itself to be "Parti Pribumi Bersatu Malaysia's (PPBM) official media" page.
Apparently, the recording contained discussions between PPBM council members during the party's final supreme council meeting on the 23rd of February 2020, before the collapse of the Pakatan Harapan (PH) government. As you know, that was a day when seemingly all parties were organizing their own council meetings, which was indicative of what would happen next.
While we can't be sure whether he was actually the one speaking in the recording, a voice that resembled Muhyiddin's was heard to be advising the PPBM council to put their trust in Mahathir to decide PPBM's future, specifically the party's future in the PH coalition. Muhyiddin could even be heard to have given Mahathir a one-week deadline to make a decision.
"So if it's appropriate, we want to end our meeting today and after that, we will give the mandate to Dr Mahathir? Agree?" – Muhyiddin, as quoted from The Straits Times
According to Malaysiakini, sources have confirmed that the recording was authentic, but we don't really know who the sources are – we get it la, journalists have a responsibility to protect their sources.
But if that is so, the recording seemed to have debunked PPBM information chief Radzi Jidin's claim that Mahathir was behind quitting PH. Radzi reportedly said that PPBM had formally decided to quit PH on the very same day, only that the announcement of the decision would be postponed, but the recording made it sound like the party had failed to reach a decision that day.
"For the sustainability of Bersatu's struggle and future, steps were initiated to take Bersatu out of Harapan to form a new coalition." – Radzi, as quoted from Malaysiakini
Furthermore, Mahathir himself had kinda confirmed the contents of the recording, where he mentioned that the PPBM council members had given him a one-week deadline to make a decision. He also reportedly said that he would never agree to PPBM exiting PH, because he found it strange that a party that had struggled to "topple Najib" would wanna work with Najib again.
2. An apparent clash between pro-Mahathir and pro-Anwar factions

Back when Pakatan Harapan (PH) made a historic victory in the GE14, Mahathir made a promise to hand over the position of Prime Minister to Anwar, but he held out on the promise for a long time, like, a really long time. Even when he had said he would hand over the seat after the Asia-Pacific Economic Cooperation (APEC) summit in November 2020, there was still no set timeline for it.
Eventually, people kinda got frustrated with him holding onto the seat, even accusing him of not honoring his promise. And it all might have come to a head at the last Pakatan Harapan presidential council meeting on the 21st of February 2020, if a leaked recording allegedly of the meeting released was to be believed. The recording was released on a PPBM-linked Facebook page on the 16th of May 2020.
Within the recording, it could be heard that PH leaders were arguing about whether Mahathir should decide on an actual date to step down, with some pushing for the decision and others insisting that Mahathir should not be pressured.
Among them, Mohamed Azmin Ali and Syed Saddiq seemed to be the most vocal ones, judging by the voices in the recording. For one, Azmin apparently warned Mahathir that he would be 'lame-duck' leader if he succumbed to pressure and agreed to a timeline.
"Not only investors will have no confidence, civil servants will not move." – Azmin, as quoted from FMT
Eventually, a voice that sounded like Anwar came forward and mentioned that he would rein in his people and publicly state his support for Mahathir, which he reportedly did. But that wasn't all, it seemed that the PH leaders were apparently already aware that a conspiracy was in the making, with some claiming that Mahathir had even approved of the plans.
"There are other moves – you may not know – trying to undermine the whole (transition) plan. In fact, a new configuration entertaining PAS and Umno. That is why people are angry." – Anwar, as quoted from Malaysiakini
This recording was allegedly of an event earlier than the PPBM supreme council meeting, but it seemed to have proven that there were already rifts between PH leaders on all sides early in the game, and not just between Anwar and Mahathir or Anwar and Azmin. In addition, the recording made it sound like they were aware that some conspiracy – you know, like the Sheraton Move – was in the making, if not what it exactly was – you know, like the Sheraton Move.
3. A plea for an old man to keep his promise
This was the third leaked recording, consisting of what transpired during the PPBM supreme council meeting. This one, though, wasn't about the future of PPBM in PH, but rather Mahathir and whether he should step down as Prime Minister before the end of his tenure.
In the recording, someone who sounded like Mahathir seemed to be pleading his people to not force him to turn back on his promise, namely his promise to hand over the seat to Anwar. According to him, the decision on whether to step down was ultimately his, and there would be a process to choose a successor after that. And if the decision was made for him to return, he would return.
"Please don't force me. Please don't force me to do something that is against my principles. I fulfil my promises. I promised to resign and I will resign." – Mahathir, as quoted from The Star
We can't exactly verify if the recording is legit, but it sounded like Mahathir was planning to keep his promise, even though he held out for quite some time. Just recently, Mahathir came out and said that he was forced to resign because PPBM eventually quit PH, allegedly against his will – and if that was true, it meant that PPBM didn't really keep to the one-week deadline after all.
"It showed that my party had gone against me and had lost confidence in me, that is why I resigned." – Mahathir, as quoted from The Malaysian Insight
4. Muhyiddin and an alleged plan to entice UMNO leaders with govt posts
Following the three recordings, the fourth and latest one was leaked just recently on the 30th of May 2020, and it was of the same PPBM supreme council meeting on the 23rd of February.
And here, voices could be heard suggesting ways to lure in UMNO MPs, such as offering them ministerial portfolios or government-linked corporation (GLC) posts.
"There are more than 30 Umno MPs. Why don't we meet and tell them 'let's form the government, why don't you come and join Bersatu?' With Bersatu, there would be about 40 over MPs – we will be the largest political party." – Muhyiddin, as quoted from The Star
According to Muhyiddin – or, at least, the voice that sounded like him – it was an opportunity to shore up more political influence, whatever that meant. However, Muhyiddin also acknowledged that Mahathir had warned against such a move, claiming that UMNO may take the opportunity and make unwelcome demands.
"(Not everyone) will follow Najib's demands and threaten us, 'If you don't give this we will quit en masse'. Maybe it will happen, but it won't succeed." – Muhyiddin, as quoted from Malaysiakini
While there's no way to tell whether the recording's legit – even though Malaysiakini has sources confirming – some powerful positions have been handed to BN MPs since PN came alive. For example, 11 ministerial portfolios in the new Perikatan Nasional (PN) cabinet went to BN leaders, including a senior minister position to Ismail Sabri Yaakob. Not just that, after PN came into the picture, quite a number of GLC heads have been replaced by BN MPs, such as Telekom, Port Klang Authority, and Malaysian Rubber Board.
Okay, okay, but remember, correlation doesn't imply causation, this can all very easily be coincidence and they can actually be rather competent at what they do.
5. A pre-Sheraton meeting with…Mahathir? o.o
After so many leaked recordings, there's finally something leaked that we can actually see with our own eyes, and it's a photo of Mahathir congregated in his home with prominent political leaders like Ahmad Zahid Hamidi, Muhyiddin Yassin, Abdul Hadi Awang, Shafie Apdal, Johari Abdul Openg, Fadillah Yusof, and Azmin. And apparently, it was taken after all the party council meetings and before that legendary Sheraton hotel dinner.
No one's really sure what's happening in the photo, with some PPBM supporters claiming that it was proof that the former Prime Minister was in favor of pulling out of PH.
However, Mahathir's former press officer Adam Mukhriz Mohd Muhayeedin went on to clarify that it was apparently an attempt of the leaders to persuade Mahathir to support a pullout from PH. He also added that Zahid seemed to have brought Mahathir court documents to prove his innocence, to which the latter had rejected to see. But Zahid had dismissed the claim though, instead saying he actually brought statutory declarations.
"The party presidents who attended the meeting brought SDs (statutory declarations) and not court documents. I came with the mandate from Umno members and leadership, nothing more than that." – Zahid, as quoted from FMT
It was in this same meeting that Adam claimed Mahathir had told the party leaders that he would not be attending the Sheraton meeting later in the day. And true enough, Mahathir didn't show up at Sheraton after all.
But some who did show up were Muhyiddin, Azmin, Zuraida Kamaruddin, and a number of UMNO MPs, who would soon be part of the government, and…
That dinner would later be known as the Sheraton Move
So here's what we gathered from the leaked recordings and photo:
PPBM had given Mahathir a one-week deadline to decide PPBM's future
There was no decision yet on when Mahathir would step down as Prime Minister as of 21st of February
Mahathir sounded like he wanted to keep his promise to Anwar
PPBM had suggestions to entice UMNO people with powerful positions
Except some of those things didn't happen, because the entire PH government kinda blew up the day after the dinner at Sheraton Hotel, when Mahathir resigned as Prime Minister and Muhyiddin announced that PPBM had officially quit PH.
Look, there have been a lot of conspiracy theories about what transpired during Malaysia's week-long political crisis, and the leaked recordings and photo might have cleared things up, but they're just the tip of the iceberg. There's still so much that we don't know about that week.
For one, we can't tell for sure what could have happened at Sheraton hotel on the night of 23rd of February that have led to the collapse of the PH government, but oh, if the walls could talk – or, you know, if more recordings are leaked, we never know.