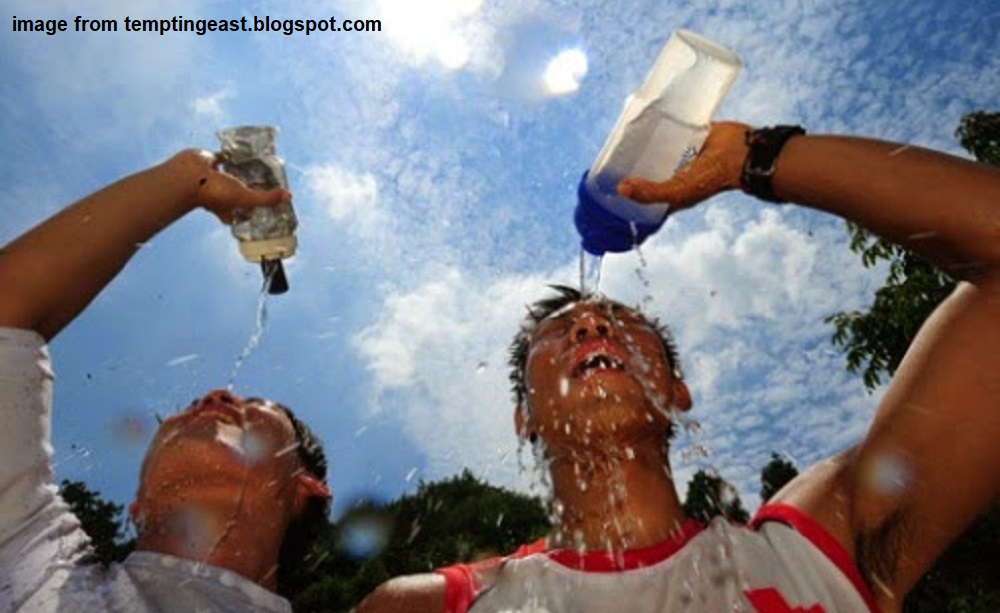 [This article was initially written by Soscili. Click here to read.]
Have you guys felt like the weather is sooooooo hot recently? The Malaysian Meteorological Dept (MMD) has actually stated that temperatures have soared to 38oC, which were mostly in the northern states. Temperatures in the Klang Valley meanwhile had readings of 35-36oC. Not as bad, but still needing some of us to have three ice creams a day.
MMD also said that most parts of the country are identified as being at extreme risk of fire. It would be difficult to control forest fires, which is why there's an urge by the Sabah Fire and Rescue Dept to stop open burning. And also the implementation of water rationing in Kedah.
With the situation being so extreme, can the govt declare a state of emergency over a heatwave?
Actually, who has the power to declare the state of emergency?
A state of emergency is basically when the government gives itself special powers temporarily to deal with really bad situations, like war or natural disasters or any extremely dangerous situations.
Before 1983, the only one who can declare an emergency is the Agong, as put forth by Article 150 of the Federal Constitution. However, that was later amended by Tun M to give the power to the Prime Minister, who would advise the Agong about it. That's kind of an ill advised move on his part, but he later apologized for it.
But whoever it is, only the one who declared the emergency can stop it. So if it's not stopped, it won't stop at all. In fact, since the Sarawak 1966 Emergency was declared by the Agong, it needed the Agong's approval to stop it, so it was only officially stopped in 2011. That's like… *calculates with fingers while mumbling random numbers* 45 years! That's how long it could go.. :O
Now, you may wonder how bad the weather should be for an emergency to be called since…
Sometimes, declaring an emergency isn't the best idea
Emergencies can simply be divided into 2 categories, safety emergencies and disaster emergencies. Safety emergencies are for human-caused stuff like wars and political disputes, such as the one the day after the 13th May 1969 riot. Disaster emergencies are obviously for natural disasters such as floods, tsunamis and earthquakes. Since Malaysia always kena disasters like floods, did we have any disaster emergency?
Actually, yes. For haze, the benchmark for the gomen to declare an emergency is when the Air Pollution Index (API) exceeds 500, and there was one in Johor back in 2013, when the API for Muar exceeded 700. In another emergency in 1997 Sarawak, the API was reported to be over 800! By comparison, the 2015 haze that hit Shah Alam only recorded an API of 308. It's kinda bad if you remember, but not enough for an emergency lah.
There might actually be some good from not declaring emergencies for natural disasters. Case in point: the 2014 floods that hit the east coast areas, killing 31 people and affecting some 247,104 people.
This happened during the start of the new school term in 2015, which sucked because the parents just bought the back-to-school supplies but those supplies got damaged by the floods ady. By then, Najib got a lot of hate for not declaring an emergency.
However, he had pointed out that you can't claim insurance for damages in the event of an emergency, and judging by the flood damage, it would seem that not declaring emergency saved a lot of people from losing everything to the flood.
"If the government announces an emergency, the implications that will arise include the insurance companies being absolved from paying compensation… and compensation arising from damages to property and vehicles is enormous." – said Najib.
Some had even said that Najib not declaring an emergency in this case is the right thing to do, as it prevents the economy in the east coast from coming to a standstill. Bearing that in mind…
Is this hot weather really worth an emergency?
While it may feel like our brains are getting softboiled in our skulls, things aren't that bad yet. Last year, 44 people died in Tokyo from temperatures reaching 41.1oC, and Portugal had reached an average temperature of 46oC. 
But none of them have declared an emergency. Could it be because of the "no insurance claim" like Najib said? Well, no.
According to Rais Yatim (currently PPBM Negeri Sembilan chairman), emergency laws differ from ordinary laws because when implemented the people are no longer free to move, apart from not being able to carry out daily activities as usual. He explained that the emergency can be declared if the country really can't settle an issue soon. Otherwise, if the government is still able to solve a problem, then no need lor.
For a heatwave to be considered extreme enough for emergency in Malaysia, the average temperature must exceed 40oC for at least 3 consecutive days. The only time the temperature exceeded 40oC (albeit slightly) was in 1998 when Perlis experienced the hottest ever recorded temperature in Malaysia at 40.1oC.
Earlier, the MMD said that temperatures are not expected to reach 40oC. But the heat doesn't seem to be going away just yet because… the temperatures are ranging between 37 and 40oC. MMD also said that the heatwave might subside next month with rainfall.
So, until then, it's perhaps good to remember what your mom always tells you and drink more water kay?