Last week, we combed through the pages of the JPJ driving handbook and looked for inspiration in the online JPJ test. Together with our sponsor U Mobile, we ran a cheeky lil quiz: how much do Malaysians remember from what we learned in driving school? (Click here to take the quiz! But don't scroll down la cos got answers)
5 days and over to 14,000 responses later, we got the shocking answer (which we'll reveal it in a bit)! In the meantime…
Why is U Mobile so kepoh about Malaysian drivers?!
There are all sorts of drivers on the road, and it seems like the one they particularly cannot tahan are the FOREVER SESAT ones… like these:

And because they know that data is precious to Malaysians, they've partnered with Waze to give U Mobile subscribers FREE DATA to navigate on the road. Smoother journey to your destination, plus more data to check Facebook and read CILISOS? Who dowan? ?
FYI, this is for all current Postpaid plans and all Prepaid (only those with purchase of UMI) monthly data subscriptions, and will be available now till 31st December 2016. The best part is… even if you've run out of your bundled data, you'll still get to enjoy Waze at high speed! Vroom vroom motha truckas! (Click here for more info.)
Ok ok sponsored message done. Let's check out how Malaysians fared with our quiz:
1. Almost everyone didn't know… broken mud flaps and wipers = SAMAN!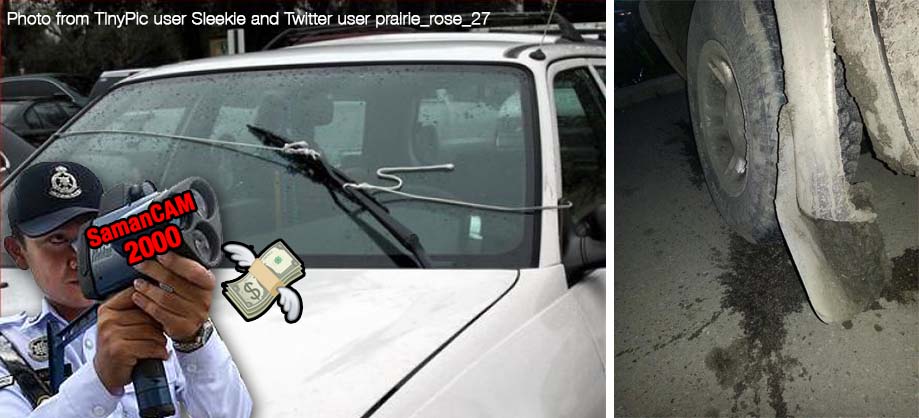 What would cost you a saman? While most of our respondents answered 'noisy exhaust' (66%) and 'broken speedometer' (52%), only 28% selected 'wipers that don't work' and 24% selected 'mud flaps'. But didja know that the correct answer is… all of them?! Hehe yea it was a trick question 😉
Under Section 119(2) of the Road Traffic Act 1987, these are considered offenses that will cost you a saman of RM150! May sound a bit ridiculous for the wipers and mud flaps, but we think it's to keep us safe. Broken wipers are a BIG problem if it rains cos your vision would be pretty affected and you could end up driving into someone's lane. As for mud flaps… well there are arguments for and against it.
On one hand, it keeps mud from building up in the wheel well and prevents rocks from hitting the sides of your car. But on the other hand, it seems like only those who live in the kampung-side would benefit from it, so like… what's the point?
2. 57% think that it's ok to drive above the speed limit when overtaking
Ok, logically, if you're gonna overtake someone, you're gonna have to go faster than them. And in situations like these, JPJ has 10 rules for overtaking. But no matter what it is, you're not allowed to go beyond the speed limit – even if it's 5km/h!
In fact, we've read through the handbook and couldn't find any circumstance where anyone is permitted to go beyond the speed limit. But of course you see many people bustin' the shiz out of this rule la. Anyway, other note-worthy rules to overtake include:
It's actually encouraged that you honk before you overtake, especially at a blind spot. So if it happens to you, don't think someone is provoking you kay.
Overtaking from the left is a no-no. Always, always, always overtake from the right side.
There's actually this thing called the 12-second rule:
"Look ahead and start counting from one thousand one, one thousand two, one thousand three, and when they reach a stationary signpost at one thousand twelve, it is considered a visually safe distance for overtaking." – excerpt from JPJ Handbook
(Yea we don't get that either. Don't ask us. We're just filling up space with words.)
3. Thankfully, most of us know how to use the roundabout… in THEORY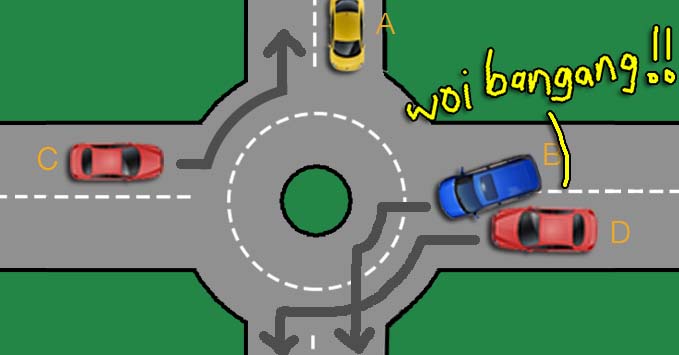 It's quite comforting that 92% of our respondents answered correctly (car C), but honestly, why do we still see so many idiots at roundabouts?! No signal, wrong lane, never wait for people to pass, suka hati just drive out…
And this is also quite scary cos Malaysia apparently has the BIGGEST roundabout in the world. Ironically, it's in Putrajaya. And even more ironic is that we seem to be really proud of it, despite the fact that:
We're rivalling Port-of-Spain in Trinidad which is only a lil bit longer than ours, but not in a particularly 'O' shape.
This isn't a title to be proud of anyway, since roundabouts are safer the smaller they get. (Said the experts, not us.)
4. Most don't know when to use high beam light
Seriously. Only 8% got this right. In fact, more than half answered that high beam lights can be used 'when it rains' and if 'we can't see the road properly'. Aw hellz naw, y'all! Think about the other drivers in front of you. It can take up to 7 seconds for eyes to recover from the blinding glare of a high beam light, and within that, could wreck havoc big time.
There are only 2 times you're allowed to use the high beam: to communicate with other drivers (e.g. polis kat depan woi) or if the car in front of you is more than 100m away. If you need to agak-agak, it's….
5. We actually know how to give way to others!
Ever been in a situation where someone signalled to cut into you lane? Or maybe someone crossing your lane at a junction, barely missing you by a couple of seconds? Haiyo why so kiasu one??
While these things happen more often than we'd like them to, oddly enough… almost all of our respondents knew when to come out to the main road, and what to do if a 2-lane road becomes 1-lane:
6. 53% don't know what to do if the bonnet pops up
Imagine cruising down the highway at 90km/h, music in your ears and all. Suddenly, your bonnet decides to flip up and block your view. You can't see the road no more – all you see is your bonnet, a cracked windscreen, and your horrified face in the mirror.
Well not to worry cos JPJ has a very clear guide on what to do if this happens. That is, of course, if you don't freak the shiz out enough to forget about it.
Most of our respondents said that you should 'turn on the hazard light and slowly stop the car', but that could just cause a lorry to slam into you. JPJ's got other plans to save your skin: brake slowly and get up the kerb using your side mirror as a guide.
Actually, almost everyone FAILED our JPJ test! (But it's ok, ini 'theory' saje 😛 )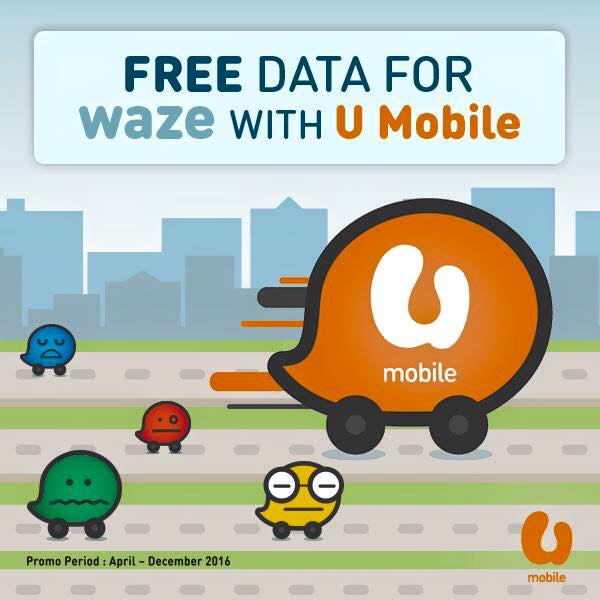 While it's a viable option to 'pao' in the real undang-undang test, our quiz had no such option… which is probably why only 13% of respondents PASSED our test! (Agakration passing mark of 80/100, that is.) In fact, the average score was a terrifying 55%. Does that mean Malaysians don't know how to drive??
That depends on how you look at it lor. We're world-famous for our bad driving, no wonder why we recorded close to half a MILLION road accidents in 2015 alone! It's more than 2014 and the losses was in excess of RM8billion o__O
Well good thing for free data for Waze… so you can avoid roads with standstill traffic from accidents 😀 #shamelesssponsorplug