Y'all remember when news broke out that Najib was involved in the 1MDB scandal back in 2018? Feels like a lifetime ago now. Well, our ex-PM's been thrust into the spotlight again recently because there are rumors that our current PM, Ismail Sabri, is planning to make Najib his economic advisor, which seems to have reignited the general public's interest in his court cases.
Thing is, keeping track of such a long, drawn out case isn't the easiest thing in the world and we thought: why not have all the major points of Najib's 1MDB court hearings in one place? Before we get all up in Najib's business, though, we'll briefly fill you in on the 1MDB scandal: 1Malaysia Development Bhd (1MDB) is a state investment fund launched by Najib in 2009 to invest in green energy and tourism. What it eventually became was a vehicle for people (most notably Najib, his wife, Rosmah, and Jho Low) to siphon a buttload of money for their own benefit (allegedly… but then he did get convicted).
Smol disclaimer: we're only including notable events in the 1MDB criminal trials vis-à-vis Najib so you won't find stuff on the SRC International civil suits here (sorry!).
2018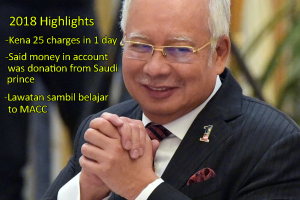 May 22 – Even though the 1MDB saga started way earlier (like 2013 early), we're gonna begin our compilation here, when the Malaysian Anti-Corruption Commission (MACC) asked Najib to come in for questioning. MACC Chief Commissioner at the time, Datuk Seri Mohd Shukri Abdull explicitly stated that Najib wasn't under arrest. Yet.
May 24 – Najib made his second trip to the MACC HQ today for another round of questioning. At this point, he's adamant that he's done nothing wrong, and the RM2.6 billion in his account was a donation from a Saudi prince. Also, still not under arrest.
July 4 – After being arrested the day prior (finally), Najib was charged at the Sessions Court with three counts of criminal breach of trust (CBT) and one count of abuse of power in connection with SRC International Sdn Bhd (a dummy corporation linked to 1MDB). Allegedly, he had received RM42 million from SRC International obtained via illegal activities.
August 8 – Our main man was slapped with another three counts of money laundering, also in relation to the transfer of the RM42 million (the same one from earlier) from SRC International to Najib's personal bank accounts.
20 September – The former PM was saddled with an additional TWENTY FIVE charges today related to transactions amounting to RM2.3 billion, so that makes his total charge count at thirty one so far. Here's the breakdown of the charges:
Four graft charges – Najib had allegedly received RM60,626,839.43, RM90,899,927.28, RM2,081,476,926 and RM49,930,985.70 in bribes between 24 February 2011 and 19 December 2014
Twenty one money-laundering charges – The first nine charges said that Najib had received RM2.08 billion in monies from illegal activities from Tanore Finance Corporation. Five charges stated that he had transferred RM2.03 billion back to the same company. Two charges had him transferring RM162 million to another AmIslamic Bank account of his, and the rest stated that he'd used some of the money to pay off various parties.
25 October – Najib got another six charges for CBT for misappropriation of roughly RM6.64 billion in government funds. Part of that sum was supposed to go to the management expenditure of KLIA, subsidies and cash assistance, under the 2017 Budget allocation… but the money was yoinked and channeled to 1MDB instead.
12 December – Having been accused of tampering with 1MDB's final audit document, Najib was smacked with a charge under Section 23(1) of the Malaysian Anti-Corruption Commission Act 2009.
2019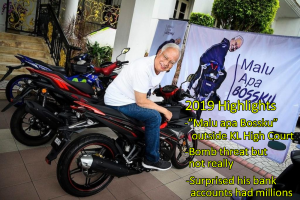 3 April – As the curtain rose on the first day of the SRC International trial, Najib was greeted by about a dozen supporters as he arrived in the court room. At about 2.50pm, Justice Mohd Nazlan waved away Najib's defence team's claims that the CBT and abuse of position charges were defective, and kickstarted the trial. The day ended with another date (15 April 2019) being set to continue the trial, and Najib leaves the courthouse amidst cheers of "Malu apa, Bossku".
27 August – At this point, the High Court's gone through 57 witnesses in 57 days, and the long, arduous task of setting out the prosecution's case was done. The High Court then set a subsequent date of 11 November to decide whether the former Prime Minister has to enter a defense or not. Some highlights so far:
On 8 May, ex-KWAP (the organization in charge of Malaysia's pension fund for government employees) officer Amirul Imrat Ahmat testified that Najib, in his capacity as PM and finance minister, signed the federal government's guarantee in 2012, authorizing a RM2 billion loan from KWAP to SRC International. SRC International had received a total of RM4 billion in loans from KWAP, the largest ever amount loaned out by the pension fund.
There was a bomb scare at the KL Court on 25 July, so everyone had to drop everything until the premises were cleared by a bomb squad and a K-9 unit. Turns out there never was a bomb, and the day's hearing resumed at 2pm.
A witness testified that Najib was reportedly "shocked" and "upset" when he realized he had received millions of ringgit in his bank account in 2015… but he proceeded to use the money anyway…?
On 15 July, AmBank's senior vice-president of credit card authorization and fraud management testified that two credit cards in Najib's name was used to purchase RM3.36 million's worth of designer Italian jewelry in 2014. Bossku defended this transaction, saying they were gifts for royalty of another country.
Former AmBank relationship manager Joanna Yu divulged Jho Low's extensive involvement in the scandal, including his request in 2011 that Najib's bank statements NOT be sent to the former PM's residence, and denoting transactions from SRC International to Najib's accounts as "gifts" or "donations".
11 November – Apparently, Najib was shocked (again) when the High Court told him to enter his defense for seven charges in the SRC International trial involving the RM42 million mentioned earlier. If convicted, Najib's looking at heavy fines and jail terms between 15 and 20 years per charge.
3 December – Today marks the first day of Najib's defense in what would eventually be a months-long affair. The man chose to testify as a witness in his own defense, opening himself to questions from prosecutors. Interesting side note: Najib forgot to bring his IC to court.
2020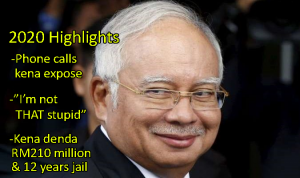 8 January – The MACC dropped a fat bomb today when they revealed a series of nine audio recordings implicating Najib of attempting to cover up investigations into the 1MDB scandal, along with former MACC chief Tan Sri Dzulkifli Ahmad, Najib's wife Rosmah Mansor, former Tabung Haji chairman Datuk Seri Abdul Azeez Abdul Rahim, and Najib's former principal private secretary Tan Sri Shukry Mohd Salleh. Even more shockingly, there were recordings of Najib asking the crown prince of the United Arab Emirates to help clear his stepson's involvement in the scandal.
11 March – At long last, the defense concludes their case after 33 days of court dates with 19 witness testimonies, including those of Najib himself. Here's some highlights from Najib's defense:
Najib asserted that he was never directly involved in the management of 1MDB (despite being its chairperson), and only dealt with the CEO of the fund.
On 4 December, Najib testified that Jho Low was the one who convinced him to open AmBank accounts in 2010 for "personal donations" from Saudi royalty.
Initially, Najib refused to verify his own signatures in various documents and insisted that handwriting experts be brought in. Later in the same trial, he did a 180 and verified that the signatures were his.
Najib whipped out the "I'm not that stupid" card on 3 February, saying that he wasn't silly enough to put stolen money into his personal accounts.
Lots of blame being thrown at Jho Low and Saudi royalty.
1-4 June – Over a period of 4 days, Najib's defense team made their oral submission, maintaining that Najib the misappropriation was perpetrated by "third parties", pointing their fingers at former SRC chief executive Nik Faisal Ariff Kamil and Jho Low as the people responsible for the allegations. Najib's lawyers also insisted that Najib truly believed that part of the RM42million spent was Arab "donations".
Inconsistencies in witness testimonies were also pointed out, and it was argued that Najib didn't "mean to" receive the funds because the transactions were done without his knowledge. The prosecution responded that Najib should've asked why there was suddenly an extra RM42 million in his bank account (which kinda makes sense). Plus, Najib didn't say he didn't know of the transactions, he said they were Arab donations, and it didn't help that he spent ALL of the RM42 million he "didn't know about".
28 July 2020 – Najib was found guilty of all seven charges by High Court judge Mohd Nazlan Mohd Ghazali. For his crimes, he was fined RM210 million and sentenced to a cumulative jail time of 72 years. That doesn't mean he's actually gonna sit in a prison cell for 72 years, though; no, no, his jail time was set to run concurrently, which actually makes it a 12-year sentence. If he doesn't pay the fine, though, he'll have 5 years added on top of that.
Of course, Najib's lawyers said that they were gonna appeal the decision.
2021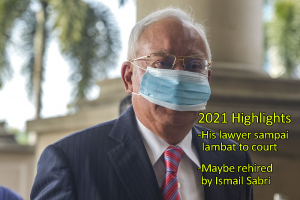 5 April – Not satisfied with being 40 minutes late to his client's first appeal hearing, Najib's lead counsel (basically the leader of the team of lawyers) tried to get the hearing postponed once he stepped into the courtroom. The Court of Appeal judges were having none of it, though, and ordered the hearing to continue.
18 May – 15 court sessions later, the Najib's appeal against both his conviction and sentence reached its conclusion. This is where we hit a bit of a cliffhanger; as the judges said that they were deferring their ruling to a later date.
We'll be updating this article as the story develops, such as if and when he becomes economic advisor or when the judges makes a decision on his appeal. Let us know in the comments and we'll add it to the compilation (if it's legit)!