Business
Culture
Cement prices might go up by 50%. But will KL house prices follow?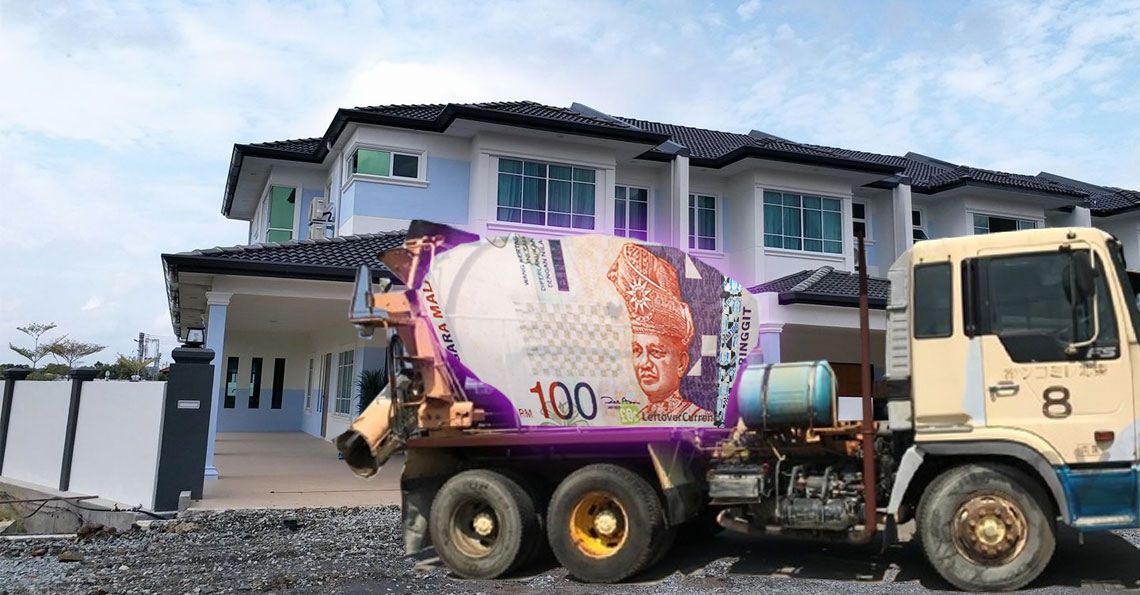 Here's yet another Cilisos article that begins with a bad joke:
Q: Why is working in a cement factory such a tough job?
A: Because the longer you're there the harder it gets.
Now that we've gotten that terrible, terrible joke out of the way, let's get to the topic of the day: cement. Now unless you're a contractor, an engineer or a Freemason mason, you might not have heard that the price of cement is currently going up higher than a hipster on a jazz cigarette. It has spawned house buyers to be concerned, property developers to be unhappy and now the govt is getting their hands in the mess too. There's also outcry from consumer groups such as the Consumers' Association of Penang as well as some long tweets about cement.
So what exactly is going on?
Two of the biggest cement firms just combined, and they might raise prices
Alright so here's a super quick TLDR.
In Malaysia, there's only a few major cement manufacturers, the largest of which is Lafarge Malaysia, who has a 36% market share in 2019. Now a few years ago, their parent company – the international Lafarge – was merged with another company called Holcim, creating LafargeHolcim. This new supercompany probably found out that they had too much on their hands, so they started selling off operations everywhere recently, including its subsidiaries in South East Asia.
With Lafarge Malaysia now on the market, YTL Cement announced in May that they would be buying over Lafarge Malaysia. Now YTL Cement isn't a small company, but rather the second largest cement player in the country, with a market share of 23% themselves. This purchase effectively means that YTL Cement cements itself as the biggest cement manufacturer, with a new market share of around 60% according to some reports.
Following this takeover, in the last couple of weeks, news was rife that cement prices began skyrocketing. It's perhaps important to note however that the price of cement isn't controlled, meaning that every cement company can put their own prices – and according to one industry insider, this means that when a major company changes its prices, others will follow. As for how much it went up, various news reports place the price hike as being between 40 to 50 percent, with one claiming that a 50kg bag of cement might be going up to RM16 from the current price of RM9-RM12. Another report even said that the price of ready mixed concrete would go from RM20 to RM40 per cubic meter.
And just like how your dad always complains when petrol increase everything else also increase, cement price increase also apparently means everything else go up also laa.
Some say property prices may now increase up to an extra 15%
Poor ol' millennials. Can't even afford house now, and with the cement prices going up, property prices are allegedly set to go up by an extra 10 to 15 percent too, according to the Johor Master Builders Association.
"Some members have received notices from four cement manufacturers that the price will increase from RM200 per tonne to RM290 per tonne…. Conservatively, property prices may increase 10% to 15% in the future," – Tee See Kim, Johor Master Builders Association President, as quoted by EdgeProp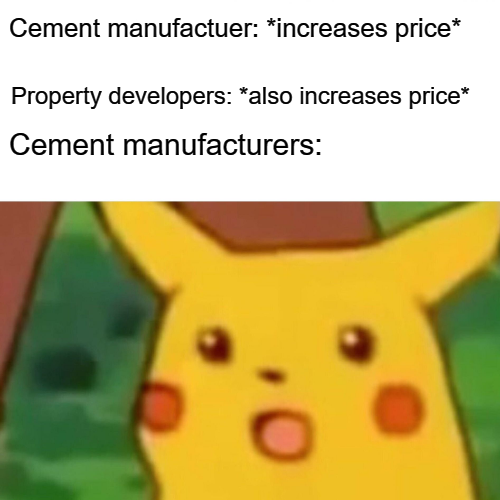 It's not just potential house buyers who might be worried tho. Following the cement hike, the Real Estate and Housing Developers Association Malaysia (Rehda), Penang Master Builders & Building Materials Dealers Association (PMBBMDA) and Federation of Malaysian Manufacturers (FMM) met Finance Minister Lim Guan Eng to discuss the issue, with the Finance Ministry then meeting with the Domestic Trade and Consumer Affairs Ministry about it.
"Why does it have to increase? According to records there had never been such a hike. Our cement is cheaper than the ones sold in Thailand and it seems this will change with the new increased price," – Lim Guan Eng, as quoted by NST
Together with the finance ministry, the domestic trade ministry has also taken action on the cement industry's price hike. They announced a few days ago that they've issued a notice to the companies under the Price Control and Anti-Profiteering Act 2011 to demand reasons behind the price hike. Domestic Trade Minister Saifuddin Nasution meanwhile added that this was necessary to get a solution to the issue without affecting the govt's intentions of building affordable houses. He also added that his ministry had not approved any price hike for cement in Malaysia.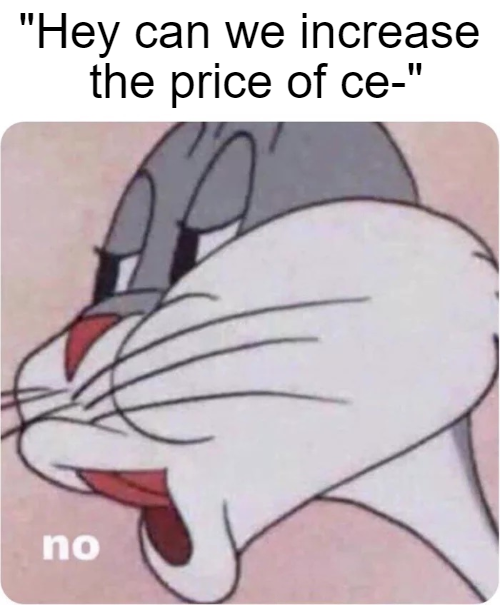 But before you sharpen your pitchforks and begin marching in front of cement companies, the Cement and Concrete Association of Malaysia has indeed responded to the issue. And one according to their figures….
Cement prices have been going downhill for years before this
In a statement by the Cement and Concrete Association of Malaysia (C&CA), they voiced out their side of the issue, arguing that cement prices should not be deemed the cause of rising house prices. They claim that from 2016 to 2018, the prices of cement has actually been declining….
….while house prices allegedly went up by 13% during this time frame.
In fact, for the past couple of years, the cement industry was seemingly plagued by an oversupply of cement as well as a price war between the major players, causing a race to the bottom in terms of prices for cement. Production costs of cement has also been on the up despite the dropping prices. It got so bad for Lafarge Malaysia that they've apparently been losing money ever since 2017, with other companies such as HUME and Tasek also in the red. The C&CA also added that the cement price increase is simply a way to restore prices that would allow the cement industry to survive.
Besides, cement only makes up a small part of the construction cost of a housing project, averaging between 3-5% of the total cost. In fact, for developers, other aspects of production costs, labour costs as well as the appreciation of land value have all contributed to the rising costs of property in Malaysia. That being said, many property developers may not even need to raise costs of houses, with some major developers allegedly having big profit margins of up to 46%, according to one report.
So how? Well, for now at least, cement manufacturers have apparently relented with the govt's wishes and have scaled back the price hike, signalling a temporary resolution to the issue. This comes after Datuk Saifuddin met with the cement makers this week.
"They (cement makers) stated several grounds to justify an increase in cement price due to costlier imported materials used in making the cement because of the weak ringgit. However, following yesterday's meeting, they agreed to not increase cement prices," – Datuk Seri Saifuddin Nasution, Domestic Trade and Consumer Affairs Minister, as quoted by Edge 
With prices out of reach for not just writers like us, but our bosses too (even in the buyer's market Malaysia's currently in), all the parties involved, from the property devs to the cement manufacturers and even the govt to some extant should try and work better together. Only by having all stakeholders involved in something as important as housing can they all become sustainable together.
Hopefully that way, there might be a chance of actually attracting someone to buy and stay in one of those shiny new homes.