Recently, the issue of unclaimed money has been revived following a viral Facebook post by a Malaysian woman who found out she had RM14,000 of unclaimed money that could be sitting in her bank account. She made the discovery when she went to the Accountant-General's Department office at Menara Maybank to sort out problems with her credit card.
"I was really surprised as I thought that whatever I had in my old bank account was gone for good. I remember not closing the account when I was a student and there was some scholarship money and other funds left." – Idah Basri, quoted from The Star
Back in December 2016, Malay Mail Online already reported RM5.6 billion in unclaimed money, or WTD (Wang tidak dituntut) in Malaysia. The Finance Ministry said July this year that there were 55 million records of unclaimed money, which is more than the population of Malaysia. The ministry also reported that the unaudited amount was actually RM8.8 billion, and RM1.579 billion has already been reclaimed by the people. The Star also reported that the smallest amount refunded was 39 sens, while the largest was RM6 million!! (The person had several accounts.)
How did billions and billions of Ringgit end up in the Finance Department?
TECHNICALLY, the money is under the Accountant-General's Department specifically, but that department is also under the Finance Department.
So anyway, how did so much money end up there in the first place? According to the Accountant-General's Department, there are 3 classification of unclaimed money:
Money to be lawfully paid to a person

, but is uncollected for not less a year. Things like salary, bonuses, insurance payout, commissions. You can read the full list here.
Money in an account with no transactions for 7 years. Applies to current accounts, savings account, and fixed deposits.
Money in a commercial account with no transactions for 2 years.
This system is enshrined as Malaysian law under the Unclaimed Money Act of 1965, which all registered companies are bound to, where they can be fined up to RM20,000 for an offence. The money is submitted to the Accountant General, who also acts as the Registrar for the unclaimed money. But what do they do with the money? And what happens to it when you don't get it back? The answer is very likely: nothing.
Firstly, there is no time limit or final day for someone to go claim their money. Secondly, people who claim the money will not be charged any fees, and neither will any interest rate be applied to it. So, whether you do it today or 100 years from now, it makes no difference (except the shrinkage in its value due to inflation) as it will just sit there until someone the owner/ heir collects it.
So if you young and never sign up for insurance plans or open bank accounts… Sorry lah, very unlikely you got money there.
Malaysians are flocking to the department offices to check how much they got
In July, a similar rush was sparked when the matter was brought to the attention of the masses by social media, forming long queues as early as 9 am at temporary inspection counters set up in Putrajaya. In a report by The Star Online, hundreds have line up at Menara Maybank as early as 6 a.m. Apparently, only 400 numbers will be provided to customers every day. The office at Menara Maybank receives visitors from all over Malaysia, although there are 25 other counters nationwide.
"I had a few savings accounts with amounts between RM10 and RM50 back in the '90s. I just want to see how much I can get. I was here around 7am one day last month but it was already too late as all the numbers were taken." –  Auxiliary policeman Azman Mansor, 50, told The Star

"My friend came here recently and she got only RM5." – Hospital assistant M. Nagaratna, 42, told The Star

"I was not the earliest, being 10th in line. But I did find out that I have unclaimed money, so I came back here today to submit the form with the necessary documents." – Melvin from Georgetown, 68, told the Star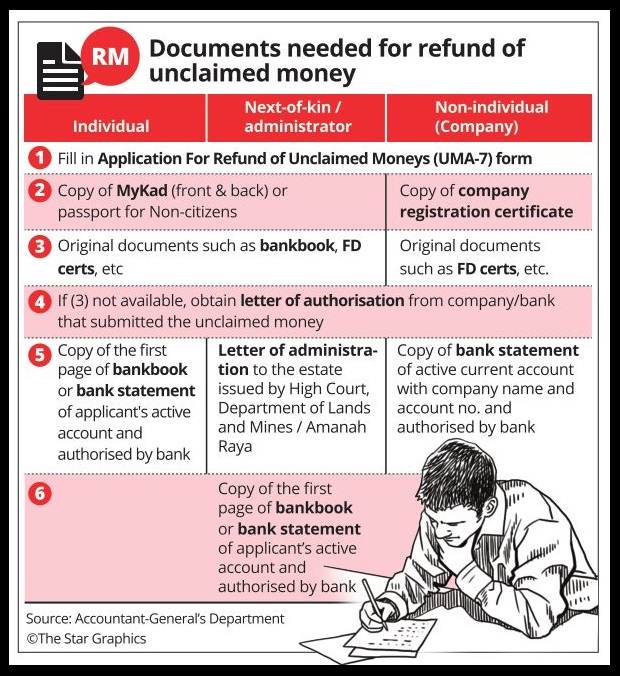 Deputy Finance Minister II Datuk Lee Chee Leong said that the gomen is preparing an online system for checking and applying for refunds, and it should be ready by next year. Still, if you die die also need to know if you got money there or not, here are the forms you might need. You should also refer to this very informative infograph made by The Star, on what you need to get it back. (See image above.)
One more thing: Any service that say they can claim for you is a SCAM
Where there are large sums of money, there are vultures that come to prey on poor Malaysians. As Datuk Lee reminds everyone:
"They claim that they are able to help retrieve the money and will charge a fee for that. There is no such thing. You have to go directly to the department's offices, which are in every state," – Datuk Lee Chee Leong, quoted from The Star
These bogus agents approach the public by phone and email, but in reality, the department itself would not have the personal contact information of the owners of the money. Nellie, a woman who was constantly approached by the scammers told The Star that she's received letters and 2 phone calls.
"The letter also looked dodgy and the agent called me twice, trying to convince me to take up her service. I got fed up and asked her how much she was getting from this. She said RM2,000, and I hung up immediately," – Nellie told The Star
But some scammers seem to be more convincing simply because they were much more informed. Sin Chew Daily reported that a company offered an anonymous reader to obtain his refund for a fee of RM500. What's impressive was that besides having his IC number and contact info, they also knew the exact amount that he had left unclaimed. DAP MP M. Kulasegaran told the paper that he also encountered something similar.
"Very curious why these people have my information, even if the government gazette's information is a public document, but how did the agent obtain my latest phone number and correspondence address? They phoned me on their own initiative, the amount is exactly the same as what I checked," – DAP MP M. Kulasegaran, quoted from Malay Mail Online
We can only guess how so much unclaimed money ended up in the department. Maybe Malaysians are too busy to manage their money? Or maybe the last generation of Malaysians always forget to pass down their inheritance… or maybe they didn't want to.
But for the rest of us, especially for middle class families in times of escalating living costs… every little bit might help. So if you're free one of these days, do drop by one of the AG offices all over Malaysia to ask for yourself