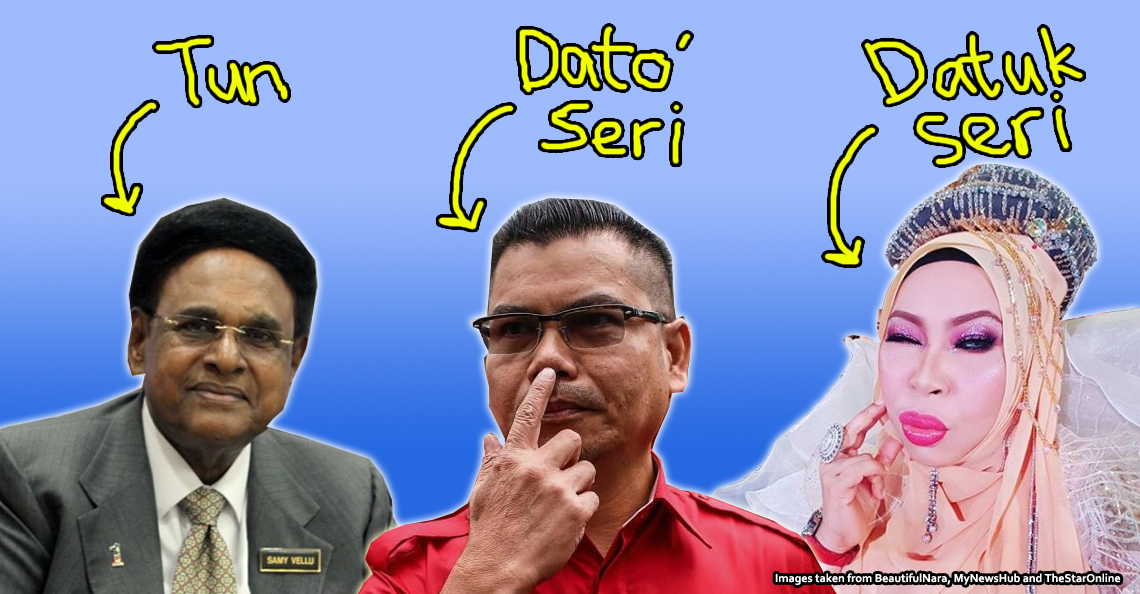 [Artikel ni asalnya ditulis oleh member member kami kat SOSCILI. Nak baca artikel ni dalam BM? Klik sini!]
Some of us might have noticed that people with titles have been making a lot of headlines lately, and not the good kind. A Datuk Seri, who is also a cosmetic tycoon had been fined for making an advertisement unapproved by the Medicine Advertisement Board, and earlier for not paying GST (which she later did). Another Datuk Seri became famous after hitting a security guard.
A Datuk was charged with animal cruelty by participating in illegal cockfighting, while another was jailed for a day and fined for being involved in a bird's nest investment scam. Datuk cases had become enough of an issue for the Council of Federal Datuks Malaysia (yeah, that's a thing) have called for a special law that automatically strips away a person's titles and awards upon being convicted with a crime.
But Datuks are humans after all, and maybe we're just hearing more of their cases because there's more of them nowadays. Malaysia having too much Datuks seemed to be a popular sentiment, and the Sultan of Johor once said
"If you were to randomly throw a stone, it will hit a Datuk's head, bounce off and hit another Datuk's head." – Sultan of Johor, translated from Berita Harian.
But there's more titles than just Datuks in Malaysia. So here's a rough guide of the titles and how you can get them.
1. Datuks: Possibly the easiest to get, and the most common
While Ali Tinju had claimed to have bought his Datuk, what he actually bought was an award or a medal that automatically gave him a title. Some awards can give their recipients certain titles like Datuk or Dato' Seri or even Dato' Pahlawan, and they can either be federal awards (given out by the Yang di-Pertuan Agong) or state awards (given out by the Sultans, Kings or the Yang di-Pertua Negeri of any Malaysian state).
Generally, since there's only one Agong and like 14 states, Datukships gained through federal awards are regarded as higher than Datukships gained through state awards. There are two federal awards associated with the title of Datuk, and they are the Panglima Jasa Negara (PJN) and the Panglima Setia Diraja (PSD). There may only be 200 holders of each award alive at one time, so the maximum amount of federal Datuks in Malaysia can only be 400. This number does not include PJNs and PSDs awarded to foreigners as honorary awards.
State medals are less rigid, and different states have different criteria on how many there can be at one time, what's the ranking of each medal, and perhaps most obviously the spelling. Datuks are granted from medals awarded by these states:
Malacca: Recipients of either the Darjah Mulia Seri Melaka (D.M.S.M.) or the Darjah Pangkuan Seri Melaka (D.P.S.M.)
Sabah: Recipients of the Panglima Gemilang Darjah Kinabalu (P.G.D.K.).
Sarawak: Recipients of the Panglima Gemilang Bintang Kenyalang (P.G.B.K.).
Federal Territories: Recipients of the Panglima Mahkota Wilayah (P.M.W.).
Dato's (with an apostrophe), on the other hand come with these state awards:
Johor: One of four medals (S.P.M.J., S.S.I.J., D.P.M.J., or D.S.I.J.)
Kedah: One of two medals (D.P.M.K. or D.S.D.K.)
Kelantan: One of eight medals (S.P.M.K., S.J.M.K., S.P.K.K., S.P.S.K., D.P.M.K., D.J.M.K., D.P.K.K., or D.P.S.K.)
Negeri Sembilan: One of five medals (D.S.N.S., D.P.N.S., D.P.T.J., D.S.T.M., or D.B.N.S.)
Pahang: One of two medals (D.S.A.P. or D.I.M.P.)
Pulau Pinang: One of two medals (D.M.P.N. or D.S.P.N.)
Perak: One of two medals (D.P.C.M. or D.P.M.P.)
Perlis: One of four medals (D.P.M.P., D.S.P.J., D.P.P.J., or D.P.S.J.)
Selangor: One of three medals (D.P.M.S., D.S.S.A., or D.S.I.S.)
Terengganu: One of four medals (S.P.M.T., D.S.M.Z., D.S.M.T., or D.P.M.T.)
Even though the spelling differs between states, in the news one might often only see the 'Datuk' spelling being used. According to some, this spelling was adapted for use in the media so that news reads better. Datuk and Dato' with no additions (as opposed to Datuk Wira or Datuk Patinggi, for example), are considered the final rung of the title ladder, for precedence purposes. Moving up from Datuks…
2. Datuk Seris: A step up from Datuks
Besides a majority of ministers, you may have heard of the Datuk Seri title attached to other names like Dato' Seri Jamal Yunos atau Datuk Seri Vida. Like Datuks, the variations in spelling depend on which state award the title comes from.
People with Dato' Seri in front of their names would have received an award in these following states:
Kedah: One of two medals (S.P.M.K. or S.S.D.K.)
Negeri Sembilan: One of three medals (S.P.T.J., S.S.T.M. or S.S.N.S.)
Pahang: The Darjah Kebesaran Sri Sultan Ahmad Shah Pahang (S.S.A.P.)
Penang: One of two medals (D.P.P.N. or D.G.P.N.)
Perak: One of three medals (D.S.A., S.P.C.M. or S.P.M.P.)
Perlis: The Darjah Seri Paduka Mahkota Perlis (S.P.M.P.)
Selangor: One of two medals (S.P.M.S. or S.S.S.A.)
Terengganu: One of two medals (S.S.M.Z. or S.S.M.T.)
Datuk Seris come from either Malacca or the Federal Territories:

Malacca: The Darjah Gemilang Seri Melaka (D.G.S.M.).
Federal Territories: The Seri Mahkota Wilayah (S.M.W.)
Dato Sris (note the lack of an apostrophe following the Dato), on the other hand, are recipients of the Panglima Bintang Negeri Sarawak (P.N.B.S.), exclusive to Sarawak. Datuk Seri is the highest title obtainable through awards in most states, and it's a title only available through state awards. It can be said to be the counterpart of the federal-award-only title, the Tan Sri.
3. Tan Sris: Harder to buy than Datuk Seris
You might have heard of some people with this title, like Tan Sri Musa Aman, Sabah's Chief Minister, and Tan Sri Harussani Zakaria, the Perak Mufti. Tan Sris are like the second highest title you can get from awards, and you can be called one by either being awarded with the Panglima Mangku Negara (P.M.N.) or the Panglima Setia Mahkota (P.S.M.). These medals are given to…
"…those of fame and high class who have performed exceptional service to the country in any field." – Excerpt from Istananegara.gov.
Federal awards like these are strictly regulated. There may only be 250 P.S.M. holders alive at any given time, and P.M.N. holders even less than that, at 75. According to this news article, you'd have to have your name recommended to the chief secretary of the government for the Agong to consider you for the awards, and an agent selling Tan Sri titles for RM5 million was busted by the Sultan of Johor, to whom he offered RM2 million to recommend some names for him.
Wives of those bearing the title of Tan Sri will themselves be known as Puan Sri. Foreigners may receive this award as a honorary award, but they won't count towards the total 325. While Tan Sri is the federal counterpart for Datuk Seri, which is the highest awarded title for most states, it's not the highest title obtainable through federal awards. That title would be…
4. Tun: The most limited edition title you can get in Malaysia
Quick! List some people whose names start with 'Tun'. Chances are, you've thought of either Tun Mahathir,Tun Abdullah Badawi,Tun Hussein Onn or Tun Abdul Razak. All these people are former Prime Ministers of Malaysia. Does this mean that you have to be a Prime Minister to get it?
Well, not necessarily, but it won't hurt your chances.
Only two
federal awards will give the
title of 'Tun'
upon receipt. They are the
Seri Maharaja Mangku Negara (S.M.N.)
and the 
Seri Setia Mahkota (S.M.M.)
, given to those who…
"…performed exceptional service towards the country for some time with great responsibility, and these people have a high post and is influential." – Translated from Istiadat.gov.
So it's not enough that you have to perform something really outstanding, you have to be a bit famous and atas as well. There can only be 25 holders each for the S.M.N. and the S.M.M. at one time, but this number does not include foreigners who receive this medal as a honorary award. Recipients of the S.M.N. will have the title of Tun, and his wife the title of Toh Puan.
So the total number of Tuns in Malaysia at one time can only be at most 50 people. This year, only three Malaysians received the title of Tun through the S.M.M. They are Tan Sri Md Raud Sharif (the Chief Justice of Malaysia), Datuk Seri S Samy Vellu and Tan Sri Michael Chen Wing Sum.
5. There are higher federal awards, but they won't give you a title (or are only for royalties)
So far, we've seen that federal medals are more limited than state medals, and that there's a certain ranking or precedence with the medals (and consequently, the titles). The medals that give the title of 'Tun' would seem pretty high-ranking, but the S.M.N., the higher one of the two, is actually at fourth place. So what kind of person can hold the highest federal medal available?
If you think that the answer would be the Agong, think again. It's actually an unlimited award that can be given to any Malaysian, provided that that person showed "supreme courage and bravery in extraordinary and highly dangerous situations". That award is the Seri Pahlawan Gagah Perkasa (Grand Knight of Valour, or S.P. for short). Recipients of the S.P. will not get any fancy titles, but are eligible for a monthly allowance of RM400 a month.
The Darjah Yang Maha Utama Kerabat Diraja Malaysia (D.K.M.) comes next, given only to Sultans who have became the Agong at least once. Then comes the Darjah Utama Seri Mahkota Negara (D.M.N.), which are given to the Raja Permaisuri Agong (the Agong's wife), new Kings and Sultans in their respective states, some foreign royalty and very, very famous people.
Only after these three medals come the S.M.N. and the S.M.M., which you may remember as the medals that carry the 'Tun' title. It's a complex an elaborate system, but it's now threatened by award-selling and fake titles.
"If you produce a million Ferrari cars, nobody will care about buying a Ferrari,"
That quote was by Eddin Khoo, a Malay cultural expert, for FMT. It was estimated between 700 to 1,200 new Datuks are produced annually in Malaysia, bringing the total number of people with titles somewhere in the tens of thousands. However, not all of them are legitimate. Some Datuk titles are bought, while others are outright fake.
"It is an open secret that Datukships are for sale by cheats and those who claim to have the ear of the royalty, and there are individuals who abuse their titles," – Thomas Su, opposition parliamentarian for FMT.
Ali Tinju, the guy who performed butt exercises in front of Datuk S. Ambiga's home (that's the co-chairman of Bersih 2.0), is a Datuk, and he actually admitted that his Datukship was bought for RM250,000.
"Mohd. Ali used that title that was allegedly awarded by a royal institution from a state in the northern part of the Peninsula in 2006, through an agent and a member of the royal institution." – Translated from Utusan.
A quarter million for a fancy title may seem steep, but Ali Tinju had said that just having the title will make his business as a contractor easier. Eddin Khoo had stated that titles have been widely abused due to their influence and the connections that come with them, and these perks may manifest in a number of ways, like having the ear of policymakers, skipping over red tapes or even be somewhat immune to prosecution.
And of course, some used the reputation gained from their titles to scam the unwary public, like in numerous cases in the past. Thankfully, the people giving out the awards do keep track of the awards they give out, so the public can check whether someone really is a Datuk or a Tan Sri or whatever using this link.