So, unless you slept through 28th July 2020, you've probably heard how our previous Prime Minister, Najib Razak was found guilty of ALL seven charges related to SRC International that were filed against him. This decision was read by Justice Mohd Nazlan Mohd Ghazali, the judge of this high profile case.
"The defence has failed to establish beyond reasonable doubt the charges of CBT against the accused" – Justice Nazlan, as quoted by The Star.
The judge then sentenced Najib to…
12 years' jail and a RM210 million fine for power abuse under the MACC Act
10 years' jail for each of three criminal breach of trust charges,
And another 10 years' jail for each of the three Anti-Money Laundering, Anti-Terrorism Financing and Proceeds of Unlawful Activities (AMLA) offences.
Instead of spending 72 years in jail, Justice Nazlan decided that all of these jail sentences would run concurrently. So, Najib would only need to serve 12 years in jail.
There have been a mixed reaction among Malaysians after this decision was read out to Najib. For one, many people have been a bit creative with posting up Super Ring memes about the former Prime Minister.
For those who support Najib tho, they were clearly unhappy with the verdict. You may have seen a video of a makcik, who was at the mass gathering outside the Duta Court Complex and was clearly dissatisfied with the judge's verdict.
And it may be no surprise how some of these supporters would even take things to social media. Just recently, there have been several claims made against Justice Nazlan. Some of you may have seen them but for those who don't, we've compiled some of these claims and take a closer look at them to see if they're actually true.
Identities of the people behind these posts have been censored for their privacy.
So without further ado, let's start with…
1. CLAIM: He is apparently blood related to Tun Mahathir and Tun Hasmah
One of the most common claims you may have stumbled upon online is how Justice Nazlan has blood relations to another former Prime Minister, Tun Mahahtir. But what's interesting is how there are several versions to this claim.
But a quick Google search on Tun Hasmah's siblings would bring you to this…
Besides, Mahathir's son, Mukhriz Mahathir, has recently denied these claims besides urging the Attorney General to investigate the people who made these claims. He added in his tweet that the allegation is considered a contempt of court.
Anyways, another online post clarified that Justice Nazlan's father was actually a teacher at the Malay College Kuala Kangsar (MCKK). A Facebook post by The Malay College Old Boys' Association on the passing of Dato' Hj Mohd Ghazali bin Mohd Hanafiah somewhat indicated that the person in the Facebook post is Justice Nazlan's father.

We say that because we also found a news report that somewhat supports this claim. In that report, Justice Nazlan is reportedly an alumnus of MCKK and this statement can be found in the aforementioned Facebook post.
2. CLAIM: Justice Nazlan is a DAP supporter
Another claim we found was how Justice Nazlan is associated to DAP tho we weren't able to find any connection of him to the political party. We tried searching for this connection but the only thing we found was news about his involvement in the Liberation Tigers of Tamil Eelam (LTTE) case. And that has something to do with the acquittal of two DAP politicians, who were involved in the case.
But, anyways, there were also claims saying that he was one of the judges who acquitted the Seremban Jaya assemblyman, P. Gunasekaran of two charges of supporting and possessing items related to LTTE.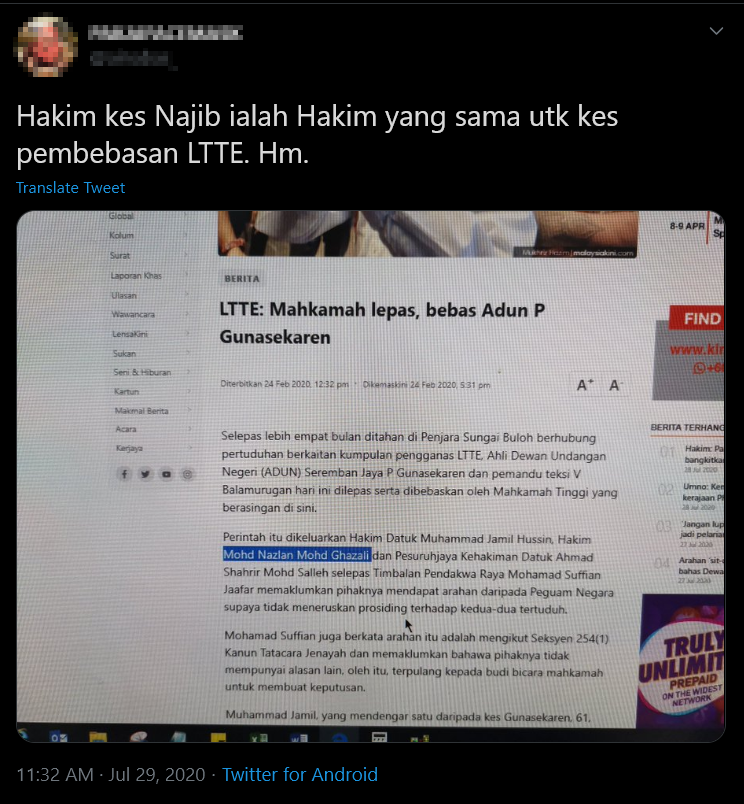 Okla, this actually happened and it is true that Justice Nazlan was one of the judges involved in acquitting Gunasekaran. However, the decision to acquit and drop all 34 charges against the 12 accused of being involved with LTTE was made by the then Attorney General, Tommy Thomas.
"Accordingly, in the exercise of my discretion pursuant to Article 145(3) of the Federal Constitution, I have decided to discontinue proceedings against them with immediate effect." – Tommy, as quoted by The Star.
This decision was made because Tommy found that mere worshiping idols (read: leaders) does not constitute a crime although their idols are considered terrorist.
"Just because each of these leaders used terror or violence to achieve their political goals does not mean that an ardent supporter online should be regarded as a terrorist or is planning a terrorist act." – Tommy, as quoted by The Star.
Well, this may be why Tommy's decision sparked a pretty huge dissatisfaction among Malaysians at that time. But, as for Justice Nazlan, it's perhaps unfair to deem him a DAP supporter based on this case alone.
3. CLAIM: Justice Nazlan is the judge for ALL UMNO's high profile cases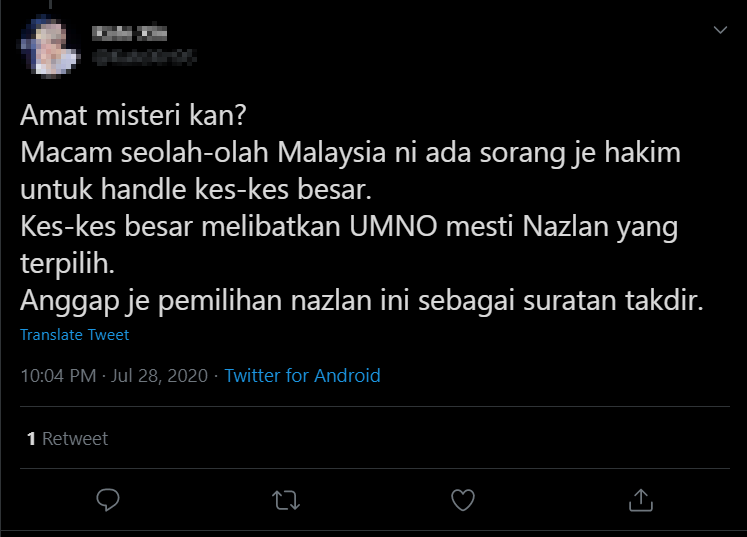 There were also claims stating how he is also handling other high profile cases besides the 1MDB. What's even weirder was that these high profile cases are all related to… UMNO gais(?).
In a Twitter thread, which sources its content from another Facebook post btw, there was a list of high profile cases that Justice Nazlan apparently handles such as…
Anyways, while it is true that Justice Nazlan is the judge to these cases, it is also important to note that he didn't quite stay as the judge for all aforementioned cases la.
In Tengku Adnan's case, for instance, he was disqualified as the judge in fear that he would be biased. This decision was made by a three-member bench of the Court of Appeal.
"How could he, having not just looked at but also considered the facts of the case as well as the documentary exhibits tendered in support of the plea of Tan that he offered the bribe to the appellant (Ku Nan) which was accepted, be able to completely obliterate this crucial fact from his mind?" –  Rhodzariah Bujang, one of the panel members, as quoted by FMT.
The panel members believe that removing Justice Nazlan from Tengku Adnan's hearing would 'maintain the highest standard of public confidence in the judiciary'.
However, it's also important to note how Justice Nazlan doesn't only take up cases involving UMNO gais la. The list in the Twitter thread also included the LTTE case, which we mentioned earlier. And another thing we found was how he was also the judge in PKR's Vice President, Tian Chua's sedition case. In this case, Tian Chua was acquitted and discharged.
4. CLAIM: Justice Nazlan is only a junior judge, whose first high profile case is the 1MDB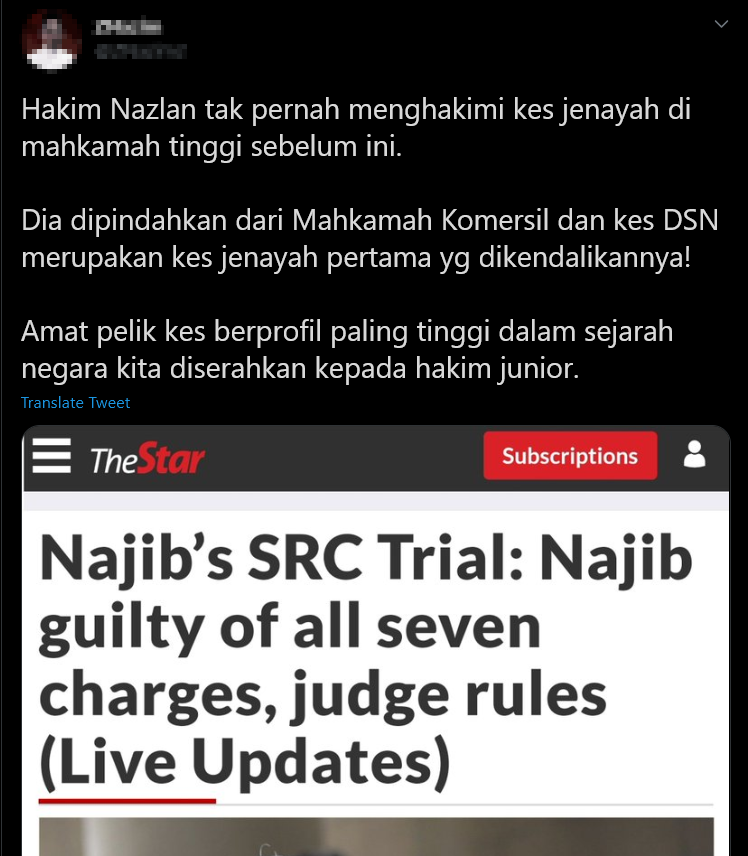 Oddly enough, despite claims stating that Justice Nazlan handles several other high profile cases, there was also a claim on how Justice Nazlan is a junior judge whose first high profile is the 1MDB itself.
To understand how this claim came about, we gotta take a look at Justice Nazlan's background. Justice Nazlan, who is an Oxford graduate, used to practice at Zaid Ibrahim & Co for five years and served at the Securities Commissions as its head of enforcement.
He was appointed as the Judicial Commissioner in 2015 and the High Court judge in January 2017. If you were to look at those years, you'd notice how he was appointed while Najib was still the Prime Minister.
In 2018, Justice Nazlan was transferred from the commercial division to the criminal division and eventually took over Najib's high profile case from the previous judge, Justice Mohd Sofian Abd Razak. He replaced Justice Sofian because the latter had blood relations to an UMNO assemblyman in Pahang, so this certainly raised questions about Justice Sofian's bias la.
However, when Justice Sofian was asked to recuse himself, legal experts were expecting a Court of Appeal judge or a senior judge to take over Najib's case. They made their predictions based on past practices, especially in previous corruption cases.
For instance, a 1977 corruption case involving former Selangor Menteri Besar, the late Harun Idris. In this case, the late Sultan Azlan Shah, who was the Federal Court judge replaced the former judge of this case.
Ok la, while some parts of this claim may seem true, we can't neglect the fact that Justice Nazlan has experience in handling other high profile cases in Malaysia (we've covered this in the previous section). And despite all these claims…
Some Malaysians still believe that the judicial system is independent
Unlike any other bogus claims that were being made online, this time around, a number of Malaysians have been calling out on those who are making and spreading these claims about Justice Nazlan.
As a matter of fact, it seems as though the decision made by the judge on Najib's case somewhat proves that Malaysia has an independent judiciary system. Subang Jaya MP, Wong Chen, for instance, posted how he believes that Malaysia is seeing independent judiciary despite the conspiracy theories that the SRC International trial is somehow politically engineered.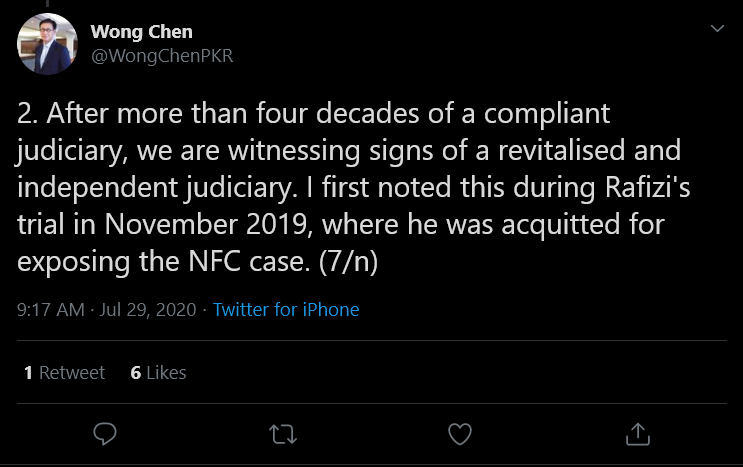 See, although Justice Nazlan sentenced Najib to 12 years' jail and a RM210 million fine (that we mentioned earlier in the intro), it is also worth to note that the judge had later granted Najib a stay of execution (read: delaying the execution of his sentences) pending his appeal to the Court of Appeal.
Najib was also ordered to pay an additional RM1 million bail besides reporting himself to a police station of his choice on the first and 15th of every month. As of the time of writing, Najib had reportedly paid the RM1 million bail.
Besides that, there isn't any say as to how this case would end as of now. So, for the time being, it may be best for us to put our faith in the judicial system despite our political differences. This is somewhat in line with what the Prime Minister, Muhyiddin Yassin, reportedly said…
"Let's continue to have faith in the judicial system." -as quoted by The Star.
[UPDATE: 30/07/2020] One of our Facebook users made a very good point that we feel we should add on to our article.
One of our readers, Rastam Hadi, reached out to us to suggest that we include steps on how to report fake claims to the Malaysian Communications and Multimedia Commissions (MCMC). So, we're updating this section to include just that.
Now, if you ever stumble upon any claims that seem dubious or memang straight up fake in the future, you can do your part to help stop spread them. And, according to MCMC's website, there are several ways to lodge a report:
You can lodge a complaint directly to the content owner or moderator. However, if you can't find any of them, you can use the 'report abuse' service provided by the website.
You can lodge a complaint on http://aduan.skmm.gov.my/.
You'll be given a receipt for your reference and will receive a reply to your complaint within 15 days from the date of complaint.
You can also lodge a report to other relevant authorities such as the police.
Yes, we get that one way to stop fake news is by ignoring them and not sharing them to other people. But the MCMC can only take action against those who post or spread fake news online when the public lodges complaint to the MCMC.
So, with the information we provided above, the decision to be good samaritans to combat fake news now lies in your hand.