So the movement control order (MCO) has gone thru several phases from the MCO to enhanced MCO to controlled MCO. And just in case you missed the Prime Minister's announcement, Muhyiddin has announced that we'll be entering a new phase called the restricted recovery movement control order (RMCO) starting the 10th June 2020.
Under this new phase, you can…
travel to other states (except to states that are under the enhanced mco),
go to pasar malams,
get involved in sports
and even get your hair cut at hair salons (finalleh!!!), among other things.
And after being stuck at home for 84 days, we wonder what the MCO was like for you. So we posted this on Facebook…
…to find out what you'll miss the most about the MCO. And boi were the responses interesting. So without further ado, let's start with how some of you are gonna miss…
1. Empty roads. And hearing birds chirping thanks to less noise on the road
Out of almost 200 comments we received on the post, most of the comments we saw were how our readers would miss the MCO traffic. If you're already heading to work during the RMCO, then you might be stuck in the usual Malaysian traffic. T.T
Just in case you have not been out during the MCO at all, here's what our readers meant when they talk about the MCO traffic.
In our previous article about what it's like to work in essential services during the MCO, one of the first things our interviewees shared was how the roads were pretty empty. And this is what most (if not all) Malaysians would be missing about the MCO.
Apparently, according to our readers, empty roads meant less noise from vehicles, especially mat rempits! One of our readers even claimed that she was able to hear her neighbour played their violins and birds chirping.

During the MCO, there weren't that many activities (read: rempit) on the road. In fact, groups of mat rempits in Kelantan sought to raising money to overlooked families during the MCO. They managed to raise RM5,000 to help 28 families.
However, this pretty much changed when Muhyiddin announced the implementation of the conditional MCO. One of our readers, Jacob Ooi who lives near the Sungai Besi Expressway and Seremban highways, pointed out that he started hearing mat rempits on the road once the conditional MCO started.

"So at night and mostly weekends you'd hear a bunch of rempits revving their bikes as they head either towards KL or the other way." – Jacob to CILISOS.
And he may be true considering how there have been reports that these gais are back on the road. For instance, seven mat rempits were reportedly fined RM1,000 for defying the conditional MCO in Penang.
Besides that, some readers would miss staying at home and…
2. …(literally) social distancing from EVERYONE

Another common response we get from the Facebook post was how most of y'all would miss staying at home and social distancing. And when they say social distancing, they're not just talking about the 1 meter distancing rule but avoiding people in general.
As a matter of fact, one reader even claimed that he'd miss not having to deal with boomers or anyone he finds annoying.

And when you don't meet other people, that can only mean one thing – you don't have to get all dolled up to meet them despite the Women and Family Development Ministry's initial suggestion la! In fact, two readers pointed out that they're gonna miss wearing sarongs and kaftans all day, errday. This is pretty true considering how kaftan became a trend among Malaysian men during the MCO(!).
Besides that, some of our readers pointed out that staying at home and not meeting people would also mean that you don't have to… uhh… worry about not wearing your undergarments. o_O
Besides that, we also noticed how…
3. Malaysians would miss their UNLIMITED amount of data sleep
For some of us, staying at home meant that our daily schedule may look like this…
And we're pretty sure that some of you would also have a different sleeping schedule (like some people here at CILISOS) than your regular days. This includes school kids as well. Coincidentally enough, we noticed how some of y'all claimed y'all actually sleep late and wake up specifically at… 3pm(?).
But that may not be a big deal anyways considering how most of us (44% of workers in Malaysia to be exact) are working or studying from home. This may be why our readers claimed that they would miss not having to worry about being late to work or class… because either way you may not gonna be late anyways.
4. 'Multitasking' while working or attending online class
One of some new skills Malaysians have learnt during the MCO – be it cooking, dancing or TikTok-ing – is to multitask whilst working or attending online classes.
But jokes and bawang sessions aside, the most multitasking activity we notice among our readers is gaming. We're pretty sure some of y'all can relate to this reader…

And, as it turns out, Malaysians have been spending an adequate amount of time playing games during the MCO. As a matter of fact, Malaysian game suppliers claimed that they have been seeing a spike in the number of people buying consoles during the MCO.
"From the moment the shop opened in the morning from 11am to 9.30pm, I didn't have time to sit down or eat. Customers were buying consoles like the Switch and PlayStation 4." – Ethan Wong of Impulse Gaming to The Star.
Besides, Malaysians have been very creative in games as well.

And this reader is not the only one. Just in case you forgot, several Malaysian gamers gathered on GTA for a Malay-themed wedding and to celebrate Raya(!).
Another multitasking activity is watching Netlflix and there were quite a number of our readers who mentioned that they've been watching shows or movies on that platform. They may not be the only one la seeing how online video streaming platforms saw an increase in traffic growth. And this platforms include local ones like Tonton.
Besides these activities…
5. Malaysians would miss spending time (being stuck at home) with their families
If you're stuck at home with your family, then you may agree with this. Some of our readers actually mentioned that they would miss spending time with their families…

…regardless of how annoying they might be…

Ok, we heard y'all. Not everyone is stuck with their families during the MCO. Heck, 10.6% of respondents from our Duduk Rumah Survey told us that they were stuck alone. 🙁
So for y'all who haven't seen your family members for the past months, fret not. With the recent implementation of RMCO, you would be allowed to meet up with your family members, especially if you're required to travel to other states to do so. In fact, some Malaysians were already planning to do this tho not many reportedly traveled to other states on the first day of RMCO itself.
Despite that…
6. Malaysians who lost their jobs won't be missing anything about the MCO
Let's be real. The MCO wasn't really a great time for everyone, especially for those who lost their jobs or were asked to take unpaid leaves. And we're talking about more than 600,000 Malaysians, who are reportedly unemployed at the time of writing.
We later realised how our question may seem a bit insensitive to some people and we gotta thank our reader for pointing that out.
In addition, other readers admitted that they won't be missing anything about the MCO. In fact, one reader pointed out how it was a traumatic experience for her. We tried getting in touch with her to find out more about this but she has yet to respond to us.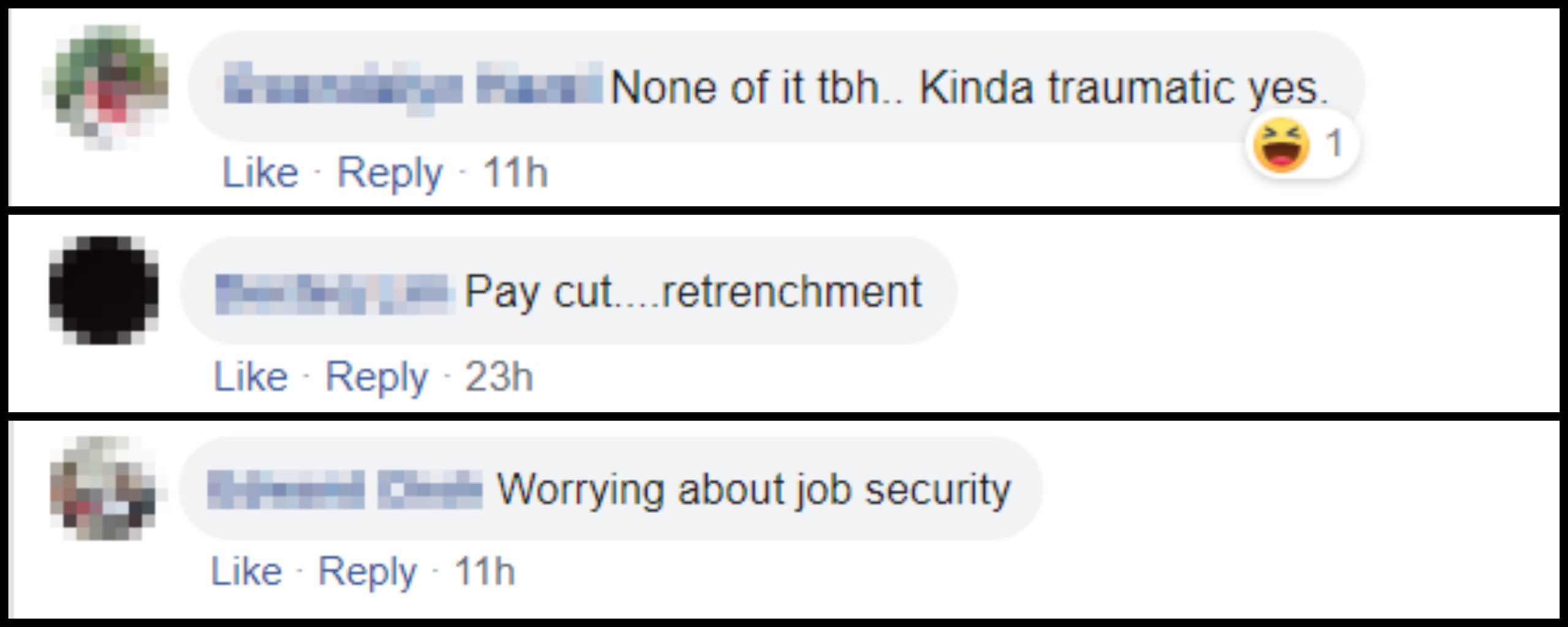 Besides losing jobs, our readers have cited pay cuts and worrying about job security as some of the things that they won't be missing about the MCO. A study conducted by Khairy Jamaluddin's think-tank, The Centre, found that those who are either getting pay cuts, unpaid leave or retrenched reported to have experienced negative emotions and highest levels of depression, anxiety and stress. So it kinda makes sense why they claim that they won't be missing the MCO.
Other than that, being stuck at home may not be ideal to some Malaysians especially if they're living with those who abuse them. Although this may not be something our readers have pointed out, the rise in domestic abuse during the MCO is pretty concerning. According to the Women's Aid Organisation, the ministry's Talian Kasih hotline had seen a 57 per cent increase (or 1,893 calls) from women in the first few days of the MCO.
But with the recent implementation of the RMCO, we do hope that the lives of Malaysians would be better after this. And just because the RMCO meant that we can finally go out, that doesn't mean we can get back to our normal, pre-MCO lives. That's because…
We STILL have to play our part because we're still technically under the MCO
If you have been staying at home throughout the MCO period, then you're among the 99% of Malaysians who have been playing your part in…
The result of this? As of 14th June 2020, the Health Ministry reported eight new Covid-19 cases and one death. Despite that, the fight is far from over because, as this reader mentions…

So while our frontliners have done their part to fight the global pandemic, it is now entirely up to us to live the new normal and play our part to prevent the spread of the global pandemic.
And if you're still clueless as to what it means to live in the new normal, here's a quick guideline from the govt for you:
Practice social distancing (yea, the 1 meter rule)
Wear face masks in public
Wash or sanitise your hands frequently
Avoid mass gatherings
If you're working in the office, you're encouraged to sanitise your workplace at least twice a day
Having said that, let us all be mindful every time we go out and play our part to protect ourselves, loved ones and community from the virus. #kitajagakita