History
International
New Zealand's huge role in helping Malaya through its turbulent Emergency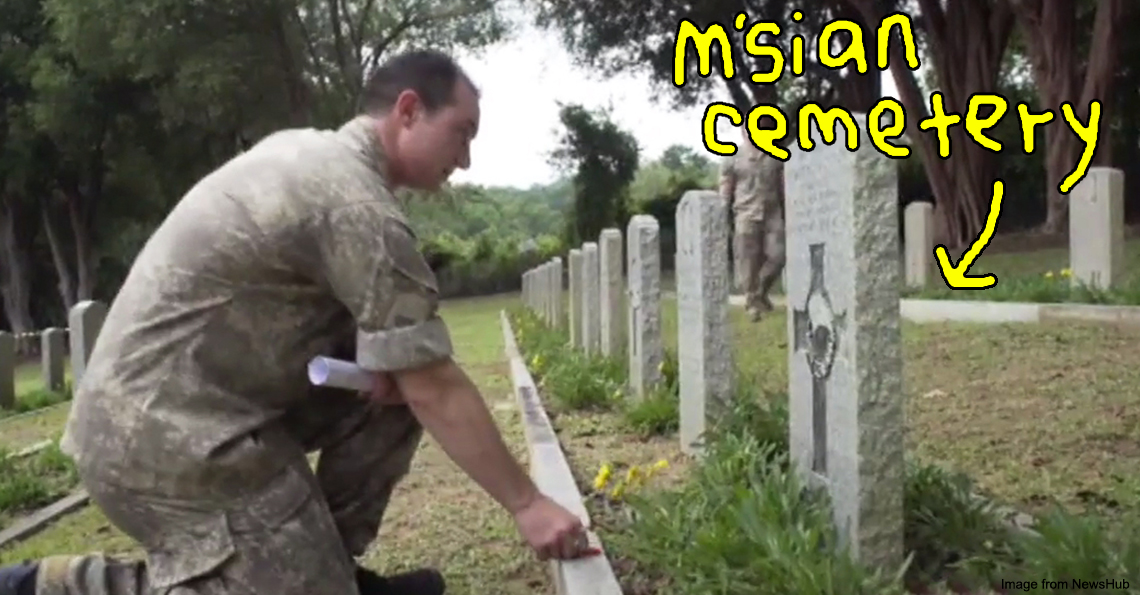 When someone says the word New Zealand, you may think about the population of sheep or Lord of the Rings. But add Malaysia to the mix, and you'd probably think…. MILITARY.
Huh? New Zealander military in Malaysia? Apa kaitannya?
Recently, the New Zealand's Defence Force planned a mission to bring back home the remains of their soldiers from Malaysia. It's basically a repatriation mission called Operation Te Auraki. It was reported that the process to dig up the remains of the bodies will begin 48 days from 3rd July 2018, and the force will bring home the remains on 20th August 2018.
This brings us back to the question… what on earth were New Zealand soldiers doing in Malaysia?! Get ready for a WHOLE LOTTA HISTORY, ugaiz.
New Zealand actually played a huge role in the Malayan Emergency
If you paid attention in sejarah class, you would remember how the history of Malaysia typically involves the people of Malaya and British. Everything also British, British, BRITISH. Teh pun dah jadi our national drink.
But surprisingly, New Zealand's soldiers actually played a role in our history too. Although they're just one of the minor characters like Neville Longbottom in Harry Potter, they played a huge role as they were the ones who helped the Brits especially during the Malayan Emergency.
Malaya declared emergency in 1948 when a communist party killed three British rubber planters. Why? Because they were unsatisfied with their status in the colony. But here's the thing. The Brits actually wanted to grant them citizenship, but when their people were killed, of course they changed their mind and responded to the attack lor.
New Zealand then began to contribute their soldiers in 1949. They were the ones responsible to send supplies (such as food) through air for the British and Malay forces who were fighting against the communist. In fact, one of their aircrafts (oddly named Dakota, so American) was permanently stationed in KL.
Aside from joining British secondment units and battalion regiments with a high reputation for its effective operations, New Zealand soldiers also joined forces with the British Commonwealth Far East Strategic Reserve. They formed a special air service particularly suited for operations against the guerrillas in their jungle sanctuaries and served two roles; to deter communist aggression in South-East Asia and to participate in action against the guerrilla in Malaya.
But their air force also power la… New Zealand's air force launched its first operational strike mission since the World War 2 which managed to produce experienced pilots who returned to Malaya two months later despite the effectiveness of the mission being inevitably limited. The pilots who returned to Malaya continued to send supplies in support of anti-guerrilla forces.
So, did they fight off the communists? Well, heck yea!
When New Zealand replaced its second battalion after clearing Perak of communists, they retreated to Southern Thailand. With that being said, the emergency was officially terminated in 1960 after Malaya saw a great improvement in the security situation.
It was reported that only fifteen New Zealand servicemen have lost their lives out of about 4,000 who were involved with Malayan Emergency. Three were caused by enemy's action and the crew of an aircraft which flew into a mountain in 1956.
So, what happened to the remaining soldiers who were said to be killed during the Malayan Emergency??
New Zealand helped Malaysia build its national armed forces
We mentioned how the communists retreated to Southern Thailand, proving how power these New Zealand soldiers were after they came to Malaya and helped us. Buuuttt the communists didn't actually sit there quietly.
The communist party led by Chin Peng actually gathered resources for a renewed arm revolt against Malaya and Singapore during the 'lull' period (a.k.a the period between Malayan Emergency to the year communist insurgency began). This includes its effort to recruit the Malays. The success of Vietnam War and meeting between the party's leader, Chin Peng and Chinese politician from China, Deng Xiaoping inspired the party to prepare for another attack.
This time around, the communists were unsatisfied when the Brits gave Singapore and Malaysia independence. They wanted to establish a 'Malayan People's Republic' and claimed that both nations weren't independent and sovereign states but were only British's 'neo-colonies'. In this period, the communists' attacks were worse than during the Malayan Emergency.
The attack which started the insurgency happened at Kroh-Betong, Perak when 17 members of security forces were killed. However, the act of terrorism upsurged in 1974 through assassinations, sabotage and bombing including a high-profile assassination of Tan Sri Abdul Rahman bin Hashim, Inspector-General of Malaysian Police.
So when does New Zealand appear in this narrative? Unlike during the Malayan Emergency, New Zealand wasn't directly involved in this insurgency. The Malaysia gomen formed special forces called VAT69 which was based on British special air service. As a matter of fact, this force was trained by British before they leave the country.
New Zealand was actually requested to remain in the country along with other foreign troops until Malaysia's internal security and armed forces could be built up.
When the Brits left, New Zealand sort of acted like a substitute teacher when its soldiers took over the training programme and trained 208 men. And just like any dedicated teacher, New Zealand's soldiers actually handpicked and trained 13 VAT69 soldiers so that they (as in the VAT69 soldiers) could train the squadron after them. But like a substitute teacher, New Zealand's soldiers eventually left Malaysia after serving their purposes here.
Although New Zealand didn't exactly ended the communist insurgency, it helped Malaysia to combat the communist by building its national armed forces. The insurgency ended when the communist party signed a peace accord in Hatyai, Thailand. This is due to internal conflict in the party, bilateral relationship Malaysia gomen built with China and the encouragement the party received from Deng Xiaoping.
New Zealand played a minor role in another incident when it showed support to the anti-communist in the communist insurgency incident in Sarawak which happened at (somewhat) the same time this insurgency occurred. The Sarawak insurgency was said to be related to another conflict; the Indonesian-Malaysia confrontation.
New Zealand DOWAN to help British in fighting off Indonesian armies
When the United Kingdom wanted to form the Federation of Malaysia by combining its colonies in Borneo (Sabah and Sarawak) with those in Peninsula Malaya, a neighbouring country strongly opposed this move (Hint: not Singapore). Yup, it was Indonesia.
Indonesia's President, President Sukarno claimed that Malaysia would just become British's puppet instead of a nation on its own. So, that was probably why Indonesia's Foreign Minister, Dr Subandrio declared the policy of Konfrontasi against Malaysia in 1963.
But did you know that although Indonesia armed forces were equipped with canggih weapons, they weren't capable of fighting against the British? Haa… So how did they become such a huge threat that New Zealand's soldiers were needed? Apparently, they supported subversive movements in Borneo which then posed them as guerrillas. Method of attack? They would cross the border of Kalimantan, attack security forces before quickly returning to Indonesian territory.
And just like two previous cases we've presented, the British were the ones who fought off the Indonesian armies. Despite launching cross-border operations (Operation Claret), the British found out they had limited resources and manpower. So, they requested New Zealand and Australia, not once but many, many times, to send their soldiers to help la.
However, the Prime Minister of New Zealand, Keith Holyoake didn't wanna help the British after giving it a thought. He reasoned that if he were to intervene, then New Zealand's relationship with Indonesia would be jeopardised.
But the Brits were actually lucky. Why? Because New Zealand's soldiers actually got involved a bit. This happened when President Sukarno extended the military operation to the Malay Peninsula where the only Commonwealth unit in the region was New Zealand's battalion regiment. The unit was granted permission from Holyoake to hunt down Indonesian armies who mostly surrendered without struggle.
So, did New Zealand send help to British? Well, yes but only when Holyoake couldn't ignore the appeals of assistance from London and the Brits military almost GG. Holyoake announced that a small special air service detachment together with the battalion regiment would be deployed in Borneo. The detachment was involved in Operation Claret together with Australian and British soldiers.
Aside from that, New Zealand's air force supplied food and equipment to its ground force who were with British soldiers besides contributing three Royal Navy ships to patrol the Malacca Strait. And New Zealand's soldiers didn't only have to deal with the Indonesian armies, they even relieved a Gurkha battalion in Sarawak as well!
Aaaaand New Zealand's soldiers saved the day again when the confrontation ended by the time the regiment was redeployed to Borneo.
Having said that, wouldn't it be true that the soldiers are no longer needed in Malaysia anymore? Actually…
New Zealand and Malaysian military are still working together today
Of course the military history New Zealand had with Malaysia sounds pretty cool. Little did we know how big of a role New Zealand played in our history. But New Zealand is still involved with our country up till today. Its defence forces are working together bilaterally through the membership of the Five Power Defence Arrangements (FPDA) since 1971. FDPA is a series of defence relationships established between five countries; UK, Australia, New Zealand, Singapore and Malaysia.
Malaysia and New Zealand also served as non-permanent members of the United Nations Security Council in 2015 and 2016. If you're wondering what the United Nations Security Council does, its primary responsibility is to maintain international peace and security.
And did you know that the New Zealand veterans took part in Malaysia's 60th Merdeka march parade?? OMG! It was reported that 60 British and New Zealand veterans took part in the parade.
Speaking of working together, Malaysia's Defence Ministry mentioned that we will assist New Zealand Defence Force in bringing back the remains of the soldiers. The process to dig up the remains would take place at Terendak Commonwealth Cemetery, Taiping Christian Cemetery and Cheras Commonwealth War Cemetery.
But this isn't Malaysia's first time assisting other countries to bring back the remains of the countries' soldiers. Malaysia successfully assisted British in Operation Dakota (2008), Operation Gangga with the US (2015) and Operation Reunites with Australia (2016).
"It is a big issue for Malaysia because they recognise that these people have died in support of their independence as it were. So we expect a very large event once they are interred." – Defence Force Air Vice-Marshal Kevin Short.
And while it might be important to appreciate the fallen heroes by giving them proper memorial and recognition, maybe it's time for them to return home to their loved ones.