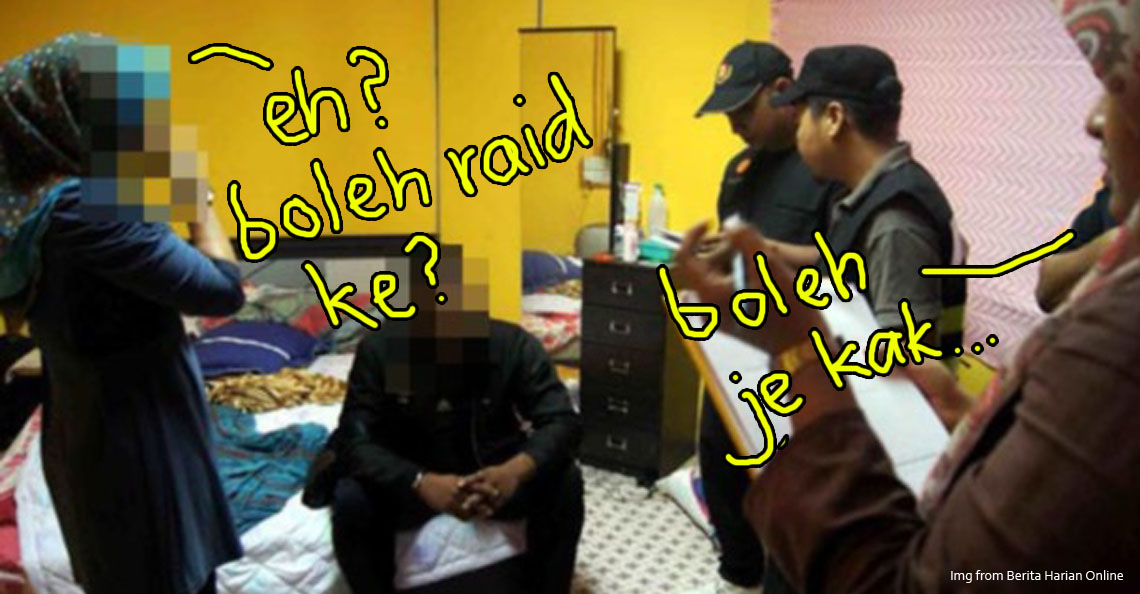 Living in Malaysia, you might have heard (or received) a khalwat raid before, where a state's religious authority catches you in the act of making love outside the holy bonds of matrimony… but not necessarily. Anyways, raids can sometimes get pretty lit, but they may soon be very different.
Datuk Mujahid Yusof Rawa, a minister in the Prime Minister Department in charge of Religious Affairs, had recently been reported to imply that there will be "no more knocks on the door in the middle of the night and no more breaking down of doors by religious authorities investigating reports of khalwat or other alleged wrongdoings".
In an interview with The Star, Mujahid had essentially said that what Muslims do behind closed doors is their own personal business, and none of the government's.
"Let's say you commit something within your personal, individual sphere – I will not interfere. For example, consumption of alcohol is wrong for a Muslim, but if you consume it within your sphere, then as part of the government, I will not interfere. My concern is what goes on in public that encroaches on sensitivity, legality or criminality. Only then does the government come in, not because we want to be moral police but because we want to secure the public sphere," – Datuk Mujahid Yusof Rawa, in an interview with The Star.
The report blew up, and while some netizens had expressed their support for his statement…
It also caused an uproar among part of the Muslim community
Apparently, some people aren't very happy with the report, and we're not just talking about random netizens, either. Muftis from Perak, Pahang, and Negeri Sembilan had spoken out against Mujahid's alleged statement, and basically, what they're saying can be summed up into two points:
It's the responsibility of the authorities to prevent maksiat or sinful acts among the people. Therefore, to not actively do khalwat raids will be negligent on the government's part.
Mujahid's words carry no weight as except for the federal territories, religious and sharia matters are under the purview of each individual state. As such, some state religious enforcement bodies had said that they will continue raiding as before.
The statement also caused the PAS Youth to call for a review on Mujahid's position as a minister, and Datuk Nassuruddin Daud, chairman of Kelantan's Islamic Development, Dakwah, Information and Regional Relations committee, had even went as far as saying that Mujahid has a low level of knowledge in religious laws and matters as well as a low level of education, which should not happen to a minister.
But it's not all bad. The Federal Territories Religious Department (JAWI), for one, is open to criticism from anyone, and they welcome suggestions to review their enforcement activities. Also, the Penang Mufti, Datuk Seri Dr Wan Salim, had defended Mujahid's statement, saying that he could have been trying to not shame khalwat offenders, which can sometimes happen during enforcement.
"Even Islam prohibits one from exposing another's wrongdoing in public. This is because the person who commits the wrongdoing is also trying not to expose his sins. Humans cannot run away from committing sins. Some are in a situation where they are forced to do it and they did it in a closed manner. Maybe this is what he (Mujahid) thought of," – Datuk Seri Wan Salim, to NST.
Tun Dr Mahathir Mohammad had chipped in, saying that Islam does not ask its followers to go sniff out sin to the point of intruding into other people's homes. Regardless of the positive comments, the backlash had been quite vicious, which is perhaps why…
Mujahid had since denied making such statements
While Mujahid had been reported to defend his statement on Saturday, saying that there was nothing wrong with what he said, on Sunday the Prime Minister's office had urged The Star to issue a written apology for the title and first paragraph of the article, as none of that had been explicitly said by Mujahid.
"I want to stress that not once in the interview with the minister did he utter those words as written in the first paragraph of the article. The sensational headline and the first paragraph of the article was written on the interpretation of the journalist in question, this news has become viral and has caused a misunderstanding among the Muslims in the country." – Siti Zulaikha Zulkifli, Minister Press Secretary, as reported by the Sun Daily.
During an interview on TV Al Hijrah, Mujahid had again stressed that he had only touched on things that are done in public and private, and talks of stopping the raids must have come from the editors making their own summary of his statement. As such, he had published a transcript of the interview on his Facebook page to clarify matters. It's in Malay, but you can find the English version published by the Star here.
Of interest is this section:
The Star had since clarified that the first paragraph and the title of the article were not direct quotes from Mujahid, but were rather based on the excerpt above. But still, if you've been reading the news about Mujahid, you should notice that…
People seem to have very strong opinions regarding his statements
After the whole fiasco, Mujahid had expressed his disappointment in religious experts who spoke out against him without asking for his explanation. He had said that some people resort to insulting the minister based on news headlines, as if the minister is stupid and has no religion.
"We don't really care about those commenting on social media, but when religious experts, who the people look up to, comment on the matter, they should at least ask for an explanation from the minister first… When I pointed out the mistake in the heading (of the article) and asked them (religious experts) to read the full transcript of the interview, where are they then going to put their faces?" – Datuk Mujahid Yusof Rawa, as reported by NST.
However, Datuk Mohd Yusof Ahmad, the mufti of Negeri Sembilan, had said that there is no need for religious scholars as well as the muftis to apologize to Mujahid, as the muftis had to say something so that people won't interpret their silence as an agreement. Furthermore, he questioned why Mujahid had to wait for the criticisms to pour in before denying the report and defending himself.
Regardless of this recent case, Mujahid's statements seemed to be 'misunderstood' a lot, ever since he was appointed some three months ago. In July, Mujahid made a speech on Hizf al-Din (taking care of religion), which promotes taking care of not just Islam, but other religions as well. There was a backlash, and he later claimed that his statement had been twisted and misinterpreted, and that he only meant preserving the right to profess other religions.
In August, he apologized for making confusing statements on the issue of LGBT rights, one of them regarding toilets. He had also been criticized for criticizing Zakir Naik for his combative style of propagating Islam. Mujahid's take on other issues, from Shia teachings to hudud implementation to child marriage, had also been commented on, so one might wonder…
What is it that Mujahid's trying to do anyway?
Although one can describe Mujahid as controversial, based on his statements so far, we guess you can also describe him as a bit… unorthodox. Earlier this month Mujahid outlined three foundations that will serve as the government's new narrative when it comes to racial and religious harmony in Malaysia:
Islam as the religion that brings mercy (rahmatan lil alamin), by approaching people, opening dialogs and not being forceful in its nature;
Putting forth a new purpose of sharia (maqasid sharia) to consider not only hudud and Islamic laws, but also justice and humanity; and
Making Malaysia as a model that shows the world how we can still live in harmony even with Islam as the official religion, when the world have conflicts in the name of race and religion.
His most recent statement on khalwat enforcement seems to fall in line with these foundations, with regards to forceful moral policing by the religious authorities. However, in his interview with the Star, he did admit that it won't be an easy task to implement this new policy of 'compassionate Islam', as there will be people who resent such ideas, even among the administrators. To overcome that hurdle, Mujahid's plan is to 'debate, talk, and discuss'.
"We have to get them on a platform with their ideas and opinions. At the end of the day, you have to put your foot down where you want the new policy, set an agenda and have a timeline. We have the bigger society supporting us. By concurrently doing this, we will have a reformed Islamic administration." – Datuk Mujahid Yusof Rawa, to the Star.
As for what will actually happen to khalwat raids… at the time of writing, there was only talk on improving the SOPs so that any raid can only be done with solid evidence instead of being based on just complaints. Until that happens, we guess the old procedure stands… so here's an article on what to expect if you kena raid.