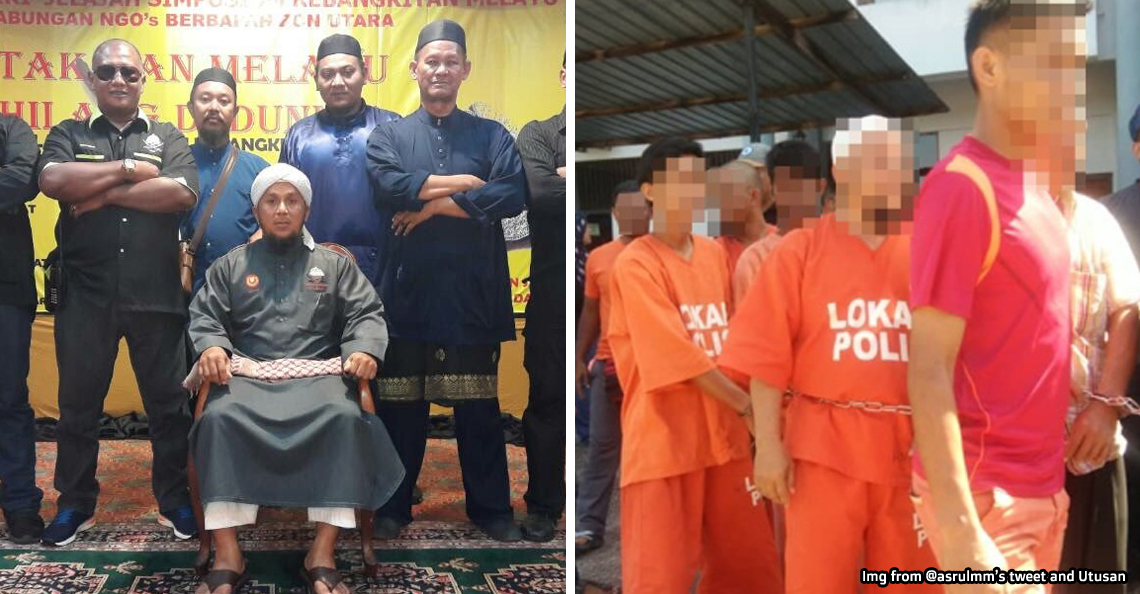 Recently, there has been talks about something called the Skuad Badar returning after going on a hiatus. Now, if you're not a Muslim living in Sungai Petani, Kedah (or a hotel operator there), you might not have heard of them. However, late last year they became famous for their stunt of dragging couples to a graveyard and giving them a religious lecture there.
Nope, we're not joking. According to the founder of Skuad Badar, Azhar Mohammad, that's a perfectly rational solution for couples getting too comfortable with each other out of wedlock.
"We take them to the cemetery as we want them to realize that all Muslims come to this end — the grave.  There, we will advise them about the afterlife so that they can repent and know the error of their ways," – Azhar Mohamad, as reported by Today Online.
Aiyo, you say. Is this what the gomen is doing with our tax money? Well, rest assured, all you tax-paying citizens, because the Skuad Badar is not affiliated with the government in any way. That's right: they're just a bunch of volunteers (with no legal authority) bent on battling vice. But even without the authority or an official search warrant on their side…
The Skuad Badar have been doing some pretty brazen stuff
The Skuad Badar have been around for, like, two years, so maybe not much is known about them. We tried to contact Azhar Mohamad (the founder) to learn more about what they do and why, but he didn't respond, so guess we'll just scour the news. The most commonly cited activity seem to be raids. These are said to be based on tip-offs from the public as well as their own intelligence.
For example, a hotel can be said to be suspicious based on the number of motorcycles parked in front of it. It all may sound pretty woolly as a method, but between June 2017 and October 2018, they have arrested as many as 270 couples in Sungai Petani, including 70 underage couples. Perhaps shockingly, one of the couples they claim to have arrested had been a 30-year-old man with a 12 year-old girl.
Besides couples, they've also been reported to raid massage parlors, gambling outlets, and motels and hotels that they suspect offer prostitutes or sexual services as well.
One such raid centers on storming cyber cafes on Friday, rounding up the Muslim kids inside and giving them a tazkirah (religious advice) before taking them to the mosque for Friday prayers. That one got video, which you can watch here.
They've also been reported to pressure a woman to publicly apologize for her lewd online behavior. For context, the woman is a vendor of… sexual supplements for men. The Skuad Badar offered to help her through counseling and guiding her to a better apology, saying that they will back her once she's sincere.
Other than that, they do basic NGO stuff: protesting the spread of the Bible to Kedahans, asking Waytha Moorthy to apologize for slandering Islam, protesting the ICERD, holding Malay-Muslim-centric forums, and holding a special prayer session to ask for Siti Kasim's death if she doesn't repent. You know, the usual.
Oh, and btw, they're also known to do community service as well, like helping out the poor and stuff, so that's nice.
We can't find a reliable source on why they do all these, but it seems to stem from disappointment in the state's religious authority. Azhar Mohammad alleges that the authorities had been all talk and no action, so they decided to step up and take action. On raiding premises like hotels and massage parlors:
"We see that the public had been making reports about this for years and there had been no action towards premises such as these. This should have been their job, but they didn't take action, so we as a Muslim NGO have to take action." – Azhar Mohamad, translated from FMT.
With all these vigilante stuff they've been doing, you might wonder…
Don't they get into trouble with the REAL authorities?
While they may seem like a bunch of Batmans in turbans, it's not like they just go around throwing Badarangs to incapacitate sinners. Raids are done after consulting local mosque officials (to see if it will affect Islam's image) as well as getting an 'approval letter' from the local police (actually just a police report that states their intentions) beforehand.
Still, it's up to the establishment whether to allow them in or not.
"When we see a lot of motorcycles outside a hotel, we will go to the front desk and show them our 'approval letter'. If the hotel doesn't allow us to go in, we won't go in. But we will wait outside," – Azhar Mohamad, as reported by Today Online.
In their early days, they seem to work with Kedah's religious authorities as well. If their raid targets refuse to cooperate, Azhar said that the Kedah's Department of Islamic Affairs (JAIK) would be called in to help. The JAIK also seems to be the solution for repeat offenders, of which there had been few.

"If we catch them a second time, we will hand them over to the religious office, and so far there have only been three cases where couples have been arrested a second time." – Azhar, translated from Harian Metro.
So based on the repeated police reports and JAIK's cooperation, it would seem that the authorities are aware of Skuad Badar, and they chose to let it be. According to Asri Yusoff, Kedah police chief back in 2017, the police will leave them alone as long as they stick to just giving advice to Muslims. The police was even said to call them in to talk to district police officers before their activities, and back then, they did not receive any reports against them.
But they had warned the Skuad Badar to not go too far.
"If they want to advise Muslim children against playing games in cyber cafes, and they don't affect non-Muslims, it is not a problem. If they start shutting down shops and such things, they would be encroaching into the powers of the local authorities and the police. The businesses are licensed, so they can't act as they wish," – Asri Yusoff, to FMT.
For a while, things seem okay for the Badar Squad, but earlier this year…
Azhar himself got arrested for… belonging to an illegal society?
Sometime in January the JAIK lodged a police report against the Badar Squad, leading to the arrest of Azhar and another group member. In the police report, it was said that the Badar Squad had been doing enforcement activities without JAIK's permission, and despite not having the authority, they have been entering premises without neither permission nor a search warrant. Also… they're not registered with the Registrar of Societies (RoS). *le gasp!*
They were remanded for four days to assist in investigations under the Official Secrets Act and the Societies Act. We dunno what brought that on after two years of raiding with no consequences, but maybe Malaysia Baru had something to do with it. Anyways, it would seem that their grave-lecturing antics was sniffed out by the media sometime in November last year, and people lashed out against their way of doing things.
For one, Latheefa Koya, then Executive Director of Lawyers for Liberty, alleges that members of the Badar Squad disguise themselves as the authorities when doing raids, and that they asked for the mosque's management's permission to disturb people's personal life. She asked for the intervention of authorities to stop them.
Others have said that their actions were excessive, and Mujahid Yusof Rawa, Minister in the Prime Minister's Department, had said that those who take the law into their own hands in the name of Islam only tarnished their good deeds and intentions.
Anyway, the outcry from rights activists and politicians eventually led to the arrest, and following that, the Badar Squad halted their activities until further notice. In April, Azhar along with six others were fined RM1,000 each after pleading guilty to joining an illegal organization.
Sigh. Is this the end of Kedah's most famous vigilante group? Well, maybe not quite.
The Badar Squad plans to make a comeback… with branches all over Malaysia
Earlier this month, Azhar announced that the Skuad Badar will make a comeback at the end of July as without them, immoral activities are running rampant. At least, according to Azhar, anyway. He had also claimed that things have worsened under the Pakatan government, based on the higher number of cars parked at hotels compared to the time when they were active.
"People came to us crying and asking when we will resume operations. They could not stand seeing youths hugging each other in public places. When we were active, Sg Petani teenagers were not so daring. Yet, after we stopped, these activities are on the rise and they are doing it more openly." – Azhar Mohamad, as reported by Today Online.
The squad will be renamed as Skuad Badar al-Qubra, 'qubra' being an Arabic word that means 'big'. And big they will be. Azhar revealed that they plan to expand to every state by having branches of the squad there, to assist the local state's religious authorities. To that end, they're drafting a proper SOP this time. They also plan to get properly registered, since Azhar said that apart from the registration issue, they have never had problems with the authorities before.
In response to that, the Bukit Aman police had warned them to not act against the law, since they're still not a legal religious enforcement body and thus have no power. Ismail Salleh, Kedah's Exco for religion, had also advised them to cease operations until their court case is concluded. In the future, he said that the Skuad Badar can still help out, but they can't enforce on their own, having to work with district Religious Offices and adhering to their rules and SOPs.
"They cannot follow the jungle's law as they please, everyone is bound by the nation's constitution… If they still won't follow the SOP by enforcing on their own, we cannot ignore that. It is feared that approach will mar Islam's image. We hope they can have an open attitude and comply with regulations." – Datuk Dr Ismail Salleh, translated from Sinar Harian.
We haven't heard anything more after that, but just to be safe, you can go to the end to this article to know your rights in case someone tries to arrest you for canoodling.