*Untuk baca dalam Bahasa Melayu, tekan sini!
[UPDATE: 14/10/19]
Richard Huckle, who was ordered to serve a minimum of 25 years, was found dead at the Full Sutton prison in North Yorkshire on Sunday. His death is still under investigation so a prison service spokesman told The Guardian that it's inappropriate to comment further on it just yet. [END OF UPDATE]
By now it's impossible that you haven't heard of Richard Huckle, Britain's worst pedophile, and all the details of the way he preyed upon the most vulnerable children in underprivileged communities in KL to satisfy his needs.
In case you need a refresher, Huckle sexually abused up to 200 Malaysian children between 6 months and 12 years old, all while doing voluntary work in the country, documenting them in more than 20,000 indecent images and compiling a "pedophile manual" for others to follow.
This comes hot on the heels of news that MARA scholar Nur Fitri Nordin served only 9 months of the 5-year jail sentence handed to him by the British courts, and now currently lives as a free man in Malaysia. It's enough to make anyone who has, loves, or heck, even KNOWS any children feel ill (this writer certainly felt like she needed a shower and a hug after researching and writing this article).
If that wasn't enough, on June 2nd 2016, social activist Syed Azmi uploaded a screenshot onto his Facebook page from what seems to be a chat group on the messaging app Telegram, with over 700 members discussing the virtues of various images of children. (WARNING: Not for the faint of heart)
We're sorry if we made you puke – we don't particularly like reading this stuff either. But as disturbing as this is, it's important that we start talking about it.
How big is this problem anyway?
All this press makes it sound like the problem is huge, but the truth is it's hard to put a number on the number of child sexual abusers there are out there.
"We have statistics from the Social Welfare Department as well as from the Royal Malaysian Police respectively – but the numbers are different between these two parties and that the statistics include physical, sexual, emotional and mental abuse for children," explains Datin Che Nariza Hajjar Hashim, president of local NGO Protect & Save the Children. She adds:
"The statistics are not specific for only child sexual abuse. However, these numbers are not available to the public, so we're not able to release the numbers to the public either."
Yup, you read that right – these statistics are not available for the public to see, though we're not sure why. (Fun fact: haze statistics, crime statistics and government purchasing contracts are locked under the Official Secrets Act.) Unlike other countries, we also don't have a sex offender registry (though they're now talking about setting one up), which would allow previous offenders to be identified and officials to keep tabs on them.
"We do not have a system of prevention for pedophilia. So there are no special kind of supervisory powers or appropriately specific measures as against a pedophile. Currently, they are treated as any other criminal offender," says CILISOS.MY's fevret lawyer Fahri Azzat. That explains why someone like Nur Fitri, despite having thousands of disturbing images stored on his hard drive, is able to live a relatively normal life here.
"So what can I do if I see a case of child sexual abuse?"
We've been reading a lot of articles lately focusing on how to protect our kids and what we need to do to spot a predator before they strike, and these are important topics to cover. But what we haven't seen is what you're supposed to do when you've found one, as in the case above. So come, let us tell you!
SCENARIO 1: When you know/suspect that a child is being sexually abused
"If you're being told by a child of abuse, first, speak to the child, and encourage the child to speak to a trusted adult, preferably the parents," says Datin Nariza.
From there, you have a few options: you can either head to a government hospital first for an examination, or you can head straight to the police station to make a police report.
"If the abuse has just occurred, within 48 hours, and the child is in pain/clearly traumatized, you can bring the child straight to the hospital for medical treatment and inform the doctors that you suspect child abuse," Datin Nariza explains.
Report the abuse to the Accident & Emergency (A&E) unit, or to the hospital's One-Stop Crisis Centre (OSCC). The attending A&E doctor or on-call paediatrician will be called in to talk to the child and/or the parents. Afterwards, the child will be admitted for a bunch of tests and assessments that include a general physical exam and a gynaecological exam if needed, blood tests, x-rays, and any other necessary special investigations, and to ascertain the child's psychological state. The hospital will provide any medical reports and information necessary to the Welfare Department and the Police as they require it. Head here for a step-by-step process and more information.
If you go straight to a police station to file a report, you'll be referred to the Investigating Officer on duty. The child will have to be interviewed by the officer. Yes, we know that sounds totally traumatic – even for adults! – but the police try to do this as gently as possible. They may bring toys into the room, they dress in casual clothes instead of their intimidating uniforms, and they'll take as many breaks as the child needs. If they need help, they'll even call in parents to help them explain the questions in ways easier for a child to understand. Afterwards, you'll be asked to take the child to the closest government hospital for an examination. You can read more about this process here.
In either case, remember to bring along the child's IC or birth cert, the parents' or guardians' IC or birth cert, and any other case-related documents. If you're heading to the hospital after going to the police station, remember to bring a copy of your police report with you.
P/S: If you suspect a child is being sexually abused, even if they haven't told you so themselves, you can still lodge a police report with whatever evidence you may have, so that the authorities can investigate further. And don't worry – in either case, the law protects your right to confidentiality, and your name will not be released to anyone without your written consent, or a direct court order.
SCENARIO 2: When you spot someone distributing child porn or otherwise disturbing images
What if, as in the case of Syed Azmi mentioned above, you only have a screenshot of disturbing comments and images, where nothing may have happened – yet? You do what he did, and make a police report with whatever evidence you have.
"The trading of those photos is not prove of pedophilia but part of the proof that it is on-going and may lead to something deeper. So it certainly warrants further investigation if not immediate and outright prosecution," says Fahri.
"So what happens after making the report?"
Malaysia does not have laws pertaining specifically to pedophilia. However, there are a few existing laws that can be applied to pedophiles here.
"The usual laws that would apply is section 376(1) of the Penal Code which criminalizes the offence of rape," explains Fahri. "If a man has sex with a girl under the age of 16 then whether or not she gives her consent it is considered rape. If a man has sex with a girl under the age of 16 without her consent or a girl of 12 years and below (whether with her consent or not), that would fall under aggravated rape under section 376(2) PC which carries a punishment of a minimum term of imprisonment of 10 years with a maximum of 30 years and possibly whipping."
Section 31 of the Child Act 2001 also states that anyone with a child in their care who sexually abuses that child can be punished with a fine of up to RM20,000 and a jail term of up to 10 years, or both (you can read the Child Act here).
We also have laws that prohibit porn in general, so possession of porn of any kind is prohibited, whether it features man, woman, child or animal (hey, mana tau lah right). But we don't necessarily come down harder on offences involving children. Take a look at this table, taken from this report on global legislation in child pornography from The International Centre for Missing & Exploited Children: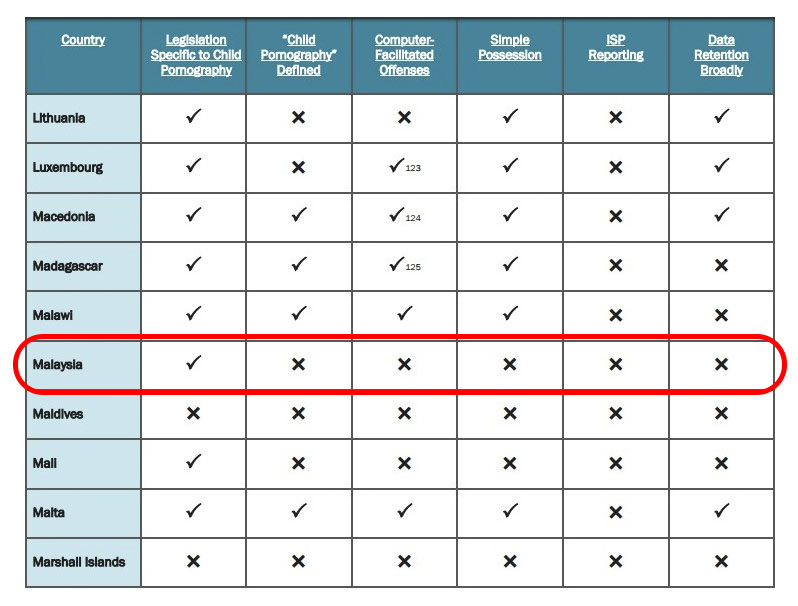 What this tells you is that even though Malaysia has laws specific to child pornography, it isn't enough. We don't define what constitutes child porn, we don't officially define it as a crime to even have child porn in your possession (whether or not you intend to distribute it to others), and we don't require internet service providers to report suspicious activity to the authorities.
For reference, only 11 countries in the world meet all of the criteria listed in this report. Read the whole thing here!
We need to talk about what happens after, not just before.
A lot of our current conversations stem from the idea of preventing crime from happening – how to spot a pedophile, how to protect your children online and offline, how to teach your children about sexual abuse. These are all worthy and important conversations to have, and we encourage you to read extensively about each and every one of these topics.
In an ideal world, these types of crimes would never happen. But we know now, with alarming clarity, that they do. So that when all the protective barriers fall, it's important that we know what can and should be done to help bring perpetrators to justice.
And now, let's all look at this picture of a smiley baby sloth so we can feel a little better about life: