(Artikel asal ditulis dalam Bahasa Melayu. Sila tekan sini untuk baca.)
Who couldn't recognise Dato' Lat's cartoons with its unique characters and environment? Malaysians can really relate to his cartoons as it depict the 80s and 90s lifestyle like the Kampung Boy which has existed since 40 years ago. In fact, this cartoon introduced Malaysia to the world as it was popular in several countries globally.
If The Simpsons, the satirical American cartoon, is related to predictions of the future, then the political cartoons Lat drew for more than 20-30 years ago seem to have turned into reality lately. Some of us weren't even born yet at that time (yes, we are all still young 😛 )!
But wait! These cartoons didn't actually predict the future like The Simpsons did but what happened was more to 'history repeating itself'. Some of them were…
1. When the World Cup was 'Ditaja Oleh Rakyat Malaysia' in 1982
Back in 1982, RTM announced that they were short of sponsors for the World Cup 1982, so only a few matches could be telecast live which were the opening match, semi-finals and finals. That was also thanks to Shell for being the sponsor for the telecast.
Malaysians at that time were worried as they couldn't watch all the matches. Until one day, an insurance agent named Peter Teo called the Malay Mail and suggested an idea for him to launch a campaign called People's Live Telecast (PLTF). The campaign was said to be the first crowdfunding campaign that was set up by Malaysians in 1982.
Peter Teo confidently convinced Malaysians that if each Malaysian were to pay RM1, the whole population of Malaysia could pay for the live telecast of the match for RTM. Wah… this sounds similar to the recent fund called Tabung Harapan that was launched by the Ministry of Finance.
"I was wondering if RTM wants to give a chance to Malaysians to contribute a ringgit for this live telecast. In fact, there are millions of football fans in this country." – Peter Teo said in an interview with The Malay Mail
This campaign only managed to raised RM 228 on the first day. However, the fund raised RM 156, 000 after a week and more than RM 400, 000 a few weeks later, more than the targeted amount which was RM 60, 000. RTM decided to telecast a UNICEF Match All-Star charity match on 7 August 1982 that ended with FIFA World Star 2-3 Europe with the remaining money left with PLTF.
In fact, the proudest moment for Malaysians was when the words "Siaran Langsung Ini Ditaja Oleh Rakyat Malaysia" were on TV, just like the ones in Lat's cartoon. And it looks like history is going to repeat itself when it happens again in 2018!
With the World Cup 2018 season coming, Communications and Multimedia Minister, Gobind Singh Deo announced that it will be aired live on RTM. The actual cost for a live telecast of the World Cup 2018 would be RM 30 million for 41 matches that will be ongoing from 14 Jun to 15 July 2018.
Fortunately, some companies were kind enough to sponsor the telecast. At the time of translating this article, the sponsors raised the full cost of telecast which is RM 30 million. This idea didn't only unite football fans but the Malaysians who contributed. Malaysia memang boleh!
2. When Tun M cut the pay of the ministers in 1981
Based on the caricature drawn by Dato' Lat, it showed how Tun Mahathir who was just elected as the 4th Prime Minister in 1981 decided to cut off the minister and senior government officials' pay to cut cost of the gomen's spending. He mentioned that it was a habit of his to do so since he became the PM in 1981.
And just recently, Tun M announced that Malaysian ministers would be taking a 10% pay cut from their basic salary due to the country's financial crisis. The decision made received no backlash (not ones we are aware of la) by any ministers in the Pakatan Harapan gomen, as they were aware of the financial crisis Malaysia is facing right now. In fact, Tun M welcomes any ministers who wish to contribute in reducing the cost of the country!
"The ministers agreed to take a 10% pay cut. This shows that we are concerned about the country's financial crisis. This cut is based on their basic salary." – Tun Mahathir in a media conference, taken from Berita Harian.
Wahlao, so those who became ministers in 1981 and 2018 kena pay cut twice leh!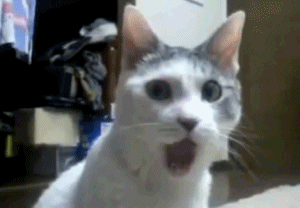 3. When there were TWO Chief Ministers in Sabah in 1985
The illustration above actually depict a controversy in 1985 where Tun Mustapha Harun from United Sabah National Organisation (USNO) and Joseph Pairin Kitingan from Parti Bersatu Sabah (PBS) both claimed that they were the Chief Minister of Sabah after a… confusing state election, like what happened between Musa Aman and Shafie Apdal last GE14.
And it seemed like Lat's cartoon which was drawn more than 30 years back became relevant again during the power struggle incident between Musa Aman and Shafie Apdal. Both were elected as Sabah's Chief Minister in a matter of two days!
And doesn't the name Joseph Kitingan ring a bell? If ugaiz wanna know, Joseph Kitingan and Datuk Dr Jeffrey Kitingan, the President of STAR Sabah who hopped party into BN Sabah last GE14 are brothers. Before GE14, he played the Sabah's rights sentiment to gain trust from his supporters but is now called a traitor to Sabah when he chose to unite with BN in Sabah.
However, BN Sabah was unlucky when the former President of United Pasokmomogun Kadazandusun Murut Organisation (UPKO), Datuk Madius Tangau announced to quit BN and form a coalition with WARISAN. This caused WARISAN to win a simple majority of 35 seats with the help from 5 ADUN Barisan. Musa Aman who was then fired was said to have fled the country whilst being investigated by the MACC.
4. When Tun M became the 4th and 7th PM
As we can remember, the cartoons drawn by Lat made its comeback when Tun Mahathir was sworn in as the 7th Prime Minister for almost a month when this article was written. And just like this illustration – when Tun Mahathir took the megaphone and told everyone to get back to work – Tun M did exactly the same thing which was to think about work, country and Malaysians.
Tun M was known to be a punctual and hard working person when he became the 4th PM by those who were under his administration.
In fact, Syed Saddiq admitted that even at the age of 92, Tun M is a punctual person and he was reprimanded a few times when he was late a few minutes to work.
Tun M didn't like too much entertainment. The free time he has would be filled with useful activities. Tun also once said that the problem with Malays would be the lack of determination at work, laziness and sometimes lack of trustworthiness.
"The ability of Malays are similar to others but the problem here is the culture and value of life we hold. We tend to find the easiest way out, we don't want to go through hardships. We would prefer to hire other people, that is why we're left out, not because we can't but because we don't want to." – Tun Mahathir, when he was the panel of Bicara Wawasan 2020, excerpt from Berita Harian.
Lessons learnt from a piece of drawing
Who would've thought that cartoons from years ago could make a comeback? As a matter of fact, Lat's creation which depicted the social and political situation in Malaysia might have brought harmony and social understanding. So that is probably why Dato' Lat deserves to receive awards due to his intellectual creation.
The illustrations also encourage readers and society to learn some valuable lessons from them. In addition, each illustration has a message behind it that made it a successful tool to effectively criticise the society.
And if that's how powerful illustrations can be, who knows which illustration will turn into reality? Since Malaysia sees a change of gomen this year, it might also be possible to see flying cars in the next two years like the illustration below.