History
Law
Lifestyle
Media
Here's the reason why it took so long for the gomen to appoint a new Attorney General.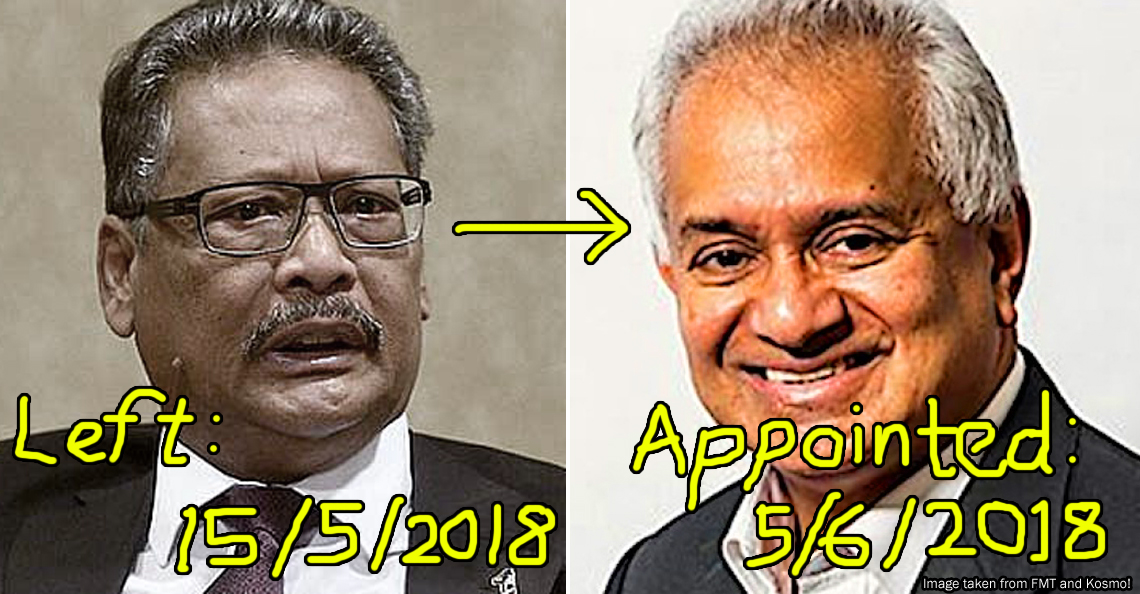 If we were to take someone from a few years ago, transport him to the present and put him in front of a computer with Internet access, he or she might need therapy for the weird things in the news today. Lim Guan Eng, a guy who was once arrested by the MACC for two counts of corruption in 2016, is now Malaysia's Finance Minister. Mat Sabu, who was detained twice under the Internal Security Act (ISA), is now the Defence Minister.
Out with the old, in with the new. One of the things the new government is doing is replacing people in the government who were said to support the former Prime Minister's alleged kleptocracy, so we'll be seeing new faces in prominent places until the dust settles down. One of the people being replaced was Tan Sri Apandi Ali, who was said to replace the Attorney General (AG) before him as the latter had kidney problems and had to retire (read: investigating the 1MBD).
Apandi had been said to be Najib Razak's accomplice in his alleged corruption, so when he was informally fired (15th May, forced to go on unrecorded leave), not many people went into cardiac arrest. For some time after that, a sort of delay occurred before Tommy Thomas, the new AG was appointed on Tuesday (5th June). AG duties had been taken up by Solicitor General Engku Nor Faizah Engku Atek in the meantime, but Malaysia went without an AG for about three weeks. What's up with that?
Tommy Thomas's appointment as AG had been a controversial one
Well, not controversial as in shady, but more like enough people protested against Tommy Thomas being the new AG that the Yang di-Pertuan Agong had to delay his appointment. Attorney Generals in Malaysia are appointed and terminated by the Agong, but that's just a formality. According to Articles 145(1) and 40(1A) or the Federal Constitution,
"145(1): The Yang di-Pertuan Agong shall, on the advice of the Prime Minister, appoint a person who is qualified to be a judge of the Federal Court to be the Attorney General for the Federation.

40(1a): In the exercise of his functions under this Constitution or federal law, where the Yang di-Pertuan Agong is to act in accordance with advice, on advice, or after considering advice, the Yang di-Pertuan Agong shall accept and act in accordance with such advice." – The Federal Constitution.
So in simpler terms, the Prime Minister will give a name (or a few) to the Agong, and the Agong appoints that person. However, there is only one name presented, and the prospect of Tommy Thomas being the next Attorney General brought a backlash from the public that was said to be mainly centered on two things.
One of them was that Tommy is not a Malay Muslim like most of the past AGs. This is a problem, according to some Muslim groups, as they see a non-Muslim AG as a threat to the status of Islam as the official religion of Malaysia. One of these groups is the Institute of Islamic Strategic Research (IKSIM), who went as far as saying that appointing as the AG someone like Tommy Thomas, who believes that Malaysia is secular, is unconstitutional, breaching both Article 145(2) of the Federal Constitution (duty of the AG to advice the Agong on legal matters) and the Pakatan Manifesto.
"His stand and that of like-minded Muslim lawyers that Malaysia is a secular country clearly infringes on the Constitution that states that Islam is the country's official religion," – Prof Datuk Mahamad Naser Isa, CEO of IKSIM, as reported by the Malaysian Digest.
The second reason people were against Tommy as AG was because of his past: Remember in the beginning we mentioned that Lim Guan Eng had been accused of corruption before? Three guesses who got two thumbs and was his lawyer.
When Tun M proposed only Tommy as the next AG, several groups had said that by appointing a lawyer who defended a current minister against corruption charges as Attorney General, the new government would be no different than BN when they appointed Apandi.
"The proposal to appoint Thomas will only reinforce the assumption that the new government bears all the characteristics of the old BN government in terms of cronyism and abuse of power, because he (Tommy) is Lim's lawyer in an ongoing bribery case. The conflict of interest is clear enough," – Joint statement between Concerned Lawyers for Justice (CLJ) and Young Professionals (YP), translated from MalaysiaKini.
So, yeah, choosing a non-Malay Muslim who may or may not be able to advise them on Sharia law was reportedly a step into the unknown for the royal rulers. They even had to meet up to discuss the issue, so that's perhaps why it took so long. However…
The AG's duties do not necessarily require the AG to be Muslim
This might come as a surprise to some (the protesters), but Malaysia had several non-Muslim Attorney Generals in the past, so it's not really a step into the unknown. Granted, it has been a while since the last non-Muslim AG (the last one ended his service in 1974), but that does not mean it didn't happen. According to Dr Gurdial Singh Nijar, UM's legislation law expert, since we did have non-Muslim AGs in the past, this should not have been an issue in the first place.
"According to history, there should have been no objections. There were non-Muslim Attorney Generals before. Confusion should not set in now. Thomas Vernor Alexander Brodie (1955-1959), Sheridan (1959-1963) and Athi Nahappan (1970-1974) were some of our non-Muslim AGs." – Dr Gurdial Singh, translated from the Malaysian Insight.
Dr Gurdial further stated that the Attorney General must be a person who the government is comfortable doing business with, as he or she will be frequently communicating with the government after his or her appointment. Eric Paulsen, the Executive Director of Lawyers for Liberty, followed that line of thought, as he feels that what's important for an Attorney General is merit, not just religion or race.
"The Attorney General is the head adviser for the government in matters regarding laws and the Constitution. Because of that, his or her race or religion should not be a prerequisite. Furthermore, according to the Constitution the Attorney General is forbidden from being involved in Sharia proceedings," – Eric Paulsen, translated from The Malaysian Insight.
That's right, Attorney Generals are constitutionally barred from Sharia proceedings. Then what does an AG do anyway? Simply, his or her main function is to advise the government in law-related matters. Plus, if someone decide to sue the Malaysian government (or the Malaysian government want to sue someone over, say, 1MDB), the AG will be representing Malaysia in court.
"The AG is just a civil servant like the Inspector General of Police and others. Hence, this is a misplaced notion as the AG has no say in  matters pertaining to Islam," – Dr Aziz Bari, as reported by The Edge Markets.
Ok, so there's no need for the AG to be Muslim or Malay to do his or her job well… but what about his experience?
The lawyer behind Chin Peng, Lim Guan Eng and PAS
So far, we know that Tommy Thomas is not a Malay Muslim and he had been the sole candidate by the Pakatan Harapan government for the AG post, but other than that, who is he? For starters, Tommy graduated the University of Manchester with a Bachelor (Hons.) in Law, and later obtained his Masters Degree at the London School of Economics. He's been in the legal field for the past 42 years, and had his share of experience handling at least 120 reported cases and countless unreported ones in various branches of the law, in every kind of court there is in Malaysia.
We've mentioned that he had been Lim Guan Eng's lawyer, but his clientele had been diverse: from representing the Kelantan PAS government in 2014 against Petronas to the families of MH370 passengers against the Malaysian government to Chin Peng (yeah, of the Communist Party of Malaya fame), also against the Malaysian government. He had also defended Bank Islam's Shariah Supervisory Council in a suit filed by former Selangor MB Khalid Ibrahim in 2009.
Tommy's partners from his law firm had stated that Tommy would be perfect for the AG position, as the Malaysian government would need him to recover monies and assets linked to 1MDB. This is because Tommy was said to have a vast experience in corporate asset recovery, having been involved in, for example, a case against a Malaysian-born Ponzi scheme (like MLM, but a bit different) called Swisscash, where he obtained a worldwide Mareva injunction, which freezes a debtor's assets and prevents them from being taken abroad. Plus, he got the victims' money back to boot.
"As corporate asset recovery is topical and with the government focused on recovering the assets of 1MDB, there is no doubt in our minds that they have appointed Malaysia's finest barrister in that field, with the knowledge and experience to lead the 1MDB litigation, whether civil or criminal," – Partners of Tommy Thomas Advocates and Solicitors, to the New Straits Times.
As for who he is as a person, Eric Paulsen had said that Tommy had a fine reputation, is well-respected in the field and had the integrity and experience to uphold the duties of the AG.
"He is very well-respected by both friends and foes in the legal field. He has more than 40 years' experience. He's known for being honest, tough, straight talking and as an extremely competent lawyer. He has been writing extensively on the law and the constitution, on human rights and other current issues that affect the country. He doesn't shy away from speaking his mind, even on controversial issues, and he has a strong sense of right and wrong, and of justice." – Eric Paulsen, to the Malaysian Insight.
He had also authored two books on the constitution, economy and politics: "Anything but the Law" and "Abuse of Power". With all this on the table, it would be hard for anyone to deny Tommy Thomas's prowess in the field of law. Remembering how people initially reacted to him being an AG, it's important to remember that…
Sensational news aren't necessarily true, and can really mess up the system
Had people continued to protest Tommy's appointment as AG, Malaysia may not have his talents at its disposal. Now that Tommy had been officially appointed as the AG, everything seemed to have settled down some. When asked about the initial backlash on his appointment drama, he had said that everyone is entitled to free speech, and that he would rather listen to criticism than praises.
"If you value free speech, then you must practise free speech, and free speech means everybody can criticise you. So I am happy for everybody to criticise me, it's part of free speech," – Tommy Thomas, to the Star.
However, some forms of free speech passed off as news may be damaging. Remember the swearing in of the Prime Minister after the results of GE14 was announced? There had been rumors flying around on why it was delayed, but as it turns out, the Agong did not do that on purpose. He was just making sure that Mahathir really is the candidate chosen by Pakatan Harapan. Based on the Palace's statement yesterday morning, it would seem that there were parties who raised the recent AG issue with the wrong intentions.
"The Yang di-Pertuan Agong also expressed his regret and concern on media reports that are lately inaccurate and negative in nature, that can be seen to threaten the peace and harmony of Malaysia." – The National Palace, translated from SelangorKini.
In today's world where the world is like the back of your hand (if you have Internet), you'll probably come across all manner of news. Sadly, most of them will be highly sensationalized to draw people to read them. So it's prudent to remember that not everything on the Internet is true and/or beneficial. Regardless of that, what's done is done, and with the Agong's consent, Malaysia now has a new AG in office.
"The Yang di-Pertuan Agong also called on all Malaysians to accept that the appointment of the Attorney-General should not create religious or racial conflict as every Malaysian should be fairly treated regardless of race and religion," – Wan Ahmad Dahlan, Comptroller of the Royal Household, to FMT.