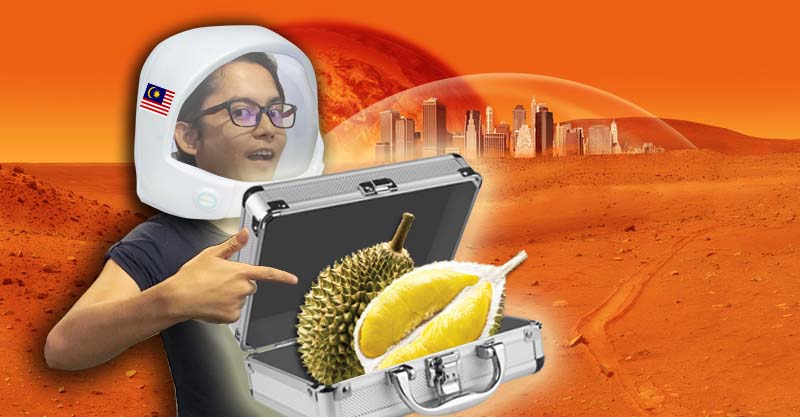 Since humans first knew about Mars, we've always wondered what it would be like to call it our home. And what now with Donald Trump becoming president-elect, people are actually ready to flee planet Earth. (And if you're one of them, NASA wants you.)
But thanks to dreamers and science, what once seemed impossible is now much closer to reality. So real we could almost sneeze from the red dust!
Truth is, the mission to colonise the red planet is quickly coming together. By now you've heard of Elon Musk's extremely ambitious plan to colonise the seemingly unliveable planet in the near future. In fact, he believes that we can begin shuttling thousands of people between Earth and Mars within the next decade or so. Perhaps by the 2060s, Mars could be home to a million self-sustaining humans… maybe even you and I 🙂
Woah! Can you imagine that? Rakyat Malaysia on Mars?!
Granted it's a bit hard to imagine, since Earth is the currently the only known planet with life. It's everything we've ever known! But our friends at National Geographic are gonna help us see our potential future through their new global miniseries, 'Mars', premiering November 13th, 10.00pm. 
It's a six-part film-documentary hybrid that combines Hollywood's award-winning directors and actors, film-quality scripted drama, stunning visual effects, and interviews by some of the best and brightest minds in modern science and innovation, including Elon Musk, Neil deGrasse Tyson, Andy Weir who wrote The Martian, and some of NASA's high-profile former astronauts.
We're guessing it would be as exciting as Armageddon, but with proper science and a better soundtrack.
Set in present time and in the year 2033, 'Mars' explores our first manned mission with an expert crew of astronauts who die-die also must push themselves to their capability. Their goal? To establish the first sustainable human colony on Mars. Check out the trailer yourself:
For more info, you can check out their site here. And if you can't wait for the premier? NatGeo has a FREE, digital-only preview called 'Before Mars' which you can watch here.
So… if you could bring 1kg of anything you want, what would YOU bring to Mars?
Before you starting writing stuff like durian or a box of Maggi, consider some important and possible factors:
The journey itself will take about 200 super monotonous days.
You'll be stuck with 5 other incredibly smart people from around the world.
You'll be eating microwaveable meals. Not much option to choose from.
You have no internet access, no Facebook, no CILISOS.MY.
Mars is super cold with an average temperature of -30°C.
Probably no doctor too. If you get stabbed by an antenna, like Matt Damon in The Martian, pandai-pandai save yourself lor. 🙂
You'll have some entertainment, like a PS4 or movies.
Now, NASA astronauts typically get to bring personal stuff totalling up to about 1kg. Some of them have brought unusual things like a poster of a marine animal, a piece of the Wright brothers' first airplane (as honour to the duo), and even Luke Skywalker's lightsaber prop. So… if you were one of the astronauts on 'Mars', what would YOU bring? Tell us! 
Best answers will win family tickets (2 adults + 2 kids) to NatGeo's Mars Exhibit at Petrosains Discovery Centre and a thumbdrive in the shape of the Mars shuttle, The Deadalus. [TIP: Make your answers as localised and as creative as possible.] Hurry, contest ends 23 November 2016!