[Update]: 3 of the people involved in this scandal have been released on bail, with the total amount coming up to RM13 freaking million! Former Sabah Water Department Director, Ag Mohd Tahir Mohd Talib had been set a bail of RM10 million, his wife RM2 million, and a third guy RM1 million.
Now only if we can find out where they got that bail money from. Hmm….
————————————————-
It looks like it has been a busy 2016 for the MACC. Already we hear them catching managing directors, bank chairmen, and civil servants in Kuala Lumpur, Melaka, and Kelantan,  but their latest raid in Sabah had recently made history for the MACC.
When the MACC raided the offices and houses belonging to 2 Sabahans on the morning of 4 October, they found it choked full with so much cash bundled in cupboards and safe boxes that it took 30 MACC officers 15 hours to count them!
Other than cash, they also seized many valuables from the raid. Here's a quick rundown of what they found:
Aside from that, the MACC also seized another RM3.3 million in cash and even more bling-blings from 7 safe deposit boxes under their names, and another RM23 million from bank accounts. All in all, the MACC seized RM183.84 million worth of cash and goods in one single day.
You might think that these 2 Sabahans were all powerful drug lords, but they apparently dealt in a more addictive and important substance.
They were the director and deputy director of Sabah's Water Department.
Wuah! Work in Water Department also can make it rain?
When you think of water works, you might be thinking of the dirty business of laying down pipes, treating sewage waste, and making sure that the water supply is not disrupted (*cough*nicejobSyabas*cough*).
But the water sector in Sabah still has a lot of work to do, since there are still many areas where there is no piped water supply due to the lack of infrastructure. In fact, Sabah was hit with water shortage due to the drought earlier this year. There were also plans to build additional infrastructure to solve water problems.
But instead of filling up water tanks, corrupted officials apparently saw the opportunity to fill in their pockets instead.
Since 2010, the federal government (meaning Putrajaya) has been funnelling RM3.3 billion worth of infrastructure projects to Sabah. These included funds to build some 30 water treatment plants, improving water supply, installing pipelines for remote towns in Sabah, and replacing old pipelines in the state capital.
It was supposed to be the Water Department's job to give out these projects to contractors for them to execute the projects, and some of these projects were eventually given out to 38 companies.
But guess who owned those companies?
According to initial investigations by the MACC, 17 of those companies were found to be owned by the director, his siblings and proxies, while the remaining 21 companies were owned by the siblings of the deputy director.
Sources from the state gomen have claimed that this practice has allowed them to take away about 60% of the funds that were meant for the projects.
But how come no one inside the gomen noticed?
Of course, government officials could not be sucking out this much money like a straw without raising any suspicion, but these guys were lucky that their activities managed to stay under the radar, thanks to a couple of loopholes.
First, the money just flowed in without any supervision. According to the state's Minister of Infrastructure Development which has the Water Department under its purview, since these funds were for federal projects, it did not go through the hands of the ministry and were channeled to the department directly. So the ministry had no knowledge of what happened to the money or projects.
What was even more clever is that these projects were then split into chunks worth RM100,000, so that they could be signed off by the director and the deputy, without anyone knowing any better.
They even managed to slip by the Auditor-General's notice who happened to be looking at the wrong place while they were auditing. Previous Auditor-General reports had indicated that while the Water Department had been audited as recent as 2011, they were focused on other areas of the Water Department, rather than their infrastructure projects.
This went on for 5 years, until finally someone noticed…
When the MACC started hearing that something fishy was going on in Sabah's Water Department, they formed a special team last year to investigate. Under the aptly named "Ops Water", the 70-men team began conducting surveillance on the officials from the Water Department, even though they did well to hide their amassed wealth.
After a whole year of gathering information and finding that their wealth didn't quite tally with their salaries (they don't make politicians' salary), the law of Section 17(a) of the MACC Act and Section 165 of the Penal Code came down on them when their houses got raided.
But the trail of corruption didn't end there…
If you thought only the big bosses were makan-ing the money, then things just got worse. A day after the director and his deputy were arrested, the MACC also arrested the deputy's brother who is a businessman with a Datukship, and the brother's accountant (who doesn't look like Ben Affleck).
After that, they arrested a fifth suspect who was a former deputy director of the Water Department, who became an advisor to the state government.
Then weeks later, the MACC launched the second wave of its "Ops Water". A massive operation across 27 locations in several districts of the state and arrested 20 divisional and district chiefs, engineers and technicians from the department. These lower-level staff were suspected to have received about 27-30% of kickbacks from contractors who were awarded with the projects.
Along the way, the MACC secured even more cash, some surrendered voluntarily by a few officials, a few million frozen in bank accounts, recovered from oversea bank accounts, and a couple more luxury vehicles.
By the end of the second phase, the MACC had recovered another RM8.4 million and arrested over 20 individuals.
Walao so much money! Will this ever happen again?
Now that the investigation is almost wrapped up and getting ready to be settled in the courts, many people are going to talk about how we can prevent corruption of such a scale from happening again (if not already happening).
Transparency International Malaysia saw that reforms to the system like limiting the tenures of civil servants is needed, while Sabah ministers saw the current reporting system without involving the state government was a bad idea to begin with, and will be reviewing it to propose a better one.
Then there is the need to have the right laws to prevent and punish corruption. On the prevention side, the government has agreed to the suggestion that all projects worth RM500 million and above should have the representatives from the Auditor-General and the MACC on the project committee.
Meanwhile, the MACC is also fighting for laws that would allow them to take action when there are enough grounds for suspected acts of corruption, instead of gathering enough evidence to take legal actions.
But the real lesson from all this, is that the most effective weapon we probably have to fight corruption for now, is us.
The real heroes of Sabah's 'Watergate' were actually the public
Yep, believe it or not, the real heroes of the Sabah 'Watergate' scandal are probably the public who had made complaints to the MACC on what was going on.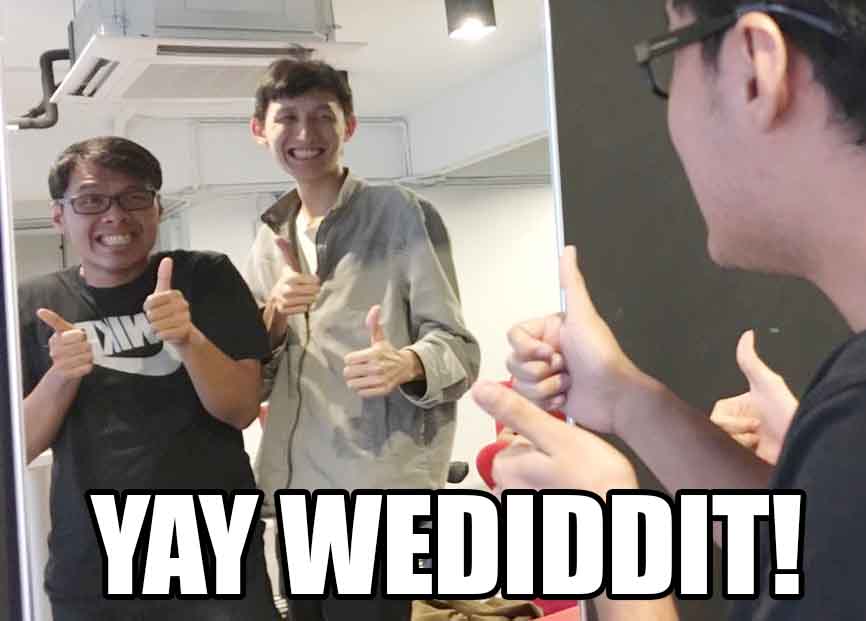 Although the MACC have deployed 'spies' in various government departments to keep an eye on corruption, they have admitted that they do not have the manpower to have a presence everywhere.
"It is our ambition to have MACC officers in every government department, not just the 'hot' ones. But for now, we cannot afford to do so as we do not have that many officers to spare," – MACC deputy chief commissioner (operations) Datuk Azam Baki, quoted in New Straits Times
It was thanks to the tip-offs from contractors who complained that they were not able to secure projects, that the MACC began looking into it and started their year-long operation on the Water Department.
"The Sabah case is an example. It began with tip-offs by the public. We then proceeded with our intelligence gathering." – MACC deputy chief commissioner (operations) Datuk Azam Baki, quoted in New Straits Times
So while most of us might think there is no immediate effect for reporting any corrupt activity, the biggest takeaway from this ugly scandal is that the MACC can fight against corruption, as long as they have a helping hand from us. So if you are looking to make a report now, you can check out how to do it at the MACC website here.
"I assure you, give valid information for us to conduct investigations and I will mobilise my men." – MACC deputy chief commissioner (operations) Datuk Azam Baki, quoted in New Straits Times