So on 23rd February 2020, there were reports going around stating that a new govt would be formed. Several members of Pakatan Harapan like Azmin Ali and Zuraida Kamaruddin, who claimed they're in support of Tun Mahahtir, have jumped out of the coalition and allegedly forming a backdoor govt with UMNO and PAS. Despite its name, this new coalition pretty much excluded PKR's president, Anwar Ibrahim from its plan.
While our timelines on social media may be flooded with numerous entertaining memes on backdoor govt and Mahathir's reverse cards besides comments on how worrying this situation is, we can't help but to notice several Facebook posts by bossku former Prime Minister, Najib Razak on this but one of his posts caught our attention. In his response to DAP's Nga Kor Ming's tweet, he pointed out how there was a similar incident back in 2008. 
And, based on a quick search we did online, this has happened in 2008 involving parties like PKR, DAP and PAS. The then backdoor govt was led by the bapa segala backdoor Anwar himself.
For the first time ever, BN only won a simple majority in GE12
Before we begin with what happened in 2008, allow us to travel a decade back to help y'all understand where Anwar may have gotten his semangat to form a backdoor govt after the 12th General Elections.
Just in case y'all forgot what happened in 1998, Anwar, who was then deputy Prime Minister at that time, challenged then Prime Minister, Mahathir. Anwar wanted a political reform and to end cronyism in the govt. Instead of getting that, he was sacked and charged for sodomy and abuse of power, which landed him in jail for six years. He was even barred from re-entering politics until 2008.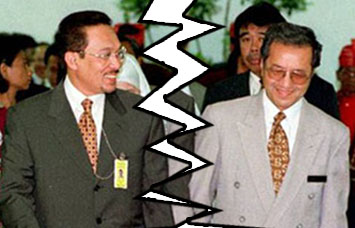 Despite being barred from politics, he had announced to contest in 2008's general elections. But instead of him, his wife, Wan Azizah, had run in his place as the head of the Pakatan Rakyat coalition, which consists of PKR, DAP and PAS, in that election. 
And, for the first time ever, BN had only won a simple majority with 140 seats in a general election, enough to form the govt of the day. Well, some believe this was caused by the policies that were being implemented by Abdullah Ahmad Badawi, who was the Prime Minister in 2008, like the cut in fuel subsidies and the govt's race-based system, which seemed to have been biased towards the Malay population. 
Now here's where the alleged plot to form the backdoor govt began. Despite winning 82 seats in GE12, Anwar was confident that the Pakatan Rakyat coalition was able to form a federal govt.
"The PKR-PAS-DAP alliance had already secured the required number of (Member of Parliaments) MPs but wants to form the government with a strong majority." – Anwar, as quoted by The Star.
And this could be done by…
Anwar mentioned that most of the MPs who were waiting to cross over to the Pakatan Rakyat's coalition were from Sabah and Sarawak besides some UMNO MPs from the peninsula Malaysia. This move was important to get a vote of no-confidence against the Prime Minister. He also emphasised how none of these MPs were bought.
"The door will be closed to anyone who wants money." – Anwar to The Star.
But, unlike what's happening now, Anwar had set a deadline as to when this new federal govt under the Pakatan coalition would be formed. And as it turns out…
Anwar apparently DID get enough BN MPs to support him
So Anwar, who eventually returned to the Parliament after winning a by-election in August 2008, set 16th September 2008 as the deadline to form the new federal govt. In fact, he promised voters that he would overturn BN's majority by inviting its MPs to defect to the Pakatan coalition.
Why 16th September? Well, according to some, that day was chosen to coincide with Malaysia Day. Nevertheless, the attempt to win over Parliament didn't happen in the end – and not because the BN MPs did not cross over.
In 2017, Anwar mentioned that he actually succeeded in obtaining sufficient support from BN with some 30 to 40 MPs willing to crossover. Once this happened, Anwar wrote a letter to the Dewan Rakyat Speaker to get the Prime Minister's consent to hold a special Dewan Rakyat sitting to get a vote of no-confidence against the Prime Minister.
"However, the letter was not replied and Abdullah rejected the proposal for a Special Parliament sitting." – Anwar, as quoted by FMT.
When this happened, BN had resulted in sending 49 of its MPs to Taiwan for an agricultural seminar. And, according to Anwar, these MPs were not allowed to return from Taiwan before 16th September to prevent him from materialising his plans to form a new govt. Lim Kit Siang even called it the 'greatest political farce' in Malaysian history at the time.
Despite that, reports from 2008 showed how Anwar was pretty positive of the outcome of all this. In fact, he reportedly mentioned that there would be a surprise on 16th September itself. He didn't elaborate further on what this surprise would be but we're pretty sure he wasn't talking about how his plan would fail.
Oddly enough, some reports pointed out how Anwar had demanded to meet Abdullah to discuss on a smooth transition after 16th September. In fact, he reportedly threatened to table a vote of no-confidence against the Prime Minister after he has passed his 16th September deadline. And, just like how Azmin and co was granted audience with the king, Anwar had admitted in 2010 that he had made an appeal with the then king, Sultan Mizan Zainal Abidin, on this matter.
What Abdullah did, however, was making an announcement that he would be giving up his power earlier than planned to his successor, Najib Razak. This was reportedly due to the pressure to step down he faced from the opposing parties and how some parties had left the BN coalition. Despite that, he had still denied that Anwar was trying to topple the govt of the day back then, and that Anwar was instead trying to cause public alarm.
"(Anwar is) a threat not only to our economy but possibly also … security." – Abdullah, as quoted by Guardian.
If this sounds familiar to you, well, that might be because Azmin and co have been labelled as traitors. And just like Azmin and co…
Anwar was eventually told to step down as Pakatan's leader and bertaubat
After his plan failed, Anwar decided to work together with the then BN govt by focusing on the country's budget, which he claimed was outdated in view of the economic turmoil that happened at that time. Despite that, his previous move of encouraging party-hopping received major backlash especially by DAP's national chairperson, the late Karpal Singh.
While researching for this story, we can't help but to come across posts by Najib where he would compare what happened back in 2008 to the recent political drama. And one of his posts on Facebook was a video of the Karpal requesting Anwar to step down as Pakatan's leader in 2009:
"Anwar also needs to taubat (repent) without further betraying the people and their trust." – Karpal, as quoted by The Star.
Karpal had said this because he was against the idea of party-hopping. But it seemed like his alone on this.
In the post we mentioned in the intro, Najib claimed that Lim Kit Siang and Lim Guan Eng were strong supporters of this backdoor govt led by Anwar and party-hopping. In fact, in 2009, Najib claimed that the party-hopping trend was started by Anwar. Wah, Najib sure got a lot of things to say for a guy who was behind 2009's Perak constitutional crisis, which eventually led to the collapse of the state govt. But this would be a story for another day.
However, what Najib claimed may have some truth to it. In the same press conference in the video above, Karpal mentioned how he did not get support from DAP leaders like adviser, Lim Kit Siang or secretary-general, Lim Guan Eng.
"When I suggested that the DAP should seriously consider leaving the coalition, especially during the hudud issue, both of them also did not support me. It seems that they are supporting Anwar instead of me. I am the party chairman, don't push me too far as I still have the support of the rank and file." – Karpal told The Star.
But he denied Najib's claim in 2009 by stating that the trend of party-hopping (then known as kangaroos, now known as frogs) started waaaaay back in 1969 when BN accepted crossovers from DAP. And there's no sign that this trend would stop anytime soon.
For instance, we're seeing how Parti Pribumi Bersatu Malaysia, which has previously left Pakatan Harapan to form a new alliance with UMNO and PAS, may return to the Harapan coalition after UMNO and PAS declared that they wanted a fresh election. And despite the demands for a snap election, Harapan believes that an election is not necessary as the coalition claimed it has enough support to form a govt. Waitamin…
Unlike Anwar's effort to take over the then govt in 2008, the current political situation in Malaysia seems far from being solved yet, with MPs still in a deadlock over who should be the next Prime Minister at time of writing. Only time will tell if it'll succeed or fail like in '08.
If you enjoyed this story and want more, please subscribe to our HARI INI DALAM SEJARAH Facebook group ?