Law
Politics
Who paid who how much!? We try to make the S'wak Report/PAS scandal easier to understand.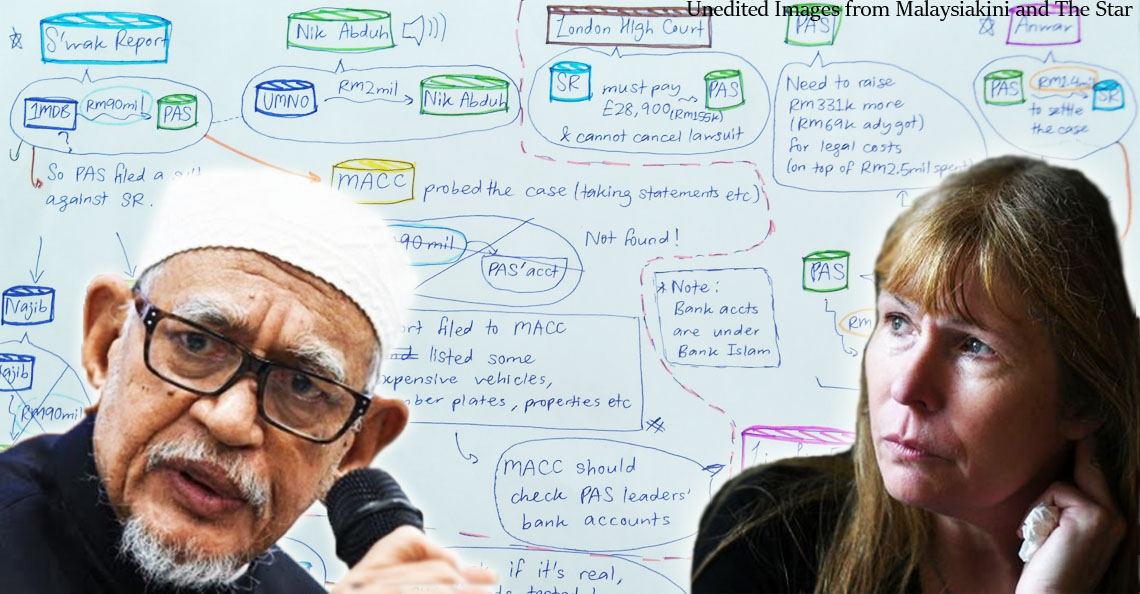 [Another update (9th March 2019): Clare Brown praised Rameli Musa for being "a very honourable respectable gentleman" and also devout for how he tried to help PAS settle the case. Meanwhile, PAS info chief Nasrudin Hassan denied knowing anything about the RM90million allegedly transferred from UMNO to PAS, adding that he only declared his car and asked for the allegation makers to show proof.]
[Update (8th March 2019): Sarawak Report editor Clare Rewcastle Brown just challenged PAS president Hadi Awang to reveal his version of the confidential terms to their out-of-court settlement in January 2019 after Hadi recently denied paying RM1.4million to her to settle his lawsuit against her. Read on to understand this update. 😉 ]
When news about Parti Islam Se Malaysia (PAS) and Sarawak Report (SR) settling their lawsuit came about, people including us were pretty confused about the mentions of different amounts of money being thrown around here and there… Particularly, the RM90million and RM1.4million.

Perhaps, the statements given by those involved were so confusing that…

To figure out how each amount have allegedly been moved, we had to look through many allegations about the money flows of these amounts of money.
The Sarawak Report article that sparked the lawsuit
Since 2008, there has been much talk about BN attempting to lure PAS to leave Pakatan as one of the strategies to break up the alliance. According to the Sarawak Report article on 6th August 2016, one of the ways to do this luring was to give PAS RM90mil, claims SR's writer Clare Brown.
"He (Najib) has gone on to "woo" the PAS Islamic party away from the opposition coalition (Pakatan) in the normal way he woos – RM90 million is widely reckoned to have flowed into the top echelons of PAS in recent months." – Brown wrote.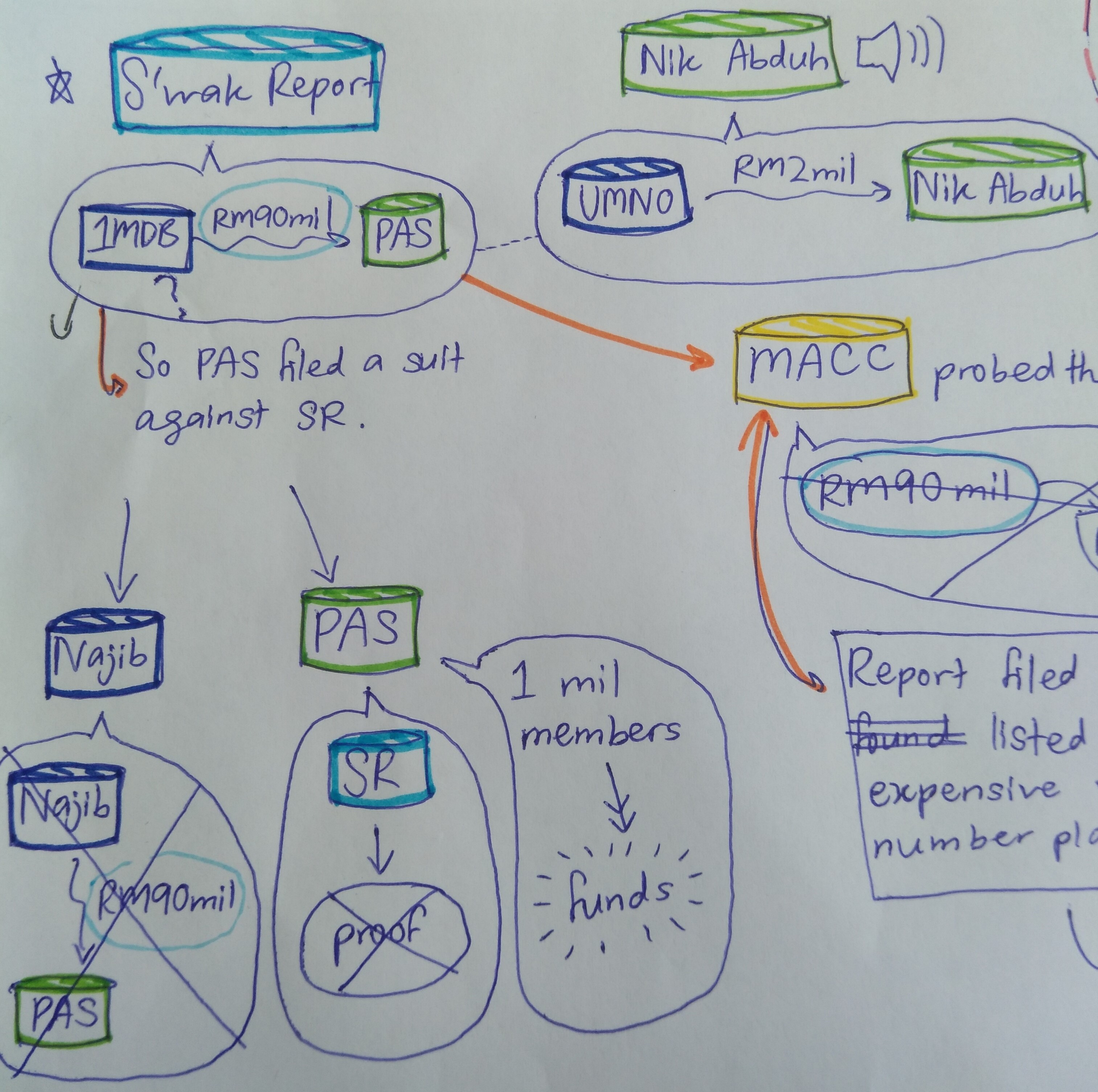 One of the strange things about this case is that many media sources are claiming that the London High Court suit is about PAS receiving funds from UMNO via 1MDB. The biggest tie we can find to this is an audio recording of PAS' Nik Abduh allegedly saying that he got RM2mil from UMNO. Also, a former MACC senior officer allegedly told Rafizi Ramli that a former PAS leader Nasharudin Mat Isa received money connected to 1MDB.
However, the actual lawsuit doesn't mention 1MDB at all, Instead citing that PAS chief, Hadi Awang…
"…had personally accepted, or procured or approved the acceptance by PAS of, a massive bribe … in exchange for compromising PAS's political independence". Thus "disgracefully undermin(ing) the democratic process". – The Sun Daily, Nov 2017
Which matches what Brown wrote in her article as well. We also tried checking if there were any records of any RM90 million coming out of 1MDB's accounts but we couldn't find any mentions.  See? Not everything is confirm 1MDB fault k gaiz?
On the RM90million specifically, PAS said that SR has no proof about it and claimed that it gets its funds from having over 1 million members, while UMNO's Najib denied giving RM90mil to PAS as well.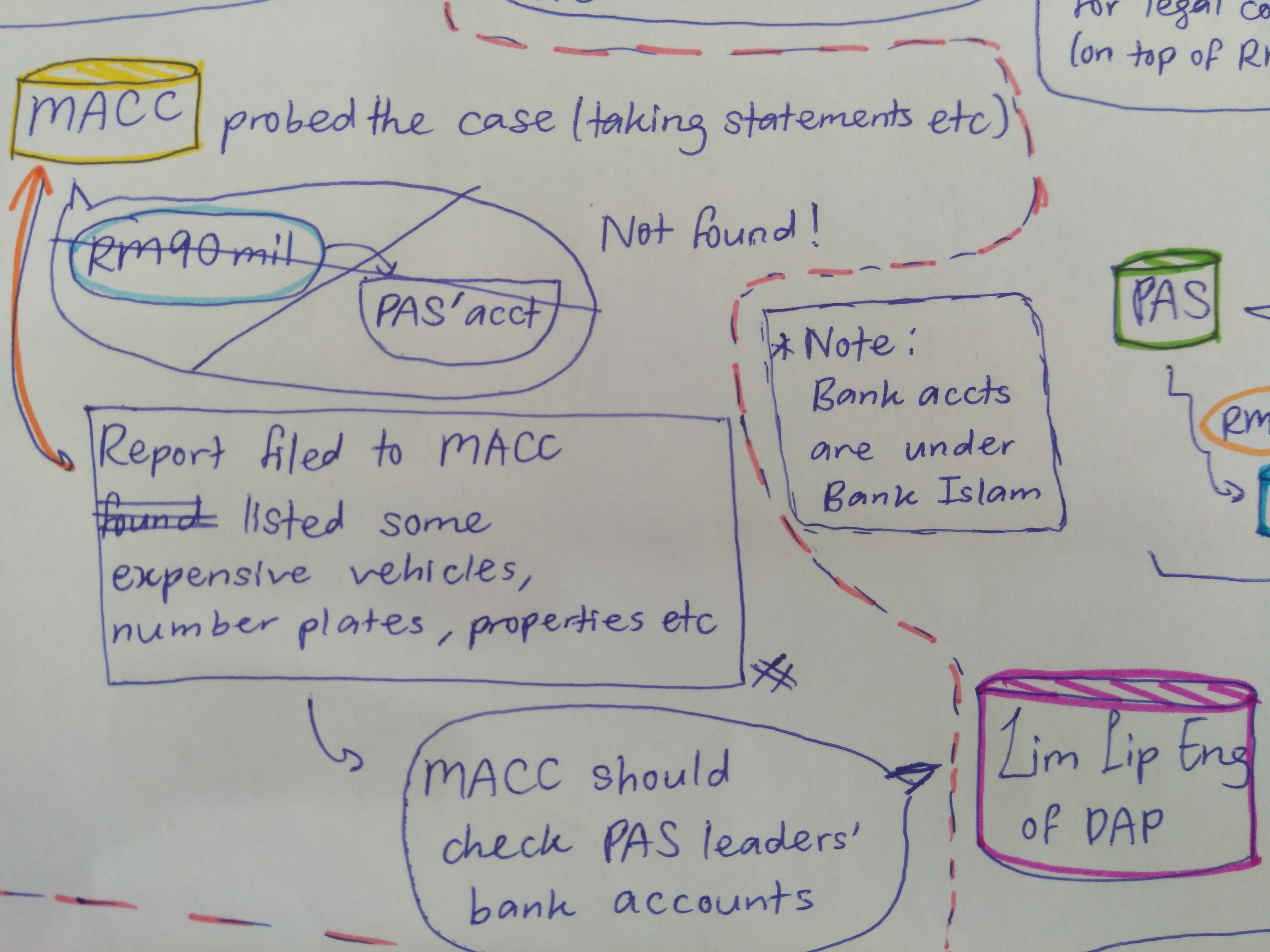 Some time later, MACC received a report from the police and opened a probe into the matter. The report included a list of expensive items like fancy cars, number plates and properties allegedly in PAS' possessions, but importantly, they did not find ANY proof that the RM90mil went to PAS' account.
Today, there's still no update on the money trail behind Brown's claim, except for one of her recent articles stating that the deposits for the seats PAS contested for in GE14 were paid for using an amount of over RM3mil given to PAS by UMNO.
So what's with the RM1.4 million cheque then? Also 1MDB ka!?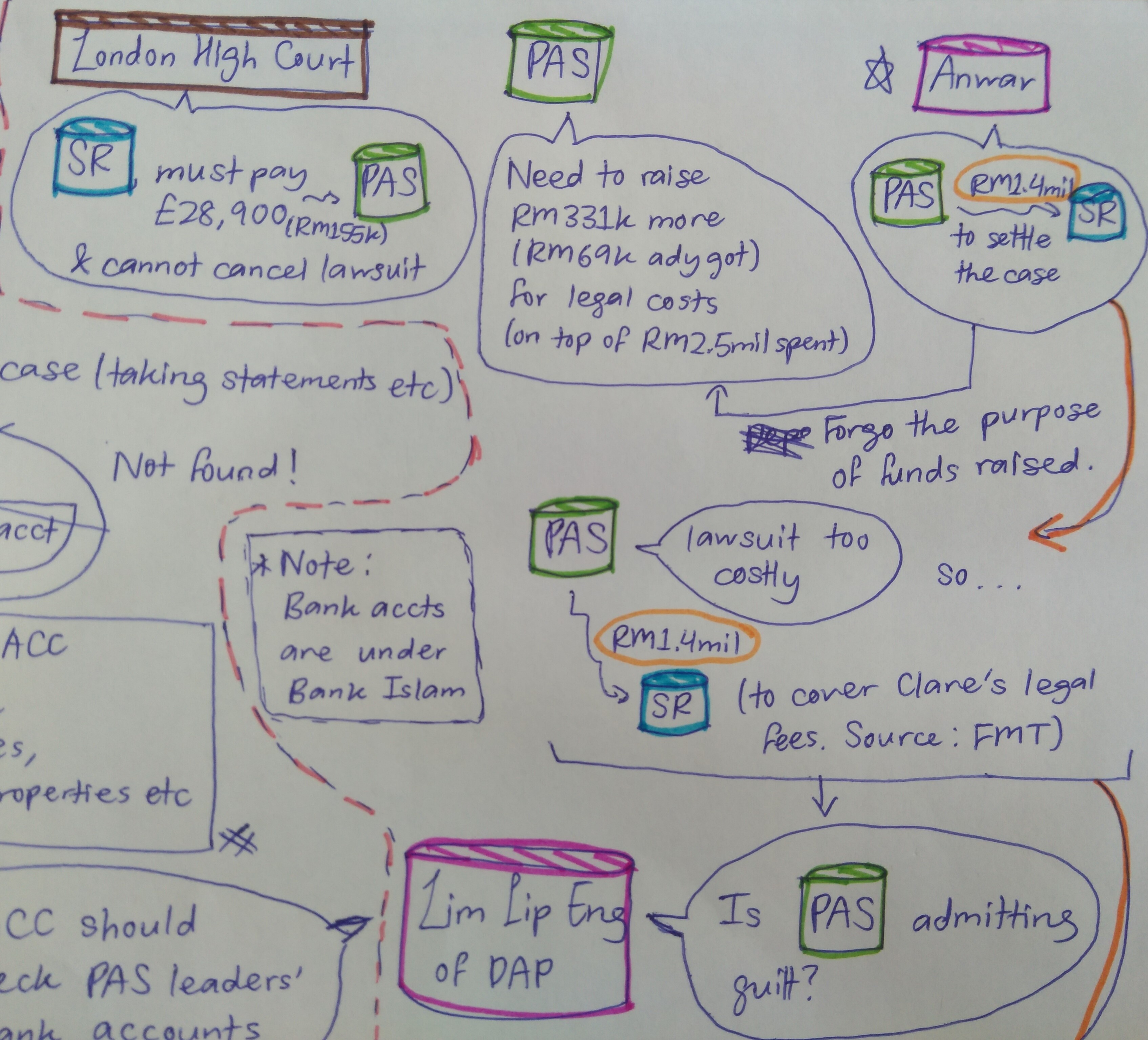 Haiya. Cukupla tentang 1MDB! Not everything is 1MDB k?
When PAS filed the defamation lawsuit against SR, SR wanted the case thrown out, but the London High Court said kenot and instead ordered SR to pay GBP28,900 to PAS to cover part of PAS' legal fees. If that sounds like a relatively small amount compared to RM1.4 million, it's because this payment was just to cover SR's attempt to have the case thrown out, not the case itself. #PASvsSR1-0
So let's get to the bigger numbers now. In January 2019, PAS tried to raise an additional total of RM400,000.
"We badly need assistance […] the funds raised now is only RM69,000. We need another RM331,000… We already paid close to RM2.5 million. The campaign needs at least a RM10 per person donation." – PAS VP Idris Ahmad stated.
But the following month, Anwar dropped a bomshell claiming that PAS paid RM1.4mil to settle out of court with SR. Well, technically, the cheque was addressed to SR's lawyer Americk Sidhu and then, transferred to Brown's account. #PASvsSR1-1
While PAS admitted that they had dropped the lawsuit because they could no longer afford the costly lawsuit, which they claimed was RM268,000 a month, they DENIED paying Clare any sort of settlement (because that would kinda be an admission of guilt la). er… #PASvsSR?-?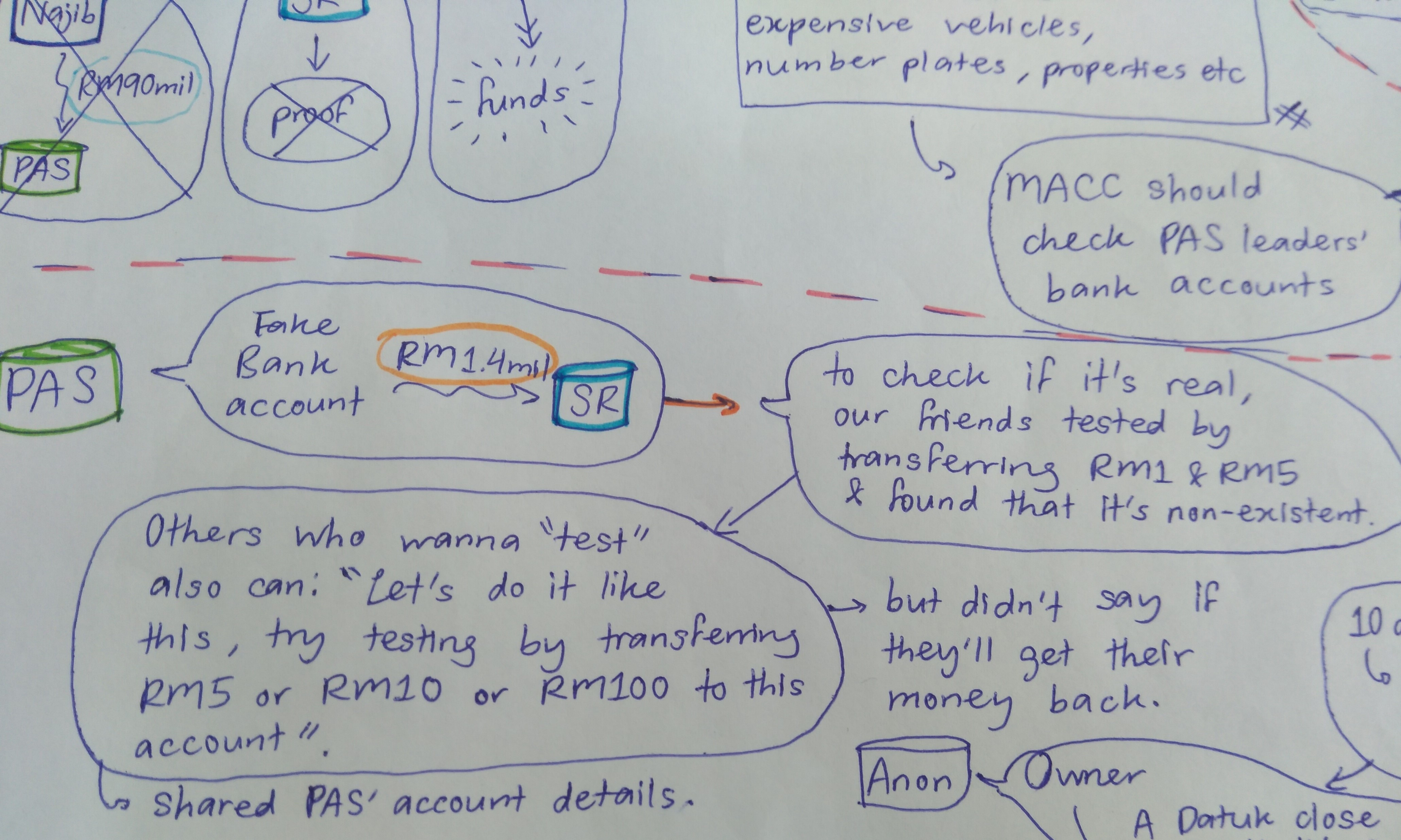 PAS also claimed the account the RM1.4mil came from is fake. PAS claimed that some friends tried to check if it's real by transferring RM1 and RM5 to it and found that it's not real. In fact, PAS shared PAS' account details and encouraged other peeps to "test" too but didn't say whether the "testers" will get their money back or not.
"Let's do it like this, try testing by transferring RM5 or RM10 or RM100 to this account." – said PAS.
So Rafizi cheekily started transferring money to test some accounts…
Rafizi Ramli decided to kepoh and figure out a better way to check not just the existence of the account but also the owner of the account. Using the 10 digits of the bank account number given in SR's legal document, he identified patterns of the 14-digit account numbers of Bank Islam cheques available on the internet and came across 3 accounts (Messrs LC Signature, Messrs Yayasan Taqwa and Messrs Sabasun).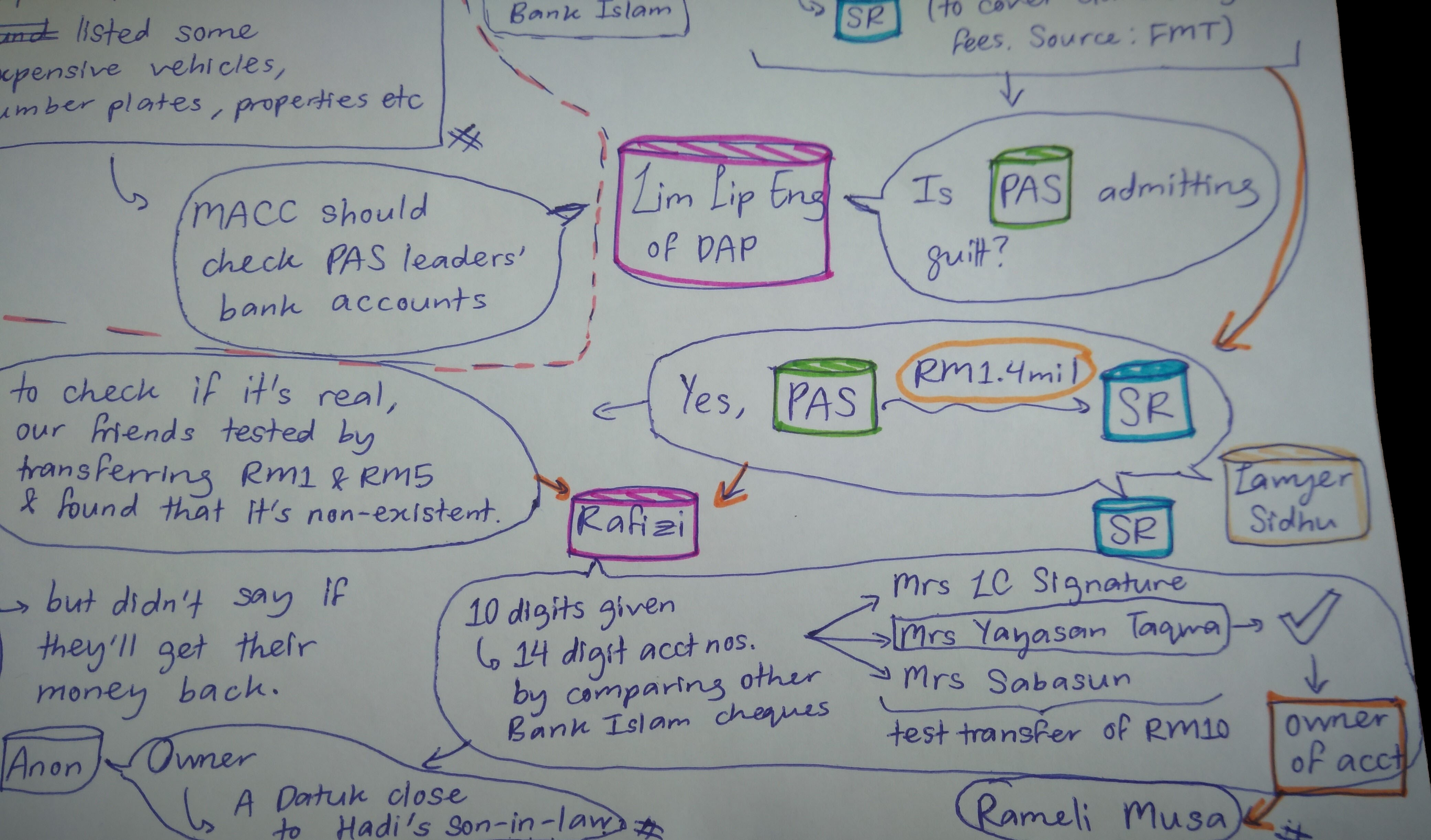 He tested these accounts by transferring RM10 to each of them and succeeded with Yayasan Taqwa, proving that his theory about the 14-digit account numbers is correct. He then, tried out the account number given in the document plus his theory and managed to find out the name of the account owner, Rameli Musa, chairman of Keretapi Tanah Melayu Bhd (KTMB).
So then on March 5th (like earlier this week), the MACC haul up Rameli Musa for 5 hours of questioning about the RM1.4mil, after which, he had something rather ominous to say…
The case is still ongoing, and this article will be updated accordingly. To be honest, with the amount of claims that haven't been verified, it's difficult to ascertain who the winners and who the losers are. The only victors that can be clearly identified are…