Residents of Kampung Damat, Tuaran, Sabah were rocked when news emerged of a 3 month-old infant from the village was infected with polio. This made it the first confirmed case of the disease in Malaysia since 1992.
Now, some of you may be thinking, "Whaaaat? Don't we have a vaccine for that?" And the fact is, we do. But if so, then what exactly caused this dangerous disease to resurface after 27 years, and more importantly, should we be afraid?
Before we get stuck in, let's take a look at what exactly polio is…
Polio (poliomyelitis) is a has been affecting humans since ancient times
… and by that, we mean it's very, very old. It's said to have existed even back in Ancient Egypt (1580-1350 BCE)!
First medically classified in 1789 as a 'debility of the lower extremities', it is caused by the poliovirus, which attacks an infected person's brain and spinal cord, causing paralysis. Some few things to note about polio:
Throughout history, polio has existed in pretty much every industrialised region in the world, but the first major outbreak of the disease occurred in 1894 in the United States. Even the 32nd President of the US Franklin D. Roosevelt suffered from it, and his condition became a major part of his image.
In the early 20th century, polio paralysed hundreds of thousands of children all over the world. Luckily, the first polio vaccine was developed by American doctor Jonas Salk in 1955, which introduced a weakened (inactivated) version of the polio virus into a patient's system to develop immunity against it.
Later in 1961, an oral version of the vaccine was developed, and the US was declared polio-free in 1979. Thanks to the innovation of vaccines, most of the world has been declared as polio-free (including Malaysia, which was itself declared polio-free in 1992), and although they still exist, polio cases have decreased by 99% since 1988.
This new case of Malaysian polio however apparently came from Philippines
After the resurgence of polio in Malaysia with the case of the 3 month-old infant in Sabah, the World Health Organisation (WHO) and the United Nations Children's Fund (Unicef) confirmed that this particular strain was the same that's currently spreading in the Philippines:
"So in most likelihood the virus came from outside Sabah as the family has no travel history. It could be brought in by an outsider coming to Sabah." – Datuk Seri Dzulkefly Ahmad, Health Minister
Although they hadn't recorded a single new polio case since 1993, the Philippines recorded several cases just two months ago in the areas of Manila and Davoa, where the virus was detected in the sewage. The recent outbreak was put down by health authorities to public ignorance and mistrust of vaccines (caused largely by an unproven claim that a dengue vaccine caused the deaths of several children in 2017). Ironically, the Philippines was later hit by measles and dengue outbreaks in 2019, which killed more than a thousand.
What's more is that this particular rare strain of polio, namely, the circulating vaccine-derived polio (cVDPV) Type 1, is one that has genetically mutated from a weakened strain of the virus contained in the oral vaccine, and is later excreted via the feces. This mutation only happens if the vaccine doses are incomplete or coverage is low: 
"These polio viruses only occur if a population is seriously under-immunised." – joint statement from WHO and Unicef
And indeed, not long after the infant in question was found to have contracted polio, the government quickly identified the reason: said infant had contracted it before he could get his second vaccination shot; meaning that he had already been vaccinated, but had failed to complete the recommended dosage (more on this later). The infant is now said to be in 'stable condition, but in need of respiratory support'.
The government is actively monitoring the target area where the polio case emerged
After the news got out, the Health Ministry quickly focused its attention to the target area, namely Kampung Damat. But they aren't stopping there; in a recent press conference, Deputy Health Director-general Datuk Dr Chong Chee Keong revealed the government's step-by-step plan to stem the issue from spreading to the rest of Sabah:
Step 1: Check for clinical symptoms and vaccinate all children under 15 in the area
Step 2: Identify high-risk areas in Sabah, assess vaccination status and provide vaccination
Step 3: Provide vaccination for the whole of Sabah
Besides also keeping an eye out for Acute Flaccid Paralysis (AFP, a muscular condition associated with polio) and promoting good sanitation practices, the Health Ministry showed that they weren't afraid to get down and dirty; they collected poop samples from the villagers, some of whom were unaware that there was even an outbreak of polio in their area!

Soooo, should we be worried? Well, according to the Health Ministry, at present time there is no cause for alarm, although Datuk Dr Chong did emphasise the importance of routine immunisation, stressing the need for the completion of the recommended 3 doses of vaccine + one booster dose (also recommended by WHO and the CDC) to ensure full protection against the polio virus:
"Do not think that one dose is enough. Please complete your vaccination schedule." – Datuk Dr Chong Chee Keong
Vaccines are more important than some people think
Regardless of where you stand on the argument for or against vaccination, it's hard to deny the countless statistics and evidence showing the effectiveness and importance of polio vaccine. As we mentioned in the previous article we did on vaccines, although vaccines may produce some side effects (including, in some very, very, very rare cases, death), the pros far outweigh the cons when it comes to risk factors: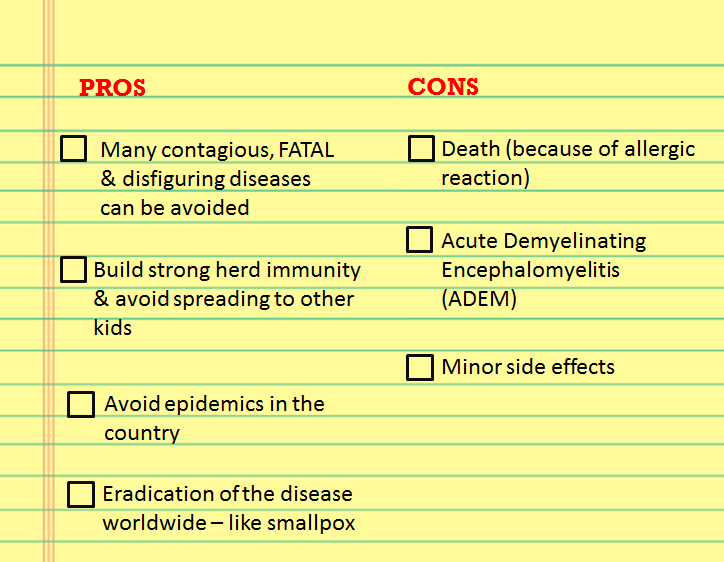 And, not to be fear-mongers here, but especially when dealing with a disease that has no cure, such as polio, often the choice comes down to either risking the side effects of vaccination or risking infection with no chance of recovery. Now, we're not gonna get all preachy and tell y'all what to do, but hey, pandai-pandai la. But don't just listen to us, as here's WHO and Unicef on the polio issue:
"WHO, alongside Unicef, stands ready to support the Ministry of Health in responding to this outbreak and ensuring that all children in Malaysia receive the full protection of polio vaccines." – Dr Ying Ru-Lo, WHO representative in Malaysia

"The only effective way to protect children from polio is vaccination." – Marianne Clark-Hattingh, Unicef representative in Malaysia
Hopefully the recent polio case remains the only one Malaysia will have to deal with for now.